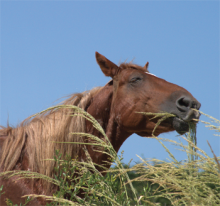 "We'll find some." Our tour guide, Dave, a retired truck driver, states this matter-of-factly as he helps us into an open-air, 13-passenger Humvee. Today there are six of us, and on this blustery February day we are about to embark on a Wild Horse Adventure Tour. The tours depart from a small outpost in front of the Harris Teeter shopping center in southern Corolla. Passengers are taken on a guided search for the wild Colonial Mustangs that run free on the northernmost part of the Outer Banks where there are no paved roads or infrastructure of any kind, just miles of pristine beach.
After being secured into our seats and tucked into blankets provided to combat the chill, we head north past commercial districts, charming rental homes, the Currituck Lighthouse and the original historic village of Corolla. Then we reach the end of the road.
Almost immediately the scenery before us is nothing but low-slung sand dunes with grassy tops, a long, wide beach meeting an ocean of rolling waves and sky. We travel smoothly, right on the edge of the surf, Dave leaning out of his window sniffing the air for clues. Within five minutes we have already spotted signs of fresh horse tracks.
Dave tells us one of many stories about the horses, their origins, how they ended up here thousands of years ago and how eventually they were moved to the Corolla 4-wheel-drive area in 1995 to protect them. Now there are 130 horses in the herd, and Dave has given us a money-back guarantee that we were going to see some of them today.
We cross over the dunes from the beach and began exploring the terrain between the Atlantic Ocean and the Currituck Sound. The Humvee is agile and powerful under Dave's guidance, and we snake through narrow passages of sand, squeezing between dunes and Scrubby Oak. It's obvious that this vehicle could traverse any terrain. We roll through small bodies of water and wetlands and up and over dunes. We are hot on the horse trail!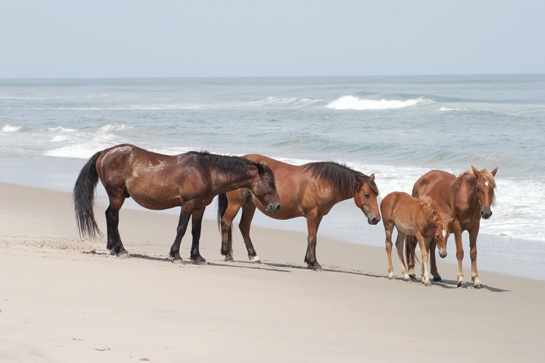 "These are horse tracks," comments Dave, "...yes, and it looks like they have shoes on them, but it's all from walking in the sand." Dave's knowledge of the herd, their names, the number of babies, how they thrive in this environment and his care for them is genuine. He tells us several times how much he loves his job. We are laughing at one of his jokes when a traveler from Massachusetts in front of me spots horses on the left. There are two Sorrels, dark brown with a darker brown mane and tail, and one Chestnut. I hear the woman in the front seat whisper, "He's beautiful." We learn that the name of one of the horses is Drumstick for the aptly shaped white blaze on his forehead.
Everyone takes photos while Dave makes sure we have the best views of the herd without violating any restrictions. These horses are well protected, and it is illegal to get closer than 50 feet to them. They should never be touched. Dave drives in circles to get all angles, even climbing a dune to get a better vantage point.

Back on the beach we cruise past a section of National Wildlife Refuge, a restricted driving area where there is nothing but nature in all her glory, before traveling back over the dune in search of more horses. We soon spot baby tracks and learn that there were several in the herd right now ranging from five to eight months old. Following the tracks, we are stopped in ours by a herd of deer, who stand and gaze at us for a while before disappearing into the woods...doing their own form of wild life touring by watching us. Shortly afterward we encounter a baby and mother Bay horse and then shortly after that several more Bays, their heavy winter coats dark and shiny like velvet.
Turning south we continue looking for tracks while Dave regales us with tales of local characters and sights like Beer Can Bill, Larry the Wrecker Guy and Nancy's Cottage, a trailer hoisted up on pilings with the wheels still attached! We run next to roosters and chickens, song birds and shorebirds while racing the tide to get back onto land.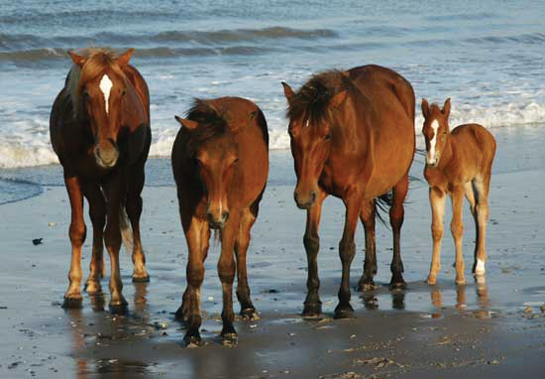 "Welcome back to reality," Dave shouts as the Humvee wheels hit the pavement. Even though we are a little chilly, everyone agrees that it was an awesome time. Dave takes the back way home through the Historic Corolla Village, past the Corolla Wild Horse Fund and the Village School, then behind the lighthouse and through Currituck Heritage Park, the home of Whalehead. We return to our starting point satisfied, not only because we "found some," but also because we learned a lot about the beloved Mustangs in a way that couldn't possibly be learned without experiencing them in their natural habitat with a passionate, knowledgeable and funny guide.