When Perry and Kiki Kiousis first came to America from Greece, the Outer Banks was a very different place. They didn't know that at the time of course, having first settled in Pittsburg before they took a chance vacation to Kill Devil Hills in 1968 with their two young sons, Steve and Nick. On the last day of their scheduled visit the family was enjoying the beach by Avalon Pier when Perry impulsively decided to walk across the street to a nearby real estate office.
"He told them, 'I want to live here; can you find me a restaurant?'" Steve says as he recounts a story that's doubtlessly become a legend in the Kiousis family. By chance, someone had just been in the office that same morning to put their Point Harbor restaurant on the market, and Perry snatched it up. "It was all very serendipitous," Steve adds. "Everything just lined up and happened the way it was meant to."
The first time I meet Steve he's in Stack 'em High's kitchen grilling up some hash browns and crispy French toast. The restaurant's bustling, and he's clearly in a high-octane mode, but he has an easy, laid-back demeanor that makes it all seem virtually effortless as he calls out greetings, cracks jokes with the wait staff and dishes out orders of everything from their authentic Greek salads and gyro pita wraps to burgers, sandwiches and longtime favorites such as waffles, omelets and, of course, their signature Stack 'em High pancakes.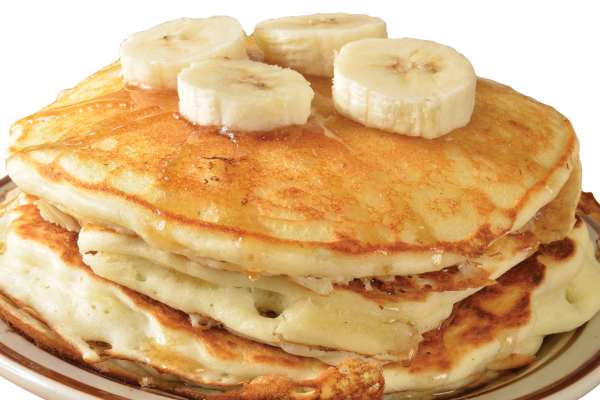 "Have you eaten?" he asks. Without waiting for an answer, two bowls of piping hot butternut squash soup and tomato parmesan bisque appear. They go so far beyond any kind of homemade soups I've ever had before that it seems churlish to call them delicious. 
It's all part of what Steve explains with the Greek word nostimo. Like many words it has several layers of meaning, so this might be the reason I'm having such a hard time describing just how good this food is. A delicious taste is part of it to be sure, but nostimo also implies something made with soul that brings people together. It's been a long time since I read anything in Greek, but I remember that the word nostalgia derives from the Greek term nostos, which is also the root word for nostimo. It makes sense when you put the two together: I have a truly deep longing for more once I've finished (both) bowls of soup. 
And Steve? He's clearly in his element when he's feeding people both great food and just as stellar stories. Bear in mind that this is a guy whose first job entailed sitting on a stool to keep watch for blackouts on the main part of the Outer Banks with his younger brother at his parents' aptly named Point Harbor Restaurant. Located at the foot of the Wright Memorial Bridge, the restaurant was a go-to spot for Outer Banks locals from the late '60s throughout the '70s, especially when the power went out closer to home, so Steve and Nick were charged with letting their parents know if they needed to crank up the extra grill to accommodate what otherwise would have been an unexpected overflow.
All this is to say that Steve and Nick were both essentially restaurant born and raised, and the overarching narrative that brings all of these different stories together is ultimately one about the Kiousis family as a whole. After selling the Point Harbor Restaurant, Perry and Kiki opened the first Stack 'em High in 1981 and added a second location in 1984. Along with his wife, Kristine, and their children, Steve now runs the Kitty Hawk Stack 'em High where they serve breakfast and lunch anytime of day year round and also offer full-spectrum catering services, while Nick and his wife, Dawn, plus two little ones of their own, run the Kill Devil Hills location. For all of them, everything they do is about carrying on Perry and Kiki's legacy.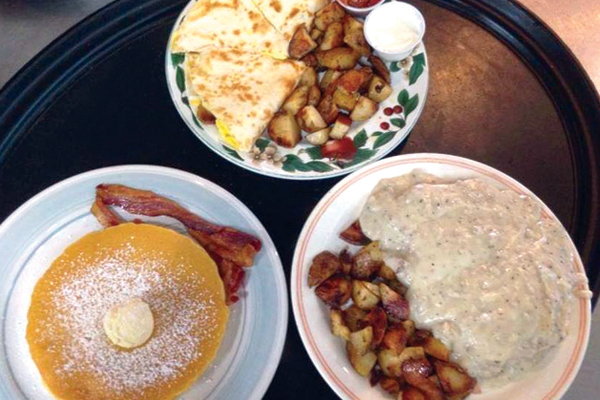 "You can't hide who you are and the values you were given," Steve says. "Nick and I grew up with the belief that it's important to give back. We get a real sense of fulfillment from trying to make our community here even better; that's where our hearts are."
To that end, Stack 'em High gives generously to an astounding number of organizations and programs. Once a month they cook for Ruthie's Kitchen, and they also serve a number of breakfasts for Room at the Inn. During the school year Stack 'em High also serves breakfast once a week to the Fellowship of Christian Athletes at First Flight Middle School, and they open up their doors every Thursday night to host fundraisers for a variety of groups such as OBX Swim Club and Ocean View Baptist Church. This latter program has grown so large over the past decade that Stack 'em High hosts at least 25 of these fundraising dinners per year.
Good food and good works — it makes a great motto, but Steve shies away from putting such an iron-clad label on all the things they do at Stack 'em High. "It's just about being happy and spreading that joy however you can," Steve says. "No matter who you are and what you celebrate, everyone can enjoy a good, hot meal together. It makes people smile. And that's really what we do — we make people smile, one person at a time."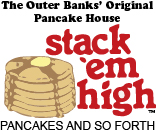 (252) 261-8221 • MP 4.5 • 3801 N. Croatan Highway, Kitty Hawk