It doesn't seem that long ago that a cathedral-sized, lifesaving station-inspired structure being built along the Bypass at milepost 8.5 was the talk of the town. Adding to the intrigue was the new business's concept as a gourmet restaurant/brewery – a rarity for eastern North Carolina in 2001. Little did everyone know back then that this place would become an icon – known not only as the nation's first wind-powered brew pub but also as a 20-years-and-counting fixture at the pulse of the Outer Banks.
Outer Banks Brewing Station, aka the BrewPub, is highly regarded for the quality of its beer and food, but it's the owners' commitment to community that's landed their pub in the hearts of the locals. It's also known as an excellent place to work, proven by the fact that the average length of employment here is nine years. Some of their well-trained former employees have gone on to open very successful businesses, including Outer Banks Distillery, Pok's Art, Greentail's Seafood and Blue Mountain Brewing.
With the pub's varied live music and nightlife scene, family-friendly backyard and willingness to host events and fundraisers of every sort, nearly every longtime Outer Banker has made a memory here, especially the girl who was serenaded in the parking lot by funk/jazz saxophone legend Maceo Parker.
In honor of the Outer Banks Brewing Station's 20th anniversary in 2021, here are a few of those treasured memories.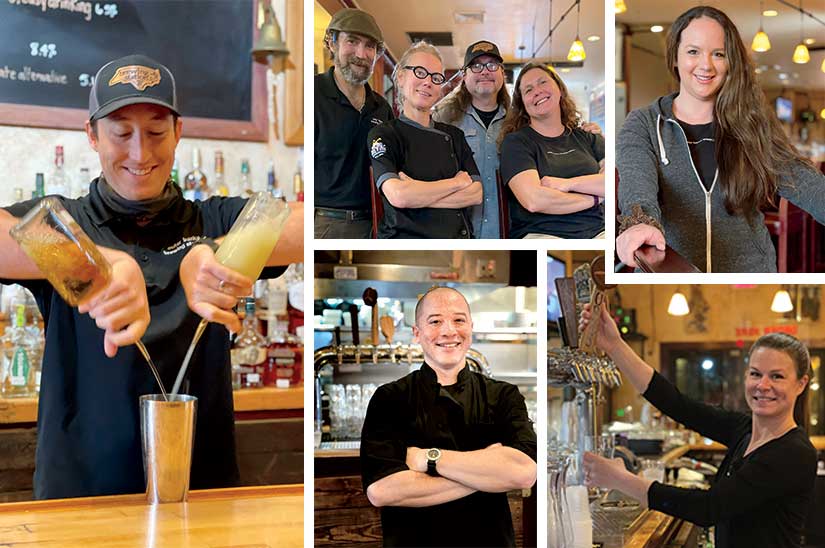 Eric Reece, co-owner:  My perfect Brewing Station moment was when we first started doing live music at the pub in the off-season and we wanted to have music nobody else around here was doing on a day that none of the other restaurants had anything planned. Our grill guy at the time was a true DJ and was in an experimental band called Rhythm Quest Syndicate led by Laura and Dan Martier. We decided to have them play on a Monday night, which was a dead night for us and we didn't expect much, so we only had a couple bartenders on and no security (didn't know we needed it), and it went completely ballistic – pandemonium! I was scrambling to help everywhere I could, but it was out of control and I clearly remember stopping for a moment thinking, "I might die tonight, but good God I think Laura Martier is singing in French right now! This is cool!"
Karen Loopman-Davis, co-owner: Of course, the first stories that come to mind are the ridiculous ones, like the time a new dishwasher walked out in the middle of his shift, walked around the building and ordered his shift beer! But some of my favorite memories are our Thanksgiving Dinner potlucks. Every year, we close for Thanksgiving and eat a big potluck dinner with staff, their families and anyone who doesn't have a place to go. We move the tables together to make one long table down the center of the dining room. Our chefs cook the turkey, mashers, gravy and stuffing, and everyone brings everything else. Usually about 80 people come. We held it every year until this past year due to the pandemic. My kids were so disappointed, as it's the only type of Thanksgiving they've ever known.
Tina Mackenzie, co-owner/pastry chef: Each chef had a particular style that influenced our kitchen. We still talk about Todd Bryant's bolognese, arancini and espresso ketchup, Lynn Flowers' great soups and goat cheese salad, Jamie Spence's presentation, Brian Whitehurst's sautéing abilities and Caesar salad, and Pok's Thai and Asian dishes. And I will never tire of Tony's (current chef Tony Duman) vegan dishes nor all the energy and inspiration he puts into tapas nights. 
Aubrey Davis, co-owner: Some of my favorite memories here at the pub have been the diverse musicians that we have had the pleasure to meet, get to know and listen to. One that stands out was the night American jazz guitarist Stanley Jordan played a long acoustic set using his famous touch technique. His opener had been the one and only Tim Reynolds. After Stanley's set was over he asked Tim to come on stage and play a few songs with him. The two had never met before that night. At 2 a.m. they were still going strong, and my bouncers were getting ready to pull the plug and turn the house lights on. It was the one time I told them we were going to let this one play itself out. I don't think I've ever witnessed two performers so into their craft that the room could have been empty and it wouldn't have mattered to either of them. Their last song stretched into a 20+ minute jam. I still get chills remembering that magical night.
Diana Healy, front house manager, 16 years:  One of my favorite traditions is when the crew gets together the night before New Year's Eve to set up the largest balloon drop on the beach. We rig a net over the dining room, fill a thousand balloons with two air compressors and toss the balloons into the net from the balcony … over the years we've created a pretty creative system. New Year's Eve is always crazy – we have a great band and the place is packed – and we do the drop at midnight while at the same time passing giant trays of champagne to everyone ringing in the New Year with us.
Liz Clark-Gomez, bartender, 17 years: Outside of a wonderful place to work, my favorite take-away is the people I work for. We share the same attitudes in the workplace and a similar outlook on life and a deep desire to travel. One of the last winter breaks I went backpacking in Peru with my twin sister and best friend. One night we happened to cross paths with owners Aubrey and Karen and their two daughters in Cusco in the Andes mountains. Of all places we met at this Irish pub in the town square and shared burgers and pints. When we left, the most epic, torrential rainstorm I think anyone of us had ever seen came out of nowhere. We laughed hysterically about how we were together in the Cusco flood. It's amazing to say that you love the people you work with both in and outside of work, at home on the beach or in exotic destinations!
Alex Bradshaw, bar manager, eight years: My favorite memories from the pub are the nights when myself and the rest of the bar staff worked the sold-out band nights and crazy holidays like Halloween and New Year's Eve. Five hours of sheer chaos, but those nights brought us together as a staff and created friendships that last to this day.
Todd Bryant, very first chef: An interesting history that most people don't know is that wrapped around the outside of the bar below the bar top are copper sheets. They arrived in many different sheets, and we wanted to make them cool so we tried different methods of bending and folding to make designs … badly, I might add. And they were sharp as hell. So, each is different and unique and each extracted some blood loss from everyone who opened the brew station. 
Barry Price, former bartender: Early in the 2000s OBBS booked Dave Wakeling and his reformed band from The English Beat, one of my favorite bands from the '80s. Gordon Rainey, Chris Queensbury and I were bartending, and the place was bonkers! When they started playing a couple of our favorite songs, the three of us left the packed bar and headed to dance in front of the stage. For three songs, we left one bartender working the bar! Dave Wakeling signed my CD ... one of the most epic nights to work at OBBS with friends and music.
Mike Remige, first full-time assistant brewer:  Original brewmaster Scott Meyer was a bit of a mad scientist and very creative.  We sourced some locally grown, organic lemongrass from Ken Whidbee's farm in Wanchese and brewed the Brewing Station's first-ever lemongrass wheat ale.  It was a hit with the customers and actually won a bronze medal at the Great American Beer Festival that year. The best part is that it's still a hit today!
Bryan Whitehurst, former chef: It was and is a great place with great people. We always had a good time even when we were at the busiest. I'm still grateful for the opportunities I had there and where it's taken me in life.
Pok Choeichom, former chef: I had some of the best times in my life working there. I got to work for and meet a lot of great people in those nine years. The only bad part is that I can't even eat shrimp and scallops anymore because I had to cook so much of it while working there.
Harry Harrison, entertainer/musician: Summer of 2019 at the Harrison and Wentz Presents shows. Audience members would be called upon for their chance to Spin the Wheel, and they had to do whatever it landed on. There were some very touching moments when it landed on Call Your Dad. The whole call would be played over the loudspeakers, and I was impressed by how many loving fathers took the time to pick up and chat at one in the morning. Honestly overall, the Harrison and Wentz Presents shows, summer of 2019, every Tuesday at the Brewing Station, may be the highlight of my entire life. Ed Tupper, musician, adds: Eric and Aubrey told us to do whatever we wanted. We had music, theatre, fire dancers, conga lines.... Thanks to those guys for giving us the greenlight to be creative.
Dan Martier, musician: So we were the first live music when it first opened: RQS (Rhythm Quest Syndicate). It was a total improv with a DJ, way ahead of its time; however, Eric and Aubrey trusted us. We would do a brief rehearsal with DJ Markus (who is now a famous producer), and it was a great weekly gig. Other good memories are playing there with Tim Reynolds in TR3 gigs. I have played there with so many bands and always looked forward to it as there was always a good sound tech and many great live recordings.
Herman Hall, patron: Guy Fieri cooking with Pok was a good memory, as was Steel Pulse, David Allen Coe, Surfrider Foundation fundraisers and cancer fundraisers for dear friends and watching our kids grow up on the pirate ship.
Ivy Ingram, patron: One of my favorite evenings there was on Earth Day back in 2010. It was a trifecta of great music, perfect weather and a ton of friends who all came out to celebrate Mother Earth. I have always admired Tina, Eric, Aubrey and Karen for not only running a business the caliber of the pub but also doing it in a way that respects the environment and gives back to the community. 
Dawn Church, patron: Laura Martier and I were inspired to put together a local production of Eve Ensler's The Vagina Monologues in 2002. Local support for the idea was overwhelming, with one small exception: We needed a venue that would allow us to put The Vagina Monologues on their marquee, and most OBX businesses were not up for that. The crew at OBBS not only agreed to host the show but also welcomed us with open arms. Their love and support was a huge reason our local production became a great success that brought needed awareness of the violence against women and girls and over the years raised more than $80,000 for local agencies.
Janet Fenton, patron: They are so willing to open their space and work to better the community. I have so many memories: decorating for the Festival of Trees, The Vagina Monologues and my personal favorite, World AIDS Day. And, of course, all the fundraisers and community heroes awards.
Don't miss Outer Banks Brewing Station's 20th Anniversary Party on Tuesday, May 25th!
---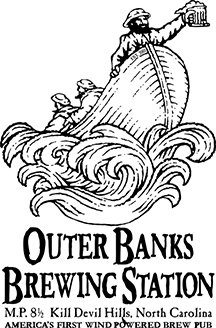 (252) 449-2739
obbrewing.com
600 S. Croatan Highway
Kill Devil Hills, NC
---