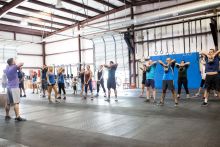 How many of you hear about CrossFit classes and can't wait to be challenged? "Bring it on," you might say. "There's not a WOD (that's Workout of the Day in CrossFit speak) 
I can't beat!"
Believe me, CrossFit OBX gym is for you too.
"Fitness level is not the determining factor in who comes to this gym and stays," explains gym owner Tracey Maurice. "We have people of every conceivable level, and we respect that and work within their parameters." The success stories prove this point.
So what brings people here? For some, it's to begin their fitness journey; for others, it allows them a chance to get back into shape after years of the whirlwind that can be life. Maybe that's why a lot of the folks you'll meet here are age 40 or older. CrossFit OBX offers an environment of support and camaraderie. It's a gym with a group dynamic that you look forward to coming to, knowing you'll be surrounded by plenty of like-minded – and like-conditioned – friends. So what if you're huffing and puffing! There will be others doing the same. But there will also be those (and you'll be among them soon enough) who are giving you words of encouragement, helping you reach your fitness goals.
Others come here because they like the energy of the group classes and appreciate having a workout designed for them and fellow athletes to do them with. Some appreciate this gym as a place they can hone their skills for competitions, while others are here for self improvement. Whether it's for wellness or interval training, for weightlifting or for a cardio workout on their own, CrossFit OBX offers a variety of class times as well as an open gym for most of the day and can accommodate even the most hectic schedule. At the end of the day, every single athlete who's at the gym is here for the shared exhilaration that comes from moving your body and feeling great.
Now, about that word athlete, in case you're reading this and that snarky little voice in your head is whispering that's not you.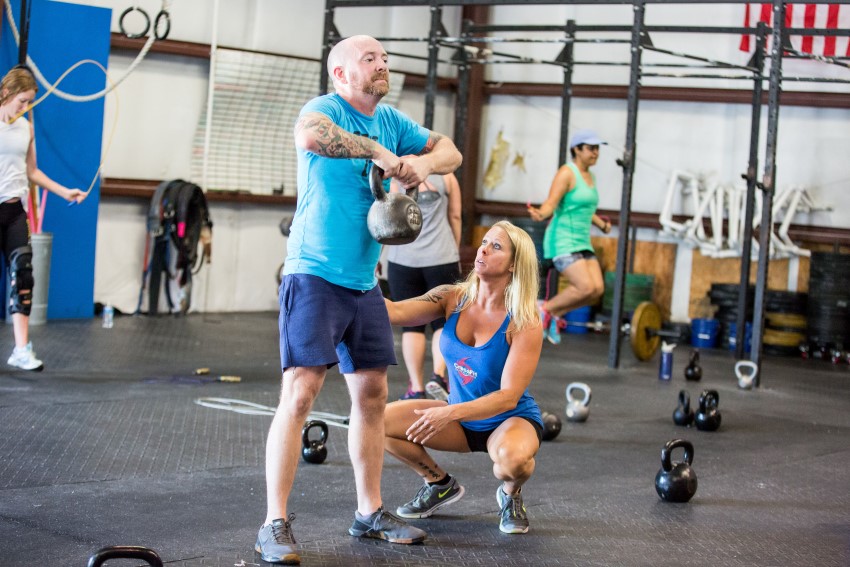 Here's what Tracey has to say, "Every person who comes here and puts in the effort is an athlete. Every single athlete you know about – from the nationally famous to the local heroes – had their first day of training. They weren't the top performers you see now when they started. But they had a goal and they kept working toward it. Unlimited scalability and diverse goal setting make everyone who trains here one of my athletes. I don't care if you're at step one of a 100-step journey! You're an athlete in this gym and are treated with that kind of respect and attention." 
Here's another way that respect shows up: This is not a gym where you're surrounded by selfie takers or people working out in highly orchestrated, showy outfits. This is a gym-person's gym where, as soon as you come in, you notice that the OOD (that's Outfit of the Day … but I just made that up) is shorts and well-worn t-shirts that are probably ringed with sweat. You're comfortable here, no matter what skin you're in or what's covering it.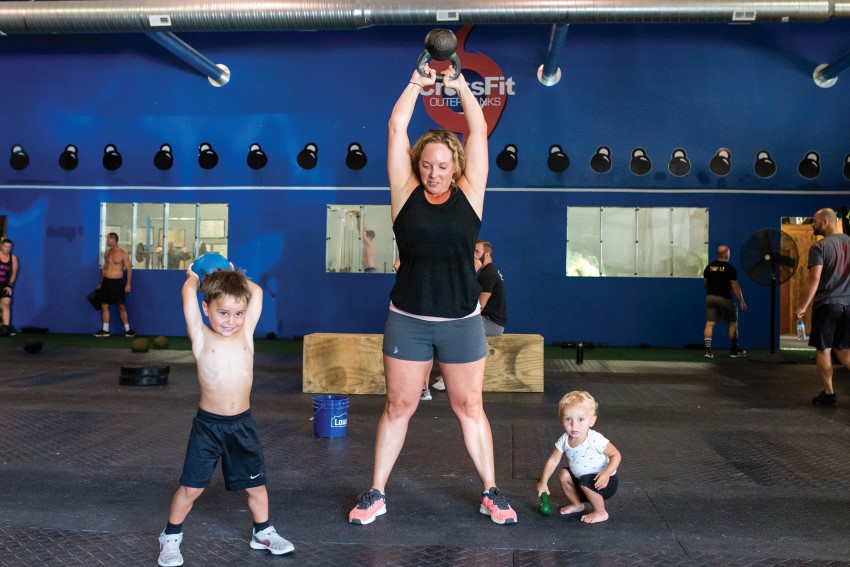 You're safe here too. Every employee has multiple certifications in CrossFit, Olympic lifting, kettlebells and other areas of fitness, and they pay close attention to your form and how you're doing during the workouts. When you're new, you get one-on-one training (included in your membership fee!) to help assess where you are fitness-wise and to teach you basic movement patterns and body awareness. You are never handed a kettlebell, for example, and told to just swing it or a barbell with more weight than you can safely handle. And you're not expected to get out there at the beginning and run 2 miles. Under their training, all CrossFit OBX instructors foster an environment that allows you to gain knowledge while you're gaining strength and confidence. And you do it slowly and correctly – the way it's supposed to be to ensure you don't get hurt.
That said, this gym is also a place to rehab if you're coming off a surgery or an injury of some sort. But, again, this rehab is done slowly and purposefully, with careful attention to proper range of motion and endurance. Moving helps you get your mobility back and maintain muscle tone as you heal, and it helps remind you that you're capable!
Have you thought about what you're truly capable of with your fitness goals? Among the members at CrossFit OBX are athletes who have won national titles in CrossFit competitions, Olympic weightlifters who have medals to show, powerlifters, body builders and Strong Man competitors. But you know who's also there and discovering their own understanding of capability? The woman in her 50s who has lost 60 pounds over the past year and gained a new outlook on life. The kid who had never been athletic or in team sports but who found his passion in weightlifting. The 62-year-old woman who comes to five CrossFit classes every single week or the vacationers who drop in for classes while they're here. It's the group of men and women of all ages, all shapes and all fitness levels who show up for a class and leave thinking, "What an incredible addition to my day!"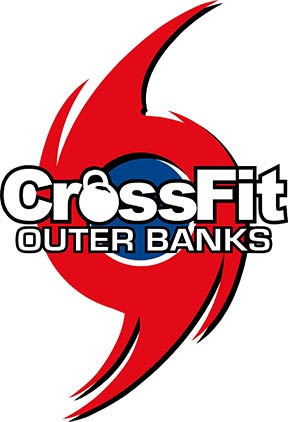 (252) 441-7400
504 W. Lake Dr. Unit W
Kill Devil Hills
crossfitouterbanks.com