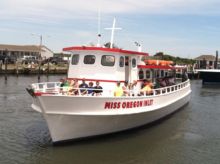 Oregon Inlet Fishing Center was the first marina to acquire and operate a headboat on the Outer Banks, and it is home to the headboat Miss Oregon Inlet. For those of you who don't know, a headboat works a bit differently than a standard charter boat. Instead of taking a small group out to the Gulf Stream for deep-sea catches, a headboat, which is a larger vessel, takes a big group of people out into the sound, and each pays individually, or by the head. Miss Oregon Inlet, a vessel that's 65 feet long and that can take up to 49 people out, stays in the Pamlico Sound and fishes for bottom fish such as flounder and croaker. An advantage of this kind of close-to-shore fishing, according to Melodye Cannady, one of the boat's owners, is that the fishing grounds are close by, right at the gate of the ocean, as she poetically puts it, so passengers get extra fishing time on one of these trips. 
Cannady's family has played an important role at the fishing center for decades, and her family's history on the Outer Banks goes back more than 200 years. "Our family is very deeply rooted in the Outer Banks, Nags Head in particular, and has had a long history of captaining ships," she explains. In fact, her father, Captain Buddy Cannady, was an original shareholder in the Oregon Inlet Fishing Center and the Miss Oregon Inlet. From the history embedded in her daily life, she knows boats, and she also knows the importance of a good crew when you're taking a large group of people out to spend some hours on the water. The Miss Oregon Inlet crew is very skillful as well as knowledgeable about the Outer Banks. About Randy Frees, the boat's captain, she says, "Randy can catch some fish, and he is a master at handling that boat."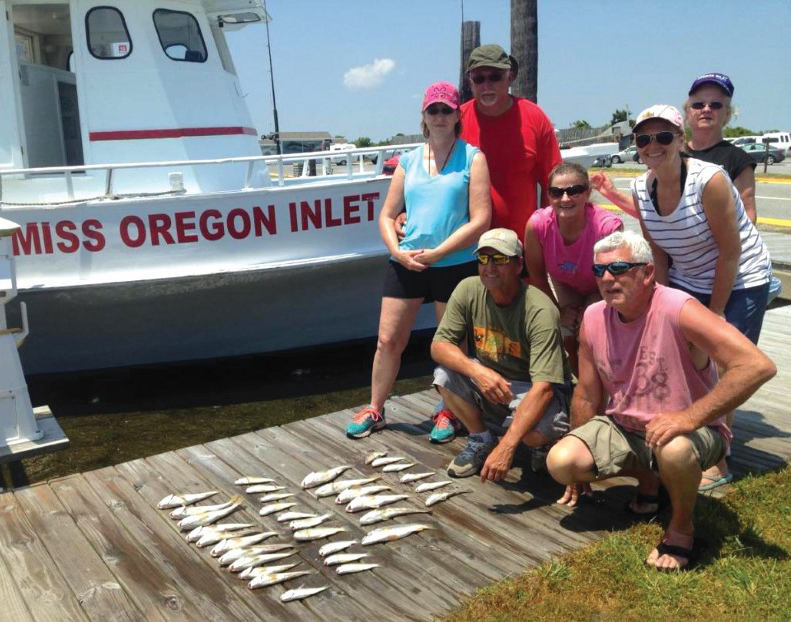 Just as Cannady's history has been shaped by water, so, too has Randy's. A native of Michigan, he grew up on a big farm and learned to fish in the "unsalted" waters of Lake Michigan. When he was 10 years old, he began accompanying chartered fishing trips on the nearby Great Lake, quickly learning he could make more in tips from paper company executives than he could driving a tractor for 25 cents an hour on his grandfather's farm. But he didn't leave the farm for the money; he simply loved the water. Several years later, he served in the Marines at nearby Cherry Point, NC, then ended up on the Outer Banks. "I'm from Oceana County, Michigan, and now I live right on the ocean, so I guess it was just meant to be," he says.    
Randy has an impressive resume captaining ships. Though most of this work has taken place on the Outer Banks, he has enjoyed stints on a small charter boat in Kauai and on headboats off the Atlantic coast from New Jersey to the Bahamas. "The headboat's a peculiar animal," says Randy. He explains that, typically, a headboat drifts or anchors for bottom fishing. In the Bahamas, for example, a headboat will anchor, often over a reef or a shipwreck. Here in the Pamlico Sound, however, the headboat drifts over the fishing grounds. One thing he likes about fishing in the sound is that a typical day will bring in up to 16 species of fish, from sea bass to flounder to triggerfish (Randy's favorite for the fight it gives the person holding the rod). On a very good day, he and the crew will count 20 species.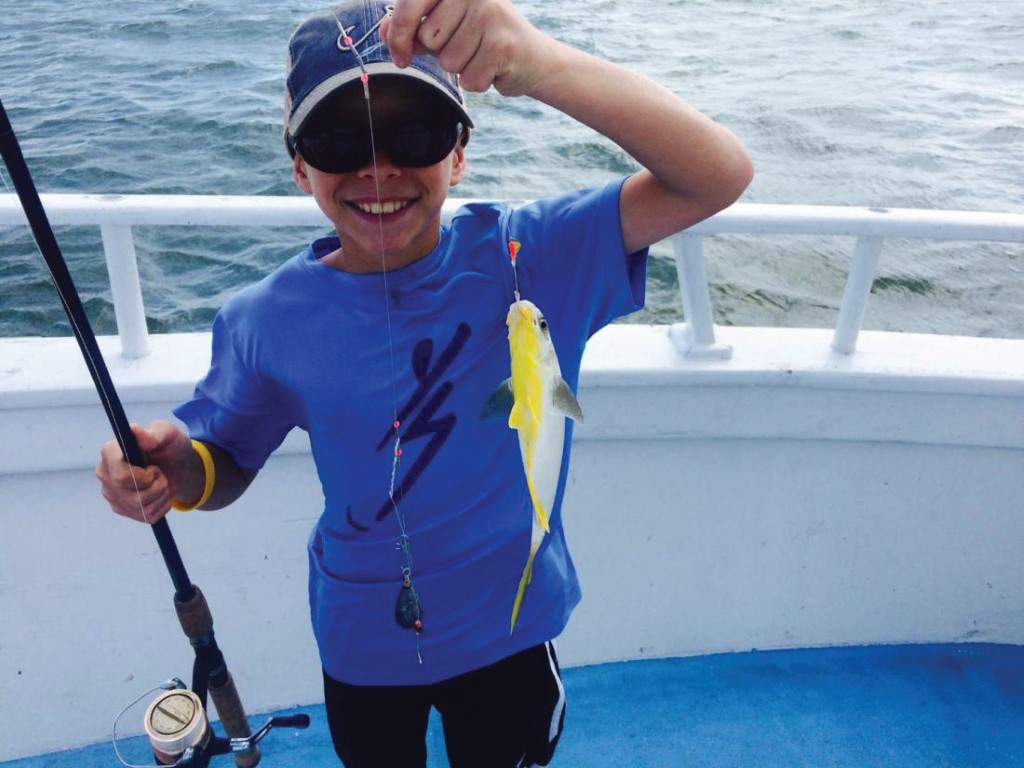 Headboat fishing offers a great introduction to fishing, and both Randy and Melodye emphasize that this kind of fishing appeals to all ages, from toddlers to grandparents or great-grandparents. Passengers can fish the whole time or take it easy in either the ship's shaded area or its salon where they can watch for abundant sea life including dolphins, many species of birds and sometimes even sea turtles. The ride is mostly smooth and leisurely, so passengers don't need to worry about the sometimes turbulent conditions of the open ocean waters. And trips are rarely canceled for weather because the boat doesn't go past the Bonner Bridge.
Randy relishes handling a big boat with many passengers, whom he regales with his sea stories. The trips are especially fun for kids. "The little ones have a great time because they can move around, say hi to other kids on board and take a break in the shade when they need to," he says. There's a sense of camaraderie on a headboat, and people often leave having made new friends.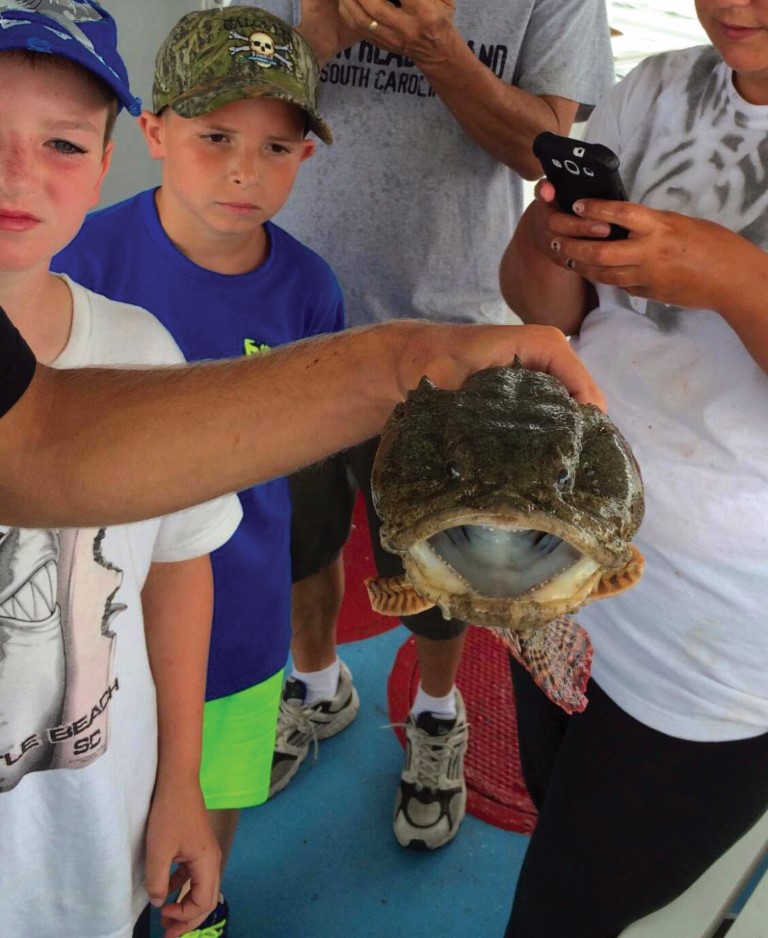 Some visitors to the Outer Banks learn about headboat fishing on the Miss Oregon Inlet from a Saturday morning talk show on Beach 104 FM. Randy calls in to chat with Captain Marty, the host, and the two converse about catches of the week. Some lucky listeners win tickets for a boat trip, compliments of Miss Oregon Inlet. 
Visitors can hire the boat for private parties, but the Miss Oregon Inlet also hosts special events of her own. One such event is a youth fishing tournament that takes place the first Monday in August. This year will be the third annual tournament, which is open to local kids and visitors alike. A hot dog lunch is served at the awards ceremony, and prizes include cash, trophies and t-shirts. Proceeds go to Cross Trail Outfitters, a faith-based nonprofit that takes youth on fishing and hunting excursions.
Just as the Miss Oregon Inlet, along with the earlier Oregon Inlet Queen, were the first headboats on the Outer Banks, Cape Hatteras was the first national seashore in the United States. The fishing center is located, if we can borrow Cannady's words, at the gateway to the Seashore, so she wants to celebrate this connection and to encourage visitors to the Outer Banks to take in the beauty and recreational opportunities that Cape Hatteras National Seashore provides. This year, anyone with a current National Park Pass will receive a $3 discount. Discounts will also be given to active military, veterans, seniors and parties of 10 or more adults.  
The beautiful red and white boat is being spruced up this spring so that she'll be ready for her trips, which begin in early May and run until the end of October. Trips include the services of a captain and two mates, bait, tackle and anything else passengers might need for fishing. Soft drinks and snacks can be purchased on board, or passengers are welcome to bring their own coolers with soft drinks, beer or wine. The Miss Oregon Inlet offers wonderful fishing and a serene seascape. Those who love the ease and the pace of these trips are fans for life.
---

Oregon Inlet Fishing Center  |  98 NC Hwy. 12  |  Nags Head
(252) 441-6301  |  Book online at missoregoninlet.com