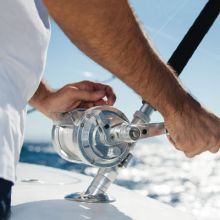 There's a lot to it," laughs Jarrod Umphlett, and he's not kidding. Along with his father, Wayne, the Umphletts own and run Outer Banks Marina, which is located at the heart of the Outer Banks' fishing community in the Wanchese Seafood Industrial Park. With daily marina operations that include everything from dry stack storage to charters, a ships' store and a happening tiki bar that brings the whole community together during the summer season, it actually seems as though he might be understating things a bit.
But that may be exactly what the Umphletts do best: They make this look easy. To some degree that's because this is in their blood. Wayne built the second building ever to be in the Industrial Park in the mid '80s for his marine fabrication business, Harbor Welding, which he also still operates today. In turn, Jarrod grew up on and around the water and was running his own business gill netting flounder by the age of 12. By the time Jarrod turned 16 he was also a certified welder like his father.
"There's so much that goes on at the Park in terms of industry, but they're all interconnected," Jarrod explains. "No matter which way you look at it, it's all about keeping these coastal traditions alive."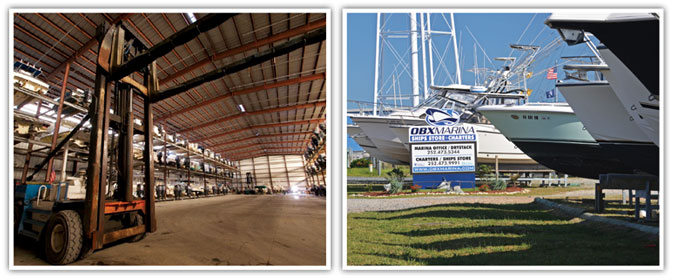 It's a point of pride for the Umphletts that the Marina plays such a large and integral part in this … and that's not an understatement at all. As a state-of-the-art working yard, the Marina offers a wide variety of inboard and outboard engine services, canvas repairs, a welding shop and an on-site store that carries everything from tackle and boating equipment to snacks and apparel.
But a walk through their indoor dry stack storage facility in particular gives you a true sense of the massive scope of their operations. This 32,000-square-foot facility is one of a kind in the area — in fact, there's nothing like it within at least 200 miles. Designed to store boats in a way that shields them from weather wear during the winter months and beyond, and that protects them through other common area events such as nor'easters and hurricanes, dry stack storage is also ideal for people who simply don't want to deal with the hassle of hauling their boat down to the Outer Banks on a trailer … especially while also trying to navigate heavy summer traffic. For obvious reasons, this sort of amenity is incredibly popular. During the summer season the Marina forklift operators can work all day long, seven days a week in order to haul boats in and out of the stacks by request. 
"All we usually need is about a day's notice, even when we're really busy," Jarrod says. "When we're slower, a couple of hours is all it takes. Either way, we can have your boat sprayed down and in the water well before you arrive."
Of course the Marina also has plenty of outdoor storage racks and wet slips for people who plan to take their boats out more often. Jarrod, who likes being involved in these types of preparations year-round, enjoys the simple sense of camaraderie that comes with this territory. 
"The dry stack crowd includes a lot of people from all over," Jarrod says. "At some point they become part of the larger family we have at the Marina." After considering this statement for a minute, he smiles. "I would think there's also some sort of bragging rights for people who come here from other places. While they're hanging out with a bunch of co-workers who are stuck in the office, they get to talk about taking their boat out on a spur of the moment weekend trip in order to catch some cobia or drum. How great is that?"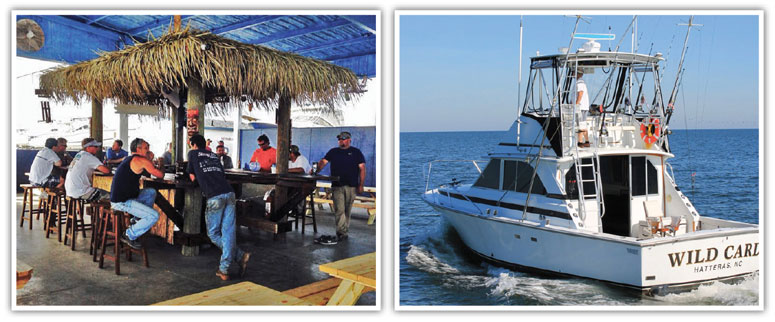 From there, Jarrod — who's obviously a natural-born storyteller — waxes poetic about a typical day on one of the offshore charters the Marina also provides … although, listening to him, it sounds as though any given day is anything but typical. That doesn't mean it's not a compelling narrative by any means. From waking early with a sense of anticipation that's hard to describe (unless, of course, you've done it before), to riding down the channel at sunrise for a short 6-mile trip to Oregon Inlet while overhearing a traditional blessing of the fleet over the radio to ensure everyone's safe passage and to give thanks for the great fishing that's sure to come and then capping the day's excitement off with a cold beer from the tiki bar as your catch is being cleaned … well, by many people's estimation, it just doesn't get much better.
"You get to go home with a cooler full of meat and your very own fish tale," says Jarrod with a laugh.
Jarrod's easy-going enthusiasm is contagious, and it's not hard to see that this is likely part of the appeal for people who do eventually become part of the Marina's extended family — a family that also includes the National Geographic Wicked Tuna crew who use the Marina as their southern home base while filming their popular North vs. South version of the show each winter from February through March. The Umphletts are running a business here after all, and yet it's also so much more than that. As Jarrod repeatedly points out, this is about maintaining traditions and, even more importantly, about the strength of a community that's constantly reaffirming the bonds that make them so great.
"If you want to you can walk around the Park and really see all the moving parts that go into this industry," Jarrod says as he points out a brand new sportfishing boat worth millions docked near a commercial trawler from the '70s as it unloads its mornings catch. "That's the sort of spectrum you won't see anywhere else. Standing here you can look at all the ways fishing has been done for more than a century — it's an incredible thing to be a part of."
---
OBX Marina Pavilion & Tiki Bar 2016 Band Schedule
Live music starts at 5 p.m.
May 13 - Ray Evans and Parks Boyd
May 14 - Joey Bouza (Firth Family Benefit) 
May 20 - Joey Wood
May 21 - Ray Evans and Chris Toolan (Wounded Warriors Tournament) 
May 27 - The Other Brothers
June 3 - Jamie Pridgen
June 10 - Bill and Friends
June 17 - Q & A
June 24 - Joe Bowling
July 1 - Kyle Rising and The Rising Tide
July 8 - Ray Evans and Chris Toolan
July 15 - Gypsy Souls
July 22 - Jamie Pridgen 
July 29 - Q & A 
August 5 - Joey Wood
August 12 - Joe Bowling
August 19 - Ray Evans and Parks Boyd
August 26 - Burley Daniels
September 2 - The Other Brothers
September 9 - Q & A
September 16 - Bill and Friends
---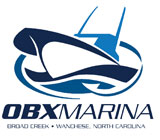 OBX Fishing Charter: (252) 473-9991  
OBX Slip Rental: (252) 473-5344
708 Harbor Drive, Wanchese, NC
obxmarina.com