There's a gentle breeze coming off the waters of the Currituck Sound as you are strapped into a harness, the boat rising and falling beneath your feet. You can hear the waves lapping against the boat's hull and the wind catch in the colorful parasail above you. With a thumbs-up and a smile, the captain releases the sail, and you are carried off the deck and into the sky.
On this summer day, you're on a parasailing adventure with Lighthouse Parasail, the closest parasailing outfit to the four-wheel-drive beaches in Corolla. Lighthouse Parasail is also practically in the shadow of Currituck Beach Lighthouse, which is one of the first landmarks you will see as you ascend to 500 or 800 feet above the coast.
Captain Alex Winter and his wife, Jacquelin, know a thing or two about parasailing. They actually met on a parasailing boat in Duck and have co-owned and worked for some of the highest-volume parasail companies in the industry since 2006.
A native of South Jersey, Jacquelin vacationed on the Outer Banks as a teenager and spent a few summers working on the island before making the move permanent in 2012. After living in cities like Boston and New York, she knew the beach was where she felt the happiest.
"I traveled a lot just to realize this is where I want to be and what I want to do," she says. "It's a far cry from a job in the city. You are a professional, but you still have this life at the beach. It's always struck a good balance for me."
Her husband, Alex, says that he has been flying people for longer than any other captain in Corolla. Originally from Richmond, Virginia, he has been in the industry for well over a decade and estimates having flown more than 40,000 people over the years. Captain Alex has an active 100-ton USCG Master Captain designation – which requires hundreds of hours logged on the water – and Jacquelin just received her active 25-ton Master Captain title.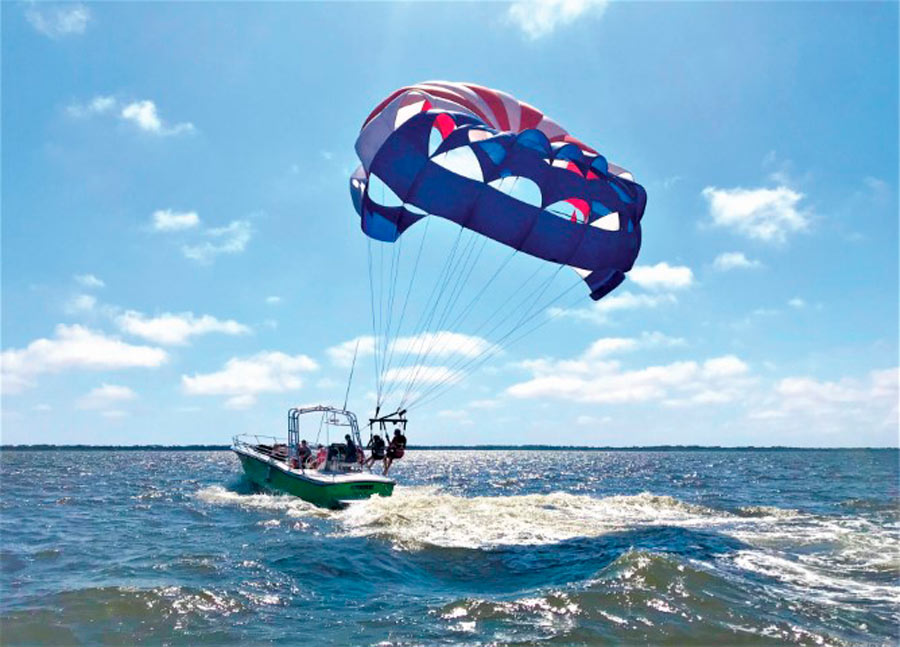 In the last year, the Winters' vision was realized in Lighthouse Parasail, a year-round parasailing company that operates between the Outer Banks and the Florida Keys. The idea was to have a more personal experience than most parasailing outfitters, and the off-the-beaten-path Corolla Village was the perfect place for that with its rich history and eclectic charm.
Lighthouse Parasail runs out of Coastal Explorations, where you can rent kayaks, surfboards, SUPs and bicycles. It's tucked among places like Corolla Village Market – housing artwork from more than 35 local Outer Banks artists – and The Juice Jar, a local's favorite spot for an acai bowl or fresh fruit smoothie. As you approach the Lighthouse Parasail dock, you can see Currituck Beach Lighthouse in the background.
"It's a more laidback, unique experience," says Jacquelin, comparing Lighthouse Parasail and Corolla Village to some of the busier areas of Corolla. "The people back there are all operating really special services."
Once you get out on the parasailing boat, Captain Alex will set you up in a single, double or triple harness for your parasailing flight. There is a weight minimum of 150 pounds for singles, so doubles and triples are recommended for families with children. Then, it's time to go up to 500 or 800 feet. As the Outer Banks unfolds below you, you can see the lighthouse, Whalehead Club in Historic Corolla Park and the stunning beaches of Corolla. Penny's Hill isn't far away, and you can even see Monkey Island in the middle of the Currituck Sound sometimes. With the parasail billowing above you, you have ocean-to-sound views of the northern Outer Banks and beyond.
"It's quiet up there," says Captain Alex of the flights, noting that that's what surprises people. "It's really calm, enough to where my 3-year-old daughter likes it." Chloe Winter flew for the first time last summer and loved her experience, calling the expanse of water and sky the "big blue."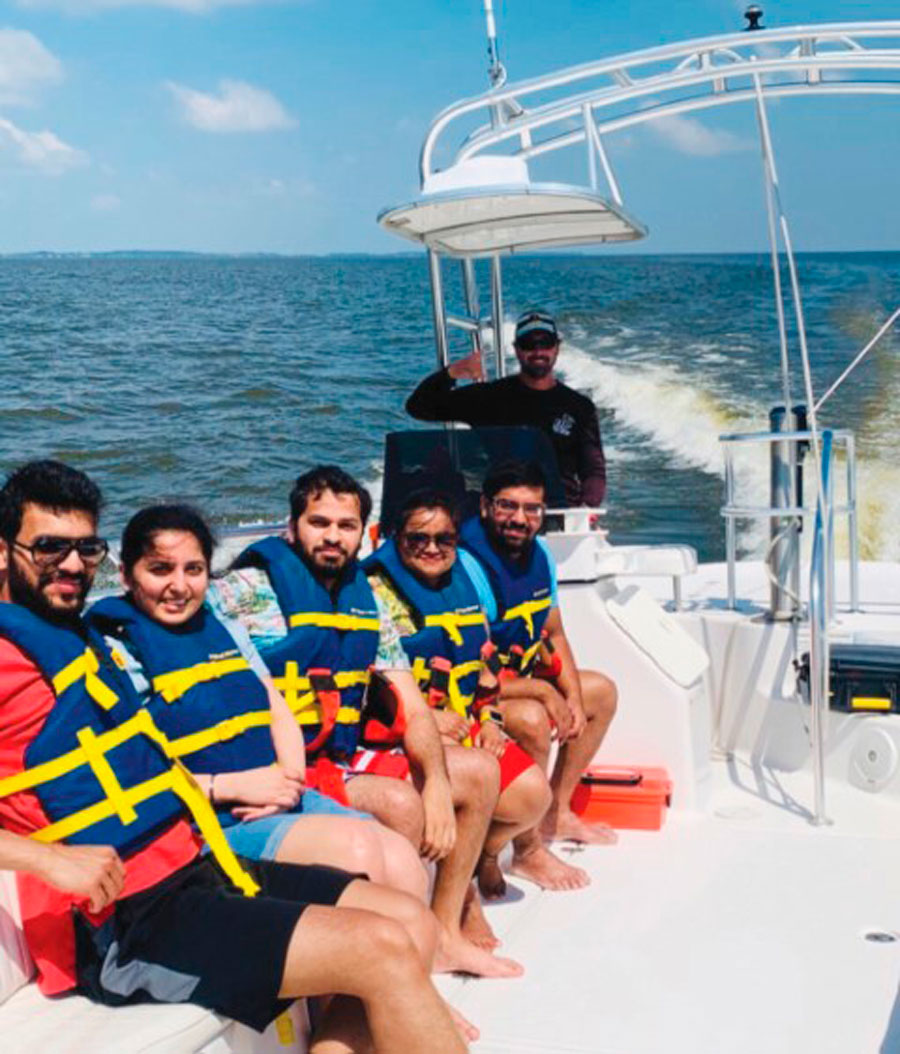 Flying children and families is one of the best parts of the job, according to the Winters. Captain Alex loves it when kids tell him that parasailing is the coolest thing they have ever done, and there are many families that return each year to parasail. The Fox family, who have flown many times with Captain Alex, no longer call the parasailing booth to make a reservation – they just text.
"They were coming when Alex and I met," says Jacquelin. "They came that summer when Alex and I were dating. The following summer, we were married. The following summer, I was pregnant. And the following summer, they brought Chloe her little first birthday gift."
Other families stand out to the Winters over the years, like the three families that flew with Lighthouse Parasail in Marathon Key this winter after previously having flown in Corolla. Unlike most parasailing companies, Lighthouse Parasail guarantees observers. That means if mom or dad isn't entirely comfortable sending their children out to parasail on their own, they can come along too – making it a great experience for the entire family.
Before and after the flight, you may get the chance to see some Outer Banks wildlife. There are a variety of birds in the area that can be spotted from the dock, and Jaquelin says there's no one better to identify them than Lighthouse Parasail's neighbors at Coastal Explorations.
Out on the water, dolphins are a common sight, and there's even a manatee that visits Corolla each summer. (She went viral in a video last summer.)
"We think it's the same manatee that we've seen over the years in the sound," says Jacquelin. "She, unfortunately, has scar tissue on her back that looks like it's from a boat propeller, something like that. Last year, she came right up to the boat."
Overall, the biggest differentiator for Lighthouse Parasail is that the focus is purely on parasailing. A lot of watersports companies offer Jet Ski rentals, pontoon boat rentals and more. With Lighthouse Parasail, you know you are working with parasailing experts with a spotless safety record. "It's what makes me happy," says Captain Alex of his family's lifestyle. "Raising my little girl on the water is a dream to me. Hopefully, she's going to be my mate one day."
Lighthouse Parasail operates from about May 15 to September 15 on the Outer Banks. This summer, the company is taking extra precautions in light of COVID-19. Private trips will be offered for families and households looking for a more personal experience. Additionally, the shuttle boat has been eliminated, which actually gives you more time for your parasailing adventure.
So, what are you waiting for? No matter how you choose to fly this summer, Lighthouse Parasail will make sure the experience is unforgettable for the entire family.
---

(252) 722-3669
flobxfun.com
1118 Corolla Village Road, Corolla
---