Listen To This Article
They're out there just waiting to become unwelcomed guests of your outdoor adventures. They bite, sting and attach bringing not only itchiness and discomfort but also, in some cases, illness.
Mosquitoes and ticks are only a few of the infamous bug invaders of spring and summer. Every year, Outer Bankers face their invasion. We've all had a bad run-in or two with these nasty critters, and avoiding the bite to protect self, family and friends is an ever-growing concern. 
Enter Dean and Emily Ives, two local high school sweethearts who take your protection against these insects to a whole new level. 
A Fateful Dinner
Dean started Mosquito Squad after losing a bet with his mother. He was 17 years old and fairly sure that nothing would actually make their outdoor dining events enjoyable, since their mosquitoes were terrible! At the time Dean's mom had just learned about Mosquito Squad's home services and hired them to treat before their next event. Despite Dean's initial doubts, Mosquito Squad sent those mosquitoes packing and the event went off without an "itch."
Dean became an immediate convert and never looked back. After graduating from high school, he began with the local franchise at just age 18. He enjoyed the work and took particular pride in the protection he was able to provide for local families. When the former Outer Banks owner wanted to step back, Dean didn't want to let his customers go unprotected. For Dean, the Outer Banks had become like a second home. 
By 2018 Emily came on board to help with customer service and operations. 
The result of that dinner bet today is a local business owned by a husband-and-wife team who also keeps a special place in their hearts for the Outer Banks, a cool couple who really takes the safety and well-being of Outer Bankers seriously. 
Meet the Mascot, Dread Skeeter
Mosquito Squad's mascot personality is a rough and tumble dude named Dread Skeeter. Dread's stated mission is to defend communities against mosquitoes, ticks and other dangerous insects. Dread looks a bit like a cartoon version of The Rock carrying a blower, and indeed this blower is the key implement of Mosquito Squad's stock and trade. 
With just a phone call, specially trained professionals come to your home or business. They may not look like Dread Skeeter, but they mean business. The results, as Dean once learned while dining in his mom's back yard, are impressive. Mosquito Squad's treatment will reduce mosquitoes by 90 percent and ticks by 100 percent. They also offer services to target no-see-ums, midges, flies and more with similar results. Mosquito Squad is prepared to protect homes and businesses from the Spotted Lantern Fly – a threat to local trees and fruit crops that is spreading across the nation.
Bee-ing Considerate of the Good Bugs
Though Dean and Emily's Mosquito Squad is crazy tough on the bad guys of the insect world, they don't want to put the kibosh on the good insects. Dean and Emily enjoy a strong connection with the natural world here on the Outer Banks, and they work to be good stewards of our rich environmental heritage. It's here that Emily's expertise comes into play. A beekeeper and a master gardener, Emily has worked to provide natural treatment options to help reduce risk to bees and other beneficial insects. Each employee is specially trained by Emily to apply these treatments in a way that considers these good insects.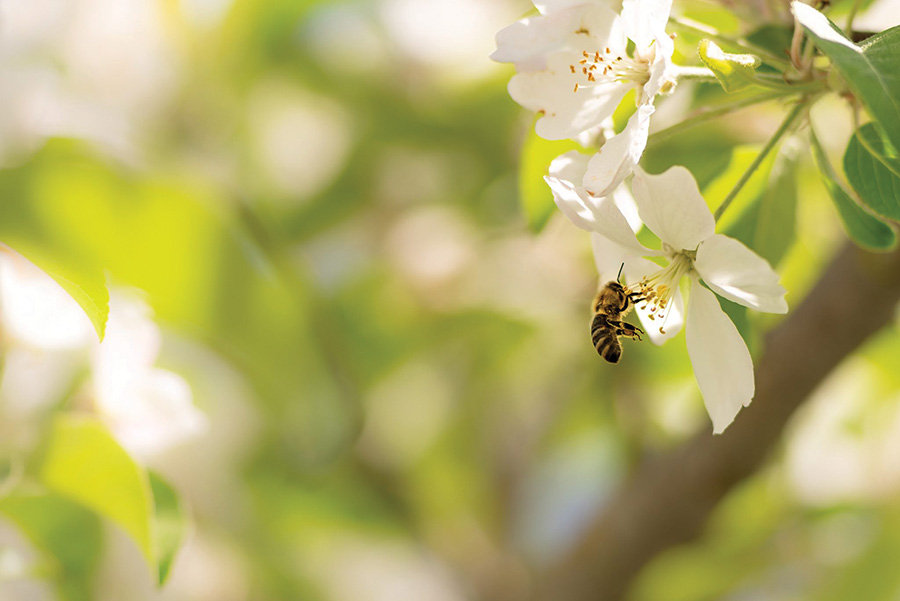 A Service That Protects Health and Well-Being
Emily and Dean have friends and family members who are dealing with Lyme disease and Rocky Mountain Spotted Fever, so they understand first-hand why eliminating these insects that carry illnesses is so important. It's great to have two locals on our side doing all they can to protect community health and help your outdoor experiences be enjoyable again!

(252) 300-7017
mosquitosquad.com/obx