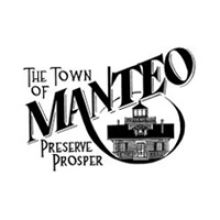 Come into Manteo and take a right at any light. Stop when you get to the water. Now, look around you. It's beautiful, isn't it? Such a great combination of old and new, serene and fun, laid back and entertaining. A waterfront boardwalk belts a vibrant waterfront town. There's history nestled right beside brand new. This is Manteo, the perfect combination of hip and historic.
Roanoke Island, the small land mass containing Manteo and the fishing village of Wanchese, seemingly floats in Croatan Sound between the beach area of Nags Head and the mainland of eastern North Carolina. Traditionally, Manteo has been the place you lived or visited because you appreciated the neighborhood feel of the town. This is a community, a place where year rounders know each other's business and are happy about that. A town where you know your identity in relationship to your friends, coworkers and other townspeople. But it's also a place where the mingling of old and new has created a personality that welcomes visitors and makes them feel at home too.
With all the history that's seated itself on this little 13-mile-long island - and there's lots of it - there's just as much being made present day. Manteo, with the beautiful, outdoor amphitheater at Roanoke Island Festival Park, is becoming known as Outdoor Concert Central. Every year, at least six big-name concerts are held here. This year, some of the bands you'll hear are Live, Gin Blossoms, The Spin Doctors, Cracker and Bruce Hornsby. If you love beach music, there's a festival every Memorial Day Weekend, and if bluegrass strums your strings, that festival is held every late September. Add to these downtown concerts the Lost Colony's Live at the Waterside Concert Series that this year will include a Beatles' tribute band, the Lovin' Spoonful, the Red Clay Ramblers & Molasses Creek as well as the almost nightly small musical happenings at local bars, and you can see why Manteo and Music are becoming paired. But, the proverbial statement "But that's not all" insists on being heard here. And, it isn't all, not by a long shot.

It's a town that has been the county seat of Dare County for more than 100 years yet one that, today, is the new happening place. Vibrating against the backdrop of this century-year-old town are activities, arts, attractions, restaurants, shops and events. No longer the sleepy village you might have considered it even 15 years ago, these days there's always something happening in Manteo. Yet, there's also something not happening. What we mean is that, even when there's a music festival rocking downtown or it's a busy Saturday morning at the Farmer's Market, you can still find shady picket fence-lined streets to stroll or a cool, breezy cut to kayak through or a bench on the town's boardwalk from which to watch the world go by. That's part of the mix that makes Manteo so appealing. The personality of the town is a conglomeration of old and new, exciting and laid back, happening and nicely old fashioned. You want a fun bar scene til midnight? You got it. You want a quiet, moonlit stroll along the waterfront? You got that too.
The arts scene in Manteo is a major driver of fun. Every month during the First Friday celebrations, the Dare County Arts Council, housed in the stately, restored County Courthouse in the middle of the waterfront area, presents a new art opening. The gallery is a showplace for the talents of the area's many nationally known artists who work in a wide variety of mediums. And construction was recently completed on the Courthouse to replace the belfry that was lost years ago in a storm.
During the First Friday celebrations, townspeople and visitors gather to appreciate the artists, mingle and talk and sip a beverage. After, they stroll around town listening to the live music, stop in at a local restaurant for a meal and enjoy shopping in stores that stay open later than usual. Throughout the year, other arts-oriented events take place, often in coordination with other nonprofits or the Town, such as the New World Festival of the Arts, an 80-entry, juried event that spreads through the waterfront area each mid-August.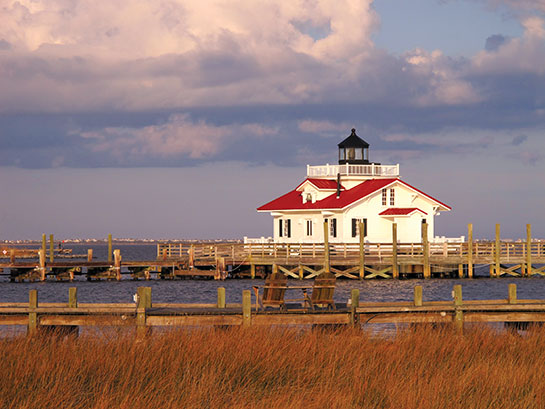 Having Roanoke Island Festival Park in the midst of Manteo also means that on any given day, you have a play, a musical event, an art showing or an historic experience to attend. The interactive museum is honestly fun - ask any young person here! And the American Indian Village, Settlement Site and the ship Elizabeth II draw thousands of visitors each year. Plus, in the Outdoor Pavilion amphitheater, as we've already mentioned, rock, classical and jazz bands frequently take to the stage, and full symphonies play under the stars on the 4th of July. Clearly, this state park is often the center of entertainment in Manteo. Speaking of restaurants, Manteo has some of the best. There's upscale, easy going, sandwich shops, pizza places, family eateries, burger joints, Southwestern, Italian, seafood centered and more. They're all popular, but one of the bestkept secrets is that, even in the middle of summer when you sometimes have a two-hour wait at beach restaurants, here in Manteo you usually get right in. Plus, at many you can dine al fresco - which also means you can bring along your four-legged family member. Another draw for waterfront restaurants in particular is that they're all within a block of so of each other. Why not have drinks at one, apps at another, your main meal at yet another and dessert at the last stop? It's a movable feast! And, did we mention that the smallest brewery in North Carolina is right here in downtown Manteo?
Meandering Manteo's shops is a pleasure on these tree-lined streets and along the highway corridor. You'll find no chain stores downtown, and we like that just fine. You will too. Because what you discover are shops with the personalities of their owners. We have some of the finest yet most affordable art galleries on the entire Outer Banks, and in some you can watch the artist at work. There are shops featuring clothing, home décor, coffee, specialty jewelry, antiques, ice cream, history-centered plus a cool weaving shop and a fantastic bookstore. It's a day well spent just wandering in and out of them, talking with the shop keepers and appreciating the variety.

But when you're ready for some action, you don't have to look hard for it. Manteo has some of the best kayaking and standup paddleboard waters you'll find, and you can rent both right downtown if you didn't bring your own. Fly high over the town in a parasail! Plus, we're a sailor's dream. On any given summer day, you'll see our surrounding waters punctuated with sailboats, many of which are part of our Maritime Museum's sailing program. Running is also a community sport of sorts, and our local running shop is owned by a serious running couple who regularly lead runs and are more than generous with their advice on bettering your personal experience. Plus, we're home base for the Outer Banks Triathlon, other 5Ks and the finish line for the Outer Banks Marathon. We have our own yoga studio, bootcamps, pilates and Zumba classes and a bridge-to-bridge bike path to enjoy.
And, when you wrap all this town-centered goodness into the island's overall attractions, you can understand how it could take you at least a weekend to experience everything that's offered. Within a few miles of downtown Manteo are The Lost Colony outdoor drama, Fort Raleigh National Historic Site, the Island Farm and the North Carolina Aquarium.
We could go on...we honestly could...about what we love about Manteo. We haven't even mentioned the dolphin tours or Pirate Adventures or night-time ghost tours or holiday events or.... But, you should just discover your own favorite things. As we like to say: If you don't love it, you haven't been here!
 
The Town of Manteo
PO Box 246 Manteo, NC, 27954
(252) 473-2133 | townofmanteo.com