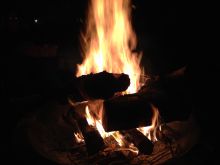 With fall and winter coming on, some of you might read that headline and extrapolate it out in your head to . . . How to Survive Until Next Summer.  There, there. Summer will come again. Or you can head off to somewhere south of the equator until it comes around again here on the Outer Banks. But for those of us who appreciate the seasons, who excitedly anticipate all the activities and events that take place here when it's not blazing hot, when these islands are a bit calmer, when many of us have more time to ourselves, we thought we'd bring you this feature on how to do some favorite cooler weather things. Read on, comrades in cool! And see if you can entice your endless summer pals to do some of these with you, ok?
Build a Bonfire
Nothing is more fall- and winter-like than a bonfire. No, really, think about it. Coats are cold weather-like, but you change them all the time. Bonfires stay the same. Snow is part of the chilly scene, but as we know, no two snowflakes are the same. But bonfires . . . even when they're in different places, built in various "this is the secret" styles, they're still the same ancient sun coming out through the substance of the wood, releasing warmth back into the world.
If you were to ask an Eagle Scout and backyard fire pit lover the best way to build a bonfire, you might get two diverging answers. There are the purists (that would be the Scout) who wouldn't think of using starter logs and who insist that the only honest way to a roaring blaze is to start with something particularly combustible such as balled up paper or seasoned leaves, then add twigs, then branches and then larger pieces of wood, carefully adding each element as the fire builds.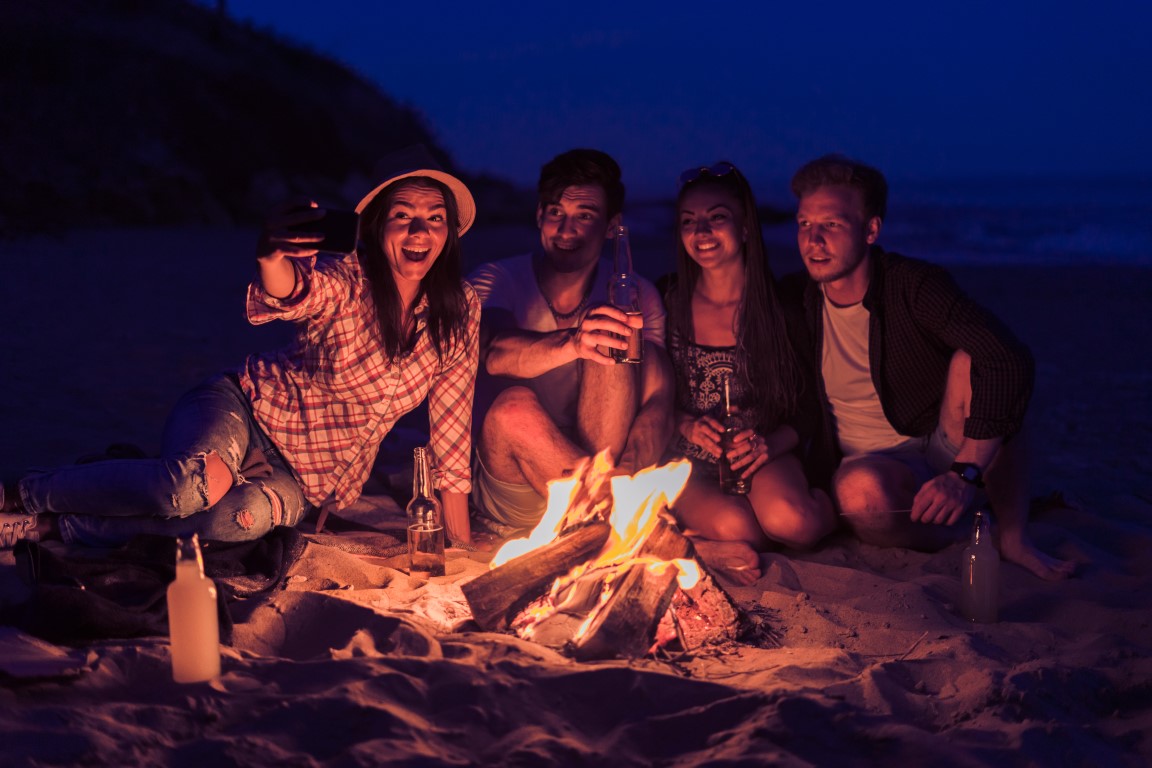 Then there are those who say, shoot, why not go modern and use those starter logs! Put them down on the grate first, add a few smaller branches that will light quickly and put three or four logs on top then apply the lighter. The starter logs will burn long enough to get the wood ignited in most cases. In either method, make sure you have sufficient air at the bottom – in other words, don't stack the wood so tight that there's no space between the logs for the flame to dance up. And, of course, make sure your wood is seasoned and dry. Sit back and appreciate the primal call of fire.
Find Sea Glass
We have a bit of a selfish dilemma on this one: If we tell you how to hunt this most treasured reimagined gift of the ocean, there will be more of us trying to claim the prizes on each beach walk. No matter. Do the right thing anyway. And, after all, there are fewer of us out looking for sea glass when it's colder outside, so there's more to be found! Why reimagined? Because glass goes into the water, gets nurtured until all its sharp edges are gone, then it's lovingly pushed back up onto land in its colorful smoothness for us humans to find. There's a lesson in that. 
To find sea glass, you have to look but not look. You have to soften your gaze. You can't be pin-pointed and overzealous. You're looking for a hue. The colors of sea glass are sometimes not what you see first – unless it be the Queen of All Sea Glass, cobalt blue, or some other truly hard to find color. (My dear friend found an orange piece here! I've been a sea glass aficionado for 35 years, and she comes and in one beach stroll finds a piece of orange!) There's a different reflection that comes with sea glass than with shells – less shiny or maybe just more dense. Slow down, relax your shoulders, make your eyes kinder, hum. All these things will add to your success.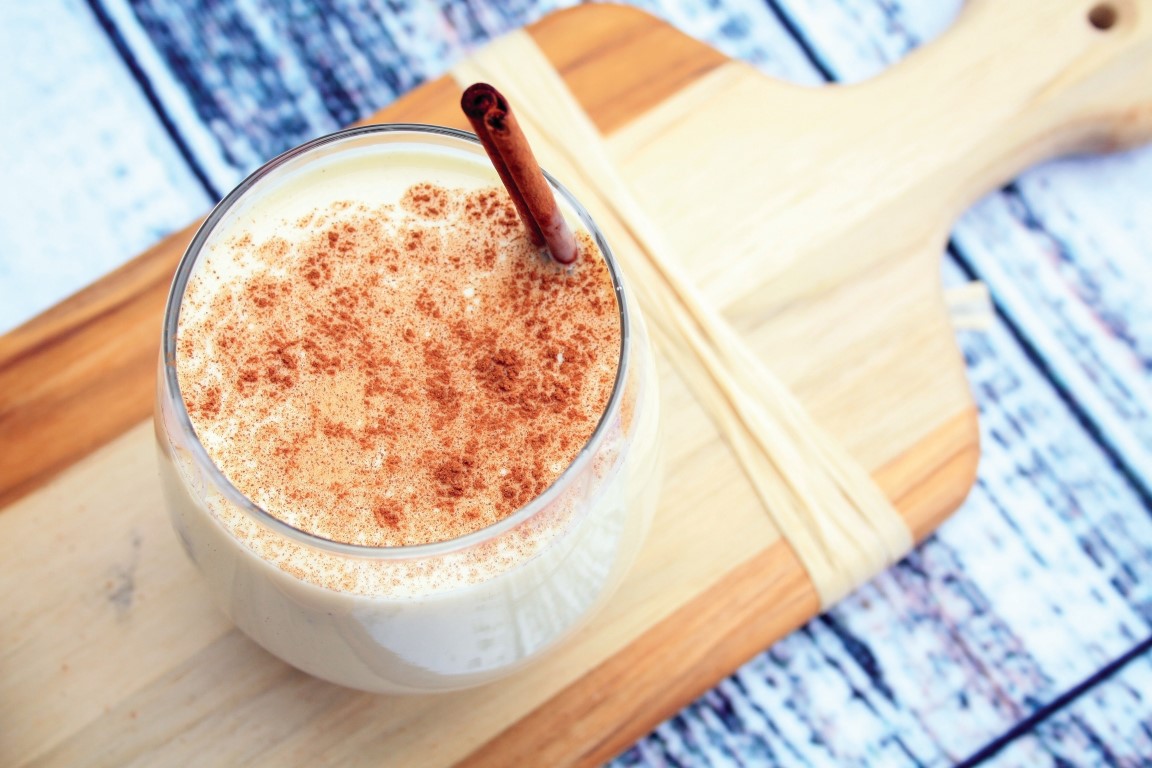 Make a Quintessential Outer Banks Cocktail
New York has Manhattans. Cape Cod has the Cape Codder (a.k.a. Sea Breeze). Alabama has the Alabama Slammer, and our 50th state has the Blue Hawaiian. Why the heck wouldn't the Outer Banks have a quintessential signature cocktail? Well, we actually do all those other drinks one up! We even have our own liquor made right here! Kill Devil Rum, made in Manteo, has been producing high-quality rum for several years now in interesting varieties – Silver, Pecan, Gold, a Shipwreck series and a Winter Solspice. On their website, they highlight many tasty-sounding drinks that local bars make with their liquid bounty, and we chose the most appropriate one for this fall/winter magazine.
In keeping with our oyster roast suggestion (flip over a page), we could have highlighted another popular local drink, the Oyster Shooter. But, there's not necessarily a lot to making that one – add a raw oyster to a shot glass, top with cocktail sauce, squeeze some lemon on top then add vodka. Slurp in one gulp.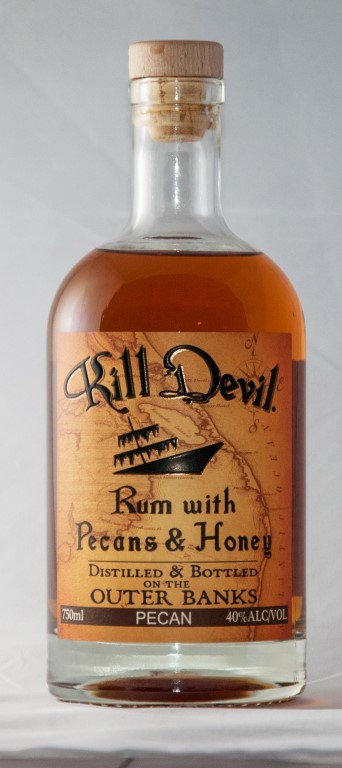 Kill Devil Coquito
(Puerto Rican-style Eggnog)  
• 2 egg yolks, beaten
• 1 (12 fluid oz.) can evaporated milk
• 1 (14 oz.) can cream of coconut
• 1 (14 oz.) can sweetened condensed milk
• 1/2 cup of Kill Devil Pecan Honey rum
• 1/2 cup water
• 1/4 teaspoon ground cloves
• 1/2 teaspoon ground cinnamon
• 1 teaspoon vanilla extract
 
In a pot, combine egg yolks and evaporated milk. Stirring constantly, cook over medium heat until the mixture is thick enough to coat the back of a spoon. Transfer the mixture to a blender, add cream of coconut, sweetened condensed milk, rum, water, cloves, cinnamon and vanilla. Blend for about 30 seconds. Pour into glass bottles and chill overnight. This recipe makes about a 7-cup batch. Garnish with a dash of cinnamon before serving.
Drive in the Sand
Now that summer is over, it is possible to drive on the beach in some areas of the Outer Banks. Pay attention here: only in some areas. There's no beach driving any time of the year in Duck and Southern Shores. The other northern Outer Banks towns of Kill Devil Hills and Nags Head allow it from October 1 through April 30 with a permit. Corolla allows beach driving north of the paved road year round and south of the paved road during the same October/April period with a permit. Note that the southern beaches of Hatteras Island and Ocracoke are controlled by the National Park Service and that they reserve the right to close sections to protect nesting birds or turtles. Permits are definitely required for beach driving there. Do yourself a favor and follow the permit rules. The towns and park service vigorously enforce the rules, as they should!

Ok, now that that's explained, here's a primer on how to go about driving on a surface that shifts, is uneven in depth and seems to take glee in watching you get stuck. Yes, even seasoned drivers will tell you that sand driving on the Outer Banks is tricky.

First, don't attempt this in your Maserati. Do you think I'm kidding? I'm not. I, myself, witnessed this bizarre manifestation of stupid just this summer! You're gonna want a 4WD vehicle. If you've got that covered, stop in the lead up to the ramp and let air out of your tires. Some locals say to take it to 20 psi, some say 12-15 is better (which also implies that you have a pressure gauge). Maybe start with 20, then if you get stuck, let more out. 

Next, you have to have some driving hutzpah. Don't be timid, especially as you enter and exit the ramp. Locals also urge you to follow the tracks that are already there. That sand is already packed more than the surrounding sand, so you're less likely to bog down. Think: If the person in front of me made it through that path, it's probably a logical one for me to follow too. Then, if you do find yourself in that sinking (pun intended) realization that you're not making forward progress, stop! Don't spin and spin as you'll only dig your tires in deeper. Instead, pull those spare boards out of the back of your car or truck that you brought just for this possibility, place them under the tires then try again. Still stuck? Swallow your pride and ask for help from one of the monster trucks easily passing you by. Chances are they will have stopped to offer help anyway – those (often amazingly sweet) guys in those trucks have saved us on more than one occasion! Pay them with money, beer and tons of appreciation. 

Catch, Clean and Cook a Fish
One of the initiations to becoming a true Outer Banker is catching, cleaning, cooking and eating your own fish, all by yourself, no help. 
Catch 
If you're up to the challenge, this time of year we suggest going for a red drum. Drum come in all sizes —puppy drum (0 to 27 inches), yearling drum (27 to 40 inches) and old drum (40 and longer). N.C. anglers can keep one fish that's between 18 and 27 inches long.

Surf anglers are most likely to catch puppy drum on a two-hook bottom rig with one or two chunks of fresh, natural bait and several ounces of weight. Use 1/0 to 5/0 hooks and make sure they're sharp. Fresh cut mullet and menhaden are proven baits, and fresh shrimp sometimes works. Puppy drum are available in the surf from Corolla to Ocracoke in the fall. The epicenter for big drum at this time of year is Cape Point. You can also find drum of all sizes around inlets and in the sounds using soft plastic baits teamed with lead head jigs or natural bait. 
Clean 
Most importantly, start with a very sharp fillet knife. If you value your appendages, don't even think about trying it with a dull knife.
The way you clean the fish depends on the way you're going to cook it. You can gut it and leave the head on if you're going to bake it. But if you're going to fillet it, basically skin the meat off the bone, here's what you need to do (YouTube it if you need a visual).
1  Start at the head. Find the soft fleshy point behind the gills. Holding the fish's head, slice down into this soft spot at a slight angle towards the tail. 
2  Slide the blade through the body just above the spine.
3  Using a very slight sawing motion, slice back toward the tail until you've separated the meat from the rib cage. The knife needs to be turned so that it's lying flat to the backbone and just barely scraping the backbone.
4  When you've reached the tail leave just enough skin attached so that it's barely hanging on. Put the fillet back in place, flip the fish and do the same thing on the other side.
5  When you've cut both fillets, remove both of them from the tail at the same time.
6  To remove the skin from the fillets, pinch the skin at the tail and slide the knife between the skin and meat. Cut about 3 or 4 inches, and then cut a hole in the skin to put your finger through. Holding that skin like a handle, strip the skin off the meat.
Cook
Hatteras-Style Boiled Red Drum
This recipe is the real deal. The oldtimers made it with old drum, but you can't keep those anymore. You can make this with any keeper drum in the 18 to 27-inch range. You have to serve this with cornbread. It's a requirement.
2 red drum fillets, diced into 2-inch cubes
A dozen or more red potatoes, cut into 1-inch pieces
1 onion, diced
1 pound of bacon (or streak o' lean), cut into¼-inch cubes
½ stick of butter
sea salt and pepper
In a large pot, boil 2 quarts of water and add the potatoes with salt and butter. Boil for 8 minutes or until soft.  When they're done, remove the potatoes from the boiling water with a slotted spoon. You'll need the boiling water for the fish.
In the meantime, fry the bacon in a large skillet until crispy. Drain bacon and reserve the grease for later use.
Saute the onions in the same pan that you used for the bacon.
Add the fish to the boiling water and cook for about six minutes, just until white and flaky. Try not to overcook. Drain. 
To serve, on each plate, lightly mash two to three potatoes with a fork. Add three to four cubes of fish and lightly mash into the potatoes. Top with a sprinkling of onions and bacon, then drizzle with a tablespoon of hot bacon grease. Add salt and pepper. 

Build a Backyard Oyster Bar
This is a fun one! If you're an oyster purist and keep yourself to them only in the cold months, this is a seasonal activity that announces and celebrates plummeting temps! First, imagine the oyster roast nights in your head: You're dressed in jeans and sweaters, it's dark by 6 so the night starts earlier than summer fetes, you've built one of those aforementioned bonfires nearby, the sky is clear with the stars shining and the steamers are set up and ready. Ok, you're in the right mode to set the stage correctly. 
If you're building oyster tables, make them taller than normal so guests aren't leaning over the whole night. Make them skinny too – we recommend 8 feet long and about 2 feet across. Consider cutting a hole in the middle to place your trash can under to catch the shells (then donate those shells to a local organization like The Nature Conservancy at Nags Head Woods). Rig some high poles on both ends that are sturdy enough to anchor a rope that you stretch from end to end onto which you attach strings of lights so you can see what you're eating without taking up table space with lanterns. Now . . . moment of happiness: Plug in those lights and step back and observe your handiwork. It's pretty, in and of itself, even before those steaming shells are dumped onto the table. It's generational Outer Banks right there in your backyard. 
In case this is your first time, you'll want saltine crackers, oyster knives and cocktail sauce at your oyster bar too. Hopefully, in keeping with oyster season, it will be too cold to have melted butter on the table. Personally, we prefer to have torn up pieces of towels on the table also to place between hand and oyster. Oh, and beer. Lots of beer.

Make Three Exceptionally Delicious - and Maybe a Little Weird - Oyster Sauces 
Sure, if you want to go old school and only have store-bought cocktail sauce (we think the Texas Pete sauce is the best one) at your oyster bar, no one will think lesser of you. Honest. But, just in case you want to add a little sumpin' sumpin' to your roast, here are three sauces you can consider. 
Mignonette Sauce
It even sounds fancier being that it's a French word. But it's simple to make. Chop up a couple of shallots, add champagne vinegar and season with sea salt and ground pepper. Drizzle over oysters or put it in a squirt-top bottle and let folks add their own.
Pesto Sauce
You're either going to be a big fan of this one or not. I think it overpowers the oyster flavor, but you might think it's a perfect combo. Provide a bowl or two of pesto on the oyster bar for guests to scoop into as they prefer. Take a poll to be prepared for the next roast.
If you still have basil in your garden, gather up about two fist-sized bunches of leaves and stems. In a food processor, add the basil, pine nuts or walnuts and garlic (as much as makes you happy!) and blend that until it's chopped up looking. Next, add parmesan cheese and some salt and blend again for a smidge. Then, as the processor is running, start adding olive oil until you get the consistency you like.
Ginger and Soy Sauce
Well, oysters are seafood, after all, and don't you often associate soy sauce with the fruits of the sea? This one adds a twist on the kind of down-home, straight and simple experience we think of with backyard oyster roasts, but, hey, a little shake up isn't necessarily a bad thing.
In another of those squirt bottles (the dollar places have them), add in rice wine vinegar and sesame oil in equal parts. Add a couple spoonfuls of soy sauce and grated ginger. Shake, shake, shake – et voila! Wait, that's what you say for the Mignonette sauce. 
---
Now then, aren't you excited about this upcoming fall and winter? Are you ready to build that oyster bar and get that bonfire blazing then invite your friends over for a glorious chilly evening? Sounds like a plan. Why not include that nice fellow who saved your car from high tide? Maybe he'll bring the Mignonette Sauce or, better yet, a bottle of that Kill Devil Pecan Honey rum!