Listen To This Article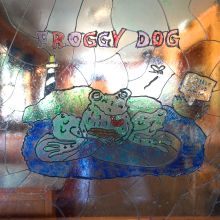 The Froggy Dog has been a centerpiece restaurant in Avon for five decades, starting as a hot dog stand in the 1970s and evolving into a casual seafood restaurant that became a well-loved Hatteras dining and nightlife tradition.
The restaurant looks pretty much the same on the outside, a sprawling wooden building with the familiar sign of a happy green pirate frog, and the interior has been updated yet still has that cozy beach-restaurant feel with wood walls and tables and an intimate pub-style bar. But The Froggy Dog is not what it used to be. Mother and son owners, Julia and Blake Taft have taken this Hatteras Island tradition and improved it greatly, managing to keep what people love about The Froggy Dog while elevating the food, beverages and services to new heights.
"We really take an approach here to keep the roots of The Froggy Dog," Blake says. "A lot of people love coming here year after year. But they are just blown away when they come in now."
If it's been a while since you've been to The Froggy Dog, it's definitely time to give it another try.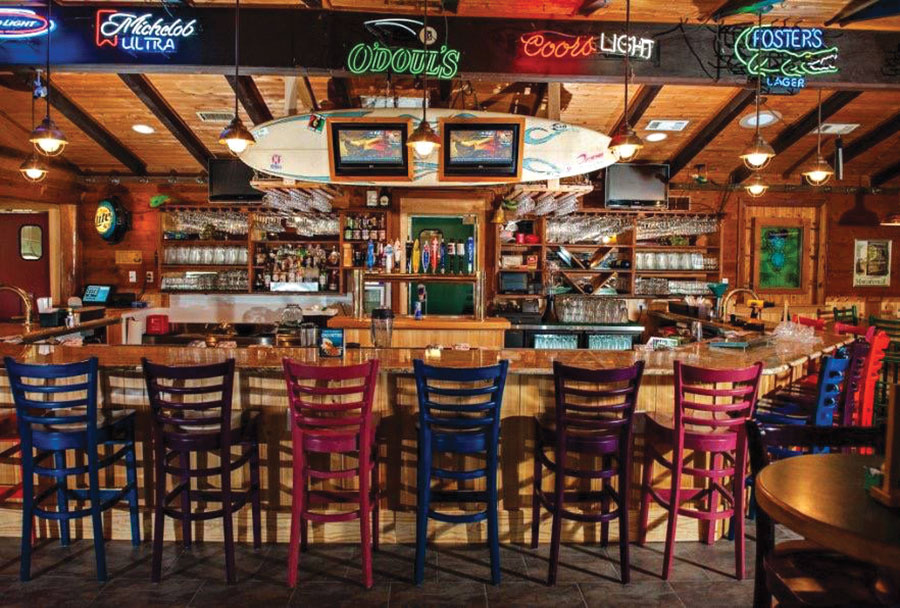 Julia and Blake, Hatteras locals since 2001, bought The Froggy Dog just a few years ago. Despite already owning several other businesses on the island, they knew that with their combined experience in restaurants and event management, it was something they could do well and enjoy. Plus, "The Froggy Dog is an icon," Julia says. "We couldn't let it go away."
To stay true to the roots of the restaurant, they kept the name. But they made some immediate changes — starting with the food. The Tafts wanted to keep a similar menu as far as sticking to Froggy Dog's fresh seafood specialties and casual dining options, but they overhauled the menu in one important way: "We make nearly everything from scratch," Blake says.
From hand-breaded coconut shrimp to hand-cut rib eyes, homemade sauces and salad dressings to freshsqueezed juices for the bar, a huge majority of what is served at The Froggy Dog is made from scratch in-house. Executive Chef Brandyn Powers brings a wealth of experience, flair and creativity to the menu while keeping their customers' favorites in mind. The Froggy Dog features American-style cuisine with a focus on seafood, pasta and steaks. Powers' cheesecakes are a dessert menu favorite, and many of the other desserts served here are made at another of the Tafts' businesses, the much-loved Muffins and Scones in Avon.
"We take a lot of pride in our recipes and the talent of our kitchen," Blake says. "My philosophy is the fresher the better. We have very high standards and are very particular about our ingredients and what we serve."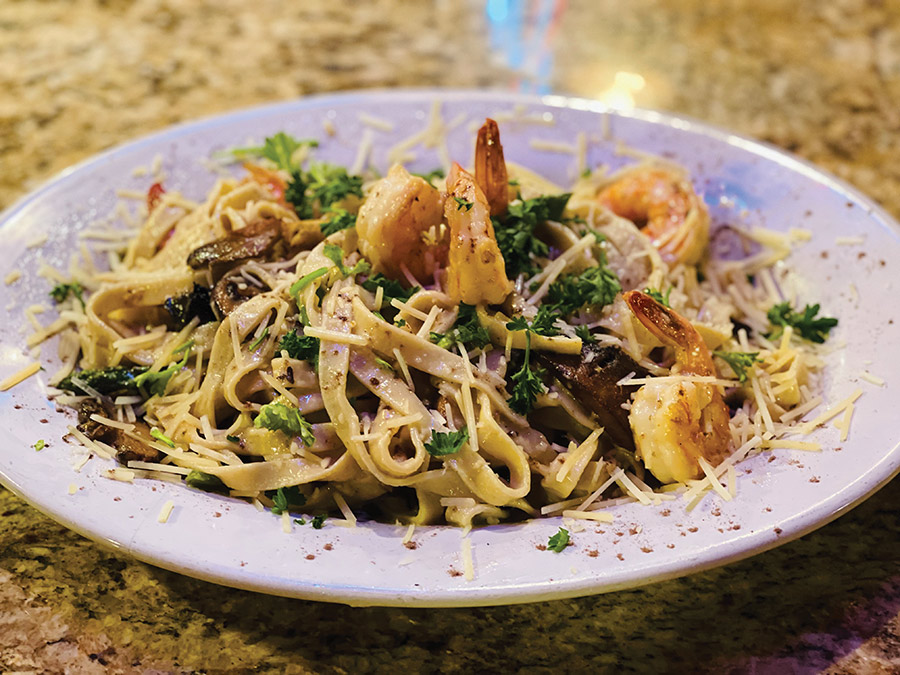 The Tafts' high standards also extend to their beverage program. When they bought the restaurant there were two reds and two whites on the wine list, but now Blake, who has extensive training in wine and viniculture, has expanded to 75 to 100 wines on their list and in their vaults, with many bottles tucked away to age to perfection. The offerings of their list, one of the largest on the Outer Banks, include wines from all over the world.
Blake has traveled to vineyards in Italy and France in preparation for his sommelier's exam (which got shut down in 2020) and especially loves finding wines that taste expensive at an affordable price point. He plans to complete his sommelier exam soon.
He has thoroughly trained the staff to help customers with their wine orders. The beer selection is also impressive, as are the cocktails made with fresh-squeezed juices and homemade mixers.
Another tradition that Blake and Julia are committed to keeping alive is karaoke. The Froggy Dog has been offering late-night karaoke on Wednesday and Thursday nights for more than 20 years, and they were not about to be the ones to cancel it. Karaoke is very popular here, especially in the summer months when visitors and locals line up to sing their hearts out until 1 a.m. "People say, 'I met my husband at karaoke at Froggy Dog!'" Julia says.
Other Froggy Dog fun stuff includes live music twice a week or more, pub trivia, '80s nights, Harry Potter trivia night and a dog-friendly patio. With 13 televisions offering sports programming and a late-night menu, The Froggy Dog is a Hatteras Island nightlife hotspot.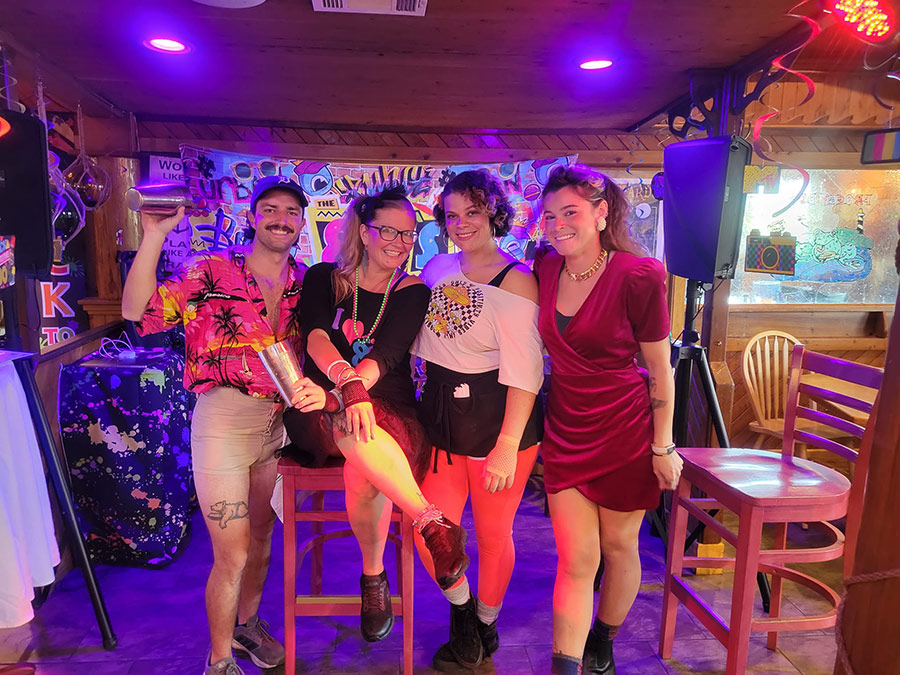 Blake hopes to bring back their popular wine dinners in the off-season. And with four separate dining areas, The Froggy Dog is set up to easily accommodate large parties as well as weddings and events. With Blake's background in event management and catering available, The Froggy Dog's popularity as an event venue is growing.
Blake and Julia still find time to be involved with the Hatteras Island community. "This is an amazing community to be part of," Blake says. "We try to give back as much as we can."
As director of Cape Hatteras High School's theater program, Blake oversaw the school's biggest and most complex production yet. The Tafts' businesses donate food to the theater program a lot of the time. The Tafts also participate in the Hatteras Island Christmas Parade, closing the restaurant to march with The Froggy Dog's float. In October they work with the Hatteras Island Cancer Foundation by selling various pink drinks to customers, and last year they led an in-house competition that raised more than $5,000 for the local charity.
The Froggy Dog is still the same place that Hatteras Islanders know and love, but with the Tafts at the helm, it's newer and fresher and constantly improving.
"What is the right thing to do in the restaurant industry?" Blake asks. "To serve fresh food, take care of the customers and look out for the community. This is such an amazing community, and we are proud to serve it in just that way."
More to Love at Muffins and Scones
One of The Froggy Dog's sister businesses, Muffins and Scones is a full-service bakery and coffee shop in Avon. You know that peppermint mocha latte that's only available during the holidays at certain coffee shops? Yeah, you can get it here in July. In the mood for a pumpkin spice latte? Muffins and Scones will hook you up; no PSL judgment here.
And it's not just coffee. Made-from-scratch muffins, turnovers, cakes, scones and tarts are all available, as are smoothies made with fresh fruit. You can order special occasion cakes and pies too.
Muffins and Scones boils 17 types of homemade New York-style bagels fresh every morning. "If I shipped in New York water they'd be just like you get in Manhattan," says owner Julia Taft.
You can get breakfast all day at Muffins and Scones, including breakfast sandwiches and quiches. There's also a lunch menu featuring items such as paninis.
Muffins and Scones is open daily all summer starting at 6 a.m.; closing hours vary, but they're usually open until at least 5 p.m. in season.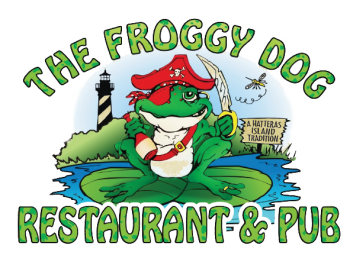 (252) 995-5550
40050 N.C. Highway 12, Avon
froggydog.com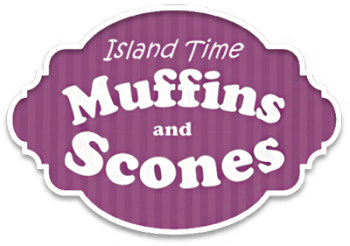 (252) 986-5109
40126 N.C. Highway 12, Avon
muffinsandscones.com