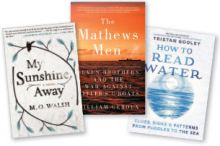 Indie bookstores are enjoying a resurgence, and nowhere is this more evident than on the Outer Banks. You may have heard that brick-and-mortar (or, more appropriately for the Outer Banks, shipwreck-timber-and-nail) bookstores are a dying breed. Who reads books anymore, right? But it turns out the answer is — lots of people. The independent bookstores dotting the length of the Outer Banks — Books to be Red on Ocracoke, Buxton Village Books, Duck's Cottage Coffee and Books in Duck and its sister store, Downtown Books, in Manteo and Island Bookstore with locations in Kitty Hawk, Duck and Corolla — are features in their respective communities. These well-curated shops have feisty, smart, independent owners who share a love of the written word and a commitment to providing the citizens of their towns with quality books, all while keeping a large portion of their profits in the community.
The thriving bookstores on the Outer Banks exist precisely because locals and visitors buy books from them. "Shopping locally is the way to help out our communities," says Leslie Lanier of Books to be Red. Gee Gee Rosell, owner of Buxton Village Books, concurs. "If we want a rich, diverse community of shops and restaurants, then we need to support and patronize them." Outer Banks bookstores offer a wide variety of books, children's books, e-books, digital audio, journals, cards and many other items for their customers as well as gift certificates, which are popular with locals and visitors alike. They ship books anywhere, allowing visitors to support Outer Banks stores from home. Gee Gee knows that shopping online-only retailers can seem like magic. "But that same action steals the magic from our towns. Not one red cent of what you just spent stays local. No money for schools or events. No tax dollars for fixing potholes or paying EMS." 
Outer Banks bookstore owners are also strongly involved with other aspects of their communities. Buxton Village Books sponsors Hatteras Island Reads, a community reading program on 101.5 FM, Radio Hatteras. Jamie Anderson from Downtown Books coordinates many events for schools, including organizing author appearances for the Dare Arts Council and operating book fairs for six Dare County schools. They contribute to a wide variety of nonprofits and fundraisers and have an Easter and Thanksgiving promotion to benefit Food For Thought. Leslie Lanier on Ocracoke regularly holds coloring parties for all ages, helps with the elementary school's fundraiser and offers her store's space for community use for fundraisers, gospel sings and weddings. Bill Rickman and the folks at Island Bookstore host authors every week in the summer at Scarborough Faire Days, a festive weekly event that includes book signings, live music, art projects, wine tastings and wild horses to pet. They also support local schools, granting students with books for a school-wide reading event and providing gift certificates to students who complete a summer reading challenge. 
There is something magical about the Outer Banks, aside from the exquisite coastal scenery and laid-back vibe, something stemming from the way the locals and visitors care for and support one another in so many different ways. "You are the reason the Outer Banks retains its charm and personality," says Gee Gee of the local bookstores' customers. The independent-minded people shopping at these local stores ensure that if any place can retain its independent and financially healthy businesses, it's the Outer Banks.

BOOKSELLER RECOMMENDATIONS FOR WINTER READING:
The Mathews Men: Seven Brothers and the War Against Hitler's U-Boats by William Geroux
Commonwealth by Ann Patchett
A Low Country Heart by Pat Conroy
My Sunshine Away by M.O. Walsh
How to Read Water: Clues and Patterns from Puddles to the Sea by Tristan Gooley
Leave Me by Gayle Forman
Fates and Furies by Lauren Groff
Deep Run Roots by Vivian Howard
A Man Called Ove by Fredrik Backman
After Alice by Gregory Maguire
Bacon by Fred Thompson
Harry Potter and the Cursed Child by J.K. Rowling
The Things We Wish Were True by Marybeth Mayhew Whalen
---
Shop Local. Shop Small.
Books to be Red
34 School Rd. | (252) 928-3936
Buxton Village Books 
47918 Hwy. 12, Buxton | (252) 995-4240
buxtonvillagebooks.com
Duck's Cottage
1240 Duck Rd., Duck | (252) 261-5510
105 Sir Walter Raleigh St., Manteo | (252) 473-1056
duckscottage.com
The Island Bookstore
1177 Duck Rd., Duck | (252) 261-8981
1130 Corolla Village Rd., Corolla | (252) 453-2292
3712 N. Croatan Hwy., Kitty Hawk | (252) 255-5590
islandbooksobx.com
---