Consider the iconic, canvas, blue beach chair. It's the same sort your parents probably sat in years ago when you were a kid playing on the beach — you know, with the wooden frame and the cross pieces of material. For so many of us, it's a talisman of summer, a steady reminder of relaxing hours spent under the sun and beside the sea. Ocean Atlantic Rentals has grown a successful rental business around this chair. See, sitting on the beach absolutely leads to good things.
Greg and Eden Honeycutt realized back in 1979 that, with the Outer Banks vacation market growing at breakneck speed, an equipment rental business was a smart idea. Ok, a very smart idea. In the early days, they rented those blue beach chairs, umbrellas and lots of baby equipment — cribs, high chairs and this newfangled item called the baby jogger (yes, Virginia, there was a time when all the products we take for granted now were new). They also rented many things they owned personally if a vacationer needed it. Eden recalled coming home one day to find their blender gone…yep, Greg had rented it. And then there was the rocking chair. Greg explained that a grandmother needed it to rock her new grandbaby that week. Of course that trumped Greg and Eden having it on their porch to use! Greg's funny that way.
But that sort of generosity often gets what it deserves — don't you just love that?! And, in this case, it means that the business grew and grew. Their inventory expanded to include TVs, VCRs (anyone remember those), movies, boogie boards, basketballs and tennis racquets, rollaway beds, board games and even blenders (not their own this time). They bought a 40-year-old cottage on the Beach Road in 1982 to keep up with the growth then raised it in 1984 to add on an office and storage space to keep up with even more. That same year, they opened another location in Duck. Business was hopping.
So it continued. Bikes, surfboards, wetsuits, body boards, kayaks and even swim fins joined the items for rent, and offices in Corolla, Duck and Avon joined the locations. The office in Nags Head moved to a large building on the Bypass in Kill Devil Hills.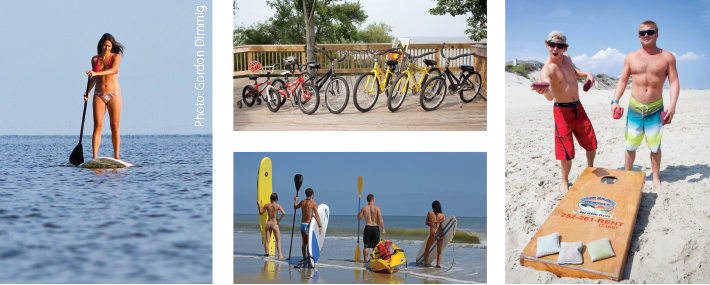 And, an interesting paying it forward was happening. Carrying on with the spirit of generosity and kindness that Greg and Eden had so infused their company with during the first couple of decades, the staff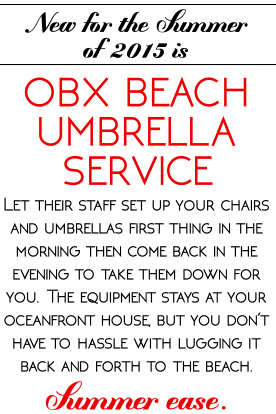 they hired gained a reputation for being some of the nicest folks on the beach. You might think this is just hyperbole, but ask anyone who has done business with them through the years and you'll hear them described in glowing ways. (They'll want me to take this part out, but I'm gonna fight to keep it in.)
In 2007 two of the staff, Chris Marik and Blake Buchert, came on as partners after working with Ocean Atlantic for years. The addition of this extra management level, Chris as General Manager and Blake as Vice President, allowed them to…guess what…expand even more after a few years, this time into the world of weddings and the opening of Island Revolution Surf Co in Corolla.
By the mid-2000s the industry of nuptials had grown as big as some of the dresses showing up at beach weddings (a misguided idea if ever there was one, but who can argue when a bride has her mind made up?). Ocean Atlantic Rentals again saw an opportunity to provide exactly what customers need. And, guess what, the big, blue beach chair pointed them in the right direction. The first wedding they worked on was for a local couple who wanted to keep it casual, with those beach chairs set up in the sand for guests. Great look, by the way. That started it off for them in the I Do arena, and today OAR carries just about anything a bride could imagine to create the personality of her wedding and reception, from massive tents to the smallest toasting glass.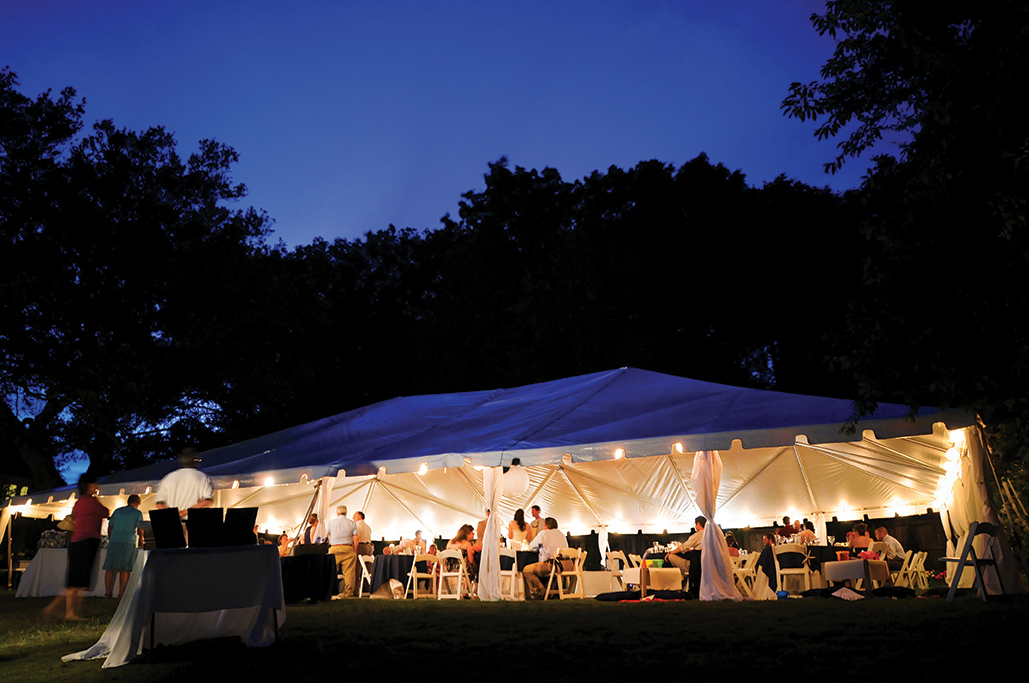 And, now, here they are on the heels of their 36th summer season. Of course, they do business year round, but summer is when they put pedal to the metal, delivering rental equipment to vacation homes from Carova to Hatteras, setting up tents for weddings and events, greeting and assisting the many customers who come to one of the four stores. They even have a crew of employees who teach surfing and paddleboarding — or, they'll just rent you the equipment if you're already adept.
They'll also rent you one of those iconic blue chairs — it will be one of the 2,000 or so they rent every season along with an equal number of umbrellas and who knows how many surf boards, cribs, bikes, kayaks, linens, grills and wedding dance floors. It's a lot of work, but the 100 in-season employees handle it all with great attitudes and smiles…just like Greg and Eden taught them to do. 
Like so many businesses, they would be nothing without their great staff that make your vacation dreams real…one blue chair at a time!

The OBX RENTAL CENTER
__________________________________________________________________________________________