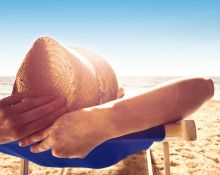 Picture that untouched stretch of shoreline after daybreak. The sand is soaking up the morning sun, the waves have gently washed away all footprints and little bird prints from yesterday's strolls and there's your seaside haven — a blue canvas beach chair and an umbrella that would complete the scene except for one key element ... you.

Families have been renting beach chairs and umbrellas on the Outer Banks ever since vacation rental shops started popping up along the beach road and Highway 158. And all that time, they've hinted at how convenient it would be for someone to actually set up their chairs on the beach (often with a wink and an elbow nudge to the person renting them their gear). Well, until recently, that service just wasn't a reality on the island, but at Ocean Atlantic Rentals, going the extra mile to make someone's day is exactly what the enthusiastic staff is all about.
Truthfully, the Ocean Atlantic Rentals crew has been slipping out of the shop piled high with kayaks, boards and bicycles to set up families on the beach for a while now. An elderly couple or a family that returns to the Outer Banks each year warrants special attention, so even though the Beach Umbrella Service wasn't officially launched until the summer of 2015, it has been in existence for some time. Today, visitors to the Outer Banks can opt into the service when they rent their chairs and umbrellas for the week. A couple of friendly Ocean Atlantic Rentals staff members will set up the gear each morning and break it down each evening at 6 p.m. to be placed back at your beach cottage.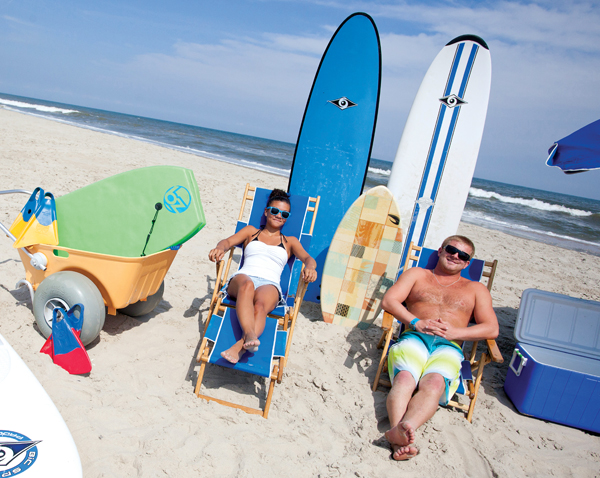 The Beach Umbrella Service is just one feature of an incredibly diverse business. Ocean Atlantic Rentals is entering its 37th year as the go-to vacation rental shop on the Outer Banks. And although the company has grown from a mom-and-pop shop into four locations and a clothing boutique (Island Revolution Surf Co. in Corolla . . . check it out!), customer service is still of the utmost importance. This is a place where you can find the same smiling faces year after year — staff that honestly cares about making your vacation spectacular.
General Manager, Chris Marik, says, "We have some people we consider family who have been coming down for 20-plus years. We've seen a lot of kids grow up, and some families have kids who were in our cribs and now work for us in summer."
It's honestly amazing what you can rent these days. Within their well-stocked stores and warehouses, you can find beach wheelchairs, cargo wagons, volleyball and cornhole sets, vacation home necessities, baby gear, linens, gas grills, beach cruisers and anything and everything a happy couple could hope for when planning a coastal wedding. The shops also offer basic instruction and local knowledge on surfing and standup paddleboarding for those just breaking into the sports. And this summer for the second year, the Beach Umbrella Service will be available for visitors staying in oceanfront accommodations.
It sure beats lugging your chairs over the sand dunes twice a day, and, hey, you'll even get a text message when your personal beach retreat is ready. Making use of the chair and umbrella set-up means that you not only avoid the heavy lifting, but that you've also already laid claim to the perfect place in the sun before the crowds of late morning beachgoers show up. Now that's vacation!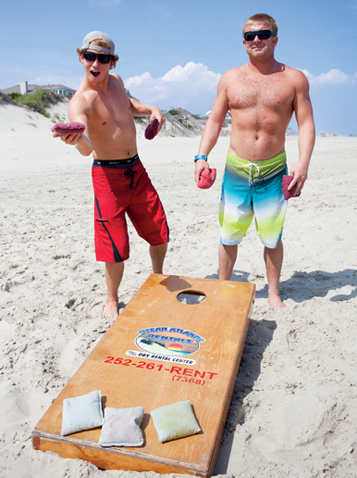 When you sign up for the Beach Umbrella Service, you will also receive a text from the staff if it looks like rain or heavy wind may be in the forecast, and you're invited to use the texting as a means to ask questions about the area too. "What's neat about the text messaging aspect of it is that we are really interacting with the customer through an avenue we are all so used to now," Marik said. "A lot of times the customer will ask us where to get a pizza or what have you, and we are able to give them great customer service." It's the simple things like this that make a real difference to customers.=
The beach and umbrella set-up was so wildly popular and well received in its first year that Marik is confident the service will only continue to grow. He is looking for feedback from the business's patrons to understand what else they hope to see from Ocean Atlantic Rentals in the future. "We're really just trying to hear back from people and make it happen for them," he said.
This spring, the Ocean Atlantic Rentals team has all hands on deck for wedding season between arranging meetings with brides and grooms, constructing dance floors, tents and oceanfront arbors and making sure everything goes smoothly when the time arrives to say I Do. They're also getting ready for summer by refurbishing vacation homeowners' beach equipment such as kayaks and surfboards and offering seasonal rentals to homeowners for their vacation cottages. The activity in the shop never seems to cease, but the team is feeling prepared for the busy season ahead.
Ocean Atlantic Rentals has four locations in Corolla, Duck, Kill Devil Hills and Avon and offers deliveries right to your door from Carova to Hatteras Island. That's right — they'll even come to you on the four-wheel-drive beaches. So when you're packing up the car with luggage, kids and pets for your Outer Banks vacation, remember that you don't need to bring everything — Ocean Atlantic Rentals has you covered.

The OBX RENTAL CENTER
800.635.9559  |  (252) 261-RENT
Corolla: 
Corolla Light Town Center  |  

Kill Devil Hills: 

2001 S. Croatan Hwy.


Duck: 

1194 Duck Rd.  |  

Hatteras Island: 

40809 NC Hwy. 12