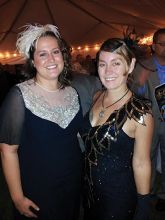 The people who run Whalehead in Historic Corolla are geniuses at merging mission with events. 
They help all of us understand not only the history of the great house but also, through their activities and events, the era during which the house came to be. And that era, as you might know, was the Roaring '20s when Prohibition was boxing with America's idea of a good time. This year during Mr. Knight's Wild Night, Whalehead's popular Taste of the Beach event, guests will feel as if they've somehow landed at a party with all the pretty people almost 100 years ago. Wait! Is that Mr. Gatsby and Daisy over there by the boathouse?

Wild party goers will want to purchase all four of the Prohibition-era mixed drinks being poured that night: Between the Sheets, a Whiskey Old Fashioned, the Mary Pickford and The Sidecar. All are drinks that your predecessors enjoyed, cleverly reshaken for this event. Also making a reappearance, of sorts, will be foods, expertly prepared by guest chef Wes Stepp of Red Sky Café in Duck, that Mr. and Mrs. Knight and all their friends would have eaten at such an event: shrimp, oysters, duck, beef Wellington, artichoke dip and more. Yes, artichoke dip. The curators at Whalehead know that, during the mid-20s, the petally veggie was a popular import from California.
During the evening, a special tour of Whalehead designed just for this event will be offered titled Hoodlums & Hooch that invites you into the real background story of the liquor runners, fishermen and other locals who helped keep the flow of alcohol steady into this area. How many of you attending will see your reflection in these characters? Maybe it was your great uncle Theodore or great grandmother Ella who organized a midnight boat run or hid the crates of whiskey in their barn!
Meanwhile, back under the party tent, the local band Aquarium will enliven the night air with tunes from the '20s through '40s during the early part of the night before reincarnating into a present-day band.
New this year is a VIP ticket (hurry, they're only selling 40 of them!) that treats you like a true Gatsby with transportation to and from the Ramada Plaza Oceanfront in Kill Devil Hills via the lovely and nostalgic Corolla Trolley. This option also includes VIP seating, a special Whalehead gift and an open beer and wine bar. To order tickets – and you should definitely order them now as they sell out every year – go to www.obxtasteofthebeach.com.

Come be a part of the scene, old sport! Flapper-style dresses and dapper men's clothing are encouraged to add to the fun.  
Whalehead Wednesdays
May 27 - September 30, 2015
Wednesdays
Every hump day from May 27 through September 30 is officially a Whalehead Wednesday, and it's a day full of fun. Starting in the morning, lace up for Runcation's 5K around Historic Corolla. You'll feel fantastic for all that's to come during the day. What is that, you ask? Wine tastings, kids' activities, live music, corn hole tournaments, NC beer and snacks and appearances from various guest vendors. And, then there's that more elusive event: a day spent having a great time with your family and friends.
There are two ticket levels: General admission is $10 and includes three glasses of wine. The VIP ticket, at just $25, includes unlimited wine, discounts for the Legacy Tour of Whalehead, a commemorative logo glass and activity packs for kids.
Note that on June 24, Whalehead Wednesday will take a one-week hiatus for the Under the Oaks Arts Festival. Read on!
Buck's Beach Blast is Back!
May 24, 2015
NOON - 5 p.m.
Buck's Beach Blast beach music festival premiered last year under the new moniker but continues a great Memorial Day tradition. So far, Pairadocs and The Embers have signed on for this signature event at Whalehead, coming up on May 24 from noon to 5 p.m. You can purchase a VIP ticket for $75 that will give you preferred seating, a VIP tent stocked with refreshments and specialty bathrooms. General admission tickets are $25.
Remember that personal coolers are allowed for a fee -- $5 for a small one and $10 for a large. Stock them up with whatever you want, but no alcohol! Beer and wine will be available for purchase inside the festival.
This festival is a fundraiser that honors Buck Thornton, one of the original innovators who had the vision to save the then-neglected house and turn it into the grand, restored mansion and family-oriented organization it is today. 
Under the Oaks Arts Festival
June 23, 2015
10 a.m. - 6 p.m.
June 24, 2015
10 a.m. - 5 p.m.
For 14 years, the growing cadre of those in the know have kept their calendars open so they can attend this fine arts events. This year, there's even more reason to attend because two new categories have been added that will specifically appeal to many attendees – Wildlife Art and Student Art. Both these subjects tie directly to the Knights who built Whalehead. Clearly, the couple appreciated the great outdoors since they constructed the grand house as their duck hunting lodge, but many don't know that they were also patrons of the arts, donating generously to museums and artists. Of course their attention to the details at Whalehead are indicators of their eye for the arts too.
Local artists are a mainstay at this festival, but you'll always enjoy the creations of artists from around the country.
Wander around Under the Oaks on June 23 from 10 to 6 and on June 24 from 10 to 5. Admission is free – yes, free! – and they request a $5 parking donation that helps support the Whalehead Preservation Trust.
Get in on all the fun at Whalehead...go to visitwhalehead.com for details!
1100 Club Road  |  Corolla, NC 27927  |  (252) 453-9040  |  visitwhalehead.com