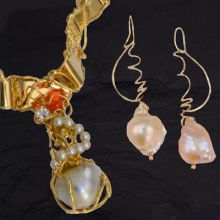 It's not really so surprising that Gail Kowalski's jewelry appears on the red carpet. When Hollywood starlets are choosing their ensemble they know a standout, unique look will keep the magazines talking and help them stay famous. That's why the gowns that grace the red carpet are often so different from anything you've ever seen before.'
The pieces you'll find at Jewelry By Gail are also like nothing you have ever seen.

"You can look in our showcases and you will see the most unusual stones as well as more well-known gems or rocks. Many of the stones we use, you could go into more than 500 jewelry stores across the United States and never see any of them," says owner and designer Gail Kowalski.



Her work includes rarely used materials such as fossilized pine cones, 1,500-year-old Anasazi pottery shards, extinct slipper pearls from Lake Biwa in Japan, phenomenon stones such as hackmanite, which change color from white to purple when the light hits them, and fancy-colored diamonds.

But it's not only the materials themselves that make her pieces special. Much of her work is a good example of what Gail likes to call balanced asymmetry.

"You're familiar with rings that have a stone in the middle and one on each side. I will have a featured stone. It isn't going to be in the middle. It will be somewhere off-center. And I might have one or 20 extra stones. They're all going to be like a sprinkling of stardust."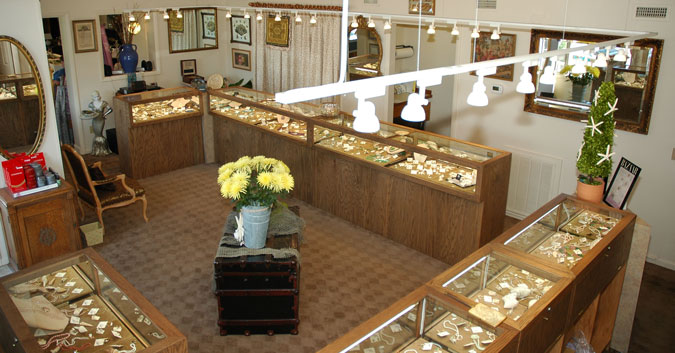 Gail draws the inspiration for her fluid designs from the ocean waves crashing just a block away from her shop.

"I love water. Water reminds me of stones. I especially like the ocean because of the waves and the action of the water and the glittering surface when the sun's out. It's never the same twice. The surface is always changing. That liquid, fluid feel, that's many times what I have in my work. When a wave crashes and you're in the middle of it and these droplets of water go flying, it's like little glittering diamonds coming down."

Her designs have won several awards including the Johnson Matthey Platinum Award for excellence in platinum design and the DeBeers Diamonds Today award for excellence and originality in diamond jewelry design. Her work started appearing on red carpet events like the Oscars and the Emmys after she submitted a piece to be included in a Jewelry Suite where stars and their stylists can pick out jewelry to borrow for award shows. With most of the other pieces in the suite being far more costly than her own, featuring 25-karat diamonds and other extravagant stones, Gail's work held up to the competition on the quality of her designs alone.



She fondly recalls the host of the event, celebrity fashion stylist Michael O'Connor, telling her, "You are my wild card. No one else submits anything that looks like what you do. And there's always going to be an actress who doesn't want to look like anyone else and wants to stand out in a different way. When that happens, I know exactly whose pieces to go to."

Some of those actresses who have borrowed or own her pieces include Desperate Housewives star Nicollette Sheridan, True Blood and The 100 star Adina Porter, and Academy Award nominee Minnie Driver. But her pieces aren't just for the Hollywood elite. Gail and the rest of her staff take special care making sure that each of their customers goes home with something they will absolutely love. If a husband comes in looking for a gift for his wife, for instance, the employees can be overheard asking him, "Does she like big or small jewelry?" or "How often does she wear rings?" and "What color are her eyes?" For Gail, the reason that they show this level of care is simple.

"I want the person to wear it. It needs to see the light of day. The pieces should not just be stuffed away in a vault. It's a piece of wearable art. It's that little joy in the day when you look at it. Jewelry should be just like a piece of chocolate cake. It should be a complete delight." 
---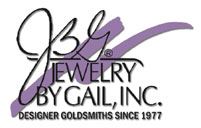 Jewelry By Gail in Nags Head
207 E. Driftwood, in the Arts District, MP 10 1/4
(252) 441-5387      
(800) 272-9817      
JewelryByGail.com