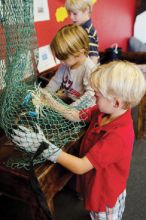 There are plenty of good companies here on the Outer Banks - scores of them, in fact. Their service is great, their employees are friendly, their products are good. We appreciate them, yet we sort of take it for granted that these local businesses are there for us when we need or want them. That relationship is one of exchange; we pay for their products or services or assistance, so we have a reason to expect the best. But, when a company goes out of its way to do good for the community, not for pay and not even for recognition but out of kindness and caring, then we're on to a different relationship. This relationship is one of respect and admiration and, if you're on the receiving end, of gratitude.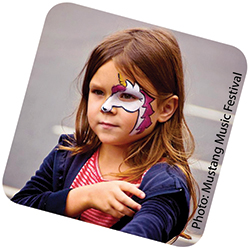 Village Realty is one of those good companies. And it's also a leader in Local Companies That Do Good. When you talk with the employees there, any of them, before much time has passed they're telling you about an inner office charity competition they've just finished or the event the company has recently sponsored or the donation to help a local charity. They're not bragging - far from it. They're excited and energized by it. It's just that the culture of kindness permeates Village Realty, and you feel it with any contact you have with them.
This generosity is not something that's required to work there, but you wouldn't fit in if you didn't have it. The culture starts at the top, with Bob Oakes, owner and community leader. One employee described him as the most generous person she had ever met. How's that for setting the corporate culture! And, it trickles down - no, it flows down - through anyone associated with the company.
You want examples? Settle in for some reading (and inspiration!) because there are an abundance of them.
Let's start with that inner office charity competition. This year, different departments sponsored their own fundraisers for the Angel Tree charity. Through yard sales, chowder cook-offs, bakes sales, raffles and breakfasts with Santa, the departments were able to raise $6,000. Wow. Then the company matched that amount, so $12,000 was available to help make the holidays brighter for needy local children.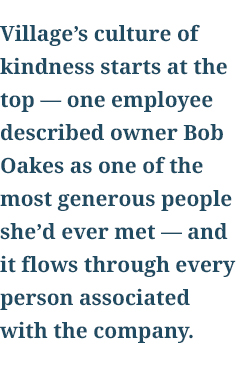 Village sponsored a tree at Hotline's Festival of Trees that brought in top dollar.
New for 2014, they announced the establishment of the Village Realty/Ocracoke Island Realty endowed scholarship directed toward students in Northeastern NC, renewable for four years.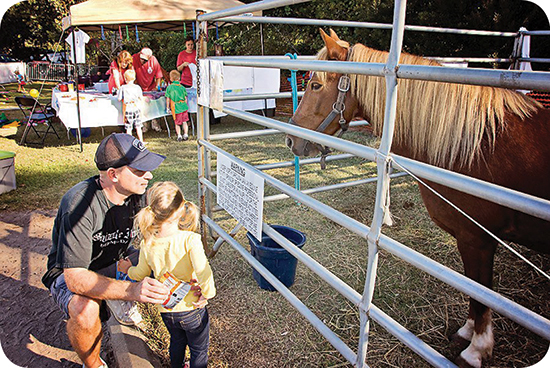 Village Realty is a sponsor of the Mustang Music Festival held in Corolla each fall to benefit the Corolla Wild Horse Fund.
Still on the four-legged assistance, they donate a percentage of proceeds from rentals during a week each March to the Dare County SPCA and the Currituck Animal Assistance League.
Village employees regularly lead trash pickups in Nags Head.
They sponsor a booth at the annual Seafood Festival that includes a drawing for a free stay at one of their rental cottages, with all proceeds going to assist local fishermen.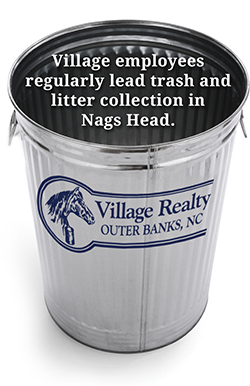 Every year, they donate many free vacation stays to charitable organizations to help them raise money for their own causes.
Each summer on Thursday evenings during July and August, Village sponsors a 5K run. Employees donate their time to set up and run the event.
During Hurricane Sandy they donated free rooms at First Colony Inn to displaced people.
Last year Village donated two defibrillators in a SAGA Construction challenge.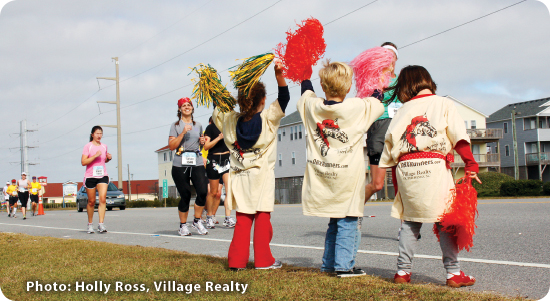 They're one of the sponsors of the Outer Banks Marathon in November. And, every year, any runner that stays with them gets a free T-shirt or hat to thank them for their support of the race. Plus, the employees go all out to volunteer their time at one of the milepost stations to cheer the runners and walkers on. They're known for playing the song YMCA at full blast...get it? The Village people!
They support Outer Banks Pridefest at First Colony Inn, a property they manage.
The Children at Play Museum benefits from the company's generosity. After helping with a start-up donation, Village continues to support this great kid resource through regularly helping with their marketing.
Last summer, an employee got up in the middle of the night to go jump the car of a guest at one of their rental houses. His reason? "It's just as easy to be nice as not to be."
So, maybe that's the closing idea: Take the time to be nice. When you talk with Village employees, they say the kindness comes back to them ten-fold through friendships with guests or just feeling like they did the right thing for their community.
Imagine what might happen if we all took their lead. Let's be kinder than necessary.
_____________________________________________________
Village Realty Main Office
5301 South Croatan Highway | P.O. Box 1807
Nags Head, NC 27959
(252) 480-2224 | Toll-free: (800) 548-9688
Web: villagerealtyobx.com
Hours: 9 a.m. to 5 p.m. daily