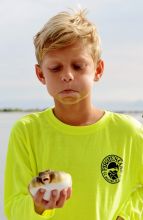 Every boat was built for a specific purpose. Some are all business for jobs like commercial fishing, rescue and transport. Some are functional, built for long-distance travel or living on the water. And some, as you know, were built just for pure fun. And that's where the Crystal Dawn comes in.
One look at this 65-foot boat and you can tell she's all pleasure craft. With wide upper and lower decks, plenty of seating in the sun or the shade, a comfortable enclosed space and a jaunty color scheme, Crystal Dawn was made for giving people a good time on the water.
Crystal Dawn offers all sorts of different ways to enjoy a day at sea, but let's start with the most popular – fishing.
Fishing Fun!
A fishing trip is one of the best ways to experience the Outer Banks. Crystal Dawn offers head boat fishing at its finest, and the great thing about head boat fishing is that anyone can do it! The trips are in the calm inlet and sound waters, and the boat is safe and stable, perfect for everyone from grandparents to small children. And head boat trips are half-day trips – long enough to feel like a real excursion but short enough to keep the attention of the littlest ones in your group.
So what's a trip on the Crystal Dawn like? 
It starts with just a hop-skip-jump over the Nags Head/Manteo Causeway. The boat is docked at Pirate's Cove Marina, the closest marina to any of the beach towns. That means your trip to the fishing grounds around Oregon Inlet will be in the boat – not the car! And, trust us, that's one of the best parts of the Crystal Dawn experience. That area of sound from Pirate's Cove Marina to Oregon Inlet is one of the most spectacular stretches of scenery on the Outer Banks. Along the way you'll see osprey nests atop channel markers, pelicans and gulls diving for fish, the Bodie Island Lighthouse, crabbers checking their crab pots, fish camps on tiny islands and commercial fishing vessels.
While the captain navigates to the trusty fishing spots around the inlet and watches the fish-finder, the mate makes sure everyone is set up with tackle and bait. And then it's time to drop the lines!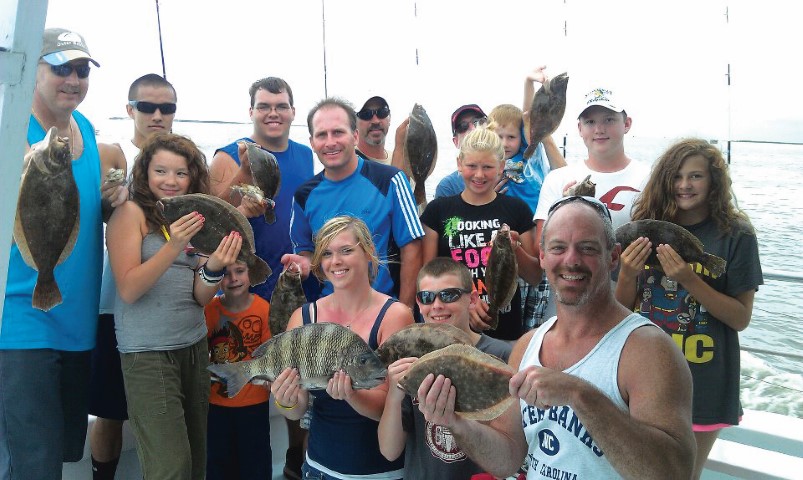 Your senses will be on high alert as you watch your rod tip, waiting for that tell-tale bounce-bounce-bounce as a fish nibbles at your bait. Suddenly you'll be reeling in a spot or a croaker, maybe a flounder, puppy drum or sea bass, and the mate will be rushing over to you to see if you need help getting your fish off the hook – and getting your line back in the water as soon as possible.
The good thing about Crystal Dawn is that you'll have elbow room when you're ready turn to reel. This boat can accommodated up to 150 people, but on fishing trips they only take 50 so that everyone is comfortable.
Maybe you'll take a little break after a while, sit on a bench to enjoy your snacks and drinks and take in the view of endless water and sky. Maybe you'll watch the fascinating construction of the new bridge over Oregon Inlet for a little while. Then you'll fish a little more, hopefully filling your bucket with enough fish for dinner. And when it's time to say goodbye to Oregon Inlet, you still have that beautiful cruise back to Pirate's Cove to look forward to.
Head boat fishing is a great deal and is truly one of the most economical ways to get on the water. They supply everything – bait, tackle, license, bags for fish – so once you've paid the fee, there are no other charges (unless you decide to tip your mate, which of course you should). "All you have to bring is your hankering to wet a line!" says owner Vanessa Foreman.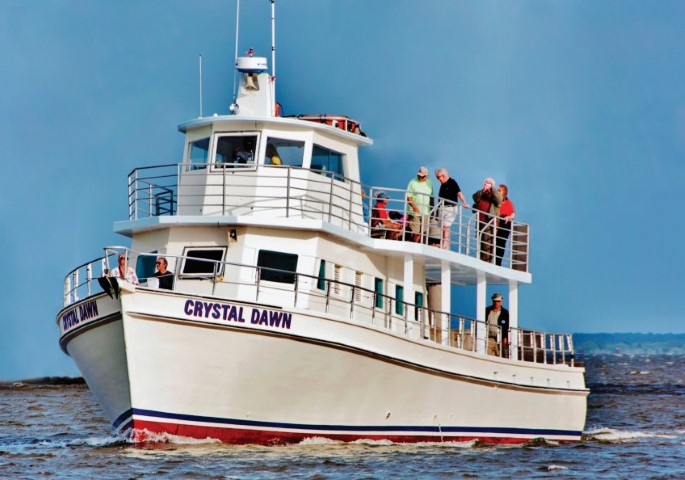 And you might even earn a few bucks on this trip! You might win the trip's fishing pool, or if you're the lucky angler who lands the season's largest fish you'll win $500 at the end of the summer.
So what are you waiting for? Book it!
If you're looking for even more fishing adventure, consider a trip on Crystal Dawn's sister ship, the 57-foot Country Girl. This boat heads offshore for charters in the Gulf Stream, which is a full-day, big-game fishing trip. What's unique about Country Girl is that it can accommodate up to 27 anglers per trip, whereas most offshore charter boats can only accommodate six. If you have a large party, this is your boat. Country Girl also offers bachelor/bachelorette parties, ocean wreck fishing, ashes at sea and pelagic birding trips.
Cruising Fun!
Fishing is not all there is to do on the Crystal Dawn. Their many cruises are awesome too if you're looking for something different.
Crystal Dawn is a favorite local vessel for nightly sunset cruises. Again, since it's docked at Pirate's Cove, the trip to the boat dock is quick and the majority of your time is spent on the boat. During a sunset cruise, passengers relax on the deck while the boat meanders around the Roanoke Sound and the captain points out sights like dolphins and wildlife, Jockey's Ridge, the Elizabeth II, Andy Griffith's former house and the home of The Lost Colony. As the sun lowers into a big red fireball and seemingly slips into the sound, you'll have the best view on the Outer Banks.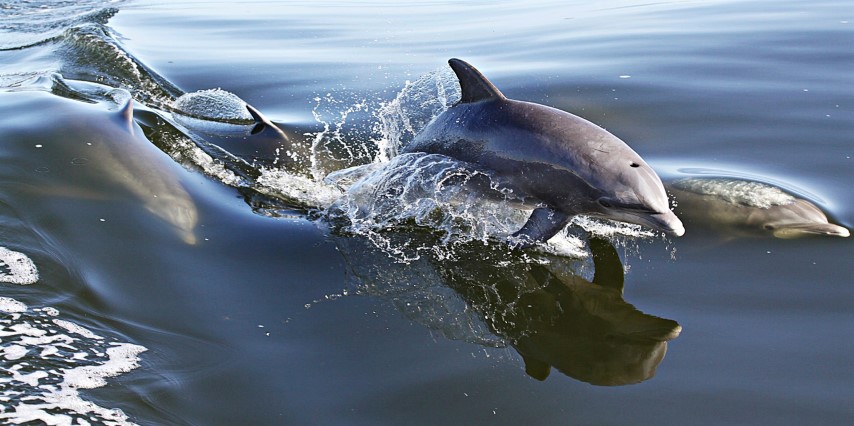 And here's a tip: Sunset cruise passengers can grab a bite and a drink at Mimi's Tiki Hut before the cruise or enjoy dinner at Blue Water Raw Bar and Grill at Pirates Cove Marina before or after the cruise.
Crystal Dawn has some exciting new offerings this year too. Did someone say Moonlight Party Cruises? Oh yeah, these adults-only cruises with live music are going to be a super good time! Bring your own beverages and your friends for a 90-minute tour that will be the highlight of your vacation.
A brand new offering on the Crystal Dawn – and one that no other tour company offers – is the Wanchese Harbor Cruise. Wanchese Harbor is the real working Outer Banks, and it's a sight that most visitors never see. From the water, you can see – and smell – fish houses and huge commercial fishing vessels. You'll see boatyards and boat-building shops and local commercial fishermen going about their work. The captain will talk about all the sights along the way and then stop off at the Tiki Hut at the harbor for a real treat – a traditional seafood, fried chicken or eastern North Carolina barbecue meal prepared by none other than the locally famous Sooey's Barbecue.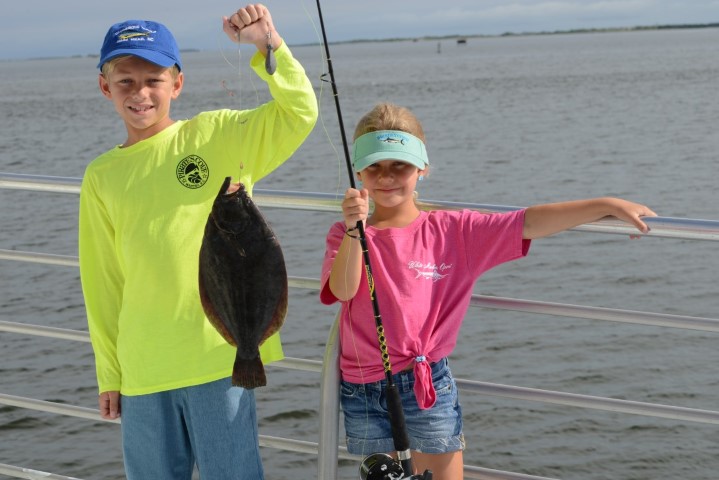 In late July and early August, nature lovers can hop on the boat for Purple Martin Excursions to Manns Harbor, where more than 100,000 of the birds come in to roost at sunset. And if you have something else in mind, you can even book a private cruise on the Crystal Dawn.
The owner and staff of the Crystal Dawn do everything they can to make sure their guests are safe and fully entertained. As Vanessa says: "We are here so you can have fun!"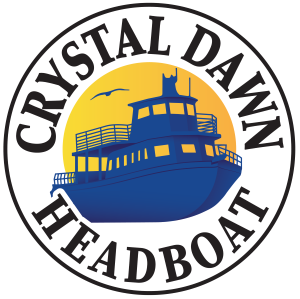 (252) 473-5577
crystaldawnheadboat.com
2000 Sailfish Drive
Manteo, NC 27954