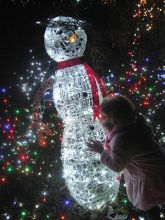 Gather round and get ready to add some sparkle to your holiday season with one of the biggest events of the year: WinterLights at The Elizabethan Gardens! From early December through the beginning of January, visitors of all ages are invited to come stroll through the Gardens after sunset and revel in the beautifully illuminated paths, marvel at the indoor and outdoor displays and join in other activities such as roasting marshmallows around the fire pit on the Great Lawn. It's a month-long celebration that's guaranteed to get you in the spirit and spread lots of holiday joy!
For folks who have experienced WinterLights during previous years, you'll get the chance to see a lot of your old favorites in 2014 - from decorated Christmas trees to miniature snow villages, exotic three-dimensional garden critter displays to a nativity scene and the much-favored gingerbread houses that were originally inspired by Queen Elizabeth's love of gingerbread cookies. Now in its fifth year, however, WinterLights has grown in ways that will surprise even the most avid repeat visitors. With the continued sponsorship of Southern Bank and the support of the Outer Banks Visitors' Bureau, some of the new things added to Winter-Lights in 2014 include an eight-foot-tall Victorian-style Twelve Days of Christmas display, live performances every Friday and Saturday night featuring talent by groups such as Jonny Waters, the First Flight Elementary School Chorus, Trio Le Mar and the Presbyterian Church Choir...and, of course, even more lights!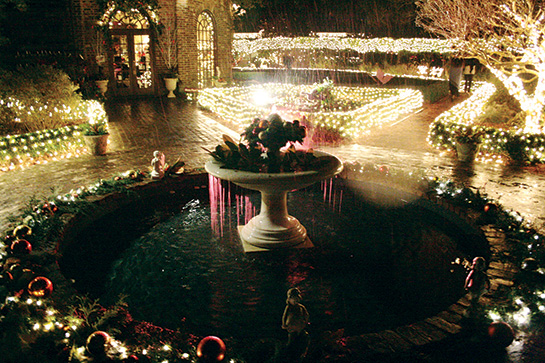 Can't wait until December to get started? Don't worry! Celebrations officially begin on November 29 with Grand Illuminations, a one-night extravaganza that features all the light-filled splendor and entertainment you can expect from WinterLights through January as well as plenty of food and drinks to warm you up and get those festive feelings stirring. Afterward, you have from December 2 through January 3 to savor as many trips to WinterLights as you'd like. Regular tickets can be purchased at the front gates as long as they're available, but it's best to reserve your space ahead of time either online, through Brown Paper Tickets or by calling the Gardens directly. At only $10 for adults, $8 for children ages 6 to 12 and $5 for children 5 or younger, WinterLights is perhaps the best way to up the ante on your holiday cheer all month long! But, we must tell you: This event in past years has been so popular that you really should consider advance tickets.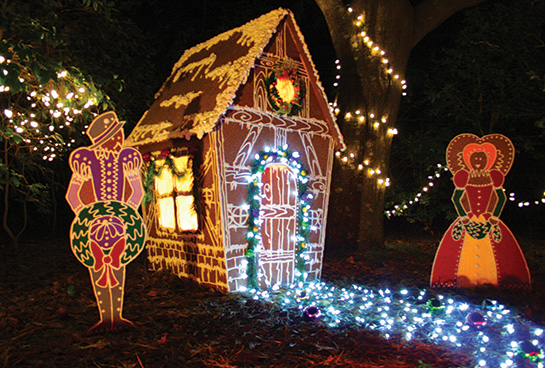 The Gardens also host a number of other unique seasonal activities during December if you're looking for even more ways to rev up or express your holiday happiness. Options include creative instructor-led workshops designed to inspire and help you decorate your home by crafting the perfect centerpiece or holiday wreath. Or round up some women friends and take a refreshing break to sign up for a special Ladies' Night at the Gardens - a one of a kind opportunity to relax and get a jump start on your holiday shopping with a bit of help from the knowledgeable sales associates in the Gardens' gift shop. Bonus points include light fare, champagne and a variety of door prizes! Now, really, doesn't it just feel like the holidays!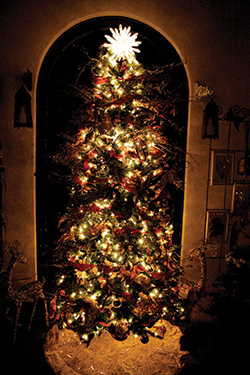 There are plenty of special event options at the Gardens this season for the younger set too. On December 20, they host the whimsically named afternoon program, This Day Has Gone to the Birds, where children ages 6 to 12 get to go bird crazy as they learn about local birds, make bird feeders and "fly" around the Gardens themselves to find hidden treasures to use to decorate trees. Later that same evening, the whole family can return to spend a memorable WinterLights with Santa or even share a cozy buffet-style dinner with Santa where they can make sure he receives any last-minute additions to their Christmas lists. And once all the presents have officially been unwrapped, you'll want to be sure to return to the Gardens on December 27 so you can write your thank you notes to Santa - though keep in mind that next day delivery to the North Pole is only guaranteed if your letters are dropped off by 9 p.m.! After that, if you want some more fun for the children (and perhaps a little extra rest for the adults), be sure to check out Kids' Craft Day in the Gardens on December 29.
"It's truly a special time at the Gardens," says Executive Director Carl Curnutte. "When we first started WinterLights our goal was simply to encourage people to visit the Gardens. As it's evolved over the years, however, we've watched it become an annual tradition for many families, and that's an exciting thing to be a part of. We've come to realize that WinterLights not only gives everyone involved a real sense of community, but it also gives visitors from all over a very different perspective on the Gardens and the Outer Banks as a whole." This sentiment is perhaps most easily understood when you pass through the Gatehouse at nightfall and experience the magical transformation that occurs when a million lights begin to illuminate your way into a wonderland of WinterLights at The Elizabethan Gardens.
After the Grand Illuminations kick off on November 29, you can celebrate Tuesdays through Saturdays from December 2 to January 3, with the exception of December 24, 25, 31 and January 1. So check you calendar and check it twice... but whatever you do, don't delay! Tickets for WinterLights and (especially) other seasonal events at the Gardens are limited, so be sure to book your space in advance by phone or online through Brown Paper Tickets!
Keep an eye to the sky! As with many outdoor events on the Outer Banks, WinterLights is always weather dependent, so if you're unsure about the weather conditions for any reason please call before you come. Pre-bought tickets can easily be transferred to another time of your choosing!
(252) 473-3234
1411 National Park Drive
Manteo, NC 27954