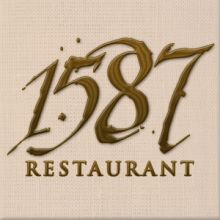 When the husband and wife team, Don and Lauri Just, bought Tranquil House Inn on the Manteo waterfront in 1993, they thought they were prepared to settle permanently into a quiet life as island innkeepers. They quickly realized, however, that their location was much too special - and their ambitious visions for the property were much bigger - than their original intentions would allow. Within a year they completed renovations in order to add an upscale dining establishment on the premises that would come to be renowned as one of the finest restaurants on the Outer Banks: 1587 Restaurant.
Around the same time, Don's 22-year-old son, Donnie Just, came to visit the Outer Banks. His initial plans were almost equally as modest as his parents' had once been - to spend some time with his family and enjoy a little surfing and summer fun. But life, and the unexpected draw of the Outer Banks, apparently had other plans for him.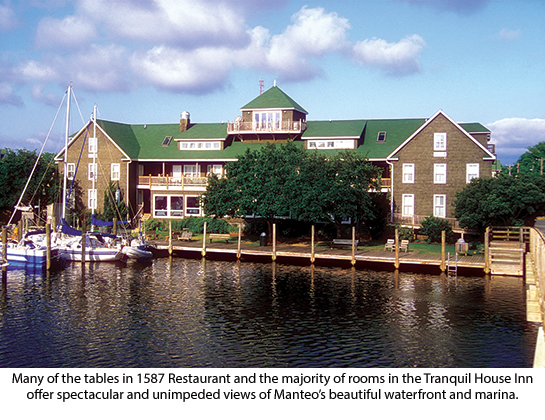 "I definitely did not expect to still be here 21 years later," Donnie says as he takes a rare moment to relax into one of 1587's corner tables, which offers a stunning unimpeded view of the Manteo waterfront. Donnie smiles fondly as he recounts how he started working odd jobs to help his parents out around the inn, from managing their advertisements to manning the front desk. It wasn't long, though, before Donnie took over the majority of day-to-day operations for the family business.
"I was really young!" he says, laughing. Luckily, he had a great staff backing him up from the very beginning, including Jackie Dale, the inn's operation's manager, who continues to work for him to this day. This level of invaluable support from staff members like Jackie also allowed Donnie to concentrate more fully on 1587, which was little more than a fledgling enterprise during those early years.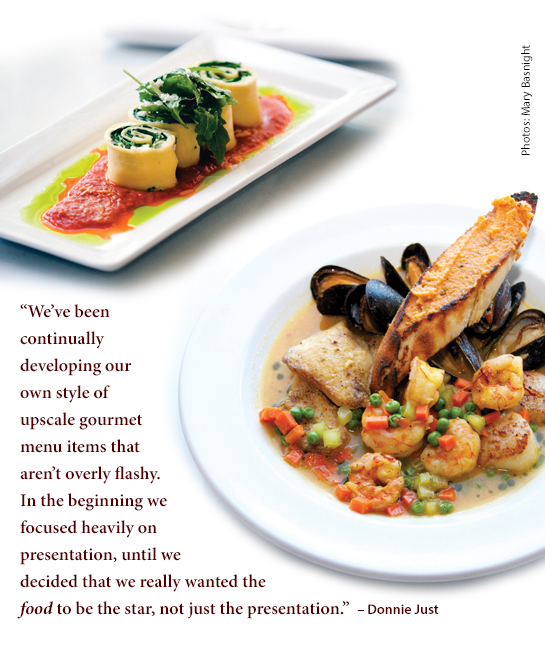 "The inn was already largely established then," Donnie explains. "We still had to work hard to maintain a comfortable and inviting atmosphere for our guests, of course, but the restaurant was something completely new."
It was a challenge, however, that Donnie took up with gusto. He spent countless hours self-educating himself on details such as creating perfect wine lists and actively collaborating with his chefs to design the creative menus that rapidly put 1587 on the map as one of the nation's first-rate dining establishments.
"We learned a lot over the years simply by digging in and discovering what worked best for us," Donnie says. "For example, we have been continually developing our own style of upscale gourmet menu items that aren't overly flashy. In the beginning we focused heavily on presentation, until we decided that we really wanted the food to be the star, not just the presentation. What we've realized is that the most important thing is your ingredients and how you utilize those ingredients. That's a huge part of our goal to make sure all our food's done right."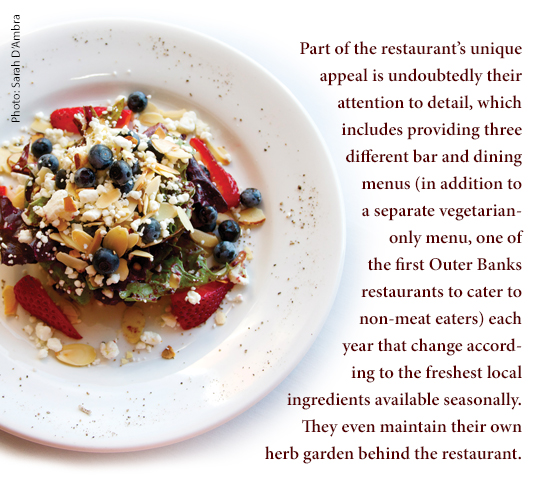 And if the flood of rave reviews 1587 receives from loyal residents and visitors alike are any indication, they're definitely doing a lot of things right. Part of the restaurant's unique appeal is undoubtedly their attention to detail, which includes providing three different bar and dining menus (in addition to a separate vegetarian-only menu, one of the first Outer Banks restaurants to cater to non-meat eaters) each year that change according to the freshest local ingredients available seasonally. They even maintain their own herb garden behind the restaurant, which adds a distinctive flavor to everything from their spectacular entrees and appetizers to specialty cocktails such as their fresh Basil Mojitos.
These kinds of details - not to mention this level of dedication - don't only apply to the restaurant, however. Donnie notes that at the end of the day, both 1587 and the Tranquil House Inn are ultimately run as one business. "We want people to come here and be satisfied and comfortable. There's really nothing else like this in this area. We're a little bit like an inn, a little bit like a bed and breakfast...and yet we're also a restaurant with the facilities to specialize in wedding coordination and catering. It can be hard to put one label on all that." Donnie pauses thoughtfully, and then breaks into a smile. "You know, after 21 years, I honestly can't say exactly what we are."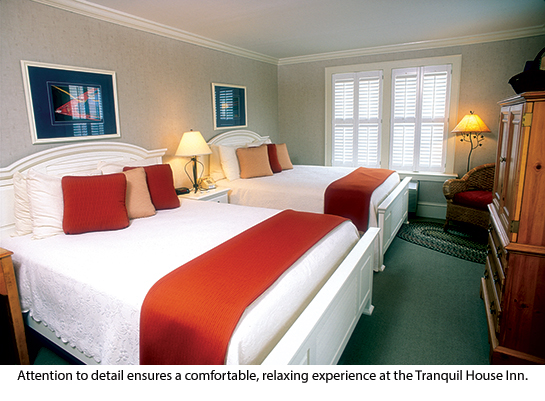 One thing is certain: What they are is truly something one of a kind. And with the hindsight that comes with having those 21 years under their belt, Donnie is now able to reflect on just how much hard work and commitment has been required to make Tranquil House Inn and 1587 run so smoothly over such a long period of time. "Sometimes it's a little like being a flight attendant on a flight that never lands," he says cheerfully. "But everyone who works here is part of that group effort, and most of our guests know they can come here anytime and expect to see a familiar face. We're all like one big family, and that makes everything worth it."

1587 Restaurant is not only known for the exquisite dinners they serve up nightly, but they're also one of the most sought-after caterers for weddings and other special celebrations. Worried about the details? Whether your event is large or small, they know exactly how to draw on their decades' worth of experience to help you plan the perfect occasion.

Good eats, good views...and good drinks? Check, check and check. Just try to pass up one of mixologist Matt Brent's creative spins on classic cocktails or even one of his own ultra-fresh and unique creations. Chances are you'll still be enjoying the view well after sunset!
---
405 Queen Elizabeth Avenue • Roanoke Island, North Carolina 27954
Business: (252) 473-1404
1587 Reservations: (252) 1587
Website: 1587.com
Inn Reservations: (800) 458-7069
Website: TranquilHouseInn.com