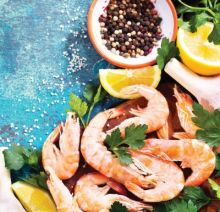 I have to be honest here, I love a good buffet. 

As the typical family dinner-maker with marginal kitchen skills and questionable inspiration, there's something infinitely satisfying about waltzing up to a spread of beautifully prepared food, piping hot and waiting for you, with the added prospect of no dishes to wash. My kids adore a buffet; they get a huge kick out of taking their plates up to choose whatever they want. It's my husband who's the tough sell. A former professional chef at fine dining restaurants (who, lamentably, works during prime dinner prep time), he's a stickler for food quality. But when I suggest Jimmy's Seafood Buffet, he's got no qualms. With their exceptional selection and strong commitment to using local and wild-caught seafood, Jimmy's gets the thumbs-up from my chef and we're out to dinner. Fun, family friendly and high quality, my guess it that Jimmy's Seafood Buffet will be a total win for your family too.
When I interview Elizabeth Dowless, owner of Jimmy's Seafood Buffet, for this article, it's immediately clear that two things rank high on her list of priorities: family and running a strong, ethical, high-quality business. For Liz, the two are inextricably linked. In 2003, Liz and her husband, Jerry, had just bought out their two business partners at Jimmy's Seafood Buffet. The concept of an Outer Banks buffet with a tropical feel was a passion for Liz and Jerry, and they were excited to carry the fresh seafood concept further as their own family business. Tragically, Jerry unexpectedly passed away only a few months later. With three small children depending on her, Liz had to decide between pursuing the dream she and Jerry shared or selling and starting over. She opted in and has spent every day since dedicated to the vision of an ever-improving all-you-can-eat buffet filled with quality products that taste amazing.
It's the fish that Liz wants to talk about first. "This year I've been able to get hooked up with some local shrimpers and local fishermen, and I'm able to buy it right off the boat," she says. Grouper, rockfish, cobia, blue crabs, shrimp, shark, tuna and soft-shell crabs are some of the locally caught seafood Liz is able to take from the boat directly to the Jimmy's kitchen. For seafood not available on the Carolina coast, Liz stays as regional as possible and makes a point to buy everything domestic. "I think it's important to use local and wild-caught fish because it's got so much more flavor," Liz says. "It's more sustainable too." Using local ingredients not only gives Jimmy's the edge as far as flavor goes, but it also boosts the local economy and is good for the planet. Again, a total win.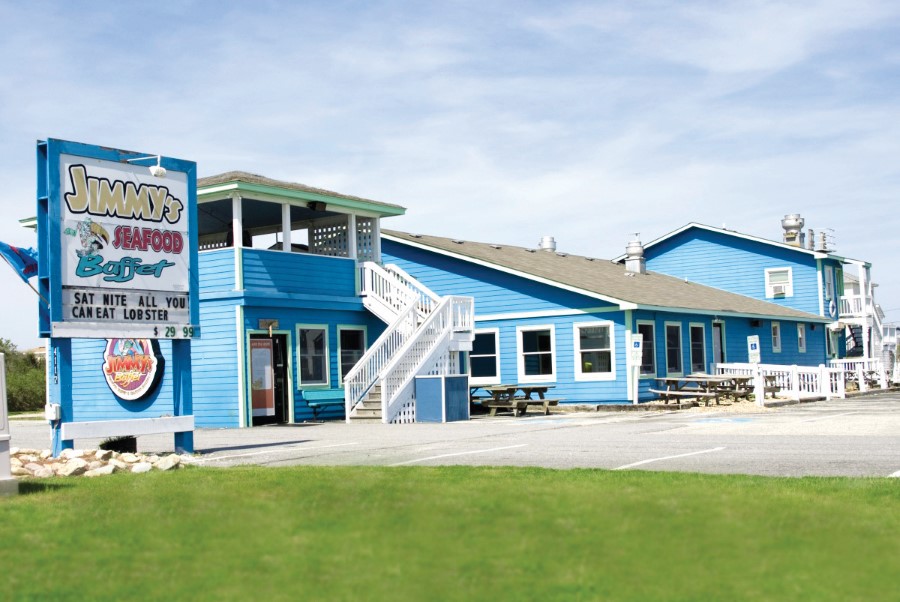 Walking in to Jimmy's Seafood Buffet, it's evident that while fresh, local, sustainable seafood is the focus, the buffet offers a whole lot more and accommodates every dietary need you can imagine. On the seafood side, the blackened local tuna is a favorite, along with the curried shrimp, mussels, crab-stuffed mushrooms and lobster. "Lobster is a big draw to the buffet," Liz says. "Every night I'll do some type of special." On Tuesdays and Thursdays, for example, there are all-you-can-eat lobster claws, Mondays and Fridays you can get an early bird special of all-you-can-eat lobster tail with the buffet until 4 p.m. and weekends feature whole lobster specials. Wild Wednesdays are popular with their 10 different types of crab legs too. 
 If you've got some non-seafoodies in your party, have dietary restrictions or are just feeling the landlubber vibe, there are tons of options at Jimmy's. Made-to-order steak is included on the buffet, and the ribs, BBQ, chicken and ham are all expertly prepared and delicious. Gluten-free options appear on the buffet, and the gluten-free chicken tenders and nuggets, particularly helpful for kids with Celiac disease, are available on the dinner menu but can be made to order at no extra charge if someone who needs them is dining at the buffet. And choices abound for those following a low-carb or ketogenic diet. With fresh salads, homemade soups and loads of vegetables, you can find plenty of vegetarian and vegan-friendly options as well. 
For those preferring a sit-down dinner experience, Jimmy's offers an extended dinner menu with even more choices. "One thing I developed for my menu is the Impossible Burger. It's vegan and it tastes like a real burger," Liz says. For those with the yen for Jimmy's without leaving their beach house, there's an expanded carry-out menu this year. The clambakes come highly recommended: The combination of shellfish, potatoes, onions and sweet corn on the cob comes in a specially designed bucket (that you keep!). All you have to do is add liquid and cook for 30 minutes. Seafood buckets are also popular and serve three to four people. And if you're staying between milepost 2 and 8 in Kitty Hawk and Kill Devil Hills, there's delivery.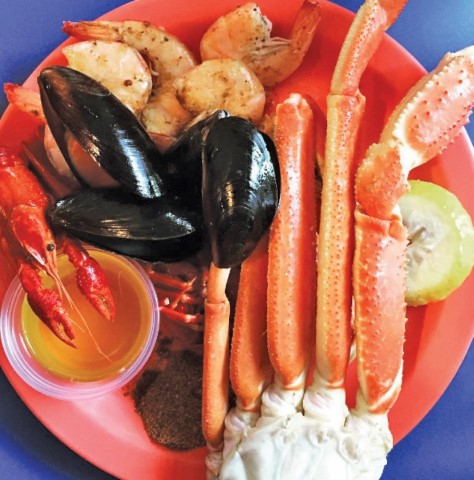 But when you're in the mood for a buffet experience, the atmosphere at Jimmy's can't be beat. They have an outdoor seating area, corn hole games and nightly live entertainment.  With all of this plus the amazing food it's easy to see how a meal at Jimmy's Seafood Buffet becomes a family vacation tradition. "Customers are constantly emailing me when they're going to book a trip," Liz says. "They want to make sure we're open." Liz says one family booked a vacation house at milepost 2 just so they could walk to Jimmy's!
A good part of the lively atmosphere at Jimmy's Seafood Buffet is credited to Liz's employees, many of whom have worked there for a long time. Nearly all of her servers return yearly, and Liz says she's had the same chef for 11 years and a bartender who's worked for her for 18 years. "They're all really conscious about giving good service," she says. "We're like a family." Together, Liz and her crew contribute regularly to local causes like the fire department, police department, churches and schools. They're also committed to donating unused food to the local food bank, extending the restaurant's family vibe to the Outer Banks community at large.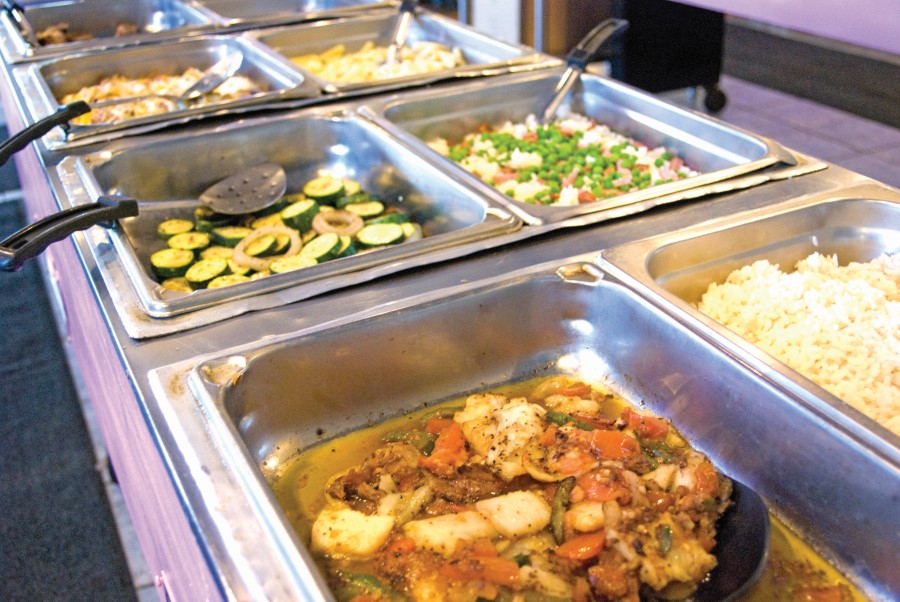 Listen, you don't have to twist my arm to get me to go out to dinner, but it's especially nice when I can go somewhere like Jimmy's Seafood Buffet where everyone in my family eats happily, I know the seafood is locally and ethically sourced, the ingredients are fresh and the owner is goodhearted and family and community oriented. It's easy to see why Jimmy's has so many returning customers and why the restaurant is such a special place for vacationers. Stop in and treat your family to dinner at the Outer Banks restaurant that's winning hearts all around.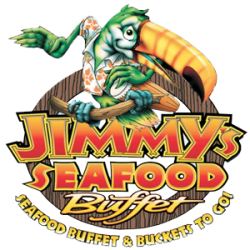 Jimmy's Seafood Buffet in Kitty Hawk
(252) 261-4973 | 4117 N. Croatan Highway | MP 3.5 | Kitty Hawk
jimmysobxbuffet.com