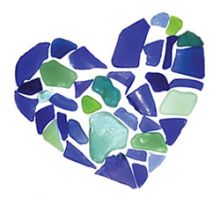 From Love to Leprechauns
It's hard to believe that winter on the Outer Banks can hold harbingers of spring. The prevailing winds, on a reciprocal course from the balmy breezes of summer, blow cold and damp off the ocean, rolling up white waves that wrap around our shores. Rain comes sideways on these stormy, often lonely, nights when even the dog can't be encouraged to go out. Here, winter separates the wheat from the chaff; those who constantly grumble that the weather isn't fit aren't likely to be found next year. It's a good season for those of us who are here because we love the water. It finds us.
If only finding love was so simple. We could know the season and the direction from which we could expect it. Life would seem somewhat simpler because we'd understand the patterns. Wouldn't that be like finding a pot of gold at the end of a rainbow? Perhaps there is more to know about love and luck here than we think. Winter, by its nature, causes us to turn our thoughts toward spring.
The holidays have left memories of engagement, not only among family and friends, but between couples as well. Winter on the Outer Banks has become the perfect time for those who are planning their lives together, whether it's a destination wedding or just a fun time with family and friends. There are plenty of events and activities to go around, and before you know it, guess what? It will be spring.
As the Outer Banks changes to support more visitors as well as sustain an increasing number of year round-residents, it is becoming a neighborhood of seasoned communities. Things happen year round. Gone are the days when one would know which of his neighbors was driving by on a winter night by the sound of their vehicle. Our growing communities now offer a variety and richness striving to match the scenery that surrounds them. From busy wedding shows to North Carolina's largest St. Patricks' Day Parade, it's easy to find everything from love to leprechauns on the Outer Banks this time of year.
It's All About the Love
When those of us with an aversion to Hallmark Holidays grow faint at the sight of February on the calendar, that fear can only mean one thing: Valentine's Day. It is a time of reckoning. It means that something must be done. From internet sales to the checkout line, there is no lack of ideas on how to spend your money on this special day: Cards are required. Flowers are not mandatory but are strongly recommended, with most sold being mixed arrangements, not roses. The most popular color still remains red. And it shouldn't be hard to find candy. One billion dollars' worth of chocolate is sold in the U.S. for the occasion. Cards, flowers, candy - sounds easy. Other suggestions range from the sublime to the extreme.
Oh, that we could go back to the days of our childhood, when it felt good to open that pack of Valentine cards -until we realized there weren't enough cards or sweethearts to go around. A small heart-shaped box of chocolates, purchased on an allowance, was always a winner. And then there were candy hearts for back-up. In those days, when it took no more than four letters on the top line and five on the bottom, "Be Mine" meant something. Candy hearts that now say "Text Me" or "Tweet Me" have still not displaced the most popular candy heart of all time: "Marry Me."

Ask any wedding professional on the Outer Banks and they will tell you that winter is a special time for couples planning to marry. Valentine's Day may be the heart of the season, but wedding shows are its head and shoulders. Starting with the Wedding Weekend and Expo January 17-19, 2014, and ending with the Wedding Showcase March 15, 2014, there are plenty of opportunities to show the love. The most and best that the nation's favorite destination wedding site has to offer are available to locals and visitors alike. If you haven't helped plan a wedding for yourself or someone else, it's likely that you will if you stay around here long enough. The wealth of talent and resources at these shows are the perfect frame for the picture of love we have in our mind of Valentine's Day.
In fact, 10 percent of all marriage proposals are made on this day. Does that have anything to do with the ancient ceremony in February of picking a mate or that the execution of St. Valentine conveniently happened at the same time of year? Or that Valentine is the protector of young people, engaged couples, lovers, happy marriages and greetings? Yes, greetings. Don't forget the card.
Save the Date
The Outer Banks Wedding Weekend and Expo
Jan. 17, 2014-Jan. 19, 2014
Tickets purchased Expo weekend will be $25. Pre-orders $20
First Flight High School,100 Veterans Drive, Kill Devil Hills
This very popular expo features two days of opportunities for brides and grooms to tour venues and meet the vendors that will make their Outer Banks wedding an unforgettable experience. New this year are evening tours and additional Dream Giveaways for 2014, including engagement and honeymoon weekends.
The Outer Banks Wedding Show
Mar. 15, 2014
Tickets $20
Sanderling Resort and Spa, Duck (252) 255-4925
The Sanderling Resort and Spa and select Outer Banks wedding professionals are showcased in this one-day event from 11 a.m. to 4 p.m. From the complete venue for a destination wedding to tastings, photographers and officiants, the day offers couples a chance to plan the perfect wedding.
Everyone Loves a Parade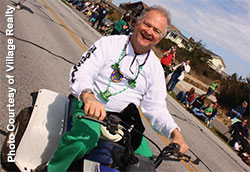 Mike Kelly can't remember a good Irish joke even though people send them to him all the time. Get him talking about Kelly's St. Patrick's Day Parades, however, and his memory spans 23 years as if they all happened yesterday. For Kelly, it's all about pride, not for himself or his restaurants, or even folk who enjoy laughing at themselves, but pride in a community that has learned to live and work together.
Like many successful endeavors, the venture started as a group effort when the concept of sponsoring a special event evolved in a staff retreat. Kelly remembers the first parade on Saturday, March 17, 1990, as the culmination of two years' work. "In those days it was hard to have a sense of community this time of year," says Kelly. "We wanted to avoid conflict with other seasonal events and fill a void in the lack of activity for those of us who live here. I lived at the end of a street in Nags Head surrounded by just five other houses, four of which were vacant second homes. It wasn't a dead end street-the subdivision just hadn't been built out then. Now there are 60 houses down that street that's been extended.
"We chose a parade because it's fun for children and they bring parents. We had seen the success of the Manteo Christmas parade in bringing folks out for the day so we thought we'd give Saint Patrick's Day a try." And the parade has grown with the Outer Banks. "When we went to the Nags Head Police 1988, they had no idea of what we were trying to do. We were told we could start at Jockey's Ridge and walk along the edge of the bypass. We didn't want that. We decided we would have to try again later.
"My timing of going before the Nags Head Town commissioners the next year to ask permission was a stroke of genius that I didn't even realize I had. It happened to be a few weeks before the election. They saw an opportunity and approved it, passing the responsibilities to Town Manager Webb Fuller. Working with one person made it easier. Enlisting the help of Doug Remaley was also a bit of luck. Besides his being of Irish descent, I knew that firemen get their degrees by fighting fires and being in parades. He knew just what to do. Pat Cahill, of WOBR, was helpful in getting the word out, and Dennis McGinnis was our first Grand Marshall. We started at Nags Head Pier. The day was breezy, but warm, in the mid 70's and the wind was 15-20 mph from the southwest. One of best weather days we've ever had. It spoiled us. The crowd was sparse and the parade was mostly fire trucks. It may have been our shortest, but it was the loudest!
"The next year we decided to move the parade to the Sunday afternoon closest to St. Patrick's Day. It seemed the best time to minimize conflicts for families who attend. We paraded up the beach road and threw candy, and the crowd has grown ever since. I see about 70% of kids with moms, 30% with dads." Kelly even suggests that some people should avoid the parade. "One year we had a debriefing with town officials," he says, "and the police continued to mention five arrests that were made. I avoided the issue, but after going over details such as the route and traffic, I finally asked, 'What's with the arrests?' I learned that they had picked out faces in the crowd of people with outstanding warrants," he laughs.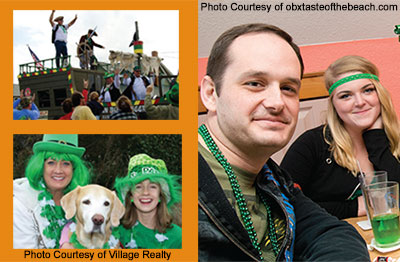 "The year we were required to purchase insurance took the parade to another level because we began to understand the scope of our responsibility," Kelly continues. "Through it all, we have wanted to have a free event. There is no charge for registration. You sign up, and you're in. I had a staff member working registration one year, and she was insistent on not allowing registration beyond the published deadline. I encouraged her to ignore the deadline to maximize participation, but she refused to listen. I finally had to order her to do it. She stayed upset with me for several days after that." It's Kelly's mission to make the parade not just free, but easy. He smiles. "I tell people that since it takes an hour for the parade to move out, if they aren't registered, they just have to fall in line by Surfside Plaza around 2 p.m. and take a left."
But all of the logistics have not been that easy. "We brought in some celebrity announcers from out of town for some of the first parades. That didn't work very well. They didn't know the people or organizations and couldn't talk it up. When Bob Mueller became the parade announcer he was able to recognize people and speak extemporaneously. That changed everything. The Outer Banks Repeaters have also helped by providing radios. A line-up of 1,500 participants is usually different from any list we generate before the parade. Now with the use of radios, we have an accurate list of units in the correct order from the start. That makes it easier and much more accurate for Bob and the judges on the reviewing stand."
Kelly vividly recalls Year 18 when he himself stood for review. A reporter and photographer, on assignment for the weekend, had contacted him about covering the parade. They refused the dinner he offered them on Friday evening, citing ethics, anddisappeared until Sunday to cover other stories. On Sunday afternoon, at the height of the parade, the young reporter motioned for him to leave the stand and beckoned him aside. "I had two emotions today as I waited for this parade to start," she said. "At first I felt anger because nothing was going on. Then I felt pity for you because you were so passionate and committed when you talked about this event. At 12:30 I couldn't believe it! All of a sudden people started showing up and coming out of their houses and the parade was on!"
Kelly estimates that last year 10,000 people knew when it was time to come to the parade. Many are regulars, just as some participants who march from one year to the next. Kelly figures it's the largest event east of an East Carolina University football game. To him, it means that nearly a third of Dare County's population is involved somehow in the parade. Homes fill along the route in Nags Head, and more than one business owner has told Kelly that parade day was their most profitable day of the year.
As in everything, there is room for improvement. "Music is the hardest thing to get into the parade," says Kelly. "The Chamber of Commerce and the Outer Banks Visitors' Bureau have funded stipends for high school marching bands, both local and out of town. The Beargrass Marching Bears are a good example. They don't have a football team, so the St. Patrick's Day Parade gives them the perfect opportunity to spend a weekend at the beach and perform. Some members of the South Nags Head Drill Team and Trash Band are absentee owners who come here for the occasion. It has become a destination event."
Kelly also founded Taste of the Beach in order to claim a spot in spring for the restaurant industry. He remembers when the Restaurant Association approached him years later about moving this popular three-day happening to St. Patrick's Day weekend. "I asked them to make sure the restaurant events are planned before the parade. It's been a good combination that now provides a prelude to the summer season and makes for a great weekend!"
It's clear to see that Mike Kelly loves a parade and that he wants everyone else to as well. For him, picking a parade theme is as important as keeping a friend. "You want things fresh from year to year so that it won't get old or stale," says Kelly. This year's theme: Outer Banks Heroes. His choice for Grand Marshal: The Gravedigger, Dennis Anderson. Kelly remembers years ago when Anderson would leave his KDH garage to travel cross country. Their relationship grew with Anderson's fame as Kelly would cash the late night checks that would allow Anderson to leave town. Kelly respects the acclaim and recognition that Anderson has brought home. "Even though he's settled a county away, his mailing address is still in Dare County. He's learned that it pays for the Gravedigger to be from Kill Devil Hills."
As for loyalty, it's clear to see that Kelly has that too. He believes that as long as there's a Kelly's St. Patrick's Day Parade, it will stretch along the beach road in Nags Head. To the young looking on, the parade may seem like a rainbow of green. For those who appreciate Mike Kelly's sense of community, it's a pot of gold.
Save the Date
Kelly's St. Patrick's Day Parade
Mar. 16, 2014
1 p.m. start time
Nags Head (On the Beach Road from Bladen Street to Driftwood Street)
For 24 years this parade has been a celebration of down home Americana with an Irish twist. With more than 1,500 participants and 10,000 spectators, Kelly's St. Patrick's Day Parade is a Sunday afternoon event for the entire family. Marching units, bands, floats and more await those lining this mile-long stretch along the Beach Road in Nags Head.
5th Annual Kelly's Running of the Leprechauns 8k
Mar. 15, 2013, 8:30 a.m.
Kelly's Restaurant
2316 South Croatan Highway
Nags Head, NC
Last year, 220 runners finished this road and trail course with local participants being joined by runners from Virginia, Maryland and Pennsylvania. Whether you are trying for a five-minute mile or are happy to finish the race at a more comfortable pace, this race is a fun time you won't want to miss.
Shamrock Car Show and Poker Run
Mar. 13-Mar. 16
Free Admission
First Flight High School
100 Veterans Drive
Kill Devil Hills, NC 27948
St. Patrick's Day Weekend on the Outer Banks even offers a chance for car buffs to gather and have fun together. Participants in the Poker Run can choose stops from any direction, and the car show is free to the public! How lucky can you get?
Taste of the Beach
Mar. 13-Mar. 16
All over the Outer Banks
Presented by the Outer Banks Restaurant Association, this fun-filled weekend features four days of events at more than 35 restaurants. Diners can plan their own menu of choices of everything from cooking classes, tours and tastings to presentations by Celebrity Chef Michael Smith and Rowan Jacobsen, author of A Geography of Oysters.