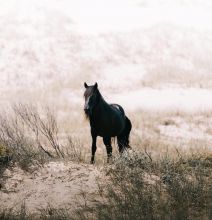 Behind the Scenes with Wild Horse Adventure Tours
Whether it's your first sighting or your 50th, spotting a Corolla wild horse is always a thrill. From pastoral scenes of mares casually grazing the salt hay to the jolly spectacle of foals frolicking in the surf to the heart-stopping action of stallions in territorial battle, catching sight of the horses in their natural environment stirs a rush of adrenaline every time.
For the last 12 years, Wild Horse Adventure Tours has been taking the horse-curious to the four-wheel-drive area north of Corolla, into the areas known as Swan Beach and Carova. What they offer is much more than a shuttle and a show – Wild Horse Adventure Tours offers a deeply satisfying journey, one in which you not only see the Corolla horses (almost always) but also learn about them and their fascinating environment. Wild Horse Adventure Tours' entertaining and educational experience instills a deep appreciation for the wild species and the northern Outer Banks environment, and that's one of the reasons that they're so highly rated among their customers.
Another reason Wild Horse Adventure Tours is so popular is that they offer the ultimate touring machine: custom Hummers. Tour-goers are nestled into comfortable individual seats with plenty of leg room. With a stadium-style seating and an open-air configuration, the view is stunning from every seat. Seatbelts and child safety seat restraints are added, as is a canopy that offers sun protection.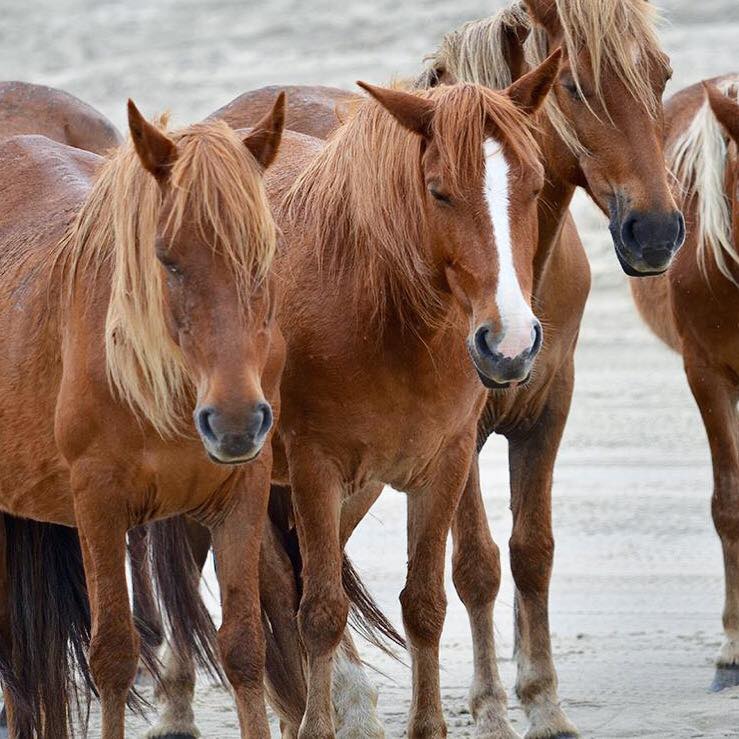 The driver serves as both a navigational guide through the difficult-to-traverse territory and an educator, teaching the participants about the culture, history and ecology of the area as well as directing their attention to horses and other animals, plants and manmade creations alike. With intimate knowledge of the 8,000 acres of wild horse habitat, Wild Horse Adventure Tours delivers riveting wild horse experiences day in and day out.
Before this magic can happen, however, Wild Horse Adventure Tours has some behind-the-scenes work to do.
A season of tours takes its toll on the Hummers, so the maintenance staff of Wild Horse Adventure Tours spends a good portion of the off-season maintaining the vehicles. For 2020 they've added two brand-new Hummers to the fleet, bringing their total number of well-maintained vehicles to eight.
Another point of pride at Wild Horse Adventure Tours is the talent of their guides. A great tour guide is a combination of a naturally buoyant personality and rigorous education and training. Wild Horse Adventure Tours welcomes returning staff each year, but part of their annual preparation also includes hiring new talent. Their intensive training process ensures that each and every guide knows all there is to know about the northern Outer Banks and the Corolla wild horses.
"We have about 20 tour guides in the season, a mix of younger and older folks, and all of them are interesting and adventurous people," says Kasey Powell, a former tour guide and now the marketing director at Wild Horse Adventure Tours. "They offer quick-witted comedy, history and ecology lessons and can answer all the questions people have."
Perhaps most importantly, the guides are trained to drive safely on the beach and behind the dunes, all the while looking out for signs of horses and at the same time being entertaining and informative. They also educate tour participants about keeping the horses safe (never feed them or get closer than 50 feet).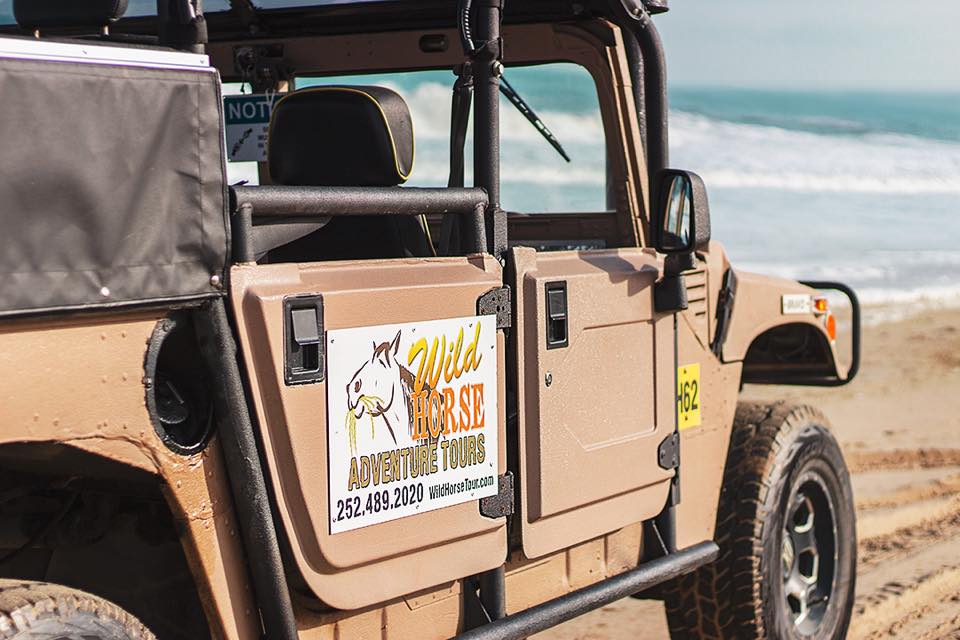 Wild Horse Adventure Tours contributes to the protection of the horses by donating annually and working in partnership with the nonprofit Corolla Wild Horse Fund, which helps protect the horses and keep them healthy.
Wild Horse Adventure Tours also helps preserve the northern Outer Banks landscape. Passionate about nature and the Outer Banks, owners Rich Brown and Sam Wise purchased tracts of land at Swan Beach to shield from development so that the horses and other wildlife have more places of sanctuary.
"We want to help and be an integral part of the community," Kasey says, "not only because the community depends on a healthy environmental ecosystem, but also because we care deeply about keeping it and the horses healthy."
To that end, Wild Horse Adventure Tours has adopted a portion of N.C. Highway 12, where the staff collects trash to keep it litter free. And to offset the carbon emissions of their Hummers, they have partnered with American Forests to plant enough trees to negate their CO2 output.
"People feel good about going with a company that has a reputation for giving back to the horses and the environment," Kasey says. "With us, their participation allows us all to give back."
 
A Tour You Can Feel Good About
When you tour with Wild Horse Adventure Tours, you're contributing to the betterment of the horses and the environment. How?
They offset the carbon footprint of their Hummers by planting trees.
By adopting a portion of Highway 12, they hold several litter cleanups each year.
They donate annually to the Corolla Wild Horse Fund.
They own acreage in Swan Beach that is preserved from development and serves as sanctuary for the horses and other animals.
 
Tips for Your Best Wild Horse Tour Experience
Book in advance, and arrive 30 minutes before your reservation time.
Bring your camera. A phone is fine as the guides position the vehicles for the best vantage within a safe distance.
Bring your own drinks and snacks, if needed, for the two-hour trip.
Wear sunglasses and sunscreen if you're going mid-day.
Use the restroom at the welcome center before your tour leaves.
Wear layers as the weather can change rapidly.
Bring car seats or booster seats for children. The Hummers are equipped with child seat safety systems and seat belts.
Bring some cash so you can tip your driver/guide.
---

Call or book online today!
(252) 489-2020
(800) 460-4136
wildhorsetour.com
---