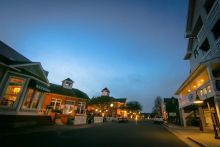 Tree-lined streets, lush green grass lawns, flowers

Bed & breakfasts and inns that mirror the gracious island lifestyle and that are only a stroll away from the waterfront
A waterfront downtown area bordered by a mile-long boardwalk
A harbor filled with vessels, large and small, hailing from all over the place
A shopping experience that's uniquely Manteo: locally owned, one-of-a-kind items ranging from estate and modern jewelry to books to exquisite home goods to stylish clothes to art and more. And, even better: easily walkable in the downtown area!
A downtown playground filled with giggling, happy kids
Art, art and more art
A town that celebrates holidays in grand style - July 4th, Halloween, Christmas
A caring community of locals who welcome visitors with smiles and openness
Home to some of the Outer Banks' most popular attractions:  The Elizabethan Gardens, Roanoke Island Festival Park, North Carolina Aquarium on Roanoke Island, The Lost Colony, Island Farm, Roanoke Marshes Lighthouse
Only 10 minutes to the beaches
Nightlife that suits lots of ages and styles: live music, pubs with craft beers (local!), trivia nights, ghost walks, bar gatherings, star gazing
Kayaking, SUPing, sailing, boating
Jumping off the town bridge
Connected from Pirate's Cove all the way to the north end of the island by a bike/walking/running path
Manteo is an absolute jewel of a town that you will come back to time after time.
---
Accommodations
Historic waterfront inn in downtown Manteo
Roanoke Island Inn | (252) 473-5511 | 305 Fernando Street | roanokeislandinn.com
Outer Banks charm amidst island history
Scarborough Inn | (252) 473-3979 | 524 U.S. Highway 64 | scarboroughinnmanteo.com
Homemade breakfasts every morning 
The Cameron House Inn | (800) 279-8178 | 300 Budleigh Street | cameronhouseinn.com
Homemade breakfasts every morning
The Tranquil House Inn | (252) 473-1404 | 405 Queen Elizabeth Avenue | tranquilhouseinn.com
Shopping
Functional, high-fired stoneware handmade onsite
Nancyware | (252) 473-9400 | 402 Queen Elizabeth Avenue | nancywareobx.com
Elegantly eclectic treasures for you and your home
Nest | (252) 473-5141 | In Magnolia Market Square, across from Tranquil House Inn | roanokeisland.net/nest​
Sea glass jewelry, clothing, home decor and more
The Island Shop Boutique | (252) 473-6656 | 105 Budleigh Street | roanokeisland.net/islandshop
Restaurants
Creative fare, wine and water views
1587 Restaurant | (252) 473-1587 | 405 Queen Elizabeth Avenue | 1587.com