Listen To This Article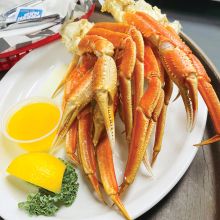 For Diamond Shoals, Hatteras Island's classic family restaurant, 30 years in business is a milestone worth celebrating. 
While Hatteras is a purely magical place to visit, it's not the easiest place to run a business. Restaurants that manage to stay open on the island just a few years are considered a success, so if you have one that's been around for three decades, you know there's something special going on.
That special something at Diamond Shoals stems from the owners' deep island connections and strong commitment to taking care of people. Owners Keith and Angela Gray take care of their customers with excellent food for breakfast, lunch and dinner, outstanding service and a friendly, welcoming atmosphere – the winning combination that makes Diamond Shoals a favorite Hatteras Island restaurant for locals and a loyal following of visitors. Diners come again and again for their fresh, local seafood, hand-rolled sushi, award-winning clam chowder, full salad bar, hearty breakfasts and so much more. 
The Freshest Seafood Served In House or To Go
While Diamond Shoals Restaurant truly does offer something for everyone all day long, their specialty is seafood. 
Keith, a Hatteras native, grew up fishing with his father, worked as a commercial fisherman and then served in the Air Force for seven years. Upon returning to Hatteras, he opened first a seafood market, then a pizza restaurant and then Diamond Shoals. In a full circle moment, he added another seafood market to Diamond Shoals 15 years ago. His lifelong connection with the fishing community ensures that the seafood they sell in the market and serve in the restaurant is fresh, local and properly handled.
The attached seafood market allows the Grays to procure fresh seafood like crabs, fish and shrimp directly from the local fishermen. Customers can enjoy locally caught fish like red drum, sheepshead, tilefish, grouper, trout and more, all of which Keith fillets himself. They typically serve many different fresh fish options per night. 
The market sells not only raw seafood to take home and cook yourself, but also steamed, broiled and fried seafood like fish, scallops, shrimp and crab to-go, along with sides like baked potatoes, coleslaw and vegetables. The seafood from the market is also used in the restaurant's catch of the day specials, ensuring that the stock is consistently at peak freshness. 
Several years ago, Keith, a sushi aficionado, decided to include sushi in the restaurant. He trained with a chef in Virginia and added sushi, as part of the seafood market offerings, before transitioning it to their current full sushi bar. This year the sushi bar has a new chef who trained in California under a famous master sushi chef at The Sushi Chef Institute, and the sushi bar will now be open seven days a week. Customers can also order large sushi trays through the market, perfect for families or big groups to enjoy at their beach house.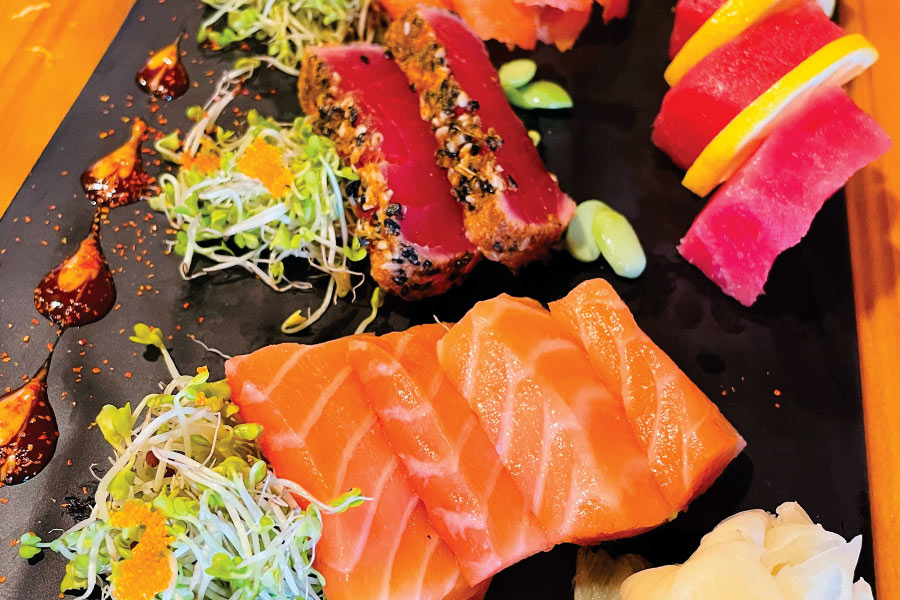 Diamond Shoals' award-winning clam chowder is another hallmark of the restaurant. Their dinner chef, who has worked with them for 20 years, prepares the family chowder daily, and it has won the Hatteras Island chowder cook-off multiple times. It's a hit with visitors, including residents of New England familiar with creamy chowders.
Aside from local and regional seafood, Diamond Shoals sources as many ingredients and products from North Carolina as possible. 
A New Look to Match a Storied History
Stepping into this Hatteras restaurant is a living link to the maritime history of the island. Its name comes not just from the stretch of shoals off Buxton known as Diamond Shoals, the spot where the Labrador Current and Gulf Stream meet in a clash that has sunk thousands of vessels over the centuries, but also from the lightship that was posted there to guide mariners. 
The Grays consider Hatteras history a living thing connecting the restaurant to its place in the community. Keith's family has lived and fished on Hatteras Island for generations, and his ancestors include a Hatteras lightkeeper named Pharoah Farrow, who worked in conjunction with the lightship miles out on the shoals. On the walls of Diamond Shoals, you'll find a series of photos of Gray ancestors, a small history of the family on the island.
This season, the restaurant is getting a new look to match its storied history. New porthole windows and a ship-like exterior are visible links to this history, drawing visitors in to experience the multifaceted aspects of the restaurant. Customers will love Diamond Shoals' showpiece ipe (ironwood) railing along the outside of the restaurant, completing the deck-like look. The railing is beautiful and functional, with places for customers' drinks to be held so they can enjoy a cocktail while waiting for a table. Some outdoor seating is also included in the remodel. 
Along with their fresh exterior, there are other new developments at Diamond Shoals this season. A smoker room has been added at the front of the restaurant, and Diamond Shoals' chefs are experimenting with smoking meats and fish. They plan to add smoked pork sliders to the menu this season, participating in North Carolina's long history with barbecue. 
A Family Business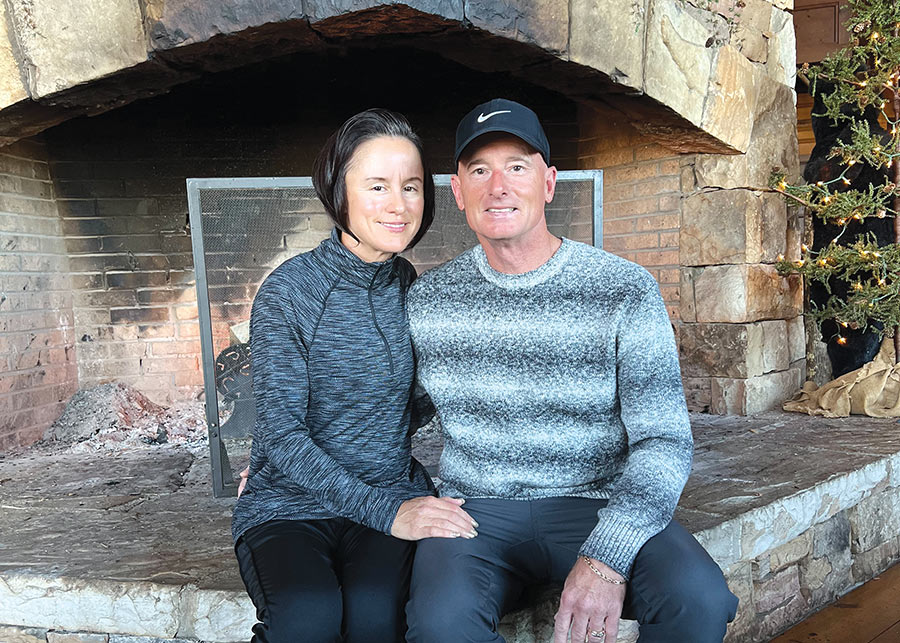 Keith and Angela are a very hands-on presence at Diamond Shoals. One of them or their longtime manager, Edith Byrd, is always on site to welcome customers and ensure a pleasant experience for everyone. Keith's son, Aaron, is the head chef during breakfast and lunch. Aaron has made an art of cooking omelets, and his dedication shows in the quality he brings to breakfast.
"It's a family business," Keith says, adding that when he started the restaurant, his whole family pitched in to get it running. 
Angela currently runs all the front of house operations at the restaurant, while Keith, in addition to filleting the fresh fish, working in the market and participating in the kitchen, can often be found behind the sushi bar. On weekends, he loves running breakfast food out to customers and interacting personally with diners. 
"We are blessed to have such a wonderful staff, like Donna, our head server, who has been with us all 30 years and brings a lot of valuable experience," Angela says. "We all work as a team to take care of our customers."
It comes as no surprise that the Grays are big supporters of the Hatteras community. They have been cooking the meals for the privately funded Meals on Wheels program for many years.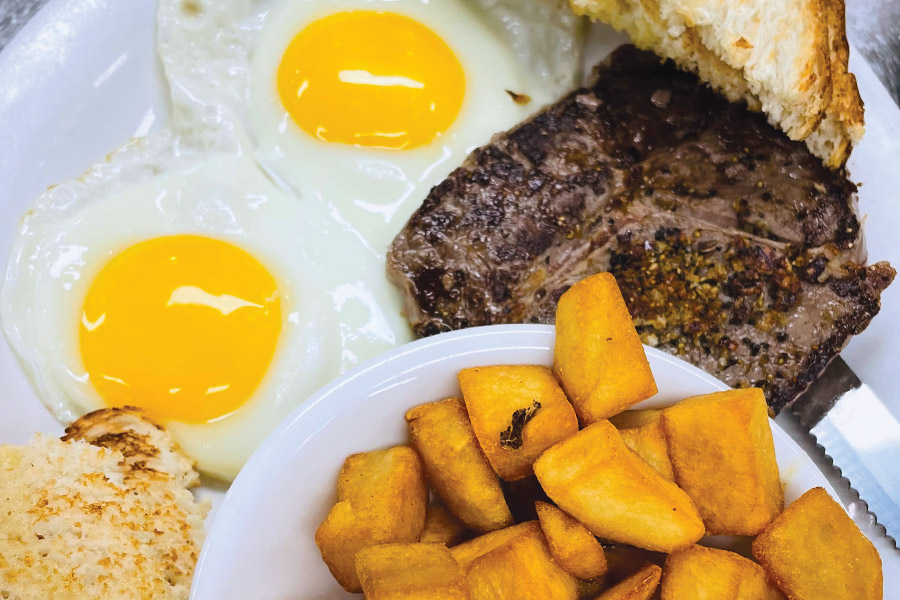 From their community participation to their connections for the freshest fish, Diamond Shoals is a true Hatteras cornerstone. Open seven days a week for breakfast, lunch and dinner, they offer something for everyone in your crew and are happy to accommodate large parties (call ahead so they can arrange the seating). 
Over the last 30 years both Diamond Shoals and the Grays have weathered storms, isolation, the pandemic and other hardships, yet they have continued to be a force on the map of Hatteras Island dining.
"We've been here a long time because we care about what we're doing," Keith says. "Our focus is to make our customers happy."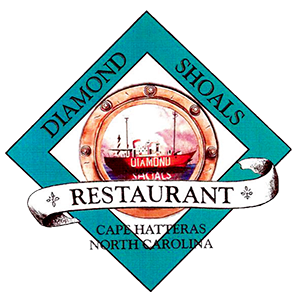 Restaurant: (252) 995-5217
Seafood Market: (252) 995-5521
46843 NC Highway 12, Buxton
---