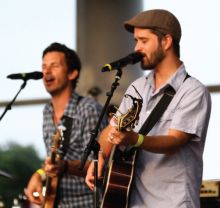 You are stretched out in your lawn chair, friends beside you and a cool breeze is coming off the water. Children run through the plush grass, excited voices grow louder behind you as the crowd fills in. Or perhaps you are the young girl who once performed on the Pavilion stage as a teenager and dreamed of one day dancing across it again as a bride.
Gone are the days when leaving the Island is a necessity-and thanks to a few locals with a little ingenuity-Roanoke Island Festival Park is now able to cater to the growing demand for destination weddings and larger scale music concerts.
Known first and foremost as the home of the Elizabeth II, North Carolina's 16th-century representative ship, Festival Park has also grown into a large scale interactive historic site.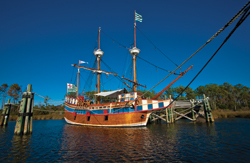 Costumed interpreters bring alive the experiences of settlers, and guides help you interpret the lives of American Indians during the earliest days of English colonization. Children learn about crops grown and shelters built by the American Indians at the Algonquian village, while others experience living history with blacksmithing, wood work and armor made by the English at the replica Settlement Site. Interpreters will guide you throughout the ship and winding trails of the park grounds and Roanoke Adventure Museum, and the fossil pit and Museum store wait to greet you at the end of your walk back into time.
The beautiful and expansive park grounds and state-of-the-art waterside amphitheater have been used primarily for state-funded educational concerts, children's theater and the Fourth of July fireworks celebration. However, recent North Carolina budget cuts have challenged the once fully funded park to become self-sustaining. Executive Director, Kim Sawyer, and her staff are bringing in additional revenue by capitalizing on the existing and growing wedding industry on the Outer Banks. Festival Park now offers an attractive and affordable wedding venue that provides several options on-site.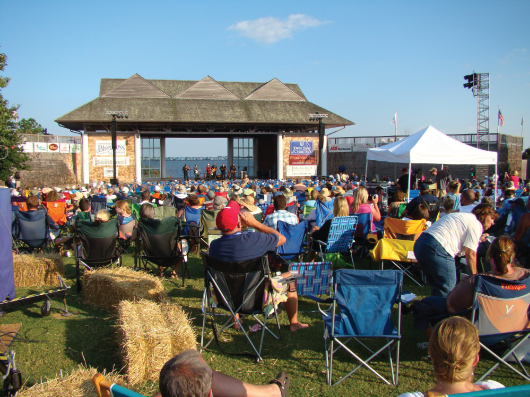 If the 1st annual Outer Banks Bluegrass Festival held October 2012 created excitement for the potential success of live music at Festival Park, then the big acts of summer 2013 whetted musical appetites for more. Locals and visitors flocked to the park for headliner Blues Traveler with special guests Pat McGee band and local performers Matt McGuire & the Wilders at the Brew Thru summer concert. Brew Thru owner and Outer Banks native, Philip Foreman, used his business as a platform to market the concert and increase attendance. Foreman has already reserved six Thursdays for summer 2014 and is looking to bring in recognizable acts that will also appeal to families. American Idol winner and North Carolinian Scotty McCreery brought his country twang to rock the stage at Festival Park September 1st along with 2,500 elated fans. The show was scarcely marketed with the last-minute booking, but McCreery's younger and larger fan base did not disappoint.
Spearheaded by local Corey Hemilwright, the 1st Annual Outer Banks Bluegrass Festival showcased the park as a premier live music venue, dubbing it "bluegrass island." More than 6,500 tickets were sold over the two days held at Festival Park with 80% of those coming from outside of Dare County. This year an additional day has been added to the line-up, and all four days of the festival will be held on site. With the success of the 2013 summer concerts, an increase in local attendance this fall is hopeful.
Although their primary focus is the Elizabeth II and its educational programming, Roanoke Island Festival Park is now increasing its customer base and its profits by marketing their already existing location and facilities. These two new facets of their business will now go directly back into funding the educational programs as they continue on the road to self-sufficiency.
Weddings
Festival Park's facilities give couples lots of venue options. The meeting room is an economical option for brides looking for an intimate space that won't break the bank. With ample space to seat up to 130 guests, the vaulted ceilings and hardwood floors need few additional decorations to create an elegant event.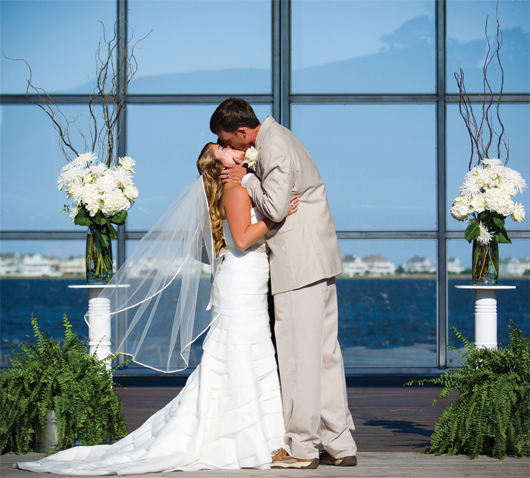 If it's a picturesque outdoor affair you desire, the soundside Pavilion and lawn are worth considering for that picture perfect wedding. The Brazilian walnut stage can be used for ceremonies or receptions with an impressive backdrop featuring the Roanoke Sound while retractable doors on both sides can protect you from the unpredictable weather associated with the Outer Banks. Dressing rooms for bridal parties as well as restrooms and handicapped access are offered, and caterers have drive-up access. Options include adding on a cocktail hour on the deck, theatrical lighting or a ceremony on board the Elizabeth II offering a view of the quaint Manteo waterfront. Use of the Grand Mall in case of inclement weather provides brides with peace of mind for the big day or use of a separate space if wanting an indoor ceremony or reception.
Roanoke Island Festival Park
1 Festival Park, Manteo, NC 27954
(252) 475-1500