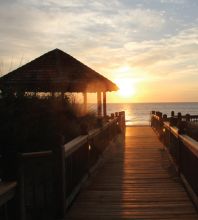 It wasn't that long ago, in the great scheme of Outer Banks things, that a drive along the beach road in Nags Head was punctuated by long dashes of relatively empty land and smaller dots of houses, shops and restaurants. It was a Morse Code all its own that spelled out potential, and that signal was picked up by far-flung vacationers and even locals who wanted to situate a beach house along that long, straight road. That same drive in 2013 is quite different. For one thing, it's curvy. How does that happen along a horizontal seashore? For another, there are now many more dots covering the beach road's expanse than open-land dashes. The code has changed and is now spelling out...one last chance.
Space and Flow
Moongate, a successful partnership between Resort Group Holdings and Saga Construction, is the last semi-oceanfront development available in Nags Head.The very last.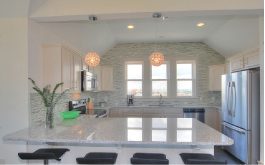 It will be the northern tip of the crown in the Village at Nags Head development, which winds its way through the most famous of those open-land dashes from years back, the Epstein tract. If you've loved the Outer Banks for a respectable amount of years, you may remember that this tract, at 380 acres, was in the early 1980s the largest privately owned, undeveloped piece on the Atlantic coast, and it ran right through the middle of town. First bought by the Ammons Corp. out of Raleigh in 1984, a few years later it was taken over by the Dare Corp. locally, and the Village was under way. A golf course and low density houses kept the soundfront from being over-built, and a curve cut into the straight-line perspective of the old beach road gave space and flow to the oceanfront houses that came next.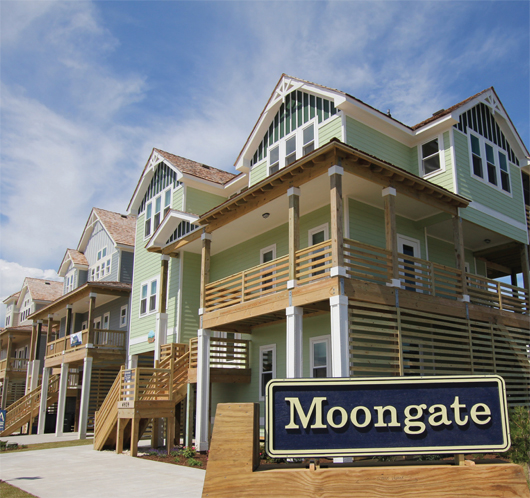 Now, almost 30 years later, Moongate is completing the vision of a Nags Head resort that knows where it came from, one that blends with the land it's built on, that gives a respectful nod to the Nags Head of old while bringing everything a present-day owner expects in a vacation investment home, including a pool. It also joins together two solid local companies into a partnership that provides Moongate buyers with important and immediate access to the rental market through Resort Realty's well-developed reach. That reach, coupled with a Saga Construction building quality that results in high efficiency/lower operating costs homes, creates a solid investment for owners. Evidence: All the homes currently in Moongate were 100% booked for the summer of 2013...no "If we build it (and invest our money in it), we hope they will come." They came. And this was the first summer for most these houses.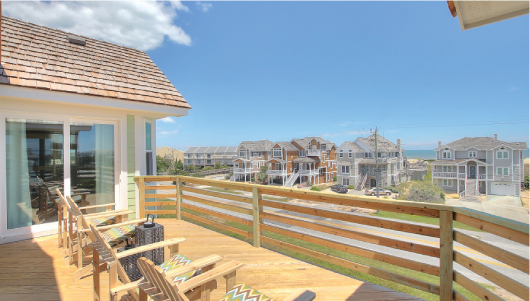 Finishing Touch
Only 14 lots are included in Moongate, and half of those have already sold, which means you better get busy if you want to be a part of this last opportunity to live across from the sea.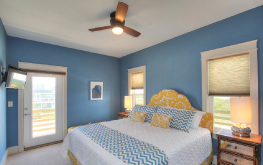 As part of the Village at Nags Head, you'll have access to a private beach access directly across the street from your house, an oceanfront pool and clubhouse, tennis courts and a links golf course. And, as the lyrical name Moongate suggests, you'll be situated at the northern edge, or gate, if you will, of the most well-planned and maintained development in Nags Head.
The door opened on this development nearly 30 years ago. Along the decades, beautiful homes have been built that dot the dunes and curves and greens and connect into an established and desirable vacation experience. Moongate is the finishing touch. And the attention it's already attracting is evidence that plenty of people out there understand the code. Dot dot dot/dot/dot dash...that's Morse Code for Sea. Add your name to it at Moongate.
You better get busy if you want to be a part of this last opportunity to live across from the sea.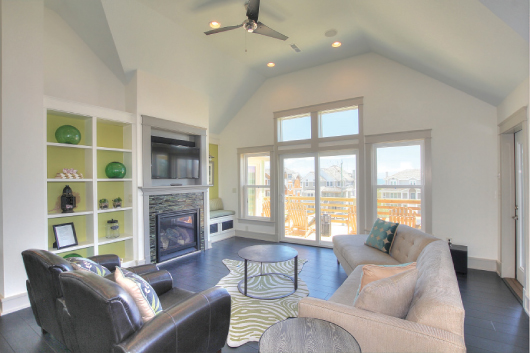 Call Resort Realty at (866) 928-2674 to talk with a Moongate agent about sales and rentals.