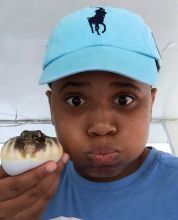 Pigfish. Puppy drum. Pufferfish. Pin.
No, this is not a chant! It's just a few of the 20 or so species of fish you might catch on a fishing trip on the Miss Oregon Inlet headboat. Add to that triggerfish, flounder, sea bass, spot, lizardfish (watch out for those teeth!), sea robin, gray trout, ribbonfish, sea mullet, grouper, croaker, bluefish and more, and you have a potential smorgasbord of seafood at the tip of your hook.
If you aren't familiar with headboat fishing, let us fill you in. Headboats are large, stable vessels that can carry big groups of people to the sounds to fish. You pay by the head, thus the name, and the price is quite affordable. Because of their wide bows that make for a smooth ride, ample seating, shaded areas and on-board restrooms, they're a perfect way for people of all ages to enjoy a day on the water wetting a line. Edward Mann, one of the people associated with the 65-foot Miss Oregon Inlet, says that they regularly have large family groups, ranging in age from babies to grandparents.
"The breeze and engine hum often put the little ones right out to sleep. And one of my favorite things is to see how the teenagers will often abandon their devices and find themselves having a great time pulling in fish and seeing the Outer Banks from a different vantage point than from land. And another thing: You know it's often hard for Granddad and Grandmom to trudge through the sand to spend time with the family on a hot beach. This experience is cool and breezy and very easy for the older folks to navigate."
Even if you know little to nothing about fishing, you'll still enjoy a trip on the headboat. A helpful mate is onboard to bait your hook if you're squeamish or to take your catch off. And this isn't the type of fishing where you have to be an expert caster. On headboats you're doing what's called drift fishing, which means that you drop your line, then the boat itself drifts while that dangling, tasty bait entices the fish to take a nibble. Once your catch is on, you reel it in, put it in your bucket then drop another line to see what you get next. It's fun, relaxing and a great way to spend some quality time together with family and friends. You're also welcome to bring a small cooler on board with snacks and drinks, though there's also a snack bar on the boat.
The mate and captains make sure everyone is entertained, with a special emphasis on the kids. You'll find the mate taking pictures with them, encouraging them to kiss a blowfish (most will – have your camera ready!) and answering all their many questions. The captains, too, have their own ways of making sure you're having fun by telling local stories and making humorous quips. But they also help expand the experience of fishing into one where you learn about the surrounding waters, wildlife and environment. It's quite common to see dolphin while you're on the water, and you can keep your watch out for sea turtles too. The captain tells you about the marshes, the sea birds and the structures you see. Since you depart from Oregon Inlet, you have an astounding view of the new Basnight Bridge that spans high overhead, connecting to Hatteras Island, and seeing the Bodie Island Lighthouse from the water is a special experience.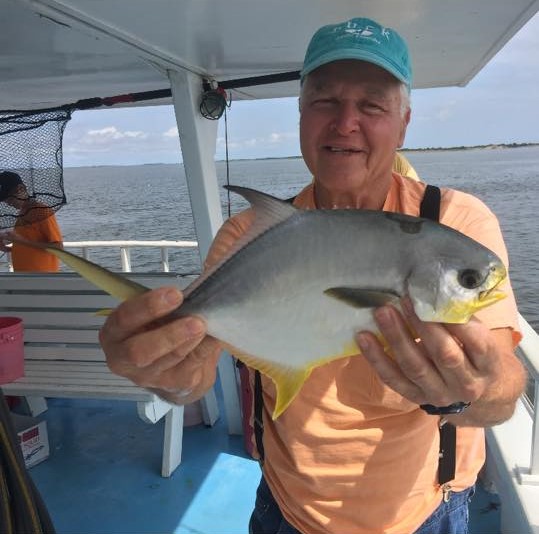 And speaking of captains, there's a story to tell there too. Captain Tripp Phillips has been working on Miss Oregon Inlet since he was a bait boy at age 13. Every season, he would work his way up the headboat ladder, and now at 19 he is a Coast Guard-licensed captain. His years of experience on the boat show with the deep knowledge he has of the area. Also at the helm is Captain Mike Swindell who is also a ferry boat captain. He's been with Miss Oregon Inlet for several years and is known for his humor.
Even though the boat can hold up to 49 people, with the current virus situation they are limiting the number of people onboard to 25. In many ways, the fewer number of people is a blessing. You have even more room to spread out, and you get even more attention from the mate. But note that if you have a larger family group that is traveling together, you may book even if you exceed that number. This year, they've added 10 charging stations, so you can always have a device to take those excellent pictures!
Miss Oregon Inlet runs three trips per day, in the morning, afternoon and evening. The Twilight Tour was new last year and proved to be very popular. How can it not be? Imagine setting out an hour or so before the sun is going to set. The heat of the day dissipates as you glide out of the fishing center into the sound. If you stand on the deck and look 360 degrees around you, everything you see is a sight to behold: the Bodie Island Lighthouse, the marshes, the architectural marvel of the bridge, the open sound with its sand islands, jumping fish, soaring sea birds. It's a delight. Then, after cruising around and relaxing, and after the darkening skies make the new twinkle lights come on and the upgraded sound system is playing the perfect summer evening music, you get to watch that sun set into the water's edge.
As Edward says, "With the beauty people get to experience when they're out on Miss Oregon Inlet, catching fish is a bonus!" Thousands of people who have taken a trip out on the headboat agree. It's a memory well worth making.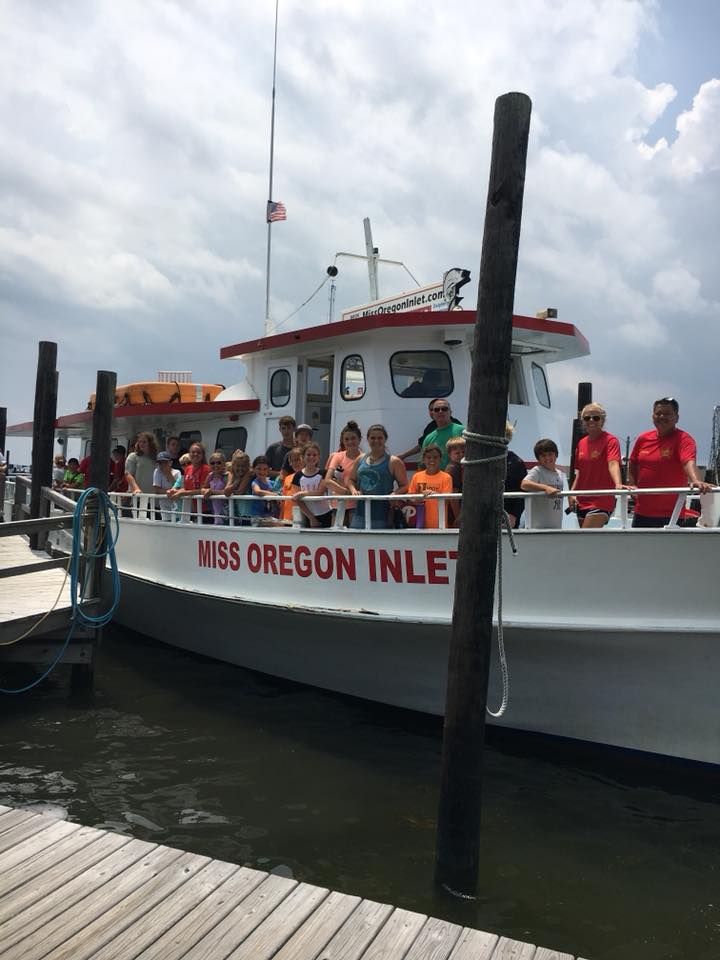 Book your trip on Miss Oregon Inlet today!
Morning and afternoon trips: Adults, $48; children 10 and younger, $38.
~ Morning trip departs 7:30 a.m. and returns 11:30 a.m.
~ Afternoon trip departs at noon and returns at 4 p.m. Twilight Tours: $35, adults; children 10 and younger, $25.
~ Departs at 6 p.m. and returns at 8 p.m. Book Miss Oregon Inlet for your private party and events!
---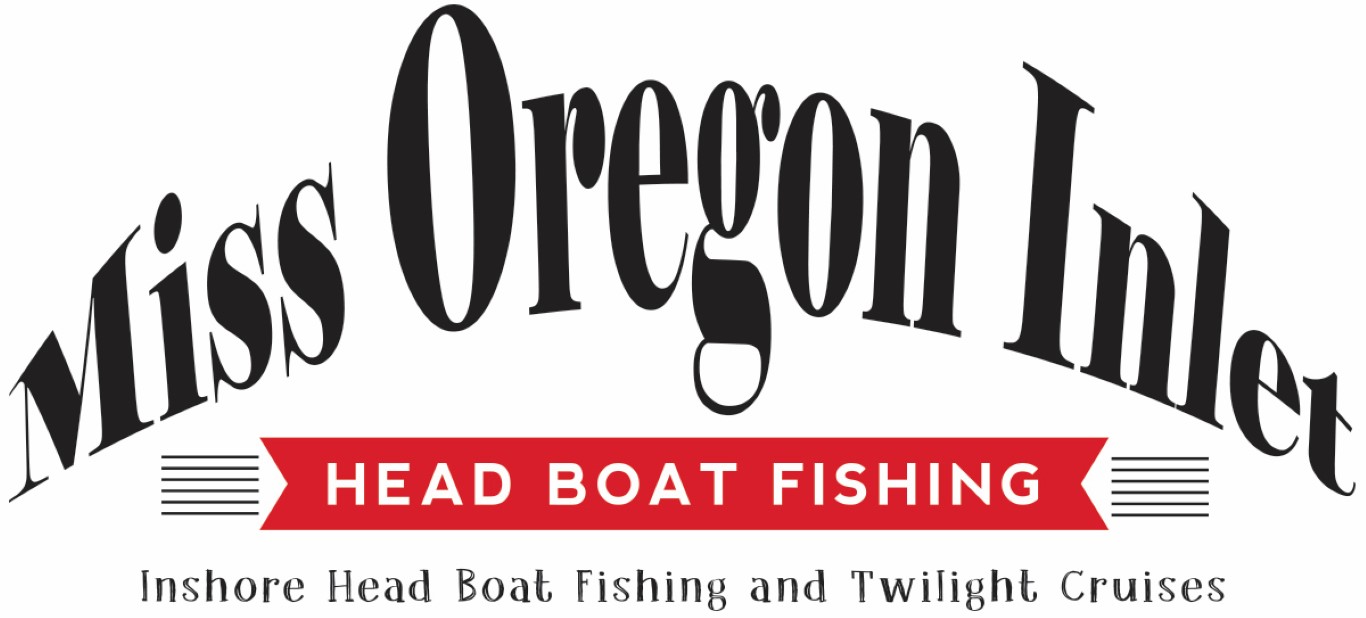 Book Online: missoregoninlet.com
Reservations: (877) 359-8447 | Call/Text (252) 251-4314
Departs daily from Oregon Inlet Fishing Center
---