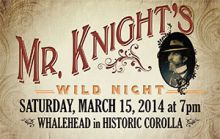 Edward Collings Knight, Jr., brought his new bride to Corolla in 1922 to build Corolla Island, a coastal estate that was to be their winter home. Some letters and artifacts remain today to illuminate the Knight's life in Corolla; however, it is the house itself that tells a compelling story of the industrialists and socialites.
Fortunately, the many fascinating details recorded about the construction of the magnificent home complete a story not written in guest logs and newspapers. The curved roofline and use of copper shingles as well as the grand porches complement the detail the couple continued inside. Tiffany lighting and Art Nouveau-inspired embellish-ments made the house as visually appealing as the cork floors and indoor plumbing made it a comfortable retreat.
It was Mr. Knight's interest in waterfowl hunting that brought him to Corolla, and no doubt it was the lure of the Outer Banks that made him stay.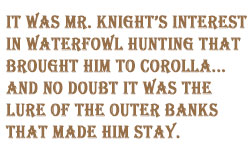 The house log books indicate that the Knights entertained guests throughout their years at Corolla Island, even before the house was said to be completed. The five-floor, 21,000-square-foot home was large enough to easily accommodate Mr. Knight's friends who also enjoyed the bountiful game of the northern Outer Banks.
The Gun Club Cook Book, written by Charles Brown, boasts recipes "to whom a good meal may be a pleasure as well as a necessity." The recipe for Wild Rice and Clam Chowder "Corolla" was most likely borrowed while visiting his friend to hunt the bird-filled shore.

As a member of various epicurean societies in most towns where he held an address, Mr. Knight assuredly brought his love of a good meal with him wherever he traveled. To commemorate Edward's love of hunting in this natural habitat as well his entertaining sensibilities, Whalehead in Historic Corolla will host its second annual wild game dinner, Mr. Knight's Wild Night, as a part of Outer Banks Restaurant Association's 2014 Taste of The Beach. Held underneath the starlight on Saturday, March 15, guests will gather for dinner and dancing on Whalehead's North Lawn.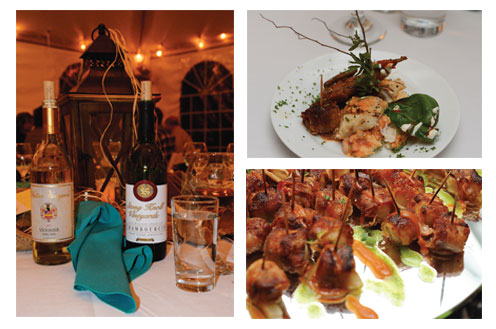 Chef Wes Stepp of Red Sky Café in Duck will prepare a four-coursewild game dinner featuring meat and fish native to the area. Wild game such as venison, quail, duck and boar will be served alongside Outer Banks favorites like oysters, shrimp, rockfish and sea scallops. The meal will be accompanied by a selection of North Carolina wines chosen to complement the menu. Befitting this special occasion, the meal is offered progressively and served buffet style. The wine is then described with each course, and guests are given a chance to try the pairings as the next course is served.
If you plan to make it an all-night affair, a room at The Inn at Corolla Light can be reserved for a discounted price. The dress code for Mr. Knight's Wild Night is Hunter Chic, so bundle up in your Eddie Bauer-inspired gear and make the trek to Corolla. Details can be found online at visitwhalehead.com, and tickets can be purchased at obxtasteofthebeach.com.