This March, Joe Lamb Jr. and Associates will have been in business for 49 years. For perspective, that means when Joe and Ann decided to start a vacation rental company on the Outer Banks, houses only cost about $15,000, people generally made less than $3.50 an hour and this area was a mostly desolate beach with few business and even fewer residents.
So what's kept people coming back for generations? Maybe it's because with more than 550 properties, they have something for everyone (and every budget), from traditional cottages to 12-bedroom homes. Maybe it's because they treat their staff like family, so when you call to book your vacation you're dealing with an employee who's probably been working there for many years.
Or maybe it's because they simply understand the importance of vacations. Vacations are the thing that you save for and look forward to all year long. They're what gets you through every long work week, the sun-soaked beaches becoming the light at the end of the tunnel. And when you finally get there, you want it to be perfect. Joe Lamb Jr. & Associates understands that, and they do their very best to make it perfect, just as they've done for nearly five decades.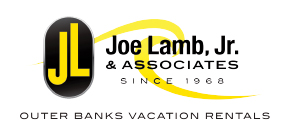 4607 N. Croatan Highway • MP 2.7 • Kitty Hawk