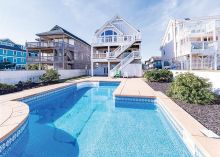 What's the secret to keeping a business thriving for more than five decades?
In the case of Beach Realty & Construction/Kitty Hawk Rentals, a family-owned Outer Banks company, it's a combination of perseverance, hard work, team work, exceptional customer service and innovation. Even after 56 years in business, they face unprecedented challenges with energy and fresh ideas that are ushering the company into the new decade as an industry leader.
This past spring the COVID-19 pandemic and resulting bridge closure tested the entire Outer Banks tourism industry, Beach Realty included.
"Those two months were a growing experience and compounded a daily lesson that we often work on – to focus on the present and prepare for the unknown ahead," Beach Realty General Manager Jason Ward says.
From mid-March through mid-May, Beach Realty transferred, canceled and refunded more than 1,000 reservations while new business activity was minimal. Of the nearly 50 full-time employees, 75 percent were furloughed temporarily while the state was directed to Stay Home, Stay Safe. Beach Realty quickly put its employees back to work and began adjusting operations and distributing information to their guests, illustrating enhanced housekeeping procedures and outlining what to expect when vacationing with them this season. 
"Although no one can say they were prepared for this pandemic, our long history and ability to adapt quickly allowed us to navigate uncharted waters and come out on top," Ward says. "We know a new set of challenges are headed our way, but given the grace my team operated with over the last two months, I'm not worried. We are ready!"
Since the bridge reopened to visitors in May, Beach Realty's new reservations skyrocketed, and they are now more than 95 percent occupied for the entire summer. Beach Realty is on track for a record-breaking summer rental season.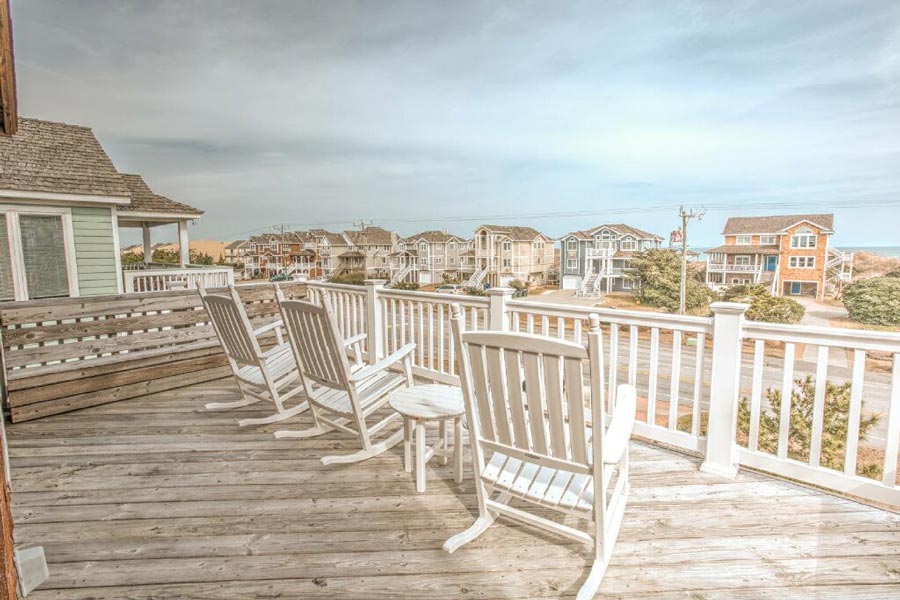 The Changing Guest Experience
Managing almost 500 vacation rental homes at nearly 100 percent occupancy through the peak summer months during a pandemic requires valiant efforts from Beach Realty's employees and like-minded partners. Here are just a few of the ways Beach Realty is accomplishing this:
Keyless, Contact-Free Check-in & Check-out >> Beach Realty has fully implemented keyless entry across all of its properties, eliminating the need for stopping by a rental office for check-in/out. Instead of changing check-in or check-out time, Beach Realty has simply asked guests for patience and cooperation on turnover days.
Texting & Mobile App >> Beach Realty's landline 800# is text enabled so that renters can communicate their arrival, request service or simply ask a question conveniently via text. Their mobile app provides a wealth of information for renters including keyless entry codes, instructions about the home, reminders for trash day, local and vacation planning information, communication with the rental office about housekeeping and maintenance and more. 
Enhanced Housekeeping Procedures >> Beach Realty has implemented rigorous housekeeping protocol in response to COVID-19 for the safety of its guests and staff – going above and beyond the recommended CDC guidelines. This includes personnel wearing PPE at all times while in the homes, using CDC-recommended disinfectant products on all touched surfaces and disinfecting blankets and comforters between each guest stay. 
Decluttered Properties >> A huge part of Beach Realty's Spring Cleaning process this year was decluttering the vacation homes. This was a collaborative effort between the homeowners and staff. "It may be disappointing to some guests not to find the books and games stocked in the home," Ward says. "However, we feel that by eliminating the clutter, we can provide a cleaner and safer environment." 
Property Services By Appointment >> Beach Realty's team of service technicians is now available by appointment to service your vacation property. Guests can designate a preferred day and time for services to be performed. Guests are asked to either keep their distance, wear PPE or vacate the property while services are performed. 
Marketing Manager Leslie Etheridge says, "It's clear from the influx of recent reservations that people are yearning for a beach vacation – and a vacation rental has obvious benefits over traditional accommodations for social distancing, such as private living spaces, full kitchens, private pools, etc. We are excited to welcome our guests and are committed to making it a safe and enjoyable experience for all."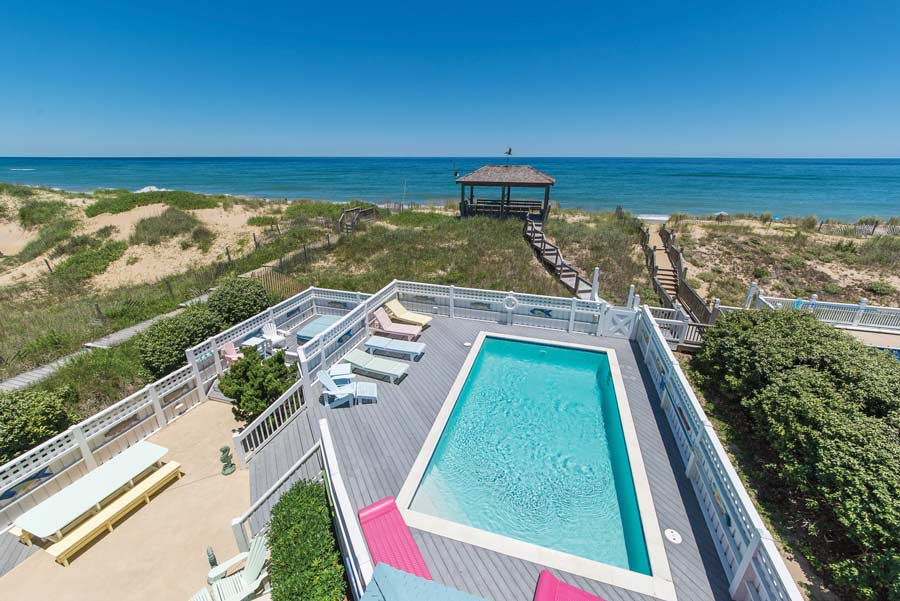 Making Homeowners Happy
A large part of a vacation rental business entails working hand in hand with property owners. Ward attributes Beach Realty's success to its personal approach with homeowners. "Our success during this time of change wouldn't have been possible without the cooperation and support of our homeowners," he e says. "We truly consider our relationships to be a partnership, and it showed during the tough conversations."
Communication Is Key >> During the time the bridge was closed to both visitors and nonresident property owners, Beach Realty prioritized frequent and transparent communication to their homeowners. "Each individual request to transfer, cancel or sublet involves a conversation between the property manager and the homeowner via phone, text, email or Zoom," Etheridge says. Additionally, Beach Realty sends frequent email newsletters and produces a blog and video series expressly for vacation rental homeowners; these are viewable to the public on the Beach Realty website and YouTube.
Filling the Gaps >> "Understandably, many guests are not comfortable keeping their reservations this summer, resulting in more cancellations than ever before," Etheridge says. "However, we've been successful in re-renting just about every single night."  Beach Realty's rental managers constantly offer suggestions for rates based on market trends and suggest opportunities for improvement. By allowing flexible stays year-round and distributing to mainstream channels like VRBO, Airbnb and booking.com, it creates a unique opportunity for homeowners and guests alike. "Guests search availability based on their travel itineraries, which is not always Saturday to Saturday," Etheridge says. "By offering nightly rates, we've dramatically increased exposure for our homes and, in most cases, returned a significant increase in rent to homeowners."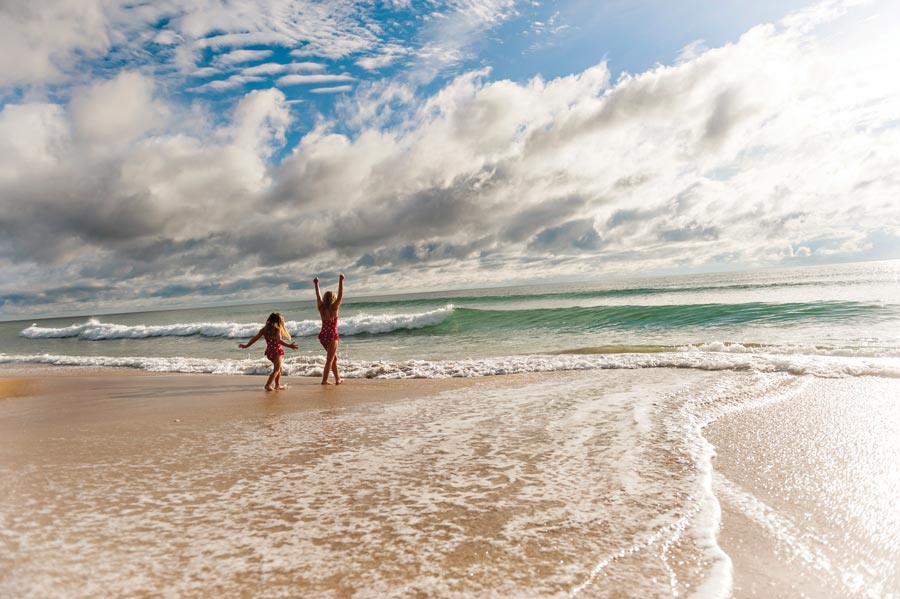 Beach Realty's ability to adapt to change and provide a personal level of service is just what you'd expect from a family-owned local company, and it's just part of what has helped Beach Realty & Construction/Kitty Hawk Rentals establish themselves as experts in the Outer Banks real estate, construction and vacation rental industry for nearly six decades. 
---

(800) 635-1559 (call or text)
beachrealtync.com
4820 N. Croatan Hwy, Kitty Hawk
---