Tony Northrup has expanded his restaurant entrepreneurial mission to include wining, dining, entertaining and getting to know all the customers pouring into his latest venture in the restaurant world in Corolla – Ike's Bites ´n More at 814 Ocean Trail. 

Since 2009, Tony has run Uncle Ike's Sandbar and Grill, a bar and restaurant just a short distance away from Ike's Bite in the Corolla Light Town Center. The cornerstone of his success at the established eatery has been providing great food and consistent hospitality.

"We want to be the place where everyone knows your name!" says Tony.

If that statement reminds you of the old television sitcom Cheers, then you have an inkling of what Ike's Bites is all about. It is reminiscent of Cheers seasoned with a beach flavor of casual dress, salt air and topnotch food and drink. And it welcomes families.
Serving three meals most days, some customers at the new eatery are already becoming regulars, stopping by for a meal almost every day. Food is served from 8 a.m. until midnight Wednesday through Sunday and 11 a.m. until midnight on Monday and Tuesday.

Still a work in progress, Tony says the website already needs updating because of the changes that they are making as they go, all designed to better serve their clientele so they experience the best possible outcome during their visit.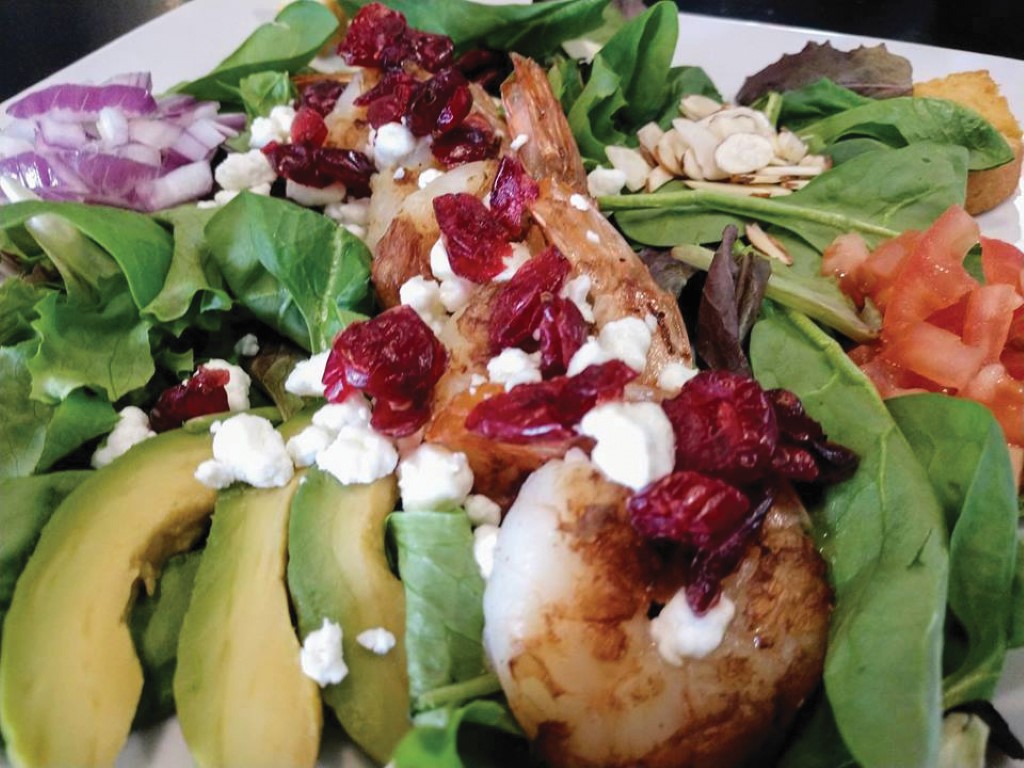 As with all new ventures, picking the right real estate can be a daunting challenge and can significantly affect success. Tony's choice of locations surprised some. "I noticed whenever I would drive through Currituck mainland that many of the food establishments are connected to gas stations," says Tony. And so he thought, "why not?" Ike's Bites is tucked into a short strip shopping center between a gas station and popular retailer, Farmer's Daughter.
The storefront previously housed a fast food restaurant, so the building was structured right for a restaurant complete with a kitchen. "But we aren't about fast food," says Tony. "We are about great food and a terrific drink menu."
And Ike's Bites doesn't only serve hamburgers and snacks. "We also serve full meals. Hereford beef is our standard and we use Wagyu beef, which is the name given to Kobe-style beef that is raised outside of the Kobe region of Japan, for our specialty burger OBX Elite." The Wagyu beef is revered because of its intense marbling and high percentage of unsaturated fat. Top chefs use the prized meat because of its buttery texture and complex taste.
Located on the coast, it is just a given that seafood is one of the staples on the menu at Ike's Bites too, and specials reflect that such as the all-you-can-eat crab legs. Or diners can choose crab cakes or shrimp or fish and chips off the menu.
The building also came complete with a drive-thru window that is being put to good use. "If they're short on time or they just don't want to go inside to eat, customers can call in their orders, and we'll have it ready at the window when they get here."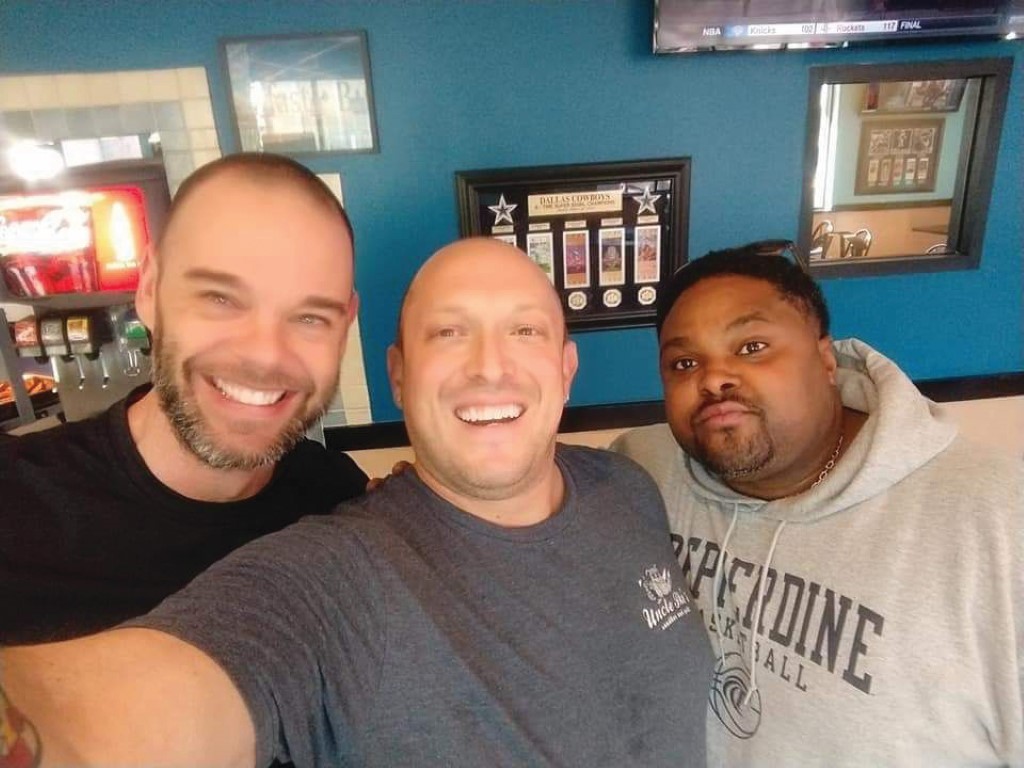 The window also will be used for catering-to-go, says Tony. "Folks rent a large house and don't want anyone stuck with fixing breakfast for 20 people. They just need to let us know 24 hours in advance, and we can have their entire breakfast ready for pickup at the window to take back to the house."

Inside the spacious dining room, there are tables large enough for big parties and others that are small enough for a more intimate meal. Twelve televisions are high up on the walls throughout the dining room for those customers who, even during vacation, can't venture too far from televised sporting events. Plans are in the works to also offer outside dining in the near future.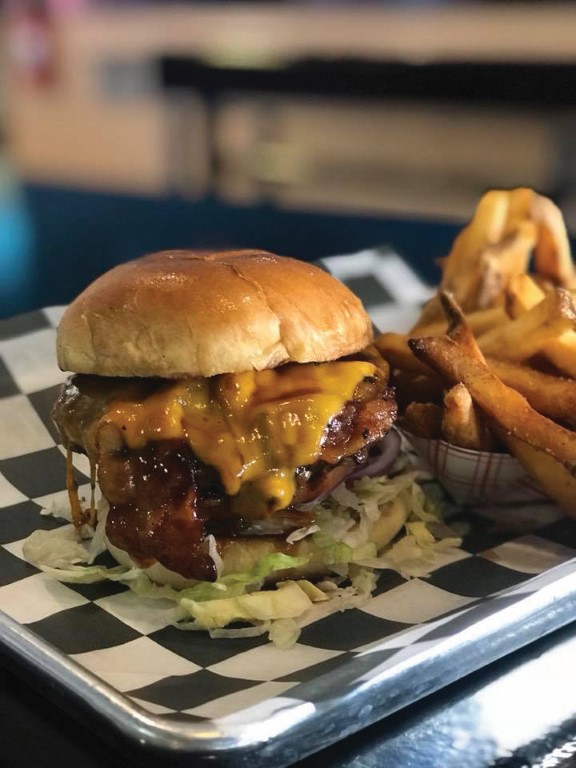 "We welcome families and want them all to enjoy coming in," says Tony. "We have shuffleboard and Golden Tee and interesting art on the walls that's for sale, including some that I've brought back from Costa Rica. And we're adding evening entertainment." Art can be purchased by emailing Scottdailey5@gmail.com.
Tony, known for his high energy that has helped him get through the stresses and work of now having two restaurants, may yawn a time or two while talking. Don't take it personally because it's not boredom. In addition to still fine-tuning the workings of Ike's Bites, dealing with the shortage of labor that's always a problem on the Outer Banks and coming up with new ideas, he also is a new father dealing with the irregular sleeping patterns that go along with that role. 

"In a few months, you will see him here in the restaurant," says Tony, referring to 4-month-old Bruno. The baby's mother is Tony's fiancée, Tammy Rose Jackson, a former mixologist, who developed the drink menu for the bar at Ike's Bites that includes 12 seats for those who prefer eating a snack at a bar or just wanting to enjoy a glass of wine, beer or mixed drink. 
Although many Outer Banks restaurants are mostly seasonal operations due to the flow of visitors and available labor, Tony wants to make sure that locals know that their business also is valued, and he plans to serve them year round. "We support our community by doing fundraisers for the fire departments and other nonprofits so that we stay involved and connected," he says. "And we give a discount to emergency response personnel such as firefighters and EMTs."

One of the plusses of having two restaurants is that in the summer, when wait lines are long at one of the places but not as long at the other, they offer a discount to customers who are willing to go to the other restaurant, says Tony.

Ike's Bites ´n More is waiting to serve you. Great food, drink and entertainment is made even more appealing by the sense of belonging to a place where everyone wants to know your name. Doesn't get better than that, does it?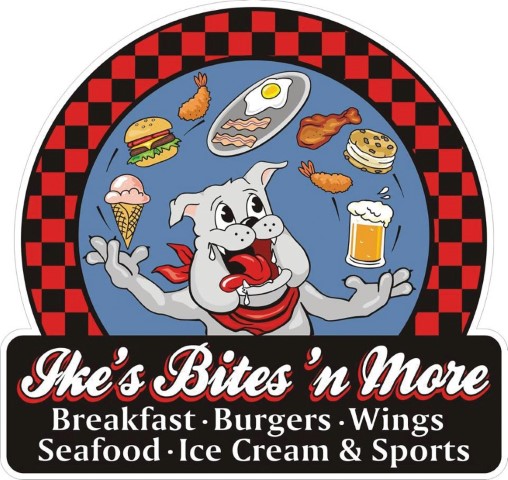 (252) 597-1606
Corolla Light Town Center