Cruise past the bustling lunch and dinner spot on any given day in the summertime and you will know what I mean. For one, patrons waiting on a table aren't leaning disinterestedly against a wall or watching the clock. They're playing a game of putt putt, tossing cornhole bags or lifting their kids up for a pony ride. They're listening to great live entertainment on the deck while greeting old friends – members of the Jimmy's family. And amidst all the fun, they're preparing to savor a spectacular, Caribbean-inspired seafood buffet.
The incredible variety of food and flavors along with a laid back, tropical atmosphere have been attracting fun-loving families since the restaurant first opened in '99. The buffet is home to about 100 items from both land and sea, and every night of the week there is a different special on crab legs or lobster. You may even want to dine in twice for the full effect!
Kids will be right at home while perusing the buffet with favorites like corn dog nuggets and tater tots, although any member of the Jimmy's family would recommend they try the fresh catch or a steaming stack of crab legs while at the beach too. What's great about Jimmy's is that there is something for every taste, or as owner Liz Dowless likes to say, everything for everyone. And for those who prefer a thoughtfully prepared entrée over the buffet, a newly updated dinner menu is also available.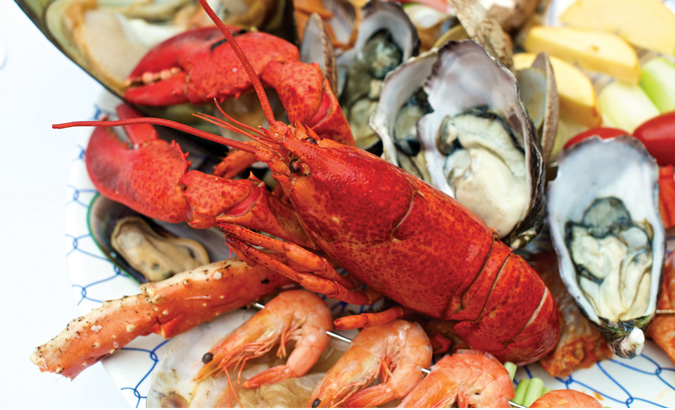 While you're partaking in the made-from-scratch She Crab Bisque, classic North Carolina pork barbecue or a slice of homemade chocolate peanut butter pie, you can round out your culinary experience with a frozen drink such as Jimmy's Tye Dye, which is actually three layers of colorful frozen drinks all swirled together. The restaurant's full bar offers about 90 flavors of frozen drinks (alcoholic or non-alcoholic) along with beer and wine.
Wednesday nights are for the crab leg lovers with 10 different kinds of succulent crab legs on the buffet. That's right ... 10. For the last 15 years, Wild Wednesday has been drawing crowds, not only for the legs but also for the cash giveaways, Lost Colony ticket giveaways, drink specials and a whole lot more. It's a family-friendly party every time.
Every other night of the week, lobster is the main event with all-you-can-eat crab legs still available at the buffet. Head to Jimmy's on a Sunday to receive a whole lobster free with the adult buffet or on a Saturday for all-you-can-eat whole lobsters.
While you're dining in, you're sure to notice the restaurant's signature toucan in the décor. He's the brightly colored one striking a surfing pose (or dancing, depending on your interpretation), and you've probably seen him around the island too on locals and visitors wearing Jimmy's t-shirts. Liz says the t-shirts tend to go out the door two at a time or more because when you dine at the restaurant, you can buy a shirt and get one half price, and that includes kids' shirts too.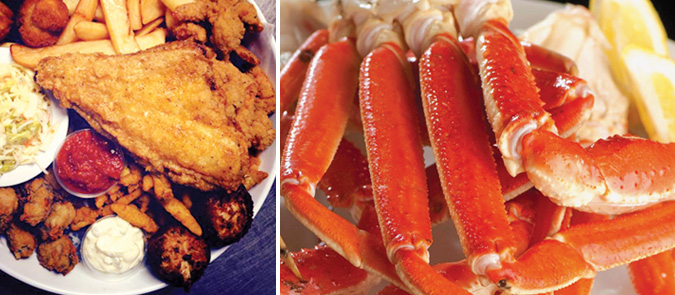 The toucan first made his appearance 17 years ago when the colorful, island-themed restaurant opened its doors. Tired of the traditionally bland buffets at the beach, the three original partners of Jimmy's decided they were going to create a seafood buffet with a twist. They opened Jimmy's for the first time in the height of summer with the freshest seafood around, heavy Caribbean flavor and a name borrowed from original partner Jim Douglas, who you can find today just down the road at Chilli Peppers Coastal Grill.
In 2003, Liz and her husband, Jerry, purchased the restaurant in full, but it was just three months after the sale that Jerry unexpectedly passed away. The restaurant was left in Liz's capable hands, and she made the decision to remain open and carry on their dream of owning an all-you-can-eat seafood buffet where bland food didn't exist. With the help of a devoted staff and her three children, who work in the restaurant when they're home from school or visiting for the summer, Liz has been serving up delicious seafood and good times ever since.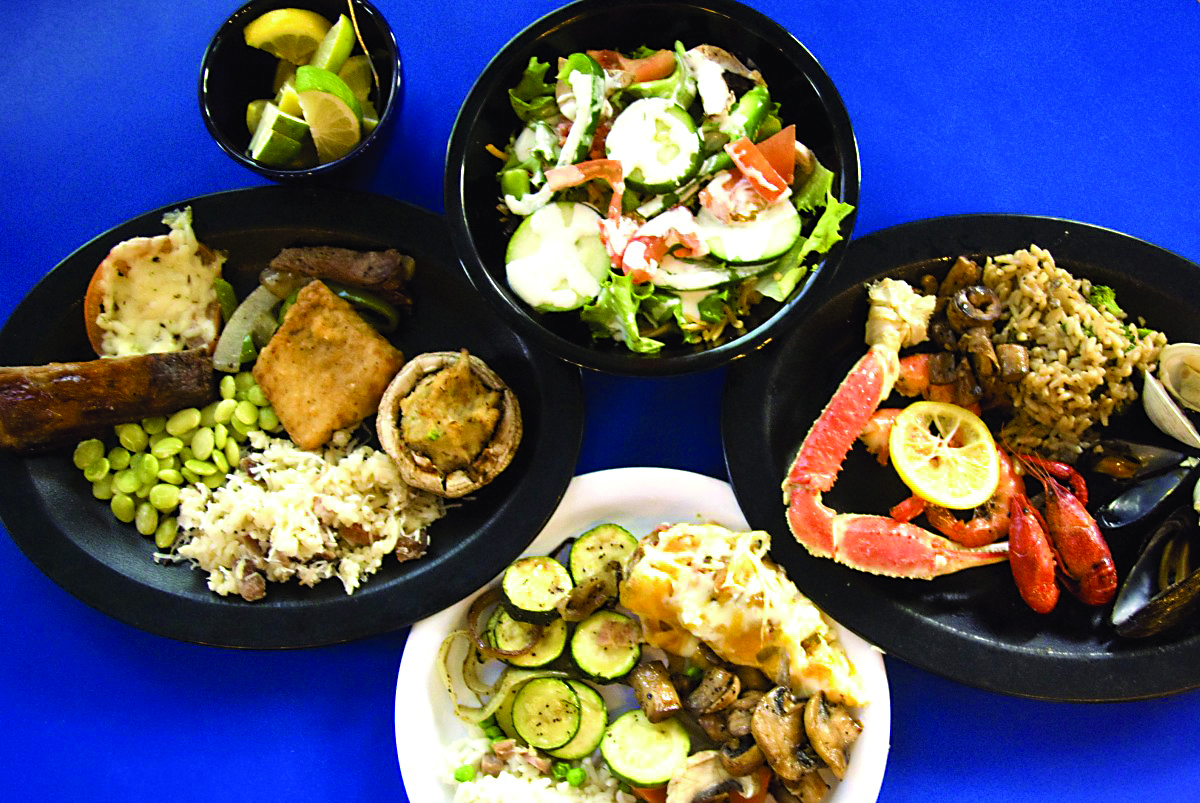 Liz is always looking to improve too. Several years into her ownership, she added on a separate take-out kitchen for customers to grab their food curbside or order for delivery (check out the clambake seafood buckets to go!). Liz says, "We deliver everywhere – cottages, the beach, hotels, even pools."
And this year, she was hard at work again giving the entire interior of the restaurant a facelift with new paint, new buffets, new tables and chairs and some seriously cool décor. The red tin roof on the deck was also installed during the off-season, and Liz only has more great ideas for the future.
Clearly, Jimmy's is not your typical seafood buffet, and loyal patrons know it better than anyone. Families who return year after year will regularly email Liz in the spring and fall to see if the restaurant is open before they even book their vacation. (Jimmy's operates seasonally from mid-March to mid-October.) And Liz loves receiving the emails. She said, "When I get calls or emails like that, I realize that what Jerry and I hoped for so many years ago has been accomplished, and I have to smile!"
Open March to October, Monday through Saturday - 2:30 p.m. 'til, Sundays - 4 p.m. 'til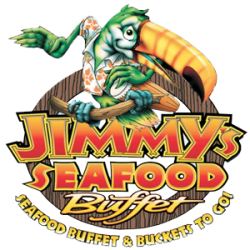 Jimmy's Seafood Buffet in Kitty Hawk
(252) 261-4973 | 4117 N. Croatan Highway | MP 3.5 | Kitty Hawk
​jimmysobxbuffet.com