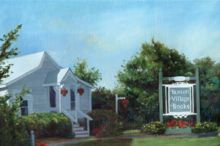 Quaint houses and locally owned businesses dot the roadside of Highway 12 in the village of Buxton. Just around a bend sits a Civil War era cottage that has housed Buxton Village Books for the last 30 years. While independent businesses in America fight to keep their doors open, owner Gee Gee says the book business is thriving. Summer is the big season for Hatteras Island, when the bookstore is open long hours, every day. But the bookstore is open and warmly inviting even during the off season. Browsing for books and reading are especially enjoyable when the winter winds of Hatteras swirl outside.
Shopping at an independently owned bookstore is a satisfying experience not found in the mega chains or online giants. The personal connection with books can be lost among the best seller-themed merchandising. A short conversation with Gee Gee is better than any auto-generated list based on your past purchases. Buxton Village Books' carefully curated inventory is broad and deep. And every title is read by someone on the store staff before it makes its way to the shelves. Although space may be at a premium, your options are not limited; shelves wind through each room of the cozy cottage showcasing the best of every genre. If a customer wants a title not currently in stock, it can be ordered to arrive at the store within 24 hours.
Buxton Village Books also maintains a website so the devoted off-island customer base can support their favorite bookstore online from home. On the website customers can order any book currently in print, not just the books currently in the store. Check out Buxton Village Books online at www.buxtonvillagebooks.com.
The website offers ebooks as well. A partnership with Japanese company Kobo connects Buxton Village Books to Kobo's free app, line of e-readers and vast ebook library, allowing customers to buy ebooks and still shop with an independent bookstore. Buxton Village Books has always prided itself on superb customer service. The website maintains that tradition by providing readers with books, in whatever format they choose.
To get started reading electronically follow the Kobo link on Buxton Village Books' website (www.buxtonvillagebooks.com) to download the app, set up an account and begin browsing the e-library of more than 3 million books.
Whether you visit in person on Hatteras, weaving in and out of the rooms of this well-stocked store or go online to browse the virtual shelves, Buxton Village Books is here to offer you their expertise in your search for your next great read.