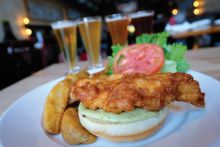 As one of the Outer Banks' original breweries – and the nation's first wind-powered brew pub – Outer Banks Brewing Station draws its fair share of beer lovers. They come for the refreshing Olsch, the zesty Lemongrass Wheat, the easy-going Hoi Toider IPA or one of the other 100-plus beers they've brewed over the years.

But take a closer look around Outer Banks Brewing Station and you'll see that everyone is not here for the beer alone. There's a lot more to this place than award-winning craft brews, and it's pretty plain to see that people are here loving on the food, live music, nightlife and newly spectacular backyard bar.

You can't see it from the road or even from the parking lot, but tucked behind the restaurant, in the shadow of the brew pub's giant wind turbine, is a gathering spot of the best kind – the outdoor kind. Every evening you'll find families and groups of friends gathered in the sprawling all-ages playground. With live acoustic music seven nights a week in summer, every night feels like a festive yard party with friends and friends to be. On any given night you'll find kids climbing on the pirate ship playhouse or dancing on the grass right by the band, friends playing corn hole and adults lounging in Adirondack chairs and around picnic tables. 

"It's a chill spot to hang out, enjoy a beverage and catch music while the kids play," says Eric Reece, one of the owners of Outer Banks Brewing Station. "Family-friendly is the whole point. The beer quality is a bonus."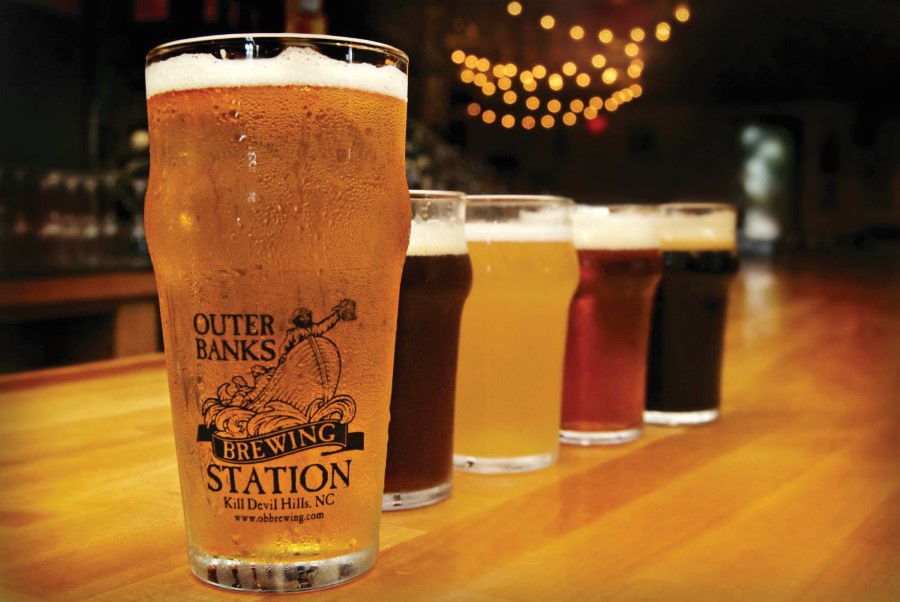 A total revamp of the backyard area in 2019 brought in a brand-new bar and the ability to serve the full menu outside, along with regional and local craft beverages (including their own, of course). Inside the Brewing Station, the long bar might be lined with patrons enjoying brews, wines, cocktails and appetizers, but look around the dining room and you'll also find diners there for the delicious lunches and dinners. Chef Tony Duman and his seasoned kitchen staff present what Eric describes as "contemporary American beach fusion." It's an eclectic blend of regional specialties, traditional favorites, creative combinations and vegetarian offerings. If you're looking for seafood, you'll find it here, from Singapore-style blue crab claws, fried oysters and crab bisque to the popular Tuna Stack appetizer, pan-seared scallops and fish sandwiches. Burgers, sandwiches, hearty salads, steaks, pasta dishes and entrees offer something for everyone, and there is a kid-friendly menu. Gluten-free options are noted on the menu. A portion of the menu is dedicated to beef that is raised on the Brewing Station's spent grain in nearby Hertford, N.C. 

You should always opt for dessert at the Brewing Station. Pastry Chef Tina Mackenzie, another one of the owners, regularly wins accolades and top awards in local food competitions. Her carrot cake won Best Dessert at the 2019 Taste of the Beach competition, and her bread pudding iterations and Vanilla Bean Crème Brûlée are standouts.  

With cathedral ceilings and industrial architectural elements, the spacious downstairs dining room has a busy urban feel with professional servers who bring a friendly, casual vibe. Upstairs is a smaller loft-style dining room and event space. Adorned with artwork by two favorite Outer Banks painters, Ben Morris and Chris Wheeler, it feels like an intimate gallery. This space, which includes its own separate bar, can be rented for events and gatherings of up to 70 people.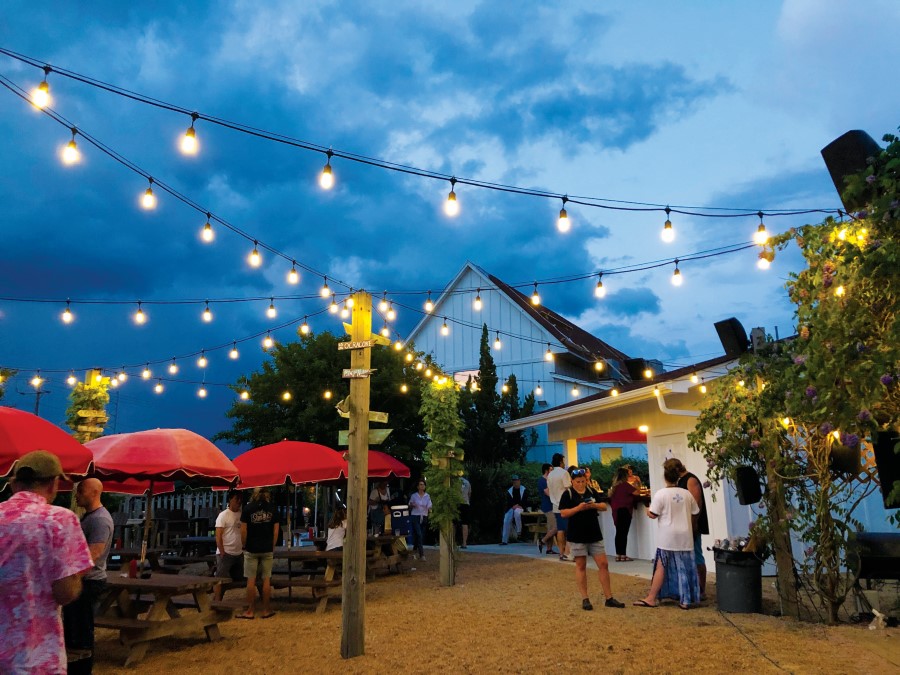 Sometimes you can even find the Brewing Station's award-winning food elsewhere around town. While you're out and about at festivals and events, keep a lookout for the Outer Banks Brewing Station's Peace, Love & Good Brew food truck. And they offer catering for weddings, receptions, corporate retreats and events of all sizes. They can pull up in the food truck, which always adds a fun touch to an event, or traditionally cater for events of all sizes, either at your location or at the restaurant.

Come late night, the Brewing Station is an Outer Banks hotspot and has been since its inception in 2001. Locals and visitors come, often from many miles afar, for the big-name national touring acts and regional and local bands that play here. Some of the acts that have crossed their stage include The Wailers, Steel Pulse, Tim Reynolds, The English Beat, David Allen Coe, Tonic, Stanley Jordan, Fishbone … and the list goes on and on.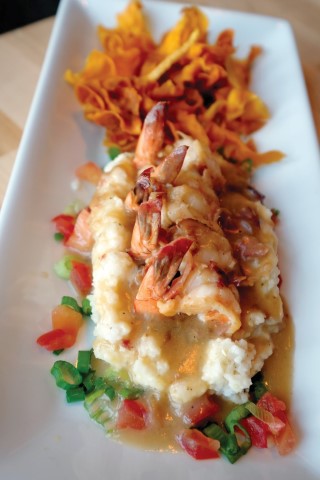 All throughout the week there is something happening here, from Ladies' Night to Brew & Arts to DJ-inspired dance parties. Also popular are their special events, like their crazy July Fourth beer run in which patriotically costumed participants alternate four quarter-mile runs with the quaffing of four 10-ounce beers.  
The Brewing Station is also known and loved on the Outer Banks for its generosity in hosting fundraisers and community events. Whether it's a beach clean-up after party, a nonprofit awareness-building campaign or a fundraiser for a local family in need, the owners are always willing to contribute their time and space for a good cause. 
The four owners of the Brewing Station are hands on and involved not only at the restaurant but also in the Outer Banks community. They are friends who met in the Peace Corps after college, and they bring their service-oriented and conservationist philosophies to their business, their signature wind-turbine being just one example of that approach. Yes, the wind turbine actually supplements the power at the restaurant! The Brewing Station is also an ocean-friendly establishment, meaning they have reduced their use of single-use plastics and Styrofoam. They were part of the first wave of conscientious coastal restaurateurs who stopped using plastic straws (they have paper ones on request or you can buy one of their metal reusable straws for $1).

If you don't come to this hip and happening spot for all the food, fun and good feelings, then, of course, you can always come for the great beer. This summer they're adding a refreshing pilsner and a Summer Saison on tap. And in addition to canning their ever-popular Lemongrass Wheat, this year they're also canning their Hoi Toider IPA. You'll find both in stores around the Outer Banks. And look for their beer on tap in select bars throughout the area. You can also pick up half-gallon growlers of any of their beers at the bar, including a new travel-friendly 32-ounce-size growler.
---
Live This Summer at Outer Banks Brewing Station

June 29 | The Life Hacks | surf rock
July 1 | Parmalee | Country
July 13| Last Fair Deal | Grateful Dead cover band
July 18 | Corey Smith | Great Wide Underground Tour
July 24 | Fortunate Youth with Bumpin Uglies | Reggae
July 26 | Runaway Gin | Tribute to Phish
July 27 | Reinstated | Reggae
July 31 | Stephen Marley | Reggae
August 2 | Donavon Frankenreiter | Surf-inspired singer-songwriter
August 3  | Footwerk | indie pop
August 10 | Brett Dennen | Folk/pop singer-songwriter

Live music nightly in the backyard!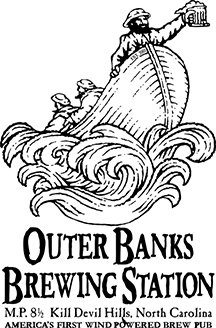 (252) 449-2739
600 S. Croatan  Highway, Kill Devil Hills