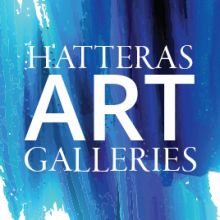 Between stunning sea and soundscapes and an incredible array of coastal life, it's no surprise that a place like the Outer Banks attracts artists – and breeds them too with many young local visionaries finding beauty in the curve of a wave or in the wings of a snowy egret coming in for landing over sound waters.
The Outer Banks is a place for art, particularly on Hatteras Island where a charming collection of locally owned galleries fleck Highway 12 from Salvo to the village of Hatteras. Each offers a distinct personality and a stash of treasures conceived on our sandbar and beyond – and, in some cases, art that you can create too! The possibilities alone can be delightfully overwhelming, so we approached the creative minds behind the galleries, the artist-owners themselves, and asked each to choose one piece that would give us a glimpse into their cache of eye-catching offerings.
---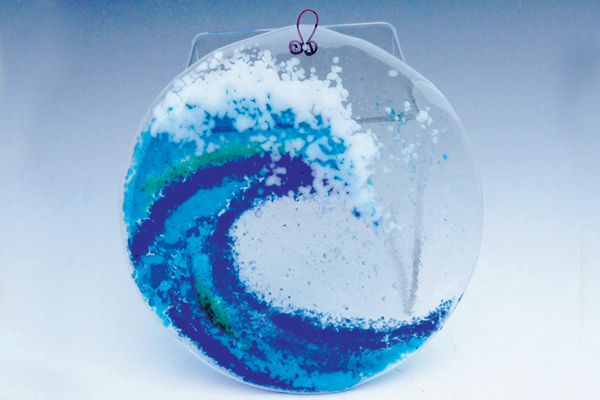 Studio 12
Art inspired by our alluring coast is what awaits you at this working studio and art gallery in Avon. Studio 12 is a place where you can see artists at work and also be an artist at work with classes in jewelry making, acrylic painting, glass fusion and more in the studio. On display, you'll find artwork that celebrates the natural beauty and marine life of the Outer Banks, more than half of which was created by owner Carolyn Schena and her husband, Gary, an award-winning potter.
Carolyn's own work comes in many forms: a distinctive line of silver and clay jewelry, oceanic paintings and the three-layer fused glass pieces such as the wave that visitors to the gallery can learn to make in her class. All ages are welcome at Studio 12, which opens in its new location a half-mile south this March along with the Schenas' new coffee and smoothie shop.
(252) 995-7899 | 41008 N.C. Highway 12, Avon

 | 

studio12hatteras.com
---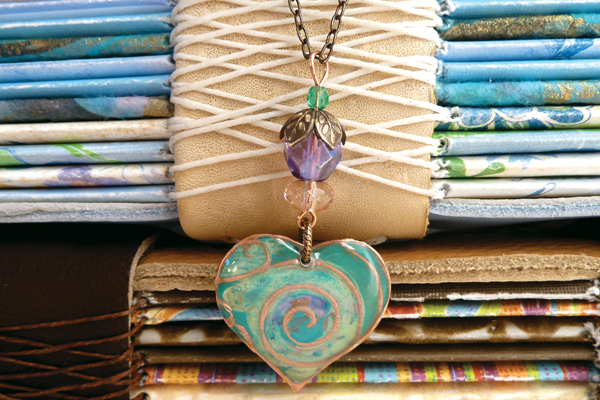 Pea Island Art Gallery
Find the sweet spot and take yourself to Pea Island Art Gallery, housed in an historic replica of the 1874 Chicamacomico Lifesaving Station in Salvo. The work of more than 130 artists Kim personally knows embellishes the walls and fills the gallery space (even in the bathroom, which knowing visitors often head toward first) for a creative presentation that blends the contemporary with the very traditional in every medium you could imagine. 
An artist herself, owner Kim Robertson has been lately collaborating on a jewelry line with fellow artisan Patti White, creating one-of-a-kind embossed pieces in copper and brass that almost completely sold out in their first season. Along with her own artwork, visitors to the gallery will find the likes of local artist Stephanie Kiker, woodworker extraordinaire Dan Galante and Kim's own mother, renowned artist Donna Robertson, who can often be found painting among the wild peas in the yard.
(252) 987-2879 | 27766 N.C. Highway 12, Salvo | peaislandartgallery.com
---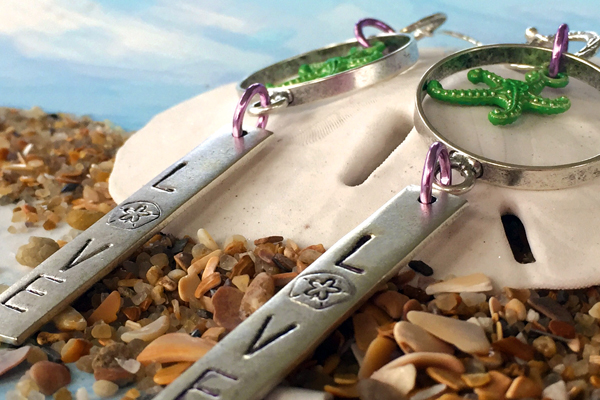 Blue Pelican Gallery
At Blue Pelican Gallery in Hatteras Village, you can actually wear your Outer Banks memories home when you choose to make a piece of keepsake jewelry with sand and other materials from our windswept beaches. And that's not all you'll find in the 1950s original Hatteras home turned gallery, which showcases the artwork of many American and Outer Banks artists as well as yarn and ribbons for jewelry making, knitting and crochet.
You'll immerse yourself in an immense selection of art and crafts from owner Jenn Johnson herself, including the personalized Seaside Memory Lockets, mixed media jewelry and original photography and art reproduced onto coasters, cutting boards, cards and prints. Keep your eyes open for Blue Pelican Gallery's summer knitting classes too — a wonderful pastime for those who plan to spend their Outer Banks visit in leisure by the sea.
(252) 986-2244 | 57762 N.C. Highway 12, Hatteras Village

 |

 

bluepelicangallery.com
---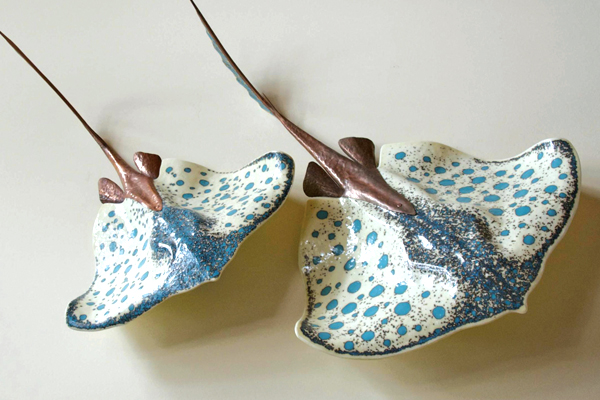 Sandy Bay
A true delight for the senses, the artwork at Sandy Bay exemplifies the remarkable natural beauty of the Outer Banks with a wide-ranging collection of jewelry, paintings, blown glass, sculpture, ceramics and handcrafted furniture. Named for a beautiful sound bay near Hatteras Village, the must-see gallery offers an inviting atmosphere where you will likely find yourself on a first name basis with owner Linda Meekins Hilton by your next visit.
Among the treasures at Sandy Bay – now located in Frisco – are the incredibly lifelike glass stingrays by Stan Harmon. The sculpture pieces have hand-molded copper tails and are consistently a draw for visitors who enter the gallery because they are unlike anything else you may find on Hatteras Island. Harmon, who regularly makes fishing trips to the island, also creates fabulous hanging glass fish that are showcased in the gallery.
---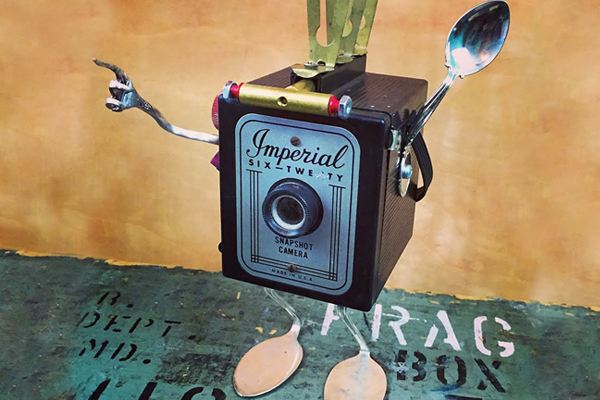 Indian Town Gallery
With the goal of surrounding visitors with things that will make them happy, Indian Town Gallery features an art space and inventory that are bright with color and positive energy. Owner April True-blood strives to find artwork that is clever and will inspire smiles on the faces of her customers. The Frisco-based gallery showcases handcrafted jewelry, pottery with personality, local photography, sculpture, painting and plenty of cool, upcycled art.
April especially loves the everyday items that have been reconfigured to be fascinating accessories and finding that a piece of art is both unique and useful. One of her newest favorites is the CameraBot by artist Lizz Godfroy that she so enjoys because she feels it comes with a sense of history that visitors to the gallery like too. And with that love for historic pieces and facts, we think she's found the perfect fit on Hatteras Island, don't you?
---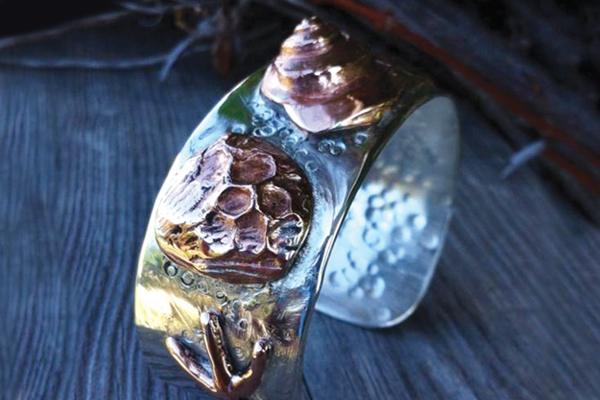 Empty Nest Studio & Gallery
There will always be new pieces to discover at Empty Nest Studio & Gallery, but perhaps the greatest attraction for visitors is owner Crystal Blackmon's finely crafted jewelry, which is both compellingly original and timeless. She has a full line of bracelets, rings and pendants inspired by our locale and made using items she has found by the sea, so each piece of jewelry is original and beautiful in its own way.
The shells Crystal finds while walking the beach are cast in copper, bronze and silver and soldered with sterling silver to be a reminder of the treasures that can found on our shores – a perfect keepsake of your time on Hatteras Island. And her styles are constantly evolving to offer new, wearable art for visitors who return to Empty Nest each year. Come and visit the artist in her studio where playing with fire is encouraged daily.
---
If you're still having trouble choosing which of these delightful galleries to visit, you're not alone! We recommend popping into each of them in turn to experience all that Hatteras Island has to offer. From original paintings to glasswork to wearable designs, together these galleries offer an ocean of art ... one that you can be a part of too.