Translating the Outer Banks
Famed Outer Banks sculptural jeweler, Sara DeSpain, has always been inspired by the wild nature of the Outer Banks. When creating a work, she allows the nature of the materials and the process itself to give direction to the piece. In her work, the spiritual and the natural fuse to create what she calls "poetry in metal." It's as if she's channeled parts of her soul into each piece of jewelry.
Yet Sara is no mystic. She easily introduces science into her conversation as she chats happily about the way different gems, such as diamonds and sapphires, refract light at different angles.
"Throw a penny into a pool and dive after it," Sara illustrates, "It isn't where you thought."
She explains, "The goal of cutting gemstones is to bring the light that enters the stone back out to the viewer, sometimes in multiple colors." Sara demonstrated this phenomenon with the dichroic tourmaline she held to the light. It was a dark amber green crystal that sparkled with goldish orange lights because "double refraction causes light to split into two distinct beams of differing wavelength, therefore two different colors."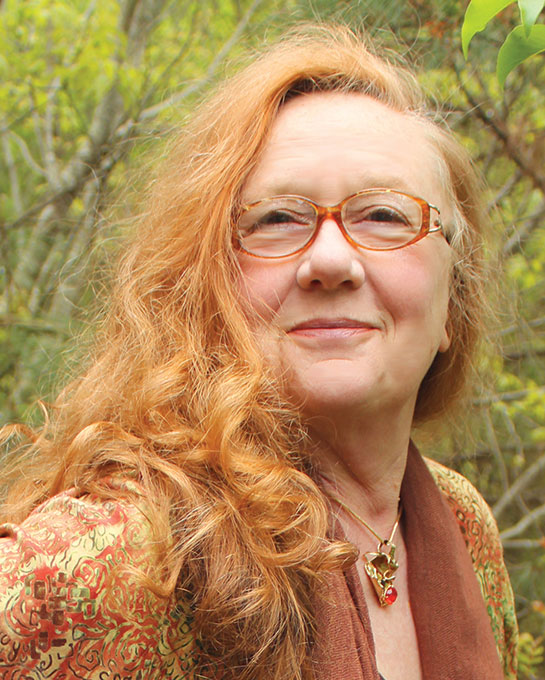 During the winters of 1988 and 89, Sara studied gemology at GIA in Santa Monica, CA, to earn her Graduate Gemology Degree. (Imagine spending those sunny California afternoons in a dark gem lab looking into a microscope!) She gained the technical expertise and practical skills to identify and evaluate diamonds and colored stones. "You don't graduate unless you pass the 20 stone test," she said, a laboratory test that requires a perfect score of 100 to pass.
But long before that, in 1969, the Kentucky red-head began the journey of her life and career with an impromptu "let's pile in the car and go" vacation, driving all the way to the Outer Banks with her parents, sister and brothers. Sara and her Mom wanted to sample some of the local cuisine, so they walked next door to the Trading Post where they ordered a steamed crab. That's right, just one crab.
"After they stopped laughing, they bagged it up for us, and off we went to our kitchenette at The Cavalier to feast. When we placed the crab on the counter, my little brother ran from the room screaming 'its eyes are still on!' We looked and looked, but we never did find the crabmeat--we even tried to eat what I now know were the gills. Gross!"
Inspired by the area "unlike any other," she returned after completing college in Cultural Anthropology and Literature and found a job doing general maintenance at The Sand Dollar Motel, later graduating to bartending at the new Holiday Inn. It was there she met many of the friends she still enjoys today. "Back then we had no so called 'amenities' on the Outer Banks, just great people, good waves, wonderful fresh fish from the many skilled local fishermen, lots of sand, frozen pipes, power outages, mail order, long drives to the dentist and lots of fun.
"About this time I was making shell candles, which I sold to Newman's, and I decided to become a potter. I had my trusty Whole Earth Catalog, the internet of our day, so I ordered some clay and began to build."
It was a friend who encouraged her to make jewelry. Initially, she thought metal would be unresponsive to her style, but once she tried it, she was hooked...so many possibilities! In no time Sara found herself putting in 12-hour days at her homemade driftwood workbench. She practiced setting beach pebbles, wrapping wampum shells, sculpting silver wire into a windblown Outer Banks tree, even making wedding rings for some of her friends.
As her business grew, she was ready for her own shop. One of Nags Head's early restaurant and retail luminaries, George Crocker, invited Sara to rent space he had overlooking the courtyard at the Galleon Esplanade. George thought working crafts artists, each in their own section, would do well. "When the glassblower cranked up his torch working semi-molten glass, that room got to be about 110 degrees, but we did all right that summer."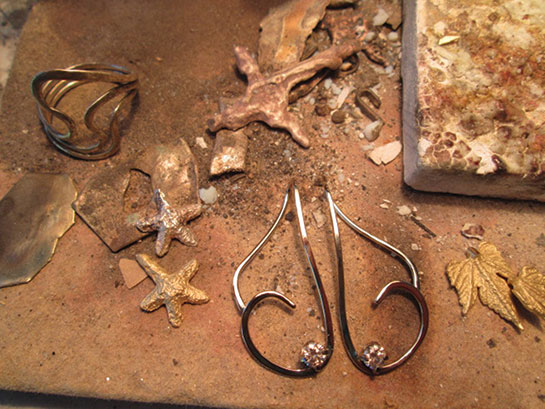 Over the years, as she gained experience, her style evolved, but her inspiration remained constant. From "this wild and wonderful coast" she still translates into silver and gold the essences of what treasures the ocean cares to reveal. In the movement of wind and sea, and the rhythm of life on this strand of sand, she finds the inspiration to infuse the spirit of the Outer
Banks into each piece she makes. Sara compares her work to a "visual song"
such as Bob Dylan's lyrics, "to dance beneath the diamond sky with one
hand waving free, silhouetted by the sea...."
In her newest piece, "Wild Surf," she combines reticulated silver with a natural pearl to expound upon the ocean spray and foam of the layered swirling waves of the winter northeast wind.
Some of her translations are more literal, such as the transformation of a seashell shard found on the beach, sculpted by the ocean then fashioned into gold or silver by the art of the jeweler, such as the "Dancing Moon," an oyster shell fragment accented with a pearl or a Fox Grape leaf from her yard molded and cast in gold. Angel wing shell and inner core of Whelk provide fascinating shapes and textures for rings and earrings along with "Mermaid's tears," a type of beach pebble that is clear when wet then cloudy when dry.
Her work has been shown at the North Carolina Museum of Art in Raleigh, the American Craft Council Show in Massachusetts and in Florida at the Naples National Art Festival, among others.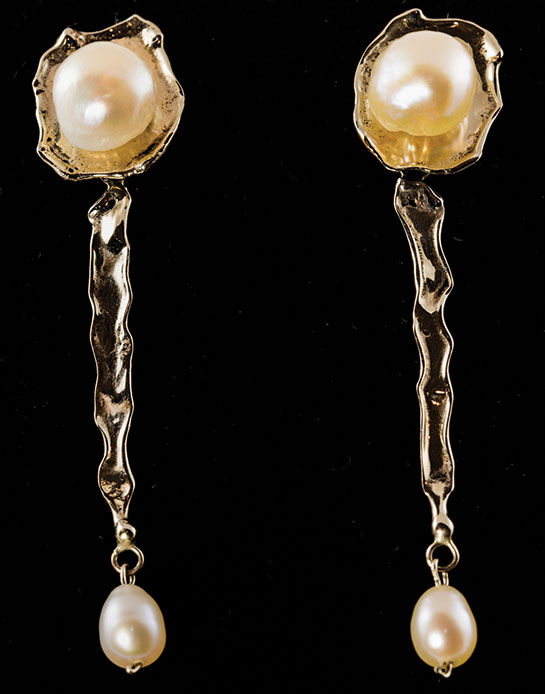 Another aspect of her creativity involves repurposing heirloom jewelry into artistic and wearable pieces. Many of us have family pieces that we don't wear and keep only because of our regard for the person who wore them. Sara can fashion these into her special and meaningful one-of-akind fused designs.
Her clientele has also become inter-generational, with a mother who bought for a daughter's sweet 16 celebration, then later when the young woman became engaged, it was to Sara she went for wedding rings. "I do endeavor for a 'legacy' of sorts to create some reminders for those who also love the Outer Banks to celebrate their times spent here."
Since those early beginnings in Nags Head, Sara has changed locations several times as new opportunities emerged. "Once a group of us artists were rescued by Edward Greene when our rented building was being sold. He offered us sanctuary at his Christmas Shop in Manteo." Today, Sara De-Spain Jewelry is located on the sound at Osprey Landing in the quaint and lively town of Duck.
Although she'll hammer bangles and assemble pieces at her shop, the majority of her work is created in her studio at home, which is also the center of her world as the mother of three-Nathanael, Sophia and Eleanor. When they were small she kept a playpen next to her workbench and, like many other Outer Banks moms at the time, she would sometimes take a baby to her shop.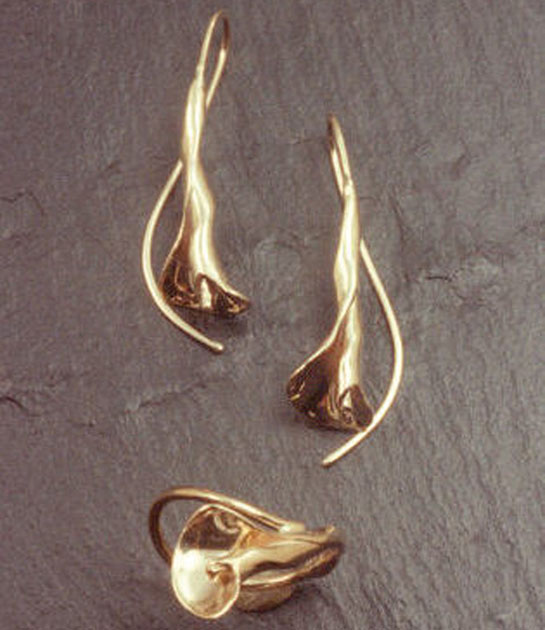 Her creative nature wouldn't allow them to be "institutionalized" in public schools, so she chose to home school them all-home being wherever they happened to be. "My kids became Roadies in 2004. We stayed in the best and worst of motels and put up tents and sold jewelry under the best and worst of conditions. It was "character building" as Calvin (of Calvin and Hobbs) would say. "Well they certainly are characters, so I guess it worked.
"An artist lives to work and will do almost anything (including shopkeeping) to have that opportunity. I want my shop to be interesting, educational, friendly and a place of beauty, possibility and fascination, a work of art in itself. I meet such interesting people in there--always so much to know about and share."
"I do like for art to be an interactive process. One interprets a piece according to one's own lights, which is why I suppose that I prefer those pieces that leave room for the viewer's input. Everyone is doing these mission statements now. I believe my mission is to write a poem in metal. I leave it to the viewer to interpret that message to their own satisfaction and delight."
Sara DeSpain Designer Goldsmith
(252) 255-0671 • 1194 Duck Road, Osprey Landing • Duck