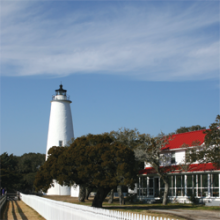 A Day and Night on Ocracoke with John and Margaret
March 26
John and I are so excited! Now it's just a little over a week until we leave for Ocracoke Island. We have our reservations, and we've begun to decide some of the things we want to do while we're there. Even though it's only for a day, we can't wait to get there and just relax!
April 4, 7 a.m.
We're up and off! It's such a gorgeous day, so the drive should be great. To think that the totally different world of Ocracoke is only four hours from Raleigh is kinda amazing to me.
April 4, 11 a.m.
We decided to drive straight through so we could have lunch while we're on the ferry - one of our all-time favorite things to do - so we stopped in Hatteras to grab a picnic at Burrus Market.
The ferry line wasn't very long at all - I guess since it's just April. We drove up, and five minutes later, we were directed on. That's such an interesting process to me - how those folks who load us up know what car to put where for balance. Now we're moving!
OMG, the view is amazing! You really understand how flat, yet beautiful, the Outer Banks are when you see it all from the water. And we can see forever today; it's so clear! The captain told us the route is a little longer now, something about shoaling, which is just fine with us. This ferry ride is like the transition time from our crazy busy lives into the happy ease of Ocracoke. When we get on the island, it's like we glide into the village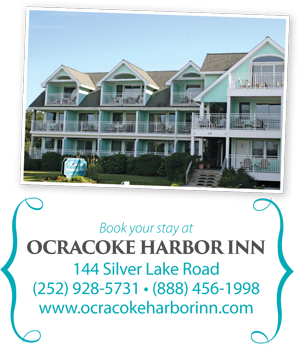 April 4, 12:15
We've arrived at Ocracoke Harbor Inn. What a great place! It's right on Silver Lake, and from our balcony you can survey so much of the village. Can't wait to sit out here tomorrow morning early and watch the world wake up while I drink my coffee and enjoy the continental breakfast. The owners, The Millers, are such friendly people - they've lived here a long time so know the island really well. And our suite is perfect! They just opened back up for the season a few weeks ago (they open from mid-March to December), and everything is shined up and perfect. If we had more time, we'd take Mr. Miller up on his discounted offshore fishing trip...next time! But Sharon Miller gave us some great advice: She said to take 24 hours and not use our cell phone or watch TV...that we came to Ocracoke to be on an island, to be a part of the beautiful nature here, to watch birds fly and fish jump and the island life go by and allow that to be our entertainment. She's a wise soul, you can tell! So, except for recording this travel journal, we're following her advice. As soon as we settle in, we're headed down to wander along the dock outside the inn. They have grills and picnic areas, and they even have two boat slips for guests to use!
April 4, 1:30
While we were walking, we spotted Island Carts, and both of us, at the same time, said, "We're doing that!" What a fantastic way to explore the island, and it's affordable too! I loved riding with the wind in my hair and that feeling of relaxation you get on a golf cart. It was so convenient too because we could load all our goodies on the back seat. John G, the owner, was such a nice guy. He honestly loves his business - was telling us about all the customers who get these big ole grins on their faces as soon as they start that smooth, quiet movement. John's carts are electric, which means they actually cut down on the noise that people driving their cars would bring to the island, and they're also eco-friendly. Thanks, John. Good move! He told us that the next time we come for a week-long visit, he'd deliver the cart right to where we're staying. I saw families on these carts (you sure can't miss them - they have a red bulls eye logo on their sides) with toddler and infant seats belted in... hmmmm, maybe next visit that'll be us!
April 4, 2:15
We are having a blast! We've tooled all around the island - went to the lighthouse and toured around, to Springer's Point Reserve to see if we could find Blackbeard's ghost, drove to the British Cemetery and over to the far side of the island that you can see from the harbor. Ocracoke is so perfect for just meandering around. We don't feel rushed - just stop wherever we see something interesting. And, Back Road, with all its shops, is our next destination.
April 4, 3:30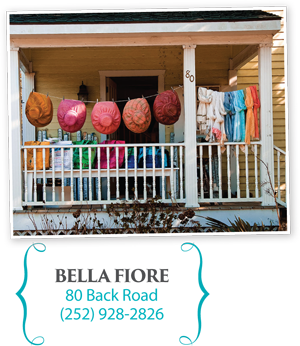 Aggggghhh! I can't believe I don't have more time to spend in these shops! They're all nestled in these old houses, and every single one is different and fun. So many artists call Ocracoke home, and all that talent is on display in these little shops and galleries. We could spend an entire day just moseying in and out. Our favorite one so far is Bella Fiore - don't you even love that lyrical name! What caught our attention first were the colorful hats hung outside on the porch. When we went inside, I was in jewelry heaven. Sarah Fiore owns the shop, and she has this incredible taste in jewelry - and in the other items...I'll get to that - she carries. New lines invoke the sea with these semi-precious stones, but she also has pieces made with sea glass, stones and glass - all so beautiful I wanted every one of them. Another thing we really liked was her attention to fair trade items. She had gorgeous handmade scarves and knitted animals made in Africa. And her pottery!! I don't know how she keeps it in stock. She's a potter herself, but she also carries other artists whose work she admires. We spent a little while talking with her, and she was saying how much she loves owning a shop on the island because she gets to see people year after year - she sees their kids grow up, and it almost feels like family. I hope we're in that group, because we definitely plan on coming back to this island again and again.
April 4, 5:00
I will say that we're beginning to understand why so many people love livingand visiting here. While we took a quick break for some coffee, we sat outside andwatched people come and go. Everyone was laughing and talking and just seemed socontent. That's how we feel - so relaxed and happy and grateful to be here.
April 4, 5:15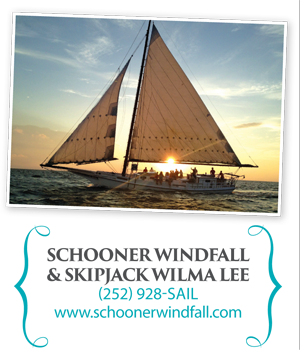 While we were exploring around the island, we saw a sign for a sunset sailing trip, so now we're on our way over to board the schooner Windfall II. We have to admit, it's been a pretty full day, so the idea of relaxing on this sailboat, drinking a glass of wine as we watch the sun set is pretty appealing. This boat only carries six passengers, and since it's a little before full season, there's only one other couple on the boat with us. It's almost like a private sunset trip! But during the season, the owner, Rob Temple, who's been sailing these waters for many years, tells us, he often takes out his historic skipjack, Wilma Lee, since it will hold 42 - and he's usually full. Apparently, the Wilma Lee is a rather famous boat. It was built in 1940 and was a working boat for 56 years before finding a new home on Ocracoke two years ago through a nonprofit group called Ocracoke Alive. Skipjacks were used for oyster harvesting, mostly in the Chesapeake. I love knowing the background like that, and Rob tells us great stories about the island as we silently cut through the water under those huge canvas sails. He says that most trips, they see dolphins swimming right beside the boat! There's so much history on this tiny island, and Rob is a very skilled story teller and quick with a humorous quip. The 90-minute trip feels like it's over in a flash. That's one for the memory books, for sure.
April 4, 7:15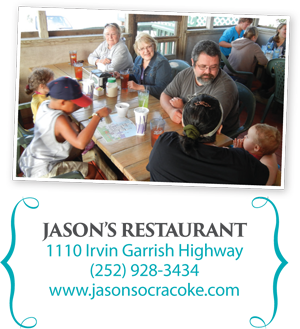 We are starving!!! A whole lot has filled this day between our picnic lunch on the ferry and now. Lots of folks we've chatted with today have mentioned that Jason's Restaurant is a really good place to eat, so we're headed there on our trusty Island Golf Cart (it's going to seem too fast and not fun enough to go back to driving a car!). It's located at the entrance to the village beside the post office. Jason's is fun! Since it's a warm night, we're sitting on their screenedin front porch...two al fresco meals in one day! Does it get any better? We both order a beer because it's going to take awhile to decide what to get on this huge menu. Here's what I mean: he serves pizza, pasta, fresh fish from local waters, quesadillas, subs, egg rolls, barbeque, sushi on Tuesday nights from Easter through Halloween and nightly specials. Two of his sandwiches were inspired by customer requests. One is the Uncle Bunkle, consisting of fried chicken with grilled onions, grilled ham, provolone and condiments. Another is the Sayrah Safari (inspired by our new friend Sarah at Bella Fiore!), which has grilled turkey, avocado, tomatoes, onions and provolone. I decided to get that one - and, thanks, Sarah! It is delicious! John got the Primo Vegetarian Lasagna, and it was killer. Like so many island businesses, this one has an interesting history too. Jason learned the restaurant trade from his father, who opened and ran two successful restaurants on the island. Along with his partner, Jimmy Bowen, the guys work to make their restaurant laid back, super friendly and known for the food. In our opinion, they're doing a great job!
April 4, 9:30
As we're scooting back to our inn, we round a corner and hear great music coming from a little restaurant, so we pop in there to listen for a while. Again, the easy life of this small island strikes us. It's so different from our city life where we battle traffic jams and stressed out people. Here, even though we've had a long day, we're settled and happy.
April 4, 11:00
Home to Ocracoke Harbor Inn. Before going up, we sit on the dock. All is quiet. And the stars blow us away! In Raleigh, there's too much light. We get into the habit of never looking up! But here, it's like we're a part of the Milky Way. It's stunning... and a little humbling. Good night, Ocracoke.
April 5, 8:30
As expected, I woke up early and sat out on our deck. This island is just as beautiful when the day is beginning as when it's ending. John finally got up around 8, and we're packing and musing over yesterday. As soon as we check out, we'll return our golf cart then drive over to the beach to walk and hunt for treasures. Then, we'll swing by the Ocracoke Pony Pen on the way back to the ferry to see if we can catch a glimpse of any new babies.
April 5, 1:30
We're back on the ferry, headed to Hatteras and home. I can't believe that in just 24 hours, we have decompressed, rejuvenated and feel so much better. Ocracoke definitely has a magic to it, and we'll be back as soon as we can.
By Beth Storie & Holden McOwen
Contributing Writer Connie Leinbach