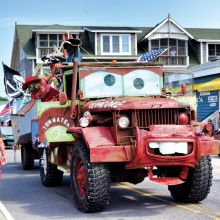 HELLO SPRING!
[ March 26 | ocracokechildcare.com ]
Join us for the first event of season: the annual Clam Chowder Cook-Off on the Saturday of Easter weekend. Local chefs and foodies compete to cook up the best traditional Ocracoke Clam Chowder. There's a creative category too in case you want to add a little something extra to the basic recipe. Enter your chowder, or just come by and taste them all! Winners are chosen by popular vote. This delicious event is a fundraiser for the nonprofit Ocracoke Child Care. 
[ April 23 - 24 | ocracokeisland5krun.org ]
Welcome, runners! Ocracoke's popular 5K/10K will add a Half-Marathon in 2016, and all are welcome to join in the fun! The races circle through Ocracoke Village where spectators cheer on the participants. A One-Mile Family Fun Run gets everyone involved. Proceeds benefit Ocracoke's community radio station, WOVV 90.1FM, and Ocracoke School Athletic Boosters. 
[ May 13 ]
In early May, the British Cemetery Ceremony commemorates the sinking of the H.M.T. Bedfordshire off the coast in 1942. Four sailors from the Bedfordshire are buried on Ocracoke in a small plot of land that is forever England. Representatives from the U. S. Coast Guard, U. S. Navy, British Royal Navy and Canadian Royal Navy as well as Ocracoke high school students participate in the annual ceremony, which includes a reading of the crew list, the playing of bagpipes and a 21-gun salute. The event is open to all who wish to pay their respects and brings family members and World War II historians from all over the world to honor these gravesites.
[ May 28 ]
For a good time, you can't beat the Firemen's Ball on Memorial Day weekend. A huge pig-pickin' BBQ starts the event off right with good food and drink for everyone. The silent auction allows people to win great prizes in a dignified manner, while the live auction encourages good-natured and exuberant bidding wars, all to support Ocracoke's wonderful Volunteer Fire Department. The dancing goes late into the evening with three bands cranking out rock 'n' roll all night long. No fools, no fun!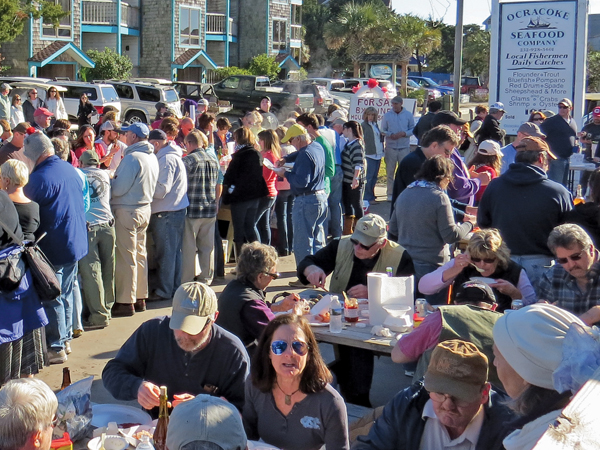 WELCOME BACK SUMMER
Summer brings sunny days, sizzling sunsets and starry nights. When you need a break from the beach, Ocracoke organizations and businesses offer special programs and activities from art classes to educational talks. There's something going on every day – check out the schedules for National Park Service programs, Ocracoke Preservation Society Porch talks, Skipjack Wilma Lee dockside talks and Outdoor Classroom activities. You'll find boat rides, watersports, ghost walks and more! Live music abounds during the summer season. Local and visiting bands play every evening in Ocracoke's dockside pubs, music halls and late-night bars.
Ocracoke Brings back Fireworks on the Fourth!
Ocracoke Village will celebrate the Independence Day 2016 with fireworks! After six years without a pyrotechnic show, the island community is excited to bring this patriotic tradition back to its holiday festivities. The rockets will light up the sky on the evening of Sunday July 3, 2016, to kick-off the two-day celebration of our nation's birthday!
Thanks to the cooperative efforts of the National Park Service, Hyde County and the NCDOT Ferry Division, the pyrotechnics will be launched at the southern end of the island at the big NPS parking area. Spectators will be able to gather around beautiful Silver Lake harbor for great viewing. 

The Independence Day celebration doesn't end with the Grand Finale in the sky. On the 4th, events start early and go all day long. Watch the Boy Scouts hoist Old Glory at the Flag Raising Ceremony. Hear the National Anthem. See inside the Ocracoke Lighthouse. Visit the Pony Pens and meet some ponies up close. Enjoy entertaining stories, learn the traditional Ocracoke Square Dance (Dive for the Oyster and Dig for the Clam) and reminisce at the classic car show. Or just spend a glorious day at the beach. 
Sand sculpting is Ocracoke's most enduring July 4th event. Anyone of any age can participate and win cash prizes. Many teams compete year after year and plan way ahead, so if you want to be a contender, come prepared! 
"They're as serious as amateurs can be," said organizer Angie Todd. "It is amazing what people can do with sand and buckets of water." The work is judged on creativity, effort, design and finishing details. Beachgoers vote for their favorite for Best in Show.
Ocracoke invites everyone to participate in the 4th of July Parade! Visitors and locals build floats, decorate bikes and golf carts or sing, dance and juggle to amuse the crowds. The parade begins at 4 p.m. and winds through the village, ending up at the NPS parking lot. Contestants compete for cash prizes. The Return of Bones the Pirate took the Better Some Best in Show Award in 2015. This award ups the ante for parade prizes and is only given to floats with real entertainment value. (Better some is Ocracoke brogue for something that's even better than good some.) 
Fun on the Fourth is a time-honored Ocracoke tradition, dating back to the good old days of pony pennings, beauty pageants, boat races and seafood suppers. The island welcomes visitors today with the same old-fashioned island hospitality and dedication to fun that has made Ocracoke a popular vacation destination for a century.  

[ June 3 - 5 | ocracokealive.org ]
The Ocrafolk Festival is three days of music and storytelling that takes place every year on the first full weekend in June. Ocrafolk is presented by Ocracoke Alive and celebrates music, storytelling and artisans from the N.C. coastal region and beyond. Enjoy live music and storytelling by local and regional bands. Wander the festival grounds and find delicious food options from island restaurants and an amazing selection of artisans' booths showcasing fine arts and crafts.  
[ Mid - June, date TBA | wovv.org ]
Ocracoke is a town that loves to dress up and put on a show. The Annual WOVV Women's Arm Wrestling Tournament contestants never disappoint with their costumes and wrestler personas. This double-elimination tournament is as much about the spectacle as the strength, but the ladies will impress you with their powerful biceps and fierce determination. The winner gets a year's worth of bragging rights! WOVV 90.1FM is Ocracoke's own community-supported radio station.  
[ August 12 - 13 ]
We'll celebrate our sweetest tradition in mid-August with the 3rd Annual Ocracoke Fig Festival in the Community Square. Local vendors provide fresh figs, fig preserves, local cookbooks, fig-smoked BBQ and other fig-tastic items. Learn about Ocracoke's fig history and culture, and bring the kids for old-fashioned crafts and games. The showpiece of the Fig Festival is the Fig Cake Bake-Off. Everyone is welcome to submit a cake in one or both categories, Traditional or Innovative. A panel of judges chooses the winners. And the best part? Free samples for everyone after the contest! The fun continues with a traditional Ocracoke Square Dance followed by dancing to the Ocracoke Rockers! 
 
FESTIVAL FALL
Fall brings cooler days and chilly nights. Ocracoke still has some nightlife through October, with plenty of live music.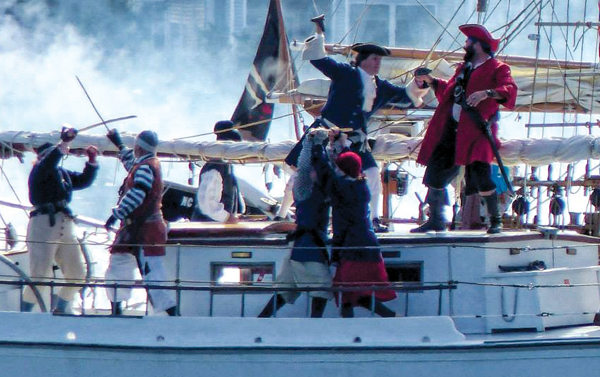 [ October 28 - 30 ]
Chart your course to Ocracoke for the 4th Annual Blackbeard's Pirate Jamboree. Help us celebrate our unique piratical heritage with a weekend of swashbuckling fun! The Jamboree features an historically accurate pirate encampment and a re-enactment of the infamous pirate Blackbeard's last battle at Ocracoke. Three ships recreate the last hours of Blackbeard and his crew as Lt. Robert Maynard brings them to battle with cannons blazing. Visitors are encouraged to get in touch with their inner pirate and wear their best buccaneer gear. This is an annual event, held the last weekend in October, leading to the 300th anniversary of Blackbeard's demise in 2018.
[ November 12 | ocracokealive.org ]
New in 2016 is the Festival Latino de Ocracoke celebrating traditional Mexican foods, games, arts and dance! This event is sponsored by Ocracoke Alive.  
 
WONDERFUL WINTER
Winter is quiet and lovely (and our best-kept secret!). The month-long holiday season includes a Community Christmas Concert, Library Cookie Swap, Ocracoke Dolphins Basketball Tournament, open houses at businesses, Ocracoke School program, OPS Historic Homes Tour, caroling, services at island churches and a visit from Santa! 
[ TBA between Christmas and New Year's Eve ]
By far the most popular December event is the annual Ocracoke Working Watermen's Association Oyster Roast & Shrimp Boil. Hundreds of eager seafood lovers line up at makeshift tables in the bright winter sunshine to shuck oysters, peel 'n' eat shrimp and slurp fish stew, all washed down with cold beverages. Come out and eat your fill! Dessert is offered at the Ocracoke Working Watermen's Exhibit in the Community Square. 
---
The Hatteras-Ocracoke ferry departs from both sides on the hour, 
5 a.m.–midnight from April 1–May 12. After May 12, it will depart on the hour and half hour. 
For more information about the ferry routes and schedule: http://www.ncdot.gov/ferry or call: 1-800-By-Ferry