Whether a day trip, long weekend or extended stay calls you to Ocracoke, you will find your days a mix of old and new, surf and turf and historic and chic. Ocracoke village, nestled on the end of this 16-mile strip of sand, draws people from all over to experience island time. Undisturbed national park beaches, hip art galleries and coffee shops, history museums and nature walks help fill every dream of the vacationer's heart. 
One of the great calls of Ocracoke is its hospitality experience in lodging and restaurants. The island boasts fresh local seafood catches, exquisite desserts, international cuisine and an island night's sleep with the roar of the ocean in the far background.
Many visitors' first and only stop on Ocracoke is Howard's Pub, located at the northern edge of the village. Howard's Pub, celebrating their 25th season this year, is one of the top places on people's lists to visit while they are on the island, some even making the day trip trek just to fit the Pub in on their Outer Banks vacation. The Pub welcomes all ages and characters, and that is part of the attraction. It can be an evening in a booth enjoying live music and drinks, a gathering on the expansive screened dining porch with ceiling fans, eating an appetizer at the long, wrap-around bar, or a cocktail on the ocean-to-soundview deck. It is family friendly with a kid's menu served on their very own Pub Frisbee with a Sippy cup and coloring book. The welcoming décor adds to the atmosphere: an extensive collection of college pennants, license plates from around the world and a neon glow bring the salt and sand of the day together to make an enjoyable excursion. The Pub Shop has a variety of shirts, mugs, hats and more to help satisfy your island shopping.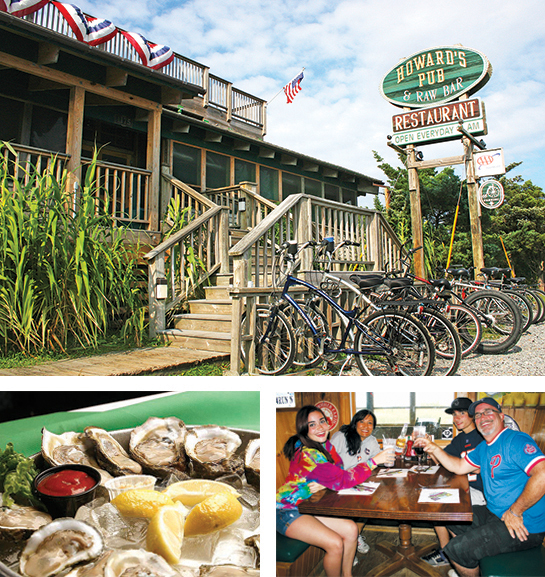 The menu and libation lists are some of the largest on the island. Munchies like the Fried Pickles, tuna bites and their hand-cut Pub Fries are served every day for lunch and dinner from mid-March through mid-November. Entrees include their well-known half-pound burgers with all the fixings, local seafood, and oysters, clams and Alaskan Snow Crab legs from the Raw Bar. The libations list includes nearly 200 global and North Carolina beers, wine, specialty drinks and cocktails.
Cruising along Highway 12 into the village of Ocracoke will lead you along the main thoroughfare of the village's attractions and necessities. One of those necessities is the Sweet Tooth and Fig Tree Bakery & Deli. Anyone with a sweet tooth on Ocracoke can satisfy it and more at this island stop. Glass top containers hold rows of fudge, bite-size chocolate treats, ice cream containers and homemade desserts by the slice. If that doesn't turn your head, the business also has nostalgic candy-filled jars and old timey candy treats. It's perfect for an afternoon break from touring the island. You can also sample an island staple here — the Ocracoke fig cake, by the slice.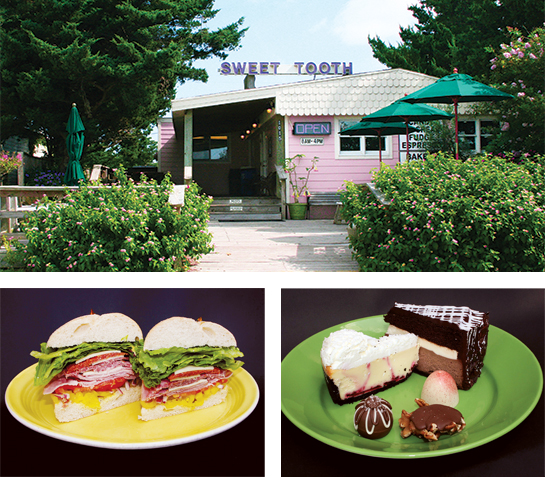 The Fig Tree Deli specializes in deli sandwiches and wraps, salads and homemade breakfast items. The menu features vegetarian items such as the sweet potato and black bean wrap and hummus and veggie wrap. Deli-style subs and sandwiches are made to order at your whim. Breakfast items on your choice of plain or sweet potato biscuit, bagel or muffin are quickly made and ready to go for ferry food or a beach picnic. There is also outdoor seating under large umbrellas if you want to enjoy your meal or snack on the grounds.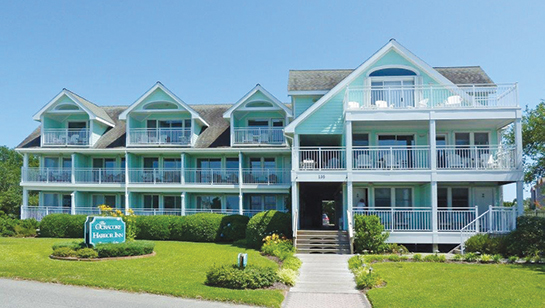 Day trips turn to overnighters, and some people find themselves here years later, never having left their "vacation." If you find yourself in need of more island time, The Ocracoke Harbor Inn will fulfill that need with uncompromised luxury in a room or suite overlooking the Silver Lake. A view of the harbor is one of the top wishes of lodging requests, and with the Harbor Inn, you experience that view in true island hospitality with the comforts of home. A complimentary continental breakfast starts out each day before you set out to explore what the island holds. Complimentary wireless internet and rooms and suites with Jacuzzi or whirlpool tubs will help you relax into your stay. For those traveling by boat, boat dockage is available for free with your room. Bicycle and golf carts rentals will help you explore the island's side streets in this perfect getaway. 
Ocracoke Harbor Inn is located in the heart of the village with shops and restaurants surrounding it. The family that owns the inn has been in the lodging business for a long time and knows how to turn you into a repeat guest!
Experience the island hospitality spring, summer, or fall and keep coming back year after year to visit these great hot spots of the village.
---
Howard's Pub
1175 Irvin Garrish Highway
Ocracoke, NC 27960
(252) 928-4441
Sweet Tooth and Fig Tree Bakery & Deli
1015 Irvin S. Garrish Highway
Ocracoke, NC 27960
(252) 928-3481
Ocracoke Harbor Inn
144 Silver Lake Drive
Ocracoke, NC 27960
(252) 928-5731