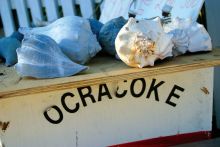 There are vacation spots that brand themselves as romantic retreats and others that cater to the family-friendly experience. Then there are the spots that draw adventurous solo travelers. With so much variety between these vacation styles, how is it possible that this wide spectrum of groups all find themselves drawn to the same 13-mile-long island? For those who know Ocracoke, that's just part of the island's magic.
Ocracoke Island's range of outdoor recreation, famous attractions, whimsical shops with enchanting goods, array of eateries and accommodation options attract almost every type of traveler – solo adventurers, couples, family vacationers and daytrippers. Each may come for different reasons, so here are a few itineraries for the many vacation experiences to be found.
Ocracoke in a Day
For vacationers and residents staying elsewhere on the Outer Banks, Ocracoke makes for a delightful daytrip. It's small enough that visitors can get a well-rounded island experience in just a day. Between visiting major historic attractions, browsing the locally owned shops and sitting down at the docks with a basket of fresh seafood, you hit necessary key points. Heck, you can do all this and still get in some beach time! Wrap up the day and pick up a bite from one of the food trucks, sandwich shops or a restaurant's carry-outs to have on the ferry ride home.
When it comes to getting there, the journey is just as important as the destination. The ease of the new Ocracoke Express passenger ferry makes the island all the more accessible to daytrippers and small travel parties. Park your car at the ferry terminal in Hatteras, boat over and explore Ocracoke village the island way – by foot, bike, golf cart or tram. From there the island is your oyster (speaking of which, be sure to try the succulent shellfish at the raw bars around town!).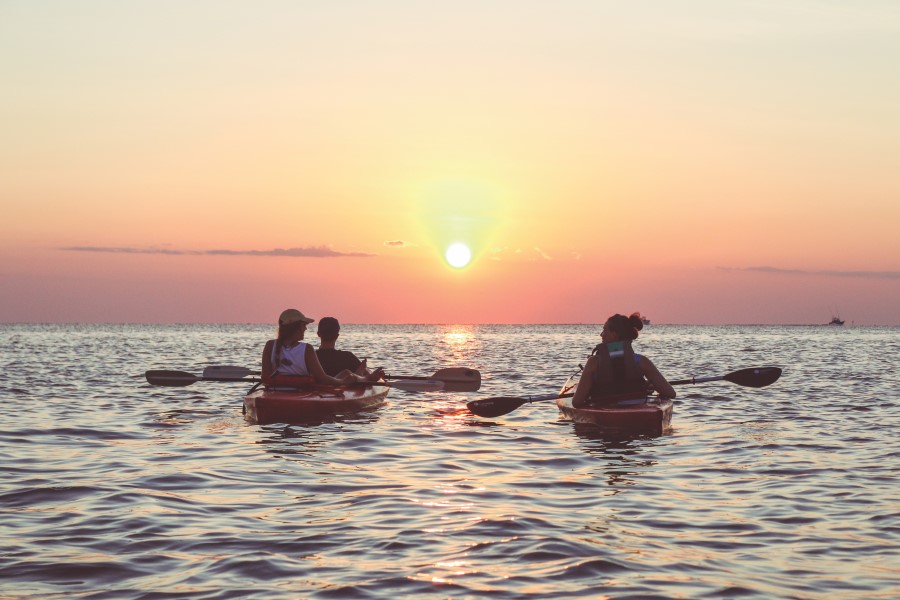 Ocracoke for the Solivagants' Sojourn
Solivagant is one of my favorite words. It means a solitary wanderer, and I bet many of you are in that crowd too. Alone on Ocracoke, you can take the island at your own pace, the activities and schedule determined by whatever whims and desires strike your fancy. Whether that means cracking open a book in a coffee shop, lying on the beach, biking about town or popping into the eye-catching shops that sell yaupon tea, handmade pottery, crafts from local artists, breezy island clothing and so much more, you feel almost like you're on a date with Ocracoke Island.
The island's fishing village heritage sits at the root of its culture. If you're visiting, the best way to discover and appreciate it is through the Ocracoke Working Watermen's Association. Their fish house in the Community Square features the Ocracoke Working Watermen's Exhibit inside, and their docks on the outside give you the singular experience of watching the commercial and charter fishing boats bring in each day's fresh catch. Discover the backbone of Ocracoke's economy and history through exhibits that focus on the species caught, family traditions in the industry or what a day in the life of a commercial fisherman is like. For another look at the island's culture and its stories, the Ocracoke Preservation Museum is a wonderful place to sit in on a porch talk (information sessions) or learn about the island brogue.
After getting a taste for the island's essence, see how its people embrace it. Head to one of the local hangouts for drinks or food, and rub elbows with the O'cockers, as they're called. The stranger you sit next to may feel like a friend by the time you to leave. Even when you're traveling alone, the sense of community and familiarity running through Ocracoke encapsulates you.
A Romantic Retreat to Ocracoke
Ocracoke oozes romance but not in a sappy or manufactured way. With walks on the white sandy beaches, mesmerizing sunsets, endless waterfront views and the many couple-friendly activities, it's hard not to imagine your sweetheart by your side.
The island presents a charming place for getaways. Outdoorsy couples can take advantage of the almost endless activities that keep them on their feet from dawn until dusk. Wake up with a Pilates session on a standup paddleboard, or pick up the pace by renting a Jet Ski or kayak. And you can take to the skies with a parasail trip offered by local recreation outfitters. As you move between the different activities, cruise the island by way of bike – if you're feeling cheesy, tandems are available.
On the other hand, couples may want quality time to rest and relax during their getaway, and Ocracoke offers a wealth of places and activities to match. Unwind with a massage at a spa or salon. Seek out a one-of-a-kind souvenir, such as a cookbook of collected island recipes or a CD made by local musicians. In the evening, dine in style, admiring the sunset as you sip a craft cocktail or dig into gourmet preparations of seafood caught fresh that day. Finish off the night with a moonlit stroll along the beach. Honestly, does it get much dreamier than that?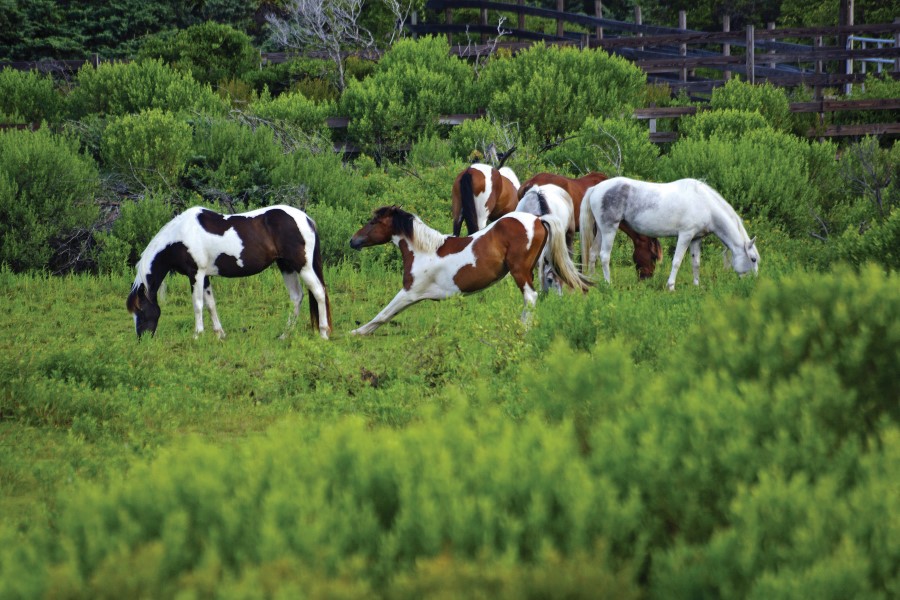 Family Vacation in Ocracoke
For many families, Ocracoke presents an ideal family vacation destination. Accommodation choices give options for all group sizes and budgets, ranging from soundfront vacation rental homes to hotels and motels and inns too. The small island is much safer and easier to navigate than many beach towns. Most people ditch their cars and explore by foot, bike, golf cart or the Ocracoke tram, new as of 2019. The tram offers a safe but efficient way of getting around the island. With stops at eight locations around the village, riders can hop off at whatever points pique their interest before continuing their circuit aboard the next tram.
Ocracoke is a stand-out spot for getting your feet wet with different aquatic activities. Vacationers of all ages and experience can try surfing, yoga, standup paddleboarding and other outdoor activities and get lessons from the experts at recreation businesses if they want to improve their skills. Charter fishing draws serious and aspiring anglers to Ocracoke with offers for catching red drum, cobia, triggerfish and more. The entire venture – from finding supplies at the local tackle shops to filleting your catch for the evening's dinner – makes for a memorable Ocracoke experience.
Next adventure? Ocracoke's attractions, which are laced with history and essential to the island's culture. These attractions provide diversions for the history buff, the outdoorsy folks and even those of you with paranormal interests. Visit the Ocracoke Lighthouse, or check out ranger-led interpretive nature programs offered by the National Park Service. You're surely familiar with the infamous pirate Blackbeard, but did you know that he frequented this island – right up until his demise in nearby waters? Discover the island from his perspective at the Springer's Point Preserve, a protected tract of 120 acres of historic maritime forest located on the sound that's known as the buccaneer's preferred haunts.
And if you feel so enticed, learn about the island's past (and its present) with a ghost and history walk around the village once night falls. The spooky, family-friendly fun showcases lesser-known bits of the island's history as well as its mysterious side.
Of course, the Ocracoke experience you have is not exclusive to these different itineraries. Part of Ocracoke's charm and relaxing atmosphere is the flexibility. No matter how many times you go – with whomever – it seems that there's always something new to try, giving a fresh taste to the timeless place.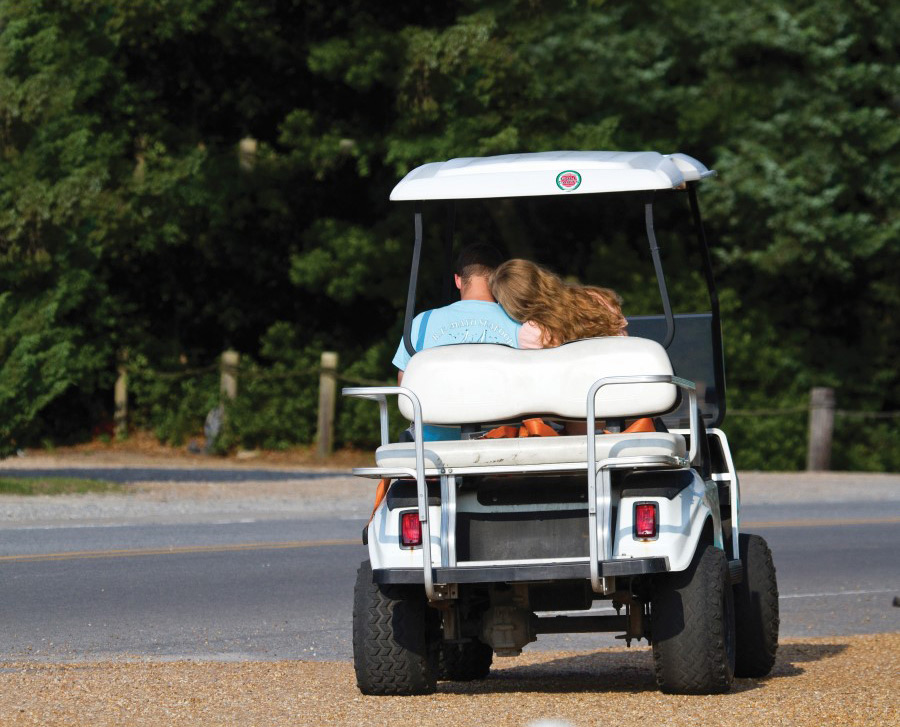 ---
Need-to-Know Info for the Ocracoke Passenger Ferry
The Ocracoke Express runs seven days a week from May 20 through September 5, departing Hatteras at 9 a.m., 1 p.m. and 5 p.m. and leaving the Ocracoke Silver Lake Terminal at 11 a.m., 3 p.m. and 7 p.m.
Reservations are recommended. Call (800) BY-FERRY or go online to ferry.ncdot.gov to reserve your space.
Check in for your ferry ride 20 minutes before the departure time.
Small carry-on items, bikes and pets are allowed on the Ocracoke Express. Larger pieces of luggage, surfboards, golf carts, etc. are not.
---
Ocracoke Events for Summer 2019
Ocracoke Island Independence Day Celebration
July 3-5, various island locations
Ocra-Glow Party
July 4, Ocracoke Community Park
Ocracoke Fig Festival
August 16-17, Community Square
Ocracoke Seafood Festival
August 31, Berkley Barn
Fall Ocracoke Island-Wide Yard Sale
September 21, various island locations
Blackbeard's Pirate Jamboree
October 24-27, various island locations