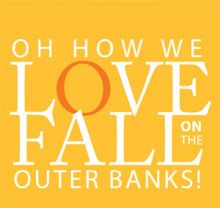 WE'VE ARRIVED...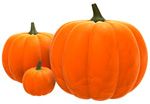 The time of year many locals and visitors love best has arrived. Cool winds, fewer crowds, less traffic, bluer skies and an ocean that you can still swim in until mid-October all ease us gracefully out of summer.
Pumpkin Fairs!
Nags Head Elementary holds The Great Pumpkin Fair every year, and they have hundreds to choose from! It's a sea of orange, green and white and a fun place - kids are giggly, parents are smiling and Halloween is near! And young parents who, themselves, went to the Grandy Greenhouse every fall to see the pumpkins, drink apple cider and take a hay ride when they were little are now taking their wee ones there too!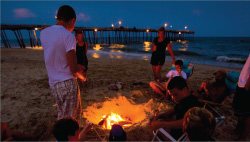 Bonfires - On the Beach, in Our Yards
Don't you think there's a primal pull we feel toward bonfires? It's like some deep remembering river runs through us, calling us back to ancestral days. Though folks do have bonfires during the summer, when that air starts causing chilly bumps on our arms is when we gather together with friends to practice the age-old fire ritual. Honestly, if you've never sat beside a crackling fire on the beach, hearing the quiet rush of the waves, looking up into a sky alive with stars and sharing words with your clan of friends, you're missing a quintessential Outer Banks experience. Photo by: Ray Matthews
The Duck Jazz Festival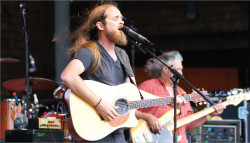 Every October, music lovers descend on the small town of Duck to groove and move to the jazz vibes. This year, it's on the 13th, and with band names like Delfeayo Marsalis Octet presenting Sweet Thunder, Lavay Smith & Her Red Hot Skillet Lickers, Peter Lamb and the Wolves and Carroll Dashiell and the ECU Jazz Band, what person in their right dancing shoes would miss it? The day starts at 11 and goes til sunset, and you can bring coolers, chairs, kids and pets. And, even more cool...it's free! See the article on Duck Jazz Festival: Cool Cats. Photo by: Quinn Capps
The Autumn Sky
There are those of us Outer Bankers who swear that a day comes in early September when, all of a sudden, the blue of the sky changes from a summer shade to an autumn one. It's bluer, deeper, and the sun looks different coming through it. And, sure enough, soon you notice that tidbit of a temperature change. And, too quickly for some, the thought of diving into that ocean seems a little too chilling. Settle in; it's fireplace weather. 
Halloween in Manteo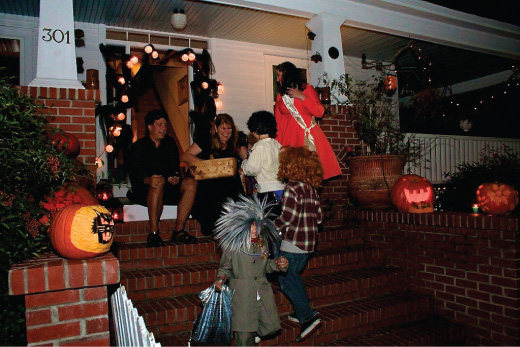 Remember Halloween when you were a kid and how exciting it was to transform into wolfman or Cinderella or a bumblebee? If you were lucky, you lived in a place where you could skip from house to house, soon hoarding a huge bag of candy and trying to fool the neighbor into thinking you really were that character (and she knew exactly who you were). That's Halloween in Manteo. More than a thousand kids - we're not exaggerating - turn the downtown neighborhood of this lovely town into a ghoulish sight. Well, it's not all scary. There are plenty of princesses, supermen and the like. Check it out this year...if you dare!
Locals joke that Halloween is the national holiday in Manteo. With all that goes on here to celebrate All Hallows Eve, it proves true. Every Sat. in Oct., Island Farm hosts a pumpkin patch where you can also ride an ox-drawn cart, make a corn-husk doll, stuff a scarecrow and more. It's a ton of fun. And then the wee ones love Trick or Treat Under the Sea at the Aquarium on Oct. 29 and 30. And, Harvest Hayday at the Elizabethan Gardens (on Oct. 26) is a don't miss event. Wait...we're not finished yet! Then there's Psychopath at the Lost Colony! We scream. We run. We all but pee in our pants. Yet we go. The details this year are every Fri. and Sat. nights from Oct. 4-26.
Chevrons of Geese
Thanks to Joni Mitchell in her song Urge for Going, we know the term for that V of geese we, first, hear then see flying overhead as summer leaves the Outer Banks. Wow, are they ever the heralds of fall. That honk, honk, honk that is so cacophonous it's melodic. Some local musician should blend it into a song about the Outer Banks...Matt? Laura? Anyone?
Music, Music and More Music
Outer Bankers stampede in the fall to the Outer Banks Bluegrass Festival in Manteo and the Mustang Festival in Corolla. Bluegrass is at Roanoke Island Festival Park on October 4-6, and tickets must be purchased in advance. Mustang is beside TimBuck II shopping center on October 11 and 12, and it's smart to buy tickets in advance.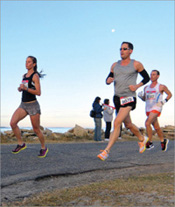 Running, Walking, Swimming and Causes
It seems that in recent years, Outer Bankers have become very dedicated to improving their health. We have boot camps where folks are up at 5 in the morning, races, lots of health clubs, crossfit teams, running and biking groups...whew! There are lots of toned bodies out there. And some of them (us!) are training for two fall favorite events, the Outer Banks Triathlon Sept. 21 and 22 or the Outer Banks Marathon or Half Marathon on Nov. 9 and 10. The fact that many of these events help raise money for local charities just seems to make all these athletes keep going toward that last mile...we love that. Don't you? Photo by: Outer Banks Sporting Events
Less Traffic and Shorter Waits
Long gone are the days when you could all but sit in the middle of the beach road and have a picnic after Labor Day. It went from a rush to a hush around here pretty darn fast...and we loved it. (BTW, those were the days, too, when the Bypass was only a lonely two-lane road. Anybody reading this remember that?) These days, the fall season isn't so dramatically different, yet we still love the time of year when most people driving on the Bypass actually understand what to do in that pesky middle lane or know where they're going so they don't suddenly slam on the breaks with you going the speed limit right behind them (we also love that most people driving here this time of year actually go the speed limit...unlike summer drivers...grrrr). We also appreciate being able to become regulars, again, at our favorite restaurants without having to wait, and wait, and wait. It just does our souls good to drive by area restaurants and see "Welcome Back Locals!" on their marquees.
Fall Fishing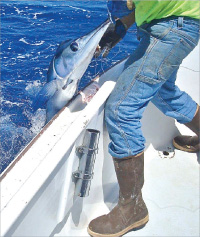 Though fishing is one of the main things that lures people to the Outer Banks (sorry, couldn't resist) year-round, the attraction amps up big time in the fall. Offshore charter boats haul in blue and white marlin, tuna, king mackerel and grouper. With fewer crowds in the fall, you're able to book a trip easier too. Inshore, off the beach and otherwise, fall anglers are rewarded with croaker, speckled and gray trout, tilefish, pompano, bluefish, red drum, spot, clams and oysters. Yum yum yum. We wait all year for those cold oyster roast party nights - a bonfire, a beer, steamed oysters dumped onto wooden tables, Saltines, cocktail sauce...life is good. See Albatross Fleet and Daybreak OBX Adventures for some good contacts to get in on the fall fishing scene. Photo by: Albatross Fleet
Outer Banks Restaurant Week

The fleet of teeth among us sit patiently each fall, calmly licking our chops and waiting for Restaurant Week. Culinary experts from Duck to Manteo prepare special menus to entice and excite. Eat your way through all of them! This year, the feasting goes from Oct. 25-Nov. 2. Photo by: Ginger Snaps

Thanksgiving Buffets
Sure, some of us love cooking for hours on that national day of thanks, but there are those among us who give thanks that someone else is being the chef. Thank goodness for our Thanksgiving Buffets! Owens, Lone Cedar, Ocean Blvd., Kelly's, Good Winds Seafood, Paper Canoe and others have become "home" on that day for many locals and visitors here the fourth Thursday in November.
Football at Home and on the Flat Screen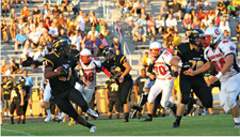 Ok, our local high school football teams might not be Texas-sized, but, man, do lots of folks here support them. You all know that song Boys of Fall? Some of the lyrics: "When I feel that chill, smell that fresh cut grass/ I'm back in my helmet, cleats, and shoulder pads/ Standin' in the huddle, listenin' to the call /Fans goin' crazy for the boys of fall." It's small-town stuff and it means a lot...sniff, I'm tearing up. Some of those boys go on to play college ball, and we loyally sit in our living rooms or at restaurant bars watching them some more. Then, some of them return and we watch NFL in those same places. Can we be called The Fans of Fall? And will Kenny Chesney write a song about us too? Photo by: Leftfield Photograpy

End of Summer Sales and Off-season Rates
Having a killer bathing suit all summer that you wear to frazzles because you're at the beach all the time...good. Getting a new bathing suit for half off in fall sales...priceless. (Don't worry, it'll still be in style next summer...how much can the style of two small pieces of cloth change, after all?!) And, it's not only bikinis that go for a steal. It's women's and men's clothes, Ts, flops, beach equipment, jewelry and more. Some fall sales are practically famous - Ocean Atlantic Rentals, Birthday Suits, Barr-EE Station tent sales, Gray's, Lady Victoria, Ambrose Furniture. But, famous or not, we love getting a deal! Though it's not the habit of locals to spend much time in area rental homes or hotels, it's a wondrous benefit of fall that prices go down so that our late-season guests (those who couldn't stay with us during the summer because Aunt Maude and her five kids were dropping by for the week) can be encouraged to stay elsewhere. You know, maybe we locals are missing out! Yes, we live in paradise, so taking a vacation from here might seem funny. But, how often do we allow ourselves the joy of staying on the ocean like thousands of our visitors experience? Let's do it! See articles on Resort Realty or on Joe Lamb, Jr. Realty for several great contacts.
Two Words: Sweater Weather
That delightful time of year when having a bikini body does you absolutely no good because you're covered with a nice, soft cashmere sweater.
Santa!! I Know Him!
There are so many holiday events up and down the Outer Banks! Starting in November, you could jingle your holiday spirit almost every night through to New Year if you had the stamina.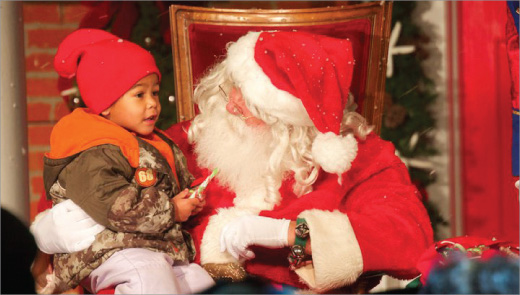 Photo by: Melody Leckie
Well, maybe eggnog can supply that. While we'll leave it to you to get all the details from outerbanksthisweek.com, some of the holiday Ho Ho Ho's you simply must attend are:
• Christmas in Corolla at Whalehead on Nov. 22-24 and Nov. 29-Dec. 1
• Island Foodways at Island Farm on Nov. 29-30
• The Grand Illumination at Elizabethan Gardens on Nov. 30
• Manteo Town Celebration and Parade on Dec. 6-7
• Winter Lights at the Elizabethan Gardens on Dec. 4-Jan. 4
• Duck's Yuletide Celebration on Dec. 6-7
• Let's Celebrate Christmas on Dec. 7-14
• Hotline's Festival of Trees on Dec. 7
• Christmas Past at Island Farm on Dec 14
• Hatteras Island Holiday Parade on Dec. 14
And, remember, as Buddy the Elf says, "The best way to spread Christmas cheer is singing loud for all to hear!"