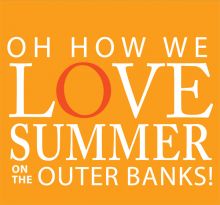 LIFEGUARDS
Can we just start with the lifeguards?! Good lord, have you seen them? I don't care what your persuasion is, each one of them is gorgeous, fit, brave, strong and true. And, most importantly... really...they save hundreds of lives every single summer on the Outer Banks. Thanks to all of you.
OUTDOOR DINING
The dinner scenes that play out under the stars each summer night are like beautiful montages found in a Fellini movie. There are glowing lanterns, makeshift tables full of fresh, locally sourced food, languid conversation, plenty of wine. It's so pretty. We can all be amongst the beautiful people.
UMBRELLA SONGS
You know that state of being on the beach when the breeze is just right, the sun has lulled you into an almost-sleep and in your distant consciousness you hear that flutter of the umbrella as it play a wind-written percussion? That's what we're talking about.
JUMPING OFF THE MANTEO BRIDGE
Yes, we know all of you out there haven't experienced this - and some of you would steadfastly refuse to do so. But, there's a secret society of Manteo folks augmented by visitors who watch the scene and decide to join in who consider it a virtual rite of passage to leap from the highest crest of the Festival Park bridge. You don't have to be young and foolish (though it undoubtedly quells the nerves a bit if you are) to do this. We've seen people who are-gosh-at least 50 fling themselves off.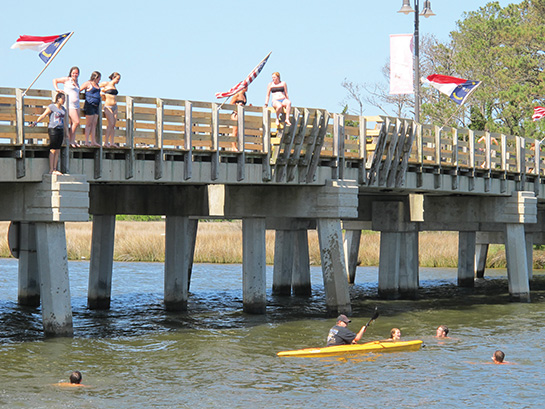 BLUE GREEN WATER
There are those days on the Outer Banks when you come up over the walkway to the beach and see before you a body of water that, somehow, has crept up from the Bahamas overnight. It's a crystal clear blue green, and you enter a realm of heaven if you get to stay all day and play in it. From way off shore, you can still look down and see the bottom. Surfers look like dolphin, they're so visible. You get a lesson in ocean topography. You never want the day to end.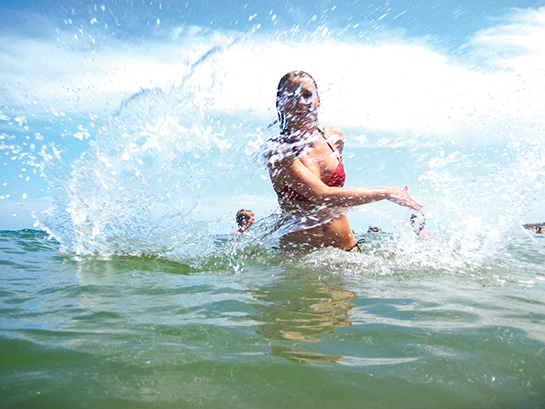 SKIN
We mostly mean that feeling at the end of the day from the pull of salty, sunkissed skin. But I think we could also give a nod to the freedom of showing more skin now that summer has loosened us from our cold-weather cover-ups. In our imaginations, we're GQ or Sports Illustrated swimsuit models. Or, heck! We're not. But who cares! Summer's here.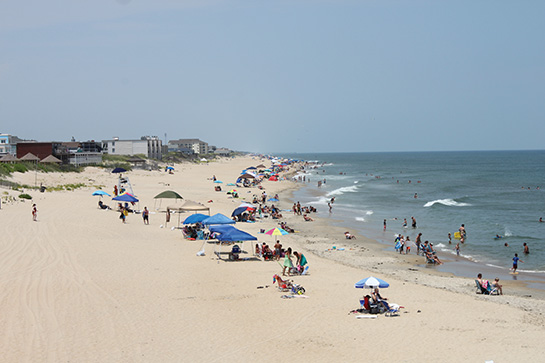 JOCKEY'S RIDGE SUNSETS
Every night they gather, on a vigil to worship the glowing orb as it mysteriously disappears below the horizon yet again. From the Bypass, the sometimes hundreds of folks look as small as pygmies united in their ritual as ancient as the grains of sand they stand upon.
NEW FACES
As much as locals sometimes like to wax poetic about the off season and its ease, the truth is that we also revel in the new faces that show up weekly to these shores in the summertime. After a winter of seeing each other - locals - a lot, it's kinda nice to sit beside someone in a restaurant and have no earthly idea who they are or where they came from!
CLAMMING
Gather the clam rakes and the buckets, hop in the boat and head for the secret clamming spot...over there near Oregon Inlet Bridge where you see lots of other people doing the same thing. Some of us like pulling that rake through the water and hearing the clink when we encounter that mollusk buried in the sand. Others prefer trolling around on hands and knees, squeezing sand through our hands until we feel that hard shell. Either way, the resulting clam bake feast accompanied with cold beer and fresh summer corn is just about the culinary epitome of summer.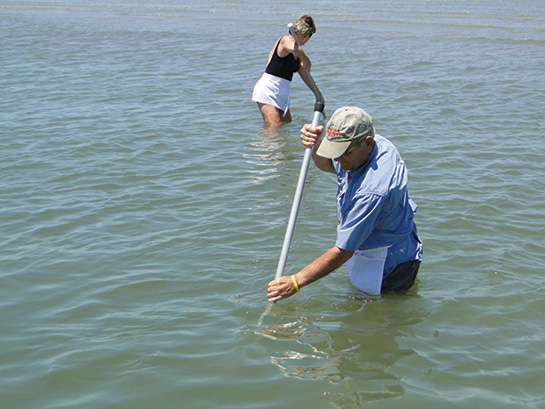 SUMMER'S PERFUME
It's coconut oil, pure and simple. That's all we need to smell like.
FIREWORKS ON THE 4TH OF JULY
After the cookouts and the ice cream and red, white and blue patriotism, we get to lie on our backs and watch the sky explode. And, if you're in Manteo, you often get to watch the marsh explode too (but only for a little while...the fire fighters get it doused pretty quickly). From Corolla to Roanoke Island, there are fireworks spectaculars where we ohh and ahh and swear that this year was the best one yet.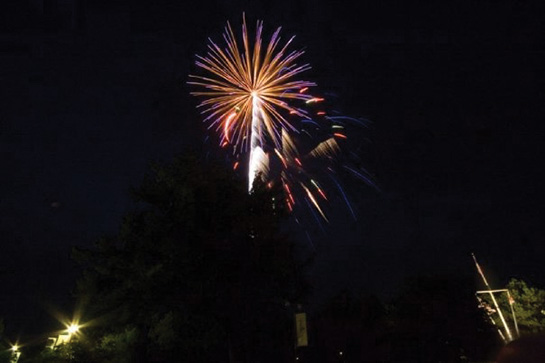 OUTDOOR DRAMA
We mean, of course, The Lost Colony...though we're sure there's plenty of other outdoor drama you could all tell us about. From late May to late-ish August, the talented actors, dancers, singers, costumers, lighting folks, set designers, sound people, director and crew of this longest-running outdoor symphonic drama in the country play its story across the Waterside Theatre stage. It's as Outer Banks as you can get, and it's worth your visit.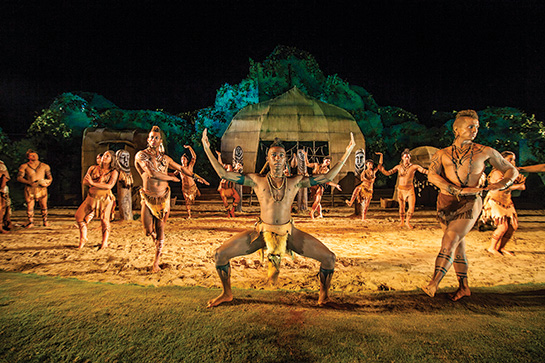 SUMMER THUNDERSTORMS
On those days when the hot, humid lower air hits the cooler upper layer and all hell breaks loose, we have ourselves a fine Outer Banks thunderstorm. Our favorite is when the lightening crackles and streaks across the night sky, creating mind-blowing displays of nature's mood. Then the huge booms...then the sweeping in of the rain. Find a safe perch and watch the display of Universal Power.