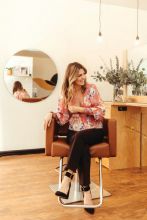 The word transformation carries differing meanings for people, but in many cases it has an air of the mystical and powerful. It's not simply change; it's something broader and deeper that shifts our beings into some place higher.
We can be transformed by something in a sudden moment, somewhat as if it happened to us. But, then there are the transformations that occur that we've called in, pondered, shaped and reshaped until, when the transformation happens, it's like the settling in of a perfectly fitting yet also new You.
Such is the case with the new Lovie's hair salon, now located in Scarborough Faire in Duck. But, first, a look at what was, before. Loyal clients and friends spent years going to the cozy, almost-hippieish old house in the center of Corolla that was home to Lovie's salon, owned by Alicia Arranz. There, the vibe was purple/blue, inspirational quotes, roaming kitty cats and a sweet dog named Rosie who would demand to be petted. It had a village vibe, quite in keeping with its locale, and you felt like you were in your own little enclave of a beauty bubble where you would emerge looking – and feeling – fantastic. And loved on … always loved on.
After five years in this space, Alicia felt the beginning whispers of change. More background murmurs at first, she characteristically let her intuition listen closely while she kept doing her day to day. Sure enough, though, the whispers started to speak up, so Alicia started listening in a more attentive way. As the popular saying goes, the Goddess was alive, and change was afoot!
Perhaps in the same way that a tree can appear in varying guises depending on the season – all beautiful and appreciated but quite different – the new Lovie's has found a new way to express its essence. In its modern, huge-windowed, tree-surrounded location, the vibe has gone from boho cozy to airy stylish. In a partnership with the two talented owners of the ALTwood shop in Corolla, where you find, among other items, beautifully crafted wood furniture, the vision of the new Lovie's went from dream to real. Light-wood accent pieces and shelving made specifically for Lovie's by ALTwood's Andrew Carnill anchor the space, and the colors have become more elemental: bronze, blue, ochre. It's free-flowing and open, and the light streaming in from the window wall changes the angles, colors and shadows all day long … a simple, if noticed, reminder of transformation without effort.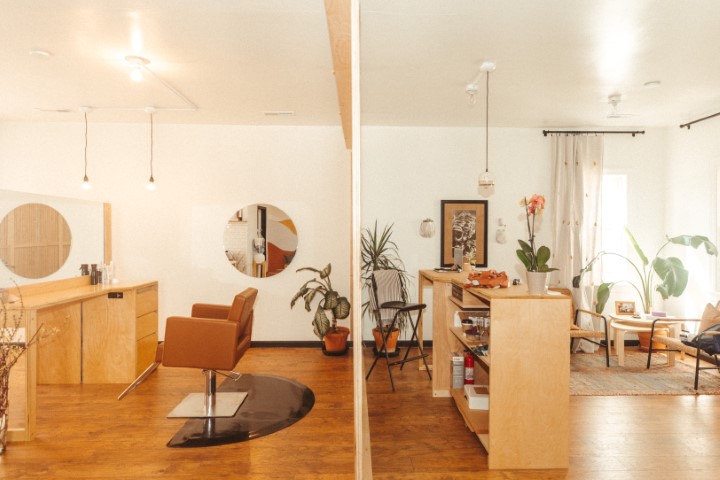 "Lindsay (as in Lindsay Dilworth, the other owner of ALTwood), Andrew and I would sit and envision the new space," Alicia says. "Somehow what I had in my head came out through his hands in all the wood pieces he built – the check-in desk, the stations, the partition and the shelving. And now we have space for retail so we can feature our favorite hair and beauty products as well as special items from ALTwood's collection. "It's a synergy that really works."
Alicia explains, "I knew in my heart that this was the right move. As soon as I confirmed that it was time for a change, everything opened up – this space, a really great place to live, another group to take over the Corolla house. It just came together so easily that I knew it was what was supposed to be happening."
Transformation, change, moving on, letting go – they're all topics Alicia thinks and talks about a lot. After all, she's with clients every day who come to her for a change. Let's cut it! How about if we try a new color? What if I just sit here and let you do what you think is best … an hour for me! Or the bride getting ready to make a huge transformation. And Alicia understands, as do her clients in all likelihood, that the desire for the external change almost always bubbles up from some degree of internal change, be it subtle and simmering or powerful and necessary.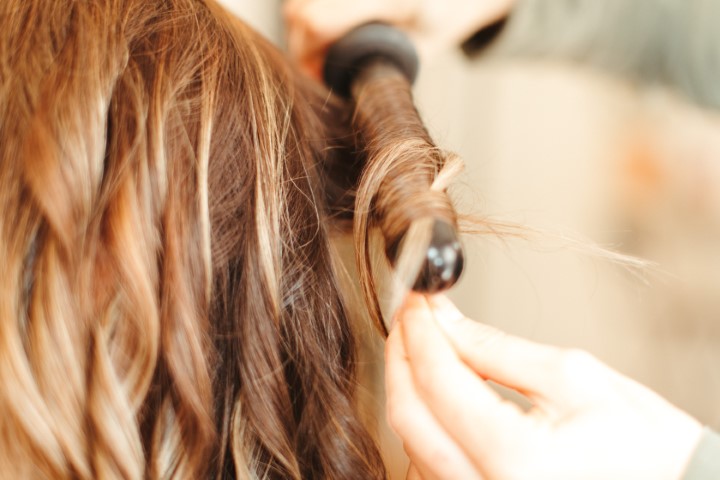 "I've had clients who have just been through something really big in their lives – maybe a divorce or the death of a beloved person on one side of it or a great new job or engagement on the other end of the emotional spectrum – and they want to shift something," Alicia says. "They want the way they appear to mirror or match a new understanding or a different way they are now living their lives. It's honestly a privilege to be there with them in that transformation. I've held the space for lots of them who let emotions flow or who've figured something important out just by us talking. I always feel that a trip to my shop can be –maybe should be? – an overall time of Self care (with that capital S), not simply a time to get your hair tended to."
To that end, even the day-to-day experience of most of her clients can be set into the backdrop of transformation … if you see the world through Alicia's eyes. You walk in for your appointment and, in this new space, have the time just to yourself. She sees your time at Lovie's more as ritual than an appointment. There's no outside chatter, no gossip, no other clients wondering when it's their turn. It's just the two of you. You start talking about your hair and what you want to do this time, then in the course of time you realize that you and Alicia have been discussing interesting topics, heart-warming ideas, what's going on in your world or hers. It's relaxing and energizing at the same time. Then comes that shampoo and head massage, which can put you into a deep state of relaxation, especially with the added Reiki she's giving you. Lots of her clients say they'd go to Lovie's just for that. She's even aware of adjusting the music that's playing to something each client likes. And, too soon, she's pulling off the cover-up shawl and telling you to see how wonderful you look. She means it, and you see it too.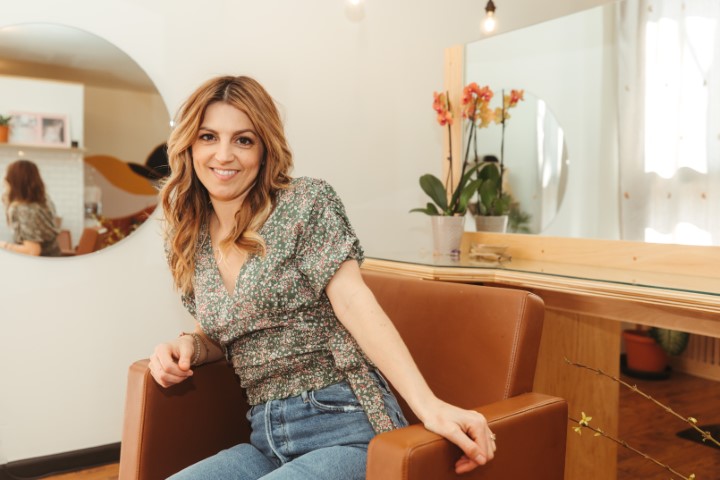 She loves the quote about how miracles are all around us, every single day. It's just that we have to see them. It's like that with transformation too. Some are life changing and obvious; some are more behind the scenes … until we look through eyes that see them.
The transformation of Lovie's certainly reflects everyday miracles for Alicia. She works with her clients, both men and women, she does hair and makeup for brides and attendants, she greets you with that warm smile and gives a hug as you leave.
And something in you shifts. And, we have to wonder if her recent engagement has anything to do with this new expression of Lovie's? Bet we all know what she would say.
---
(252) 423-9318
loviessalon.com
177 Duck Road, Suite 15, Duck