Most anglers and vacationers here today can't recall the Outer Banks without the Oregon Inlet Fishing Center. Sure, there are the old-timers who've been fishing these waters for decades that remember, but for most of us, the fishing center is a fixture, totally paired in our minds with offshore fishing and the colorful charter fleet that brings in their bounty most afternoons. We might not have considered the history of the center or the characters who made it happen. But, there's a story here, of anglers who learned from their fathers and the sea. 
At just 6 years of age, Kitty Hawk native Charles Perry recalls "helping" his father on his charter fishing boat. Captain Charlie Perry showed young Charles the ropes and he learned well; 60 years later, he's still at it. Charles has been fishing, guiding and teaching anglers around the world — in Costa Rica, Australia and the Ivory Coast of Africa as well as here on the Outer Banks. He's known locally as one of the experts in the field, and that reputation has spread. In 2011 he ascended into the ranks of Legendary Captains & Crew of the International Game Fish Association, who declared that Charles "may be the best heavy-tackle wireman in the world."  For any of you who don't speak fishing, that means a big fish is hooked up and reeled in fairly close to the boat. Hopefully, the fish is also tired. At this point, the wireman becomes the reel with his hands on the fishing line. This technique is used to position the fish alongside the boat for tagging and to measure its length.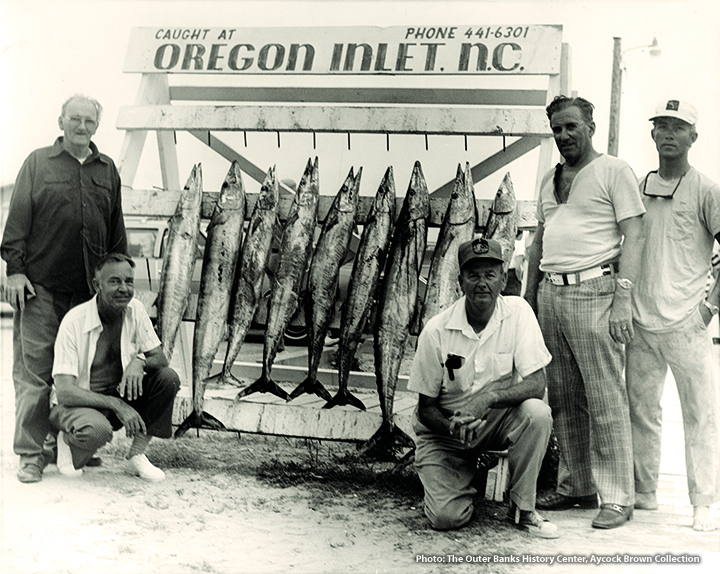 But as a young boy, Charles remembers most local charter captains kept their boats inshore, meaning at sea but close to shore. They didn't have fathom meters or any of the electronic devices in use today that make offshore fishing safer.
"No one was fishing offshore," he said. "Fishermen that ventured out had to figure out their course on the way back." In these sometimes-wild Outer Banks seas, that was a risk only the most seasoned of boat captains would take.
In those early days, his father tied up on a canal that ran along U.S. Highway 64 between Nags Head and Manteo called Dykstra's Ditch. It was a simple but visible mooring used by most of the local boat captains who took parties out to fish. 
But in the years following WWII, as the popularity of charter boat fishing grew, Charles' father and his uncle Lawrence Perry began tying their boats up closer to the inlet in a tidal creek.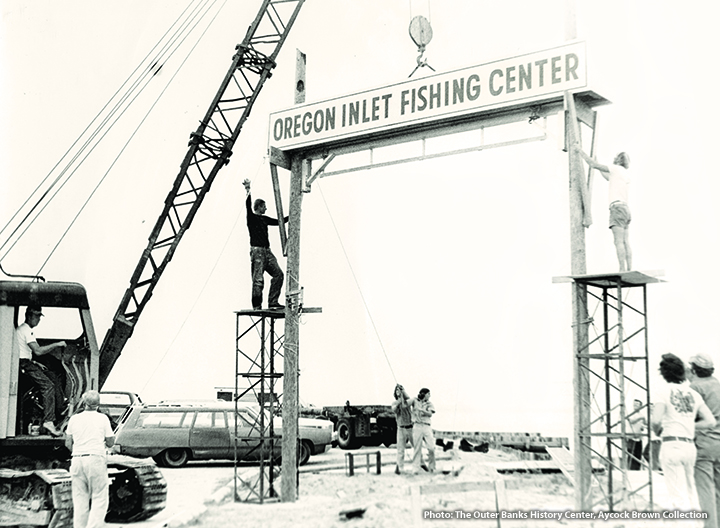 Charles credits Thomas Jefferson "Jep" Harris, Chief of the Oregon Inlet Coast Guard Station, as a catalyst in developing what we now know as the Oregon Inlet Fishing Center. After the National Park Service gained control of the area, the first recreational fishing concession was awarded in 1954 to Toby Tillett, a former inlet ferryman.  In no time the creek was dredged creating a boat basin, and a bait shop was built too.
This site was a vast improvement from Dykstra's. The proximity to the ocean saved time getting to the Gulf Stream, that blue water current that flows north up the coast teaming with fish, and which by the early 1950s had become much more accessible due to advancements in navigational equipment. It also saved boat fuel for ocean-going captains, and Toby Tillett had wisely installed gas tanks. By this time, too, the State saw fit to pave the road all the way to the inlet.
Twenty years before Charles was born, another Outer Banker, who was also declared a legend by the venerable IGFA, was already spending his days on the water: Captain Omie Tillett of Wanchese. Like Charles, he started young, working with his dad, Captain Sam Tillett, and before his 21st birthday he was taking fishing parties out on his own. 
Omie spent 50 years guiding anglers with great success and is known as a true pioneer in Gulf Stream fishing. In fact, the entire Tillett family is considered pivotal in establishing the world renowned Outer Banks sports fishing industry. Omie was also part of the move from Dykstra's to Oregon Inlet.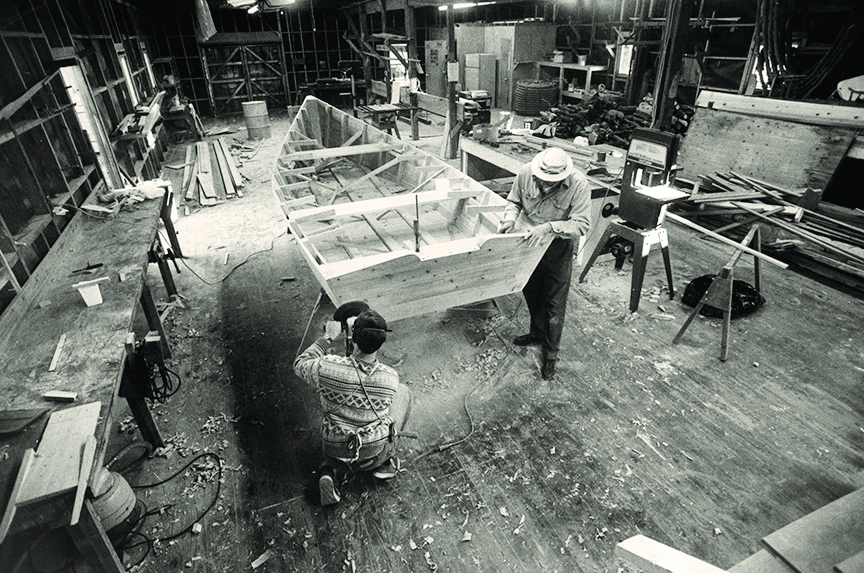 He also influenced another industry that helped put North Carolina on the map: boat building. Early on, Omie decided to build boats in the off-season when few visitors were here to go offshore fishing. Other captains followed suit. Due to the relative isolation of the Outer Banks, long before bridges connected the area to the mainland, it was natural that fishermen would spend the winter months repairing, improving and building new boats. The innovations by these captain boat builders were successful, notably Capt. Warren O'Neal's Carolina Flair design, and they garnered international attention, fostering a world-class boat building industry and establishing North Carolina at its center. When Charles Perry guides fishing expeditions off the Canary Islands in winter, it's on a yacht made locally here on the Outer Banks by Captain Paul Spencer. And, of the 35 charter fishing boats at Oregon Inlet Fishing Center, at least 20 were built locally.
Another tradition started by Omie, and perhaps the one he is proudest of, is the blessing of the fleet every morning before they get underway. Although he's long been retired, he is still revered by today's captains.
"He influenced how the fleet works together and helps each other out," Kenneth Brown, Captain of the Trophy Hunter and a member of the Fishing Center's board of directors, said of Captain Omie.  Another factor Kenneth believes contributes to the harmony among Oregon Inlet captains is that all the captains are voted in.
To Kenneth, it is no small matter that Omie built his first boat, Miss Boo, though she wasn't new when Kenneth got it.
The Oregon Inlet Fishing Center was built in the Coast Guard Station's front yard, so to speak, with a free public boat ramp in between. Now maintained by the National Park Service, there is plenty of parking for cars and boat trailers. Bait, ice, fuel, oil, camping supplies, fishing tackle, boating equipment, clothing, food, beverages, charts and printed copies of North Carolina's fishing regulations are all available in the center's main store. 
The marina, however, is the main attraction. With boats slips on all three sides of the basin, visitors like to stroll along the docks, especially after 4 p.m. as the parade of charter boats returns from the sea with trophy flags flying and proud anglers displaying the day's catch for the cameras. And for the grinning anglers, the fishing center also has staff available to clean fish and ice it down for its ride to the supper table.
To get there, follow N.C. Highway 12, just 8 miles south of Whalebone Junction in Nags Head to the northern terminus of the Herbert C. Bonner Bridge. The Oregon Inlet Fishing Center is located on the right, within the boundary of Cape Hatteras National Seashore, known for its pristine beaches and maritime history. 
And, by the way, something wicked happened here last year — Wicked Tuna: North vs. South to be exact! The wildly successful National Geographic television series chose three Outer Banks offshore charter boat captains for the big Bluefin tuna competition against three teams from New England. If you'd like to meet the winner, just head on over to Oregon Inlet Fishing Center and ask for Capt. Greg Mayer of the Fishin' Frenzy. 
"These are the best fishermen in the world," Charles Perry said. "I could take them anywhere and they'd have it figured in two weeks. They think about it, study it and figure out a pattern. Nobody does it better than these guys!" There are many years' worth of happy offshore anglers who heartily agree. Maybe you should count yourself among them.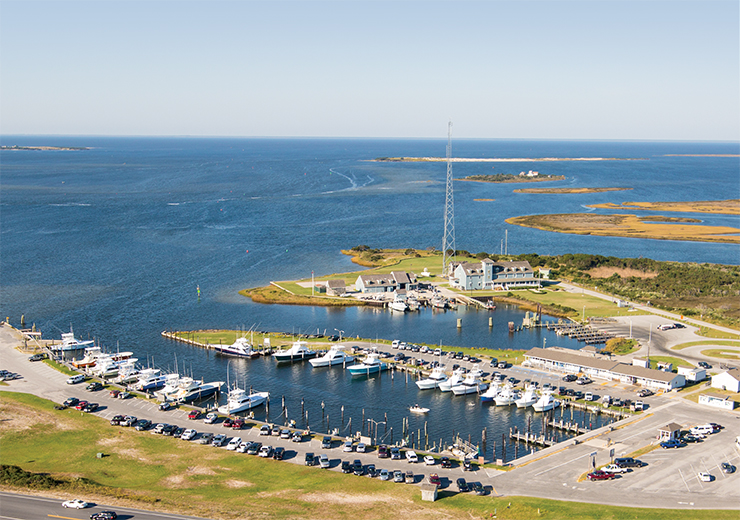 Are you ready to be part of the action?
Reserving your charter at Oregon Inlet Fishing Center is easy. At www.fishingoregoninlet.com you can inquire about availability for a charter boat, headboat fishing trips or twilight cruises, or click on the link for any boat on the list and you can communicate directly with its captain. 
If you've little or no experience on the water, talking with one of the Fishing Center representatives is best. You'll learn the difference between offshore, inshore and sound fishing charters, make-up parties and headboat fishing trips. Their goal is to help you find the right fit so you'll enjoy a fun day on the water. Tackle and bait is provided, along with the expert assistance of mates that bait your hooks and coach you for a successfull day on the water.

(252) 441-6301
Located on the Cape Hatteras National Seashore 
8 Miles South of  Whalebone Junction on NC 12
oregon-inlet.com