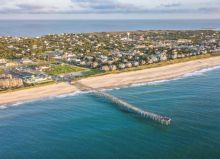 Call it a bucket list, a wish list, things to do before you die … what's on your life list of adventures, the things you've yet to experience but that you feel you simply must do? What fun, exciting and beautiful things are calling you?
Out here on the edge of the continent, the Outer Banks is the perfect place to tick some items off the list. These islands offer a staggering number of opportunities for adventure. I have lived in
Nags Head for 28 years now, and I've yet to accomplish everything on my list. Still to come: Riding my bike all the way to Ocracoke from my house in Nags Head; camping at all four National Park Service campgrounds in a single stretch; competing in the Outer Banks Triathlon; standup paddleboarding around New Inlet on Pea Island; learning to surf; swimming in the Gulf Stream (just real quick); biking in Alligator River National Wildlife Refuge; seeing a turtle nest hatching.
The whole idea is to do things you've never done and things you can't do at home. Here are a few ideas for your Outer Banks bucket list, and for more be sure to see our sidebar with suggestions from longtime locals.
Go Bear Sighting
Alligator River Wildlife Refuge on the mainland of Dare County is home to hundreds of black bears. A favorite activity for many locals is to drive down one of the dirt roads at sunrise or sunset to get a look at these furry creatures. You might also see birds of prey, wild turkeys, waterfowl and, if you're lucky, even the red wolves that live in the refuge. Go to fws.gov/alligator-river for more information.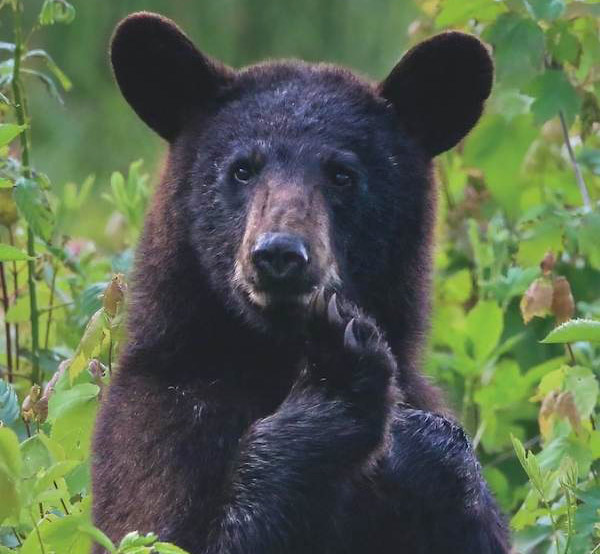 Photo: Beverly Meekins
Drive on the Beach
The Outer Banks is one of the few places where you can drive right out on the sand alongside the ocean. This is perfect for exploring, surf fishing or for making a beach day easy. You can do this in Cape Hatteras National Seashore in certain areas of Hatteras and Ocracoke islands as long as you have an ORV permit from the National Park Service (recreation.gov). The Towns of Kill Devil Hills and Nags Head allow it in the off-season with a permit. North of Corolla in Swan Beach and Carova, you can drive on the beach without a permit, but if you park you need a Beach Parking Permit (currituckcountync.gov/beach-parking.)
See the Milky Way
The undeveloped areas of Cape Hatteras National Seashore have no light pollution, which means these beaches are very dark and the stars are beautifully visible at night. If you venture out to these dark beaches on late spring and summer nights, you can even see the Milky Way, meteor showers and shooting stars. The website stellarium-web.org helps you find out what to look for in your location.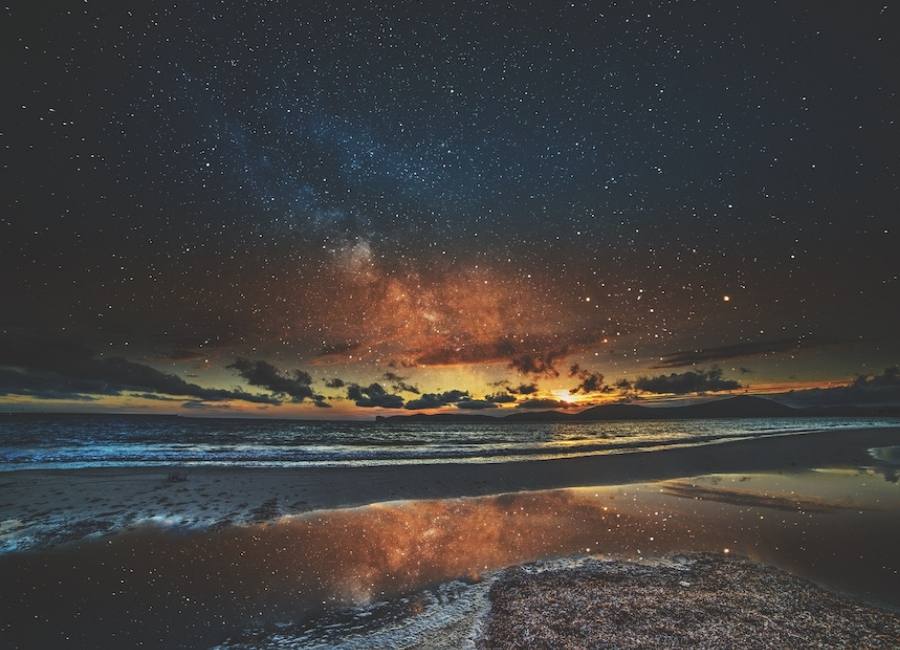 Build a Beach Bonfire
For a magical evening on the beach, add a bonfire. You'll have to get a permit, but the process is easy. Dig a wide, shallow hole, add some firewood and kindling, light your fire and enjoy. Be sure to bring the marshmallows and sticks for roasting, and always refill the hole in the sand when you leave. For fires in Cape Hatteras National Seashore, go to nps.gov/caha/planyourvisit. Nags Head, Kill Devil Hills, Kitty Hawk, Southern Shores, Duck and Currituck County (Corolla) issue their own beach fire permits, so it's best to visit each town's website for its permit process.
Drift the Gulf Stream
The Gulf Stream is a river-like current of warm water that flows from the Gulf of Mexico past Newfoundland and across the Atlantic. It passes close to the Outer Banks, making it easy to get there on a boat from Oregon, Hatteras and Ocracoke inlets. The ultra-blue Gulf Stream waters are rich with sea life like turtles, sharks, dolphin, porpoise and fish. It's an amazing place to fish, wildlife watch and see pelagic birds, those like albatross, gannets and petrels that live on the open seas and very rarely come to land. Gulf Stream fishing and birding charters are abundant on the Outer Banks.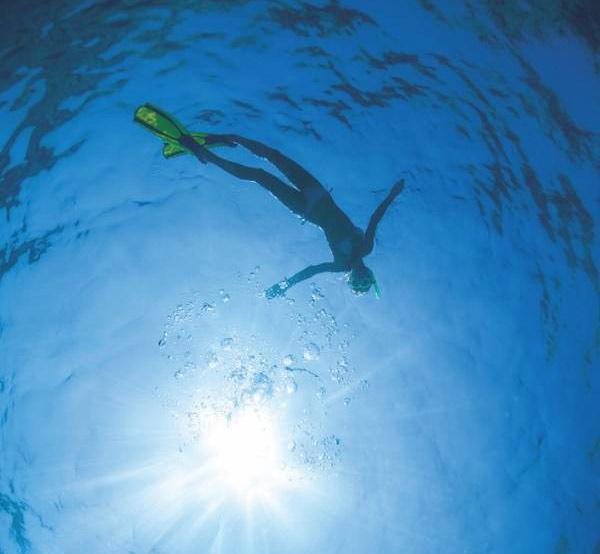 Explore an Uninhabited Island
Do you ever just want to get away from it all? Portsmouth Island, south of Ocracoke Island, is the place to do it. The island is completely uninhabited (save for a couple of caretakers with Cape Lookout National Seashore). You can find a stretch of beach entirely to yourself or explore the now-empty buildings of the former village. The former life-saving station, church, post office, school and a couple of homes are open to visitation. The island is reachable by private boat or small passenger ferry, which you can charter in Ocracoke.
Local Recommendations
We asked some longtime locals to add to our Outer Banks bucket list. Here is what they said.
Jamie Anderson, owner Downtown Books 
Take a walk in the maritime forest. It's the best way to see another of the many sides of the Outer Banks. We are so lucky to have lots of great trails to hike and places to walk in the woods and maritime forest of Kitty Hawk Woods, Nags Head Wood and Buxton Woods. I never know what I'll see, but I always see something that takes my breath away and reminds 
me of what an amazing place this is.
Hilarey Ball, owner Nags Head Pizza 
Everyone should have a day completely outside in the fresh air. Definitely the beach. Hopefully some surf. Grab some take-out and enjoy a golden hour sunset on the beach for dinner. And definitely 
end it with an outdoor shower. 
Becky Harrison, supervisory wildlife biologist Pea Island and Alligator River national wildlife refuges
Go wildlife watching at the magic hour of dusk. In Pea Island, go along the north end of North Pond bridge, looking over the marsh and salt flats as the sun goes down. The light is unbeatable. In Alligator River Wildlife Refuge at dusk you can see owls, possibly the elusive red wolf, bobcats and definitely bears. The refuges are open until a half-hour past sunset.
Vicki Basnight, co-owner Basnight's Lone Cedar Restaurant
Take a crabbing or shrimping tour on the Roanoke Sound. You'll get to see how the local commercial 
fishermen work and take home something for supper.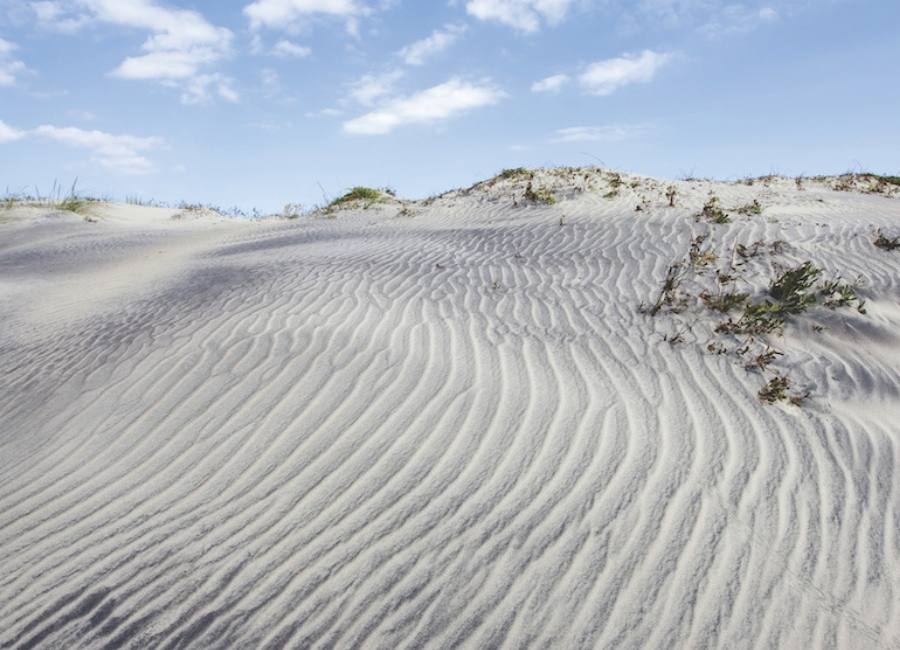 Paul Charron, owner Lost Colony Brewery
Row, paddle or sail the sounds. You'll see a calmer side of the OBX while discovering your own private space. 
Marcia Cline, artist
When there's a huge swell or storm, walk on Nags Hear Pier. You'll feel it shaking and see the water right under your feet.
Sara Hallas, education coordinator North Carolina Coastal Federation
Wade around the marsh at low tide, taking in the beauty and intrigue of the estuary. Wear 
foot protection or waders.
Sam Harriss, co-owner Swells'a Brewing
Ride your bike to the new Ocracoke Passenger Ferry, which plops you right on Silver Lake. Bike around and drink a beer at 1718, eat tacos at Eduardo's, 
bike back to the ferry.
Mandy Savage, manager Roanoke Island Fitness Lab
Ride a fat tire bike on the beach. I have a goal to ride my fat-tire bike from Nags Head to Hatteras on the beach and on the road only when I have to.
Michelle Lewis, minister, activist, founder of the local Peace Gardens
Visit James Melvin's art gallery in Nags Head. He's the only Black artist on the Outer Banks with a studio open to the public.
Ashley Dashiell, hair stylist Dimensions
Book an inshore charter out of Hatteras Harbor Marina to drum fish and dig for clams. You always bring dinner home and you get to enjoy two lighthouses and some of the best scenery on the East Coast along the way.
John Harris, founder/owner Kitty Hawk Kites
The Outer Banks is so beautiful from the air and you get to see how fragile it is. You can visualize history from the air, watch charter fleets sail through the inlets, fly circles around the lighthouses, which look like something from a chess set.
Tom White, retired attorney
Go to Cape Hatteras National Seashore and find a place where no other cars are parked then walk over to the beach. You're alone on a beautiful strand of sand. Sit and listen to the ocean, watch the birds, ponder the power of that vast body of water, let the calm come into you.
Abby Carey, co-owner First Flight Adventure Park
Seeing a sunset from the top of Jockey's Ridge cannot be beat.
Scott Dawson, author The Lost Colony and Hatteras Island
Snorkle the Triangle wrecks in Kill Devil Hills.
---