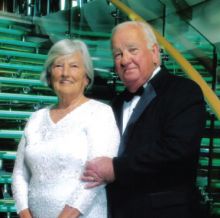 When Joe Lamb, Jr. and his wife, Ann, opened their real estate office in 1968, Dare County had less than 7,000 residents. Manteo was the county's population center. Only Nags Head and Kill Devil Hills had incorporated. The Oregon Inlet bridge was four years young, and today's bustling bypass had only two lanes.
The Lambs' Outer Banks story is really a love story. This year the couple celebrates 59 years of marriage and 45 years in business on the Outer Banks. Much has changed since 1968 when the couple did all the work themselves, but their foundation of commitment remains the same. Their early slogan, "the personal touch," still captures the heart of their business.
Each had vacationed on the Outer Banks in childhood. After college, they settled in Elizabeth City where Joe worked in Ann's father's realty office. He came to the beach one morning on behalf of a client who wanted to purchase Elsie Bells' shopping center. Turned out Mrs. Bell was not interested in selling, but before the day was over, Joe and Mrs. Bell had arranged for him to rent a portion of the center. That was the start of Joe Lamb Realty. Joe laughed as he recalled the firm's first days. "A couple we'd known for many years walked in and said, 'We are interested in renting a cottage for the coming summer. What've you got?' And I said, 'We haven't got any.' 'Well, what do you have for sale, then?' And I said, 'We haven't got those either!' And he said, 'But your sign says Sales and Rentals!'"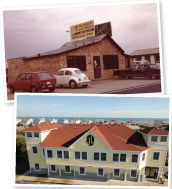 Not long after, the couple purchased a building on the beach road in Nags Head and the business grew from there. Today, the firm's 30 employees are housed in a large building at milepost 2.7 on the bypass in Kitty Hawk. Early clients thumbed through a three-ring binder with pictures of each property for rent or sale; early rental rates ranged from $40/week efficiencies to $350 small cottages. Today, Joe Lamb, Jr. and Associates manages more than 550 rental properties. Marketing efforts include an active web and social media presence, print ads and a blog. Jodie Herman, the firm's marketing coordinator says, "We are still home town but are now worldwide." While some clients come from around the world, many have fond childhood recollections of summer vacations spent in a Joe Lamb cottage and bring their own families back each year. That's one reason Joe loves coming to the office every day, and especially enjoys check-in day. When vacationers are ready to become homeowners, whether for investment, relocation or retirement, Joe Lamb Realty's decades of experience helps clients make the perfect choice for their lifestyle and budget.
Joe's ongoing commitment to the Outer Banks includes years of extensive public service (Dare County Board of Commissioners, Albemarle Health Board, Cancer Foundation and President of the Chamber of Commerce). Ann was a founding member of the Outer Banks Women's Club where she is still an active participant. Together, they are still helping the next generation make their own Outer Banks memories.
---

Joe Lamb Jr. & Associates
4607 N. Croatan Highway, The Bypass, MP 2.7, Kitty Hawk
(252) 261-4444, (800) 552-6257 | www.joelambjr.com