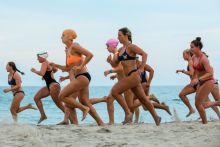 Let's state the obvious: No one plans to get into a potential drowning situation in the ocean. Instead, you plan on a lovely summer day on the beach, chairs and umbrella set just so, friends and family surrounding you and that refreshing, cooling Mother Ocean beckoning you to dive on in to cool off. 
But all of a sudden you realize you're way off shore, or you underestimate the size of that incoming wave and the resulting tumble disorients and panics you. You're in serious trouble and you know you need help. No one expects that to happen. Ask any ocean rescue guard, though, and they'll tell you that each and every person they pulled out of the ocean was surprised to be in that situation (and grateful to have been swimming in front of a guard). They hear comments like, "but I'm such a strong swimmer!" or "well, I did just fine when I went in yesterday!" or "I had no idea what a rip current was!" or "the waves are a lot calmer at _____ (fill in almost any other beach name)."
Of course, the Outer Banks also has those perfect beach days when the waves are all but flat, the water is cerulean and the breeze is just right. We deeply appreciate those days. But sticking out into the Atlantic Ocean as we do, with ever-changing sand patterns and currents, this ocean does tend to present more to deal with than many other beaches. That's why, on these shores, from Corolla to Ocracoke, the summer force of ocean rescue guards comes close to 200 young, in shape and well-trained women and men.
In the early days of ocean lifeguarding – we're talking back in the late 1960s and part of the '70s – J&H Beach Service hired young surfers (only the men) to lifeguard in front of certain oceanfront hotels. They also rented chairs and umbrellas. Then in 1976, Sandy Sanderson, the man synonymous with our local ocean rescue service, was hired by the Town of Nags Head as a police officer but also charged with setting up an organized, town-run lifeguard service. He started by hiring one guy, Randy Metzger, and the two of them roved the beach between the stands with the hotel guards. They had a four-wheel-drive truck and a personal water craft (PWC). What they didn't have was significant: no red flag system, no consistent means of mobile communication and no immediate backup should they have to enter the water. Remember that there was no hospital then either. We did have the Outer Banks Medical Center, but that was not equipped as a trauma center, so for near-drowning victims the time it took to transport to Elizabeth City's hospital (the closest one) was sometimes deadly. The county didn't have a med helicopter to make these critical transports quicker until Sanderson was able to purchase one through a grant in the early '80s.
Over the next 10 years, fixed stands were added at six Nags Head beach access points and more guards were added. Other services and towns also began providing lifeguards in a wider area of the beach. By 1986, the foundation for the effective, coordinated system we have today was in place. Now there are lifeguard services in Nags Head, Kill Devil Hills, Kitty Hawk, Southern Shores, Duck and Corolla and on three National Park Service beaches. There's also a Hatteras Island Rescue Squad that employs ocean guards who patrol from Avon south to Hatteras village during the summer months.
So, how much do you know about our Outer Banks lifeguards other than that they are visibly in great shape and sport savage tans? The more you know, the better you'll feel about having them on those stands keeping you and your loved ones safe.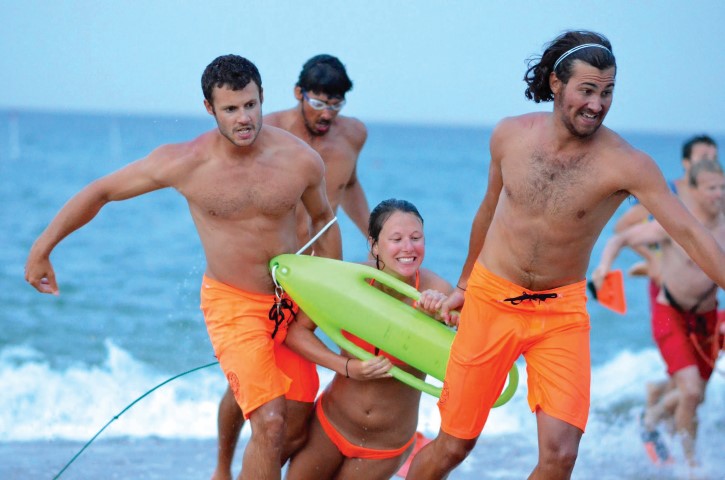 Let's start with the physical tests they have to pass to even be considered for employment. Are you a swimmer? Then you know that the requirement to swim 500 meters (1,640 feet) in less than 10 minutes is no easy task. Then, some of the services also require that they be able to run a mile in less than 8 minutes. Once they pass that entrance requirement, the real fun begins. 
The two-week training period during May is intense. Have you been in the ocean that early in the season? It's cold . . . like, really cold. But that doesn't stop the ocean training these young people do. They swim distance for endurance. They haul in their fellow guards for endurance. They run sand drills for endurance. They run pavement miles for more endurance. They carry heavy objects for endurance. So, when the time comes for them to see you in trouble out in the water, maybe 40 to 50 yards from their stand to the entry point into the ocean, they have the endurance to sprint on the sand carrying their buoy and fins, swim out to get you then swim you back in. You've just been saved. They also have the training to do this with a clear head, no matter what the situation requires.
When they're not training their bodies, they're training in life-saving skills. All guards must pass the First Responder class, which includes CPR and intermediate first aid. They also pass a required United States Lifesaving Association course that covers spinal injuries, more water rescues, search and rescue techniques and, in sad cases, search and recovery. They also learn how to handle PWCs in case the site of a rescue is far off shore and ATV training for the times they patrol the beach. 
Within each town's service on the northern Outer Banks, the guards also must learn the names and locations of every lifeguard stand. They master knowledge about local marine life, rip currents and local laws concerning the beach. Then, of course, there are procedures to know and apply when they have to enter the water for a rescue. Unlike the early days of the lifeguarding service, now if a guard goes in to get you, he or she must radio to let a supervisor know they're engaged in a rescue so there's always backup. Senior-ranking guards rove between stands throughout the day to check on their fellow guards, provide this backup and patrol that no man's land territory (where many rescues are made every year).
Chad Motz, the captain of Nags Head's ocean rescue services, first came to the Outer Banks to be a lifeguard in 2001. He was a strong swimmer but had never been much of a surfer (they didn't do a lot of that in his native Nova Scotia, Canada, in the '90s, even though it's become quite popular now), so he had to learn how to handle the waves and currents. That ended up making him a better trainer of his summer crews once he became the head of the service in 2004 because he understood what it was like to not have that built-in ease with the ocean that so many of the local guards have. He's known to run one of the toughest programs on the Outer Banks, especially when it comes to his M/W/F required group PTs in the mornings before the guards hit their stands. He also requires stand-side, individual PTs on T/Th. As he puts it, "I place a high value on physical preparedness. I want my staff to feel confident and prepared for the unexpected. We can go through some slow periods of not making many rescues, but you always need to be ready to go from zero to hero at a moment's notice." Zero to hero . . . that about sums up every rescue.
But a guard is on duty out of the water too. Dave Elder, who is head of the Kill Devil Hills squad and was hired by Sanderson in 1990, says that his staff, like their fellow guards throughout the Outer Banks, spends plenty of time and energy dealing with injuries, heat issues, lost children and even major health issues such as heart attacks. What's the most common injury? It depends on the season. Last summer was particularly hot, so the guards handled lots of dehydration (sufferers can appear disoriented, sometimes mistaken as being intoxicated) and even sunburns – at least trying to suggest to beach goers to cover up so as not to turn into lobsters. He and his guards also deal with wrist, elbow and neck injuries that result from boogie or body boarding into shallow shore breaks.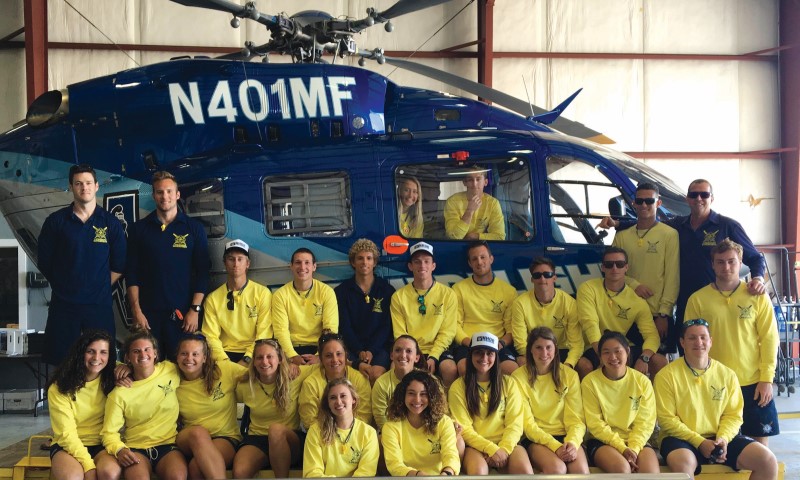 Elder talks about the idea of preventative lifeguarding, and he employs innovative ideas to engage his guards and well as the public in this endeavor. What does he mean by it? As he puts it, "I can never make the ocean totally safe. But what I can do is use flags, information at the guard stands and the education of our beachgoers to redirect their behaviors to safer outcomes." Last year, because of the prevalence of shore break injuries, he and his senior guards decided to broadcast information from their patrol trucks as they rode along the shoreline, warning swimmers of the risks inherent in near-shore swimming. His pitch went something like this, "If you're in the water and it's between knee and shoulder height and the waves are breaking overhead, you could be eligible for injuries as small as abrasions or as serious as cervical spine issues. Be smart about your abilities and the power of that ocean, and don't push your limits."
Mirek Dabrowski, who's been in charge of the Duck/Southern Shores guards since 2000 and was hired by Sanderson back in 1986, added the duties of guarding the stands at Coquina Beach, Hatteras Lighthouse and Ocracoke several years back for the National Park Service. His guards also watch over swimmers at the Old Swimming Hole on Roanoke Island near the N.C. Aquarium. The NPS stands add an increased challenge since they are singular stands without others nearby, unlike the guard stands from Duck through South Nags Head that are often within sight of each other. So the issue of backup becomes even more important and sometimes comes in the form of area firefighters or police officers. But Dabrowski has seen it all: At 57, he holds the distinction – and, as you can now understand, it is indeed quite a distinction – of being the longest-running Outer Banks lifeguard, so there's probably nothing that can happen in that ocean or on the bordering sand that he hasn't dealt with. 
Jack Scarborough, the captain of the Hatteras Island Rescue Squad, and his team of five guards rove the beaches between Avon south to Hatteras village every day from Memorial Day to Labor Day. They see the same sorts of environmental issues as their fellow guards – jellyfish stings, stingray jabs, heat issues, etc. – but Scarborough also deals with another effort: fundraising to pay his staff. Every year, the money to pay his guards comes from donations from visitors and locals who understand the necessity of these lifesavers patrolling the Hatteras Island beaches. Last year alone, they responded to 275 dispatch calls, which doesn't even count in the rescues the guards made during their regular patrols. A team of 30 volunteers backs up the paid guards. Scarborough says that his biggest challenge is covering the 18 miles under his watch. An ocean rescue in Avon takes personnel that might be needed for one in Hatteras village, and that's where his cadre of volunteers steps in. It's absolutely true that the service Scarborough, his guards and the volunteers provide is priceless.
Motz, Elder and Dabrowski head up teams of guards who are, as Elder puts it, the most visible forces in each of their towns. They out-number the firefighters and police forces. And because of that visibility, they have the opportunity to set a tone for the interactions almost every visitor will have while they're here. The tone they set is one of respect, professionalism and true concern for the safety of the people in front of them. They might seem relaxed up there on those stands, but in the critical moments when you need them, whether in the water or out, they're there for you. And if you've ever been on the receiving end of that orange rescue buoy and heard that calm voice telling you, "Don't worry, I've got you," you know they can, quite literally, mean the world to you.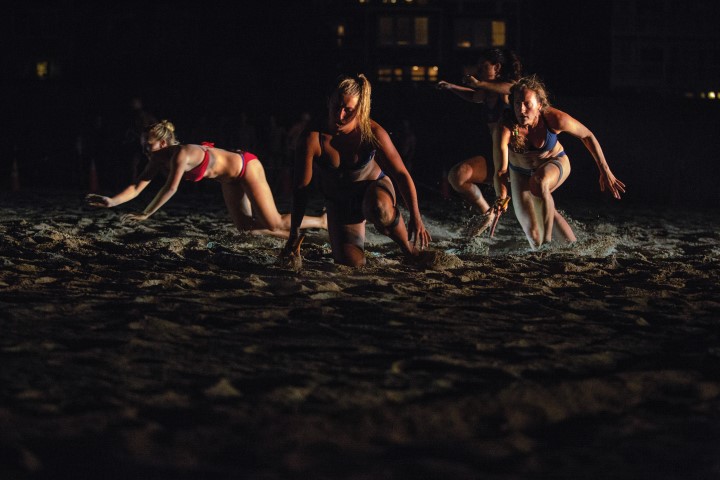 Things These Lifeguard Captains Want You to Know
I asked these seasoned ocean rescue veterans what they most want visitors (and, yes, locals . . . but we hope they're already aware!) to know. Here are some interesting points for you to tuck into your bathing suit.
Red flags:
We're putting this one first because it tends to be the peskiest. Our lifeguard services operate under a red flag system, and they never make the decision lightly to fly them. If you see red flags, it means that these experienced, competent ocean rescue people have determined that it's not safe for swimmers to be in the water. Yes, this happens every season, and it just might happen during the time you're here. The guards I spoke with said dealing with vacationers who are ticked off about red flags is, sadly, a very prevalent experience. But every single summer we hear of drownings or serious rescues that put both the swimmer's and guard's life at risk during red flag days. Ok, back to the obvious one more time: The negatives of not being able to swim in the ocean that day are nothing compared to losing one of your family members to drowning. 
Sometimes visitors can't see the rips that threaten or understand the dynamic of dangerous breaking waves on sandbars some distance from shore. All they see is a hot day perhaps without a lot of wind . . . seems fine to dive on in to them. But, again, the red flags are there for a reason. And in some towns, you can be ticketed if you defy the flags and swim. These days are the epitome of Elder's preventative lifeguarding concept. As he describes it, he can almost always enlist the support of beachgoers who, at first, are put off by being told not to swim by helping them see their role in keeping others out of danger. While they might personally be experienced enough to handle rough waves and rips, most other people on the beach won't be. Their willingness to set the example of respecting the ocean by staying out literally saves live. 
One more note about red flags: 
Surfers and serious body boarders with fins (we're not talking about the inexpensive boogie boards you can buy at souvenir shops) who are tethered are allowed in the water on red flag days. These are very experienced ocean athletes who know how to handle the powerful currents and breaks.  
Don't take your eyes off your little ones: 
The surf break here can be very strong, and it doesn't take much for your small children to get knocked down then pulled out with the next receding wave. A good idea for little ones is to bring an inflatable pool, fill it with ocean water and keep them closer.
Lost kids:
If you discover your wee one has wandered off, of course send someone to search the water in front of where you're sitting, then send someone else to notify the lifeguard. But did you know that the vast majority of lost kids wander with the wind, not into it? That means, with the wind to their back. Local guards always search in that direction first. The only exception to this is if there's a nearby pier, which seems to be a magnet for wandering little ones regardless of the wind direction.
Nude sunbathing:
One guard recounts a (hilarious, in my opinion) story about a family setting their chairs up then looking around and noticing there was a woman nearby sunbathing topless. One of them marched up to the lifeguard demanding that he do something! The guard tried to calmly explain that it's not against local laws for a woman to show her breasts and that, if it was offensive to them, their best bet was to move their chairs. Not having it, they called the police . . . who came and calmly explained that it's not against local laws for the woman to remove her bikini top. Now, the bottoms? That's a different matter altogether.
Sharks:
Most people don't know that sharks are everywhere in almost all ocean waters. But you're not their preferred food. We're not being glib. Sharks hunt fish and plankton. It's truly rare that a shark will find you attractive. 
Lightning:
Where there's thunder, you have to assume there's the possibility of lightning. And that beach and the ocean are wide-open strike areas. Get to safety when you hear the rolling booms. Don't wait for the storm to hit. 
Digging deep holes in the sand:
Sand caves in, so keep the holes shallow, and fill them in before you leave the beach since runners or smaller children who aren't aware the hole is there can fall in, resulting in injuries.
Hot sand:
It gets mighty, mighty hot! Picture a summer day with temps in the 90s. That sand, just sitting there absorbing all the heat, is going to burn the mess out of bare feet – including the bare feet of your pets! In some parts of the beach, you have a long way between your house or the beach access and where you want to sit, so always cover your feet.
Heat and small babes and the elderly: 
If you're coming to the beach with family members on either extreme of the age spectrum, make sure you bring an umbrella and plenty of water to stay hydrated. (Same is true if you're bringing your furry family member.) Olders and youngers have a harder time regulating their body temps, so keep a keen eye out for heat exhaustion (faintness or dizziness, profuse sweating, muscle cramps, headache) and heat stroke (high body temp, confusion or slurred speech, hot and dry skin – this is a medical emergency) and ask your guard for help.
After-hour emergencies:
During the summer, guards are on their stands until 5:30 or 6 p.m. (this information is always noted on a blackboard at the guard stand), depending on the town, but senior guards and supervisors also remain on call for after-hour emergencies. After hours, if you have a medical or water emergency while at the beach, you should call 911. Here's a critical aspect for you to remember for your time on the Outer Banks: Note your exact address if you're staying in an oceanfront house – the house number as well as the town – or the name of the beach access. Rescue personnel will waste critical time if you're only vaguely aware of where you are, and the name of your vacation dwelling is not enough.
Near-drowning:
If you have a near-drowning experience outside of a guarded area, ocean rescue guards still urge you to go to the emergency room to be checked out. If you've inhaled water, you're at risk. Be safe and get checked out by trained medical personnel right away (not later that day when you leave the beach). If you're pulled in by a guard, they will assess you and call in the EMS if there's any doubt about your wellbeing. 
Dogs on the beach:
Each Outer Banks town has a different rule concerning when dogs can be on the beach. Some allow them year round, others restrict the hours from Memorial Day to Labor Day. Here are the details:
Corolla: Dogs are allowed on the beach all year so long as they're on a leash.
Duck: Dogs are welcomed all year, and if under the watchful eye of their owner, they don't need to be leashed.
Southern Shores: From mid-May to mid-September, dogs are allowed on the beach from 6 p.m. to 9 a.m. and must be leashed. There are no time restrictions the rest of the year.
Kitty Hawk: Leashed dogs are allowed year round, but the owner must have a poop bag with them. During summer the leash may be no longer than 6 feet; off-season, it lengthens to 12 feet. Also off-season, if the owner is sure of being able to control the dog, it may be off leash but within 30 feet.
Kill Devil Hills: Dogs are allowed during summer from 6 p.m. to 9 a.m. There are no time restrictions off-season. Leashes are required year round.
Nags Head: Dogs are allowed year round but must always be on a leash no longer than 10 feet.
National Park Service areas: Dog are welcomed year round on all beaches except Coquina, the Hatteras Lighthouse beach and the Ocracoke beach (the designated swim areas) but must be on a leash not longer than 6 feet.