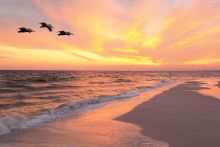 The Outer Banks real estate market is unique. Unlike most areas where there is a large amount of industry or a university, Outer Banks property values are greatly affected by tourism, folks looking for a place to retire and/or just a better lifestyle. Another factor that affects Outer Banks prices is the limited amount of land. There's only so much space to build on these islands, and the closer the property is to water the higher the price. The purpose of this article is to get you up to date on where we are in the Outer Banks real estate cycle. 
Most Outer Banks real estate is sold through the Outer Banks Association of Realtors' multiple listing service (MLS). This article is based on data from that MLS system and was acquired in August of 2017. For the first seven months of this calendar year transactions in the Outer Banks MLS system were up 11% compared to the first seven months of 2016. These statistics are for all types of property and include all houses, commercial property and unimproved land listed in the local MLS. Also, MLS statistics show that inventory was down more than 10% compared to the same time in July of 2016. This is the lowest amount of inventory since the MLS started keeping records of listings in 2010.  
Applying the law of supply and demand to this information, you'd think that prices would be dramatically increasing, but that's not necessarily the case right now. Another statistic that the local MLS tracks is average sales prices and median sales prices. Average sales prices are up just 1% for the first seven months of 2017 compared to the first seven months of 2016, and median sales prices are up just 2%. Some types of property are doing better than others. For example, average sales prices of homes are up 4% over the same period of 2016. That's the most of any type of property.
Why are properties not appreciating faster? It's doubtful the number of distressed properties in our market is holding us back. That's been just a small part of our market for years. Part of the reason is likely to be the large amount of inventory we've had over the years. Even though sales are so strong, many market segments still have quite a lot of properties on the market to choose from. Another reason might be the fact that it takes a long time for our market to adjust. An interesting statistic for perspective is that it took about eight years for property values to drop nearly 30% during the Great Recession. It's unrealistic to expect property values to rebound quicker.
There are some very bright spots in the current market. For example, our lower-priced lots have had significant appreciation over the last few years. These lots are typically found on the sound side of U.S. Highway 158 and on Roanoke Island. These lots are often purchased by local builders who build primary residences or non-rental second homes. Demand for these lower-priced new homes is strong. An example of this lot appreciation can be found in the sale of some lots in a newer subdivision on Roanoke Island. Back in the spring of 2016 a lot sold in this neighborhood for $75,000. Just this past June a similarly sized lot directly across the street sold for $82,500. Another example can be found in some of the older subdivisions in Kill Devil Hills. A lot on Airstrip Road sold for $58,000 in May of 2015 after being on the market for almost two months. The same lot sold for $78,250 in January of 2017 after just about a month on the market. There were no significant improvements to the lot between sales. This entry-level lot market segment is likely the best market segment of all on the Outer Banks.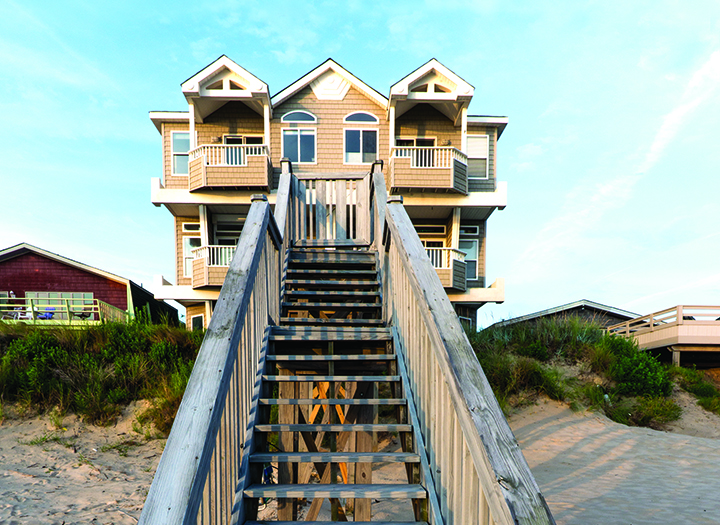 If you have spent time on the Outer Banks this past summer, it's likely you've seen the heavy equipment on the beach adding sand to our erosion-prone areas. How will beach nourishment affect real estate in those areas? It's hard to say exactly, but we do have some history in Nags Head of how beach nourishment affected real estate there. Probably the most obvious difference can be seen in South Nags Head. Many of those older, endangered homes that looked like the next storm might take them are now being fixed up. Before beach nourishment it was rare to see an owner making major improvements to their endangered oceanfront property. You can't blame them for not wanting to invest money in fixing up a house that might not make it through the next storm. Not only do the houses now look nicer, but the beaches in South Nags Head also look much better after beach nourishment. 
A few South Nags Head oceanfront homes have also changed hands before and after beach nourishment, and there were substantial increases in sales prices after it was in place. Most of these properties had significant improvements before their second sale, so it's difficult to pinpoint exactly how much appreciation was the result of the nourishment. But, on the other hand, property values in just about every other area of the Outer Banks market were heading in the opposite direction because of the recession during this time. 
Will the oceanfront lots of northern Kill Devil Hills and Kitty Hawk be worth as much as an oceanfront lot in Duck or Corolla after the beach nourishment this summer? It's unlikely that would happen any time soon, but we should see some increase in values in those areas since buyers will now have confidence that those properties will be around for the long term. We should see a renewal in these areas similar to South Nags Head.
Real estate markets are cyclical, and there have been many years since the boom times of the early 2000s that did not have the positive news we are now seeing. An improving real estate cycle is good for everybody, so here's hoping that this upcycle will continue for the coming years. 
for real estate information go to:
outerbanksreal.estate