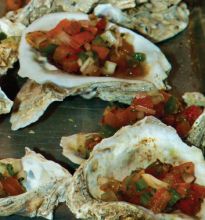 October 18-19
One factor that contributes to the Outer Banks' reputation as a prime vacation destination on the eastern seaboard, in addition to our miles of clean, family-friendly beaches, is our variety of fresh, local seafood. While other events focus solely on its preparation, whether for consumers or would-be at-home chefs, only the Outer Banks Seafood Festival honors the hearts and hands behind the feast: the working watermen of the Outer Banks.
The Second Annual Outer Banks Seafood Festival, set for October 18-19, promises to dish up even more local seafood, entertainment and education than last year's inaugural success. Estimates of last year's attendance range from 6,000 to 8,000, and to accommodate those crowds for 2013, the Festival has expanded its space by providing offsite parking and a shuttle service to the festival itself. With no onsite parking for festival-goers, all of the property can be utilized for festival events, activities, venues and - the star attraction - local seafood!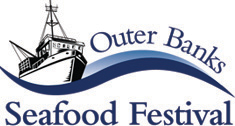 General admission to Saturday's day-long events is $3 per person; children younger than 12 are free when accompanied by an adult. Festival-goers will enjoy a myriad of activities and demonstrations included in their general admission: musical entertainment on two stages throughout the day, "Fish School" educational programs, "Fish Tales" storytelling programs, exhibits on local fishing and local boats and arts and crafts vendors.
COOKING DEMOS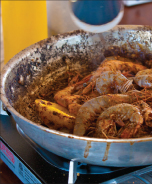 The cooking demonstrations were such a big hit last year that they have been expanded for this festival and will last all day. Anyone who has ever wanted to know some of the secrets behind the sizzle of signature Outer Banks dishes will want to take advantage of watching area chefs work their culinary magic. Restaurants represented include Stripers Bar and Grille, Harbor Deli, Café Pamlico, Outer Banks Brewing Station, Café Lachine and Lone Cedar.
For those who just want to partake of the many seafood offerings without learning how to prepare them, 25 local restaurant booths will serve a variety of local seafood. You'll buy "SeaBucks" ($1 each) once within the festival grounds for redemption for food at the restaurant vendors or for merchandise.
LIVE MUSIC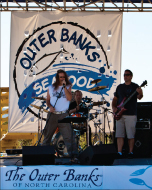 On the main festival stage, several local musicians and bands will provide musical entertainment. Blind Prophets, a Hatteras Island rock band, kicks off the afternoon concert, followed by Ocracoke's Molasses Creek, with original songs as well as covers of folk music and Americana. The upper Banks' Old Enough to Know Better plays oldies, rock 'n' roll and R&B, and six-piece ensemble The Crowd has been delighting crowds here since 1996 and has become a premier wedding band on the Outer Banks. Acoustic-rockers Aquarium and blues guitarist/songwriter Mojo Collins round out the musical offerings.
This year a second entertainment tent will focus on activities, education and entertainment geared for the whole family. Magic Mike will perform, and the First Flight High School jazz band will perform as will the elementary school Limelight Kids Show Choir. Rex O'Neal will share stories from his Ocracoke roots, and Capt. Marty Brill will tell tales from the deep based on his years of charter boat experience. An expanded boat collection will feature a lot of the equipment used in commercial fishing every day, and family members can don fishing gear and have souvenir family photos taken.
FISH HOUSE OLYMPICS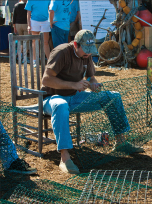 A new event this year, the Fish House Olympics, should prove to be fun. All ages can participate in the mullet toss, cast net throw, fish box stacking, crab races and mullet pail toss. Amateurs can register at the festival for the limited spots available (first come, first serve). There is even a professional division, as folks who make their living on the water show the skill and strength required to properly throw a cast net or quickly load a fish truck in the fish box stacking competition.
FEATURED EVENTS
The Festival's five-year plan envisions multiple days of events spread throughout the county, involving both Wanchese and Hatteras Island. For 2013, a ticketed kick-off event is on Friday evening, October 18 -- the Dock and Dine Festival Party from 6:30 to 10:30 pm, catered by The Dunes Restaurant. Rufus Pritchard and his family have been serving locals and vacationers for more than 30 years from their Nags Head restaurant; the family has worked diligently to get ready for the Festival while still repairing the damage at their restaurant caused by a spring fire. Their spirit and determination are prime examples of the local heritage of commitment and hard work that the Festival honors. The Dock and Dine AYCE seafood extravaganza will take place on the festival grounds, and the menu includes fried and steamed local seafood, sushi, shrimp and grits OBX style, chowders and of course desserts! Landlubbers will find dining choices for them as well, and The Crowd will provide musical entertainment from 7 to 10 p.m. Tickets must be purchased in advance and are available for $50 per adult or child older than 12 (younger than 12, tickets are $15 and kids younger than 3 eat free). Families, groups or businesses can purchase an Anchor Table seating eight for $750, which also includes eight tickets to all of Saturday's festival events and can be purchased from OBX Bank or online via www.OuterBanksSeafoodFestival.org.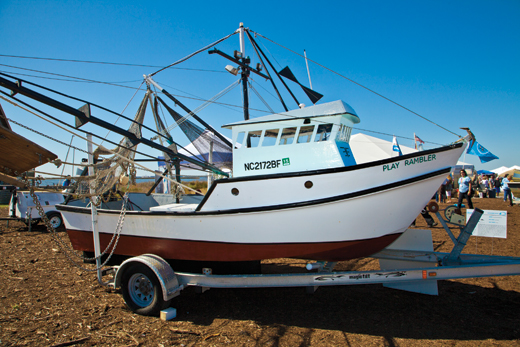 Carl Curnutte, Executive Director of the Elizabethan Gardens, serves as the chairperson of the Festival's Board of Directors. Carl explained how he answers folks who ask why he chose to be involved in a seafood festival, "The Festival celebrates the history and heritage of our fishing industry. I know if we lose our local cultural heritage of fishing and boat-building, we will lose something vital and important. The festival setting allows the industry to share its viewpoint and helps the public understand, from the industry's perspective, all the factors involved from the catching of the fish to bringing seafood to market, then to local restaurants and ultimately to be served to locals and guests alike. The whole journey is important," he said.
He emphasized how many volunteers and non-profits have collaborated to plan the festival and to work during the event. The Festival is awarding honorariums to non-profits that assist and has also awarded a grant from last year's proceeds to Outer Banks Catch. A long-term goal is also to award scholarship funds to a local student for further study in the fishing industry.
So, mark your calendars for a great weekend of wonderful seafood, entertainment and activities that help celebrate and honor local fishermen. After all, isn't great local seafood one of the reasons we all love the Outer Banks?
Outer Banks Seafood Festival
www.outerbanksseafoodfestival.org

Photos by Ray Mathews